Shuai Jiao Baba (Let's Wrestle, Dad) in China seems to have made twice its combined earnings in India and the rest of the world, notes J Jagannath.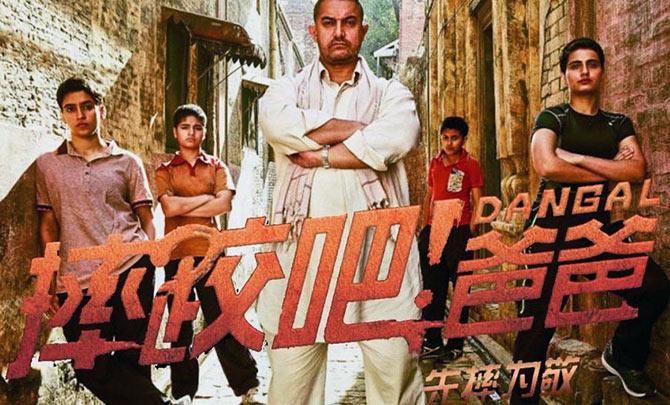 Most of Hindi cinema abides by the unwritten dictum of making a quick buck with cheap laughs.
But Aamir Khan's films in recent years have been standouts, even though their politics is muddled.
That said, he seems to have cracked a market that can, in no time, be Hindi cinema's biggest moolah-raker: China.
Right from 3 Idiots, movies starring him have done exceptionally well. But he seems to have found the key to Valhalla with Dangal.
Even by a conservative estimate, the movie in China seems to have made twice its combined earnings in India and the rest of the world.
Titled Shuai Jiao Baba (Let's Wrestle, Dad), the Chinese seem to have found the movie astonishing and overpowering.
I recently met someone, an Indian, at a soiree who works in China. He told me that the Chinese identified with the movie's theme a lot.
Mao's one-child policy meant that there had been a preference for sons over daughters. Reason: Three sets of parents (one set of parents and two sets of grandparents) are dependent on a solitary kid to take care of them in their dotage.
Dangal's emancipating theme of girl power resonated loudly with the Chinese because Director Nitesh Tiwari made the movie invigorating with emphatic bursts of wrestling ring action.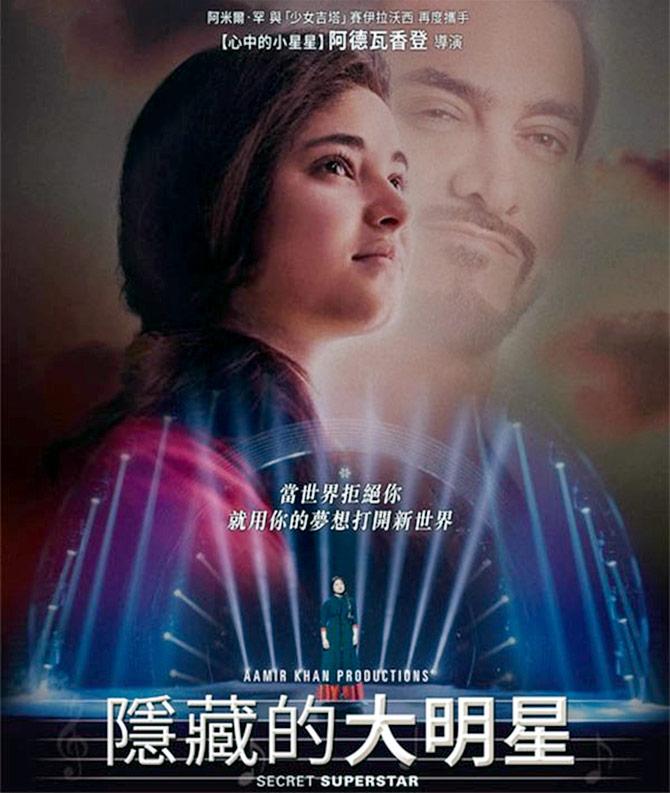 Likewise is with the 2017 release Secret Superstar, which earned ten times its India collection in China.
This feel-good movie about a daughter of a sternly unsentimental man becoming an online musical sensation, while dressed in a niqab, has become a rage in China where everything remotely political is deemed subversive by the authorities.
Like in the movie where the father wants his daughter to have a salaried existence, in China, government jobs are coveted and, owing to filial responsibilities, most youngsters nip their creative streak in the bud.
That seems to explain why the gleaming courage of Insiyah (Zaira Wasim) in the movie touched such a raw nerve.
Even Bajrangi Bhaijaan did decent business when it finally found a theatrical release in China this year.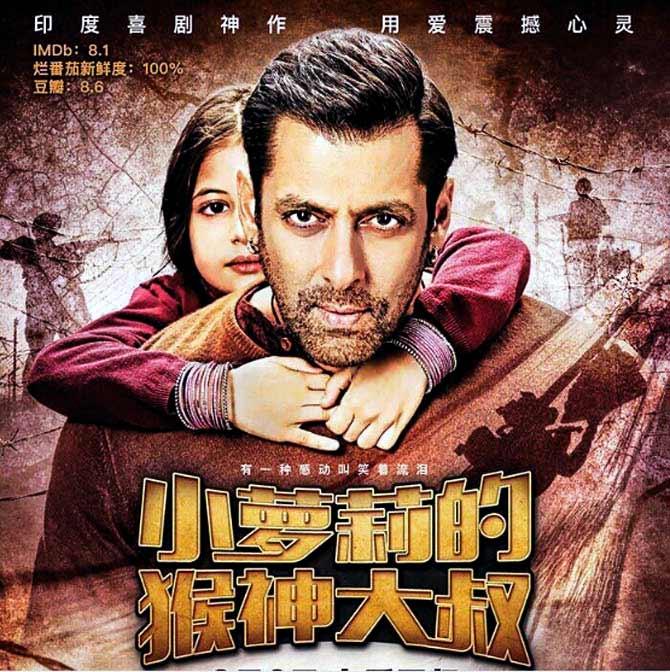 We know what European, American or Japanese states of mind are, broadly, and these instances suggest that the Indian and Chinese states of mind are quite similar: We are coming to terms with our booming economies but still harking back to our roots.
I read a recent AFP story that said Chinese are buying vineyards in exotic lands like Bordeaux, but are still mixing Coca Cola in their wine because they just don't like the taste of the tannins.
There is a construction boom in China never seen before; Chinese naval bases are being built even in Djibouti. But these new fangled riches mean nothing to a lot of the population.
Maybe that is why Baahubali: The Conclusion didn't do as well in China as in India, also because the Chinese already have a taste of the fantastical in their own cinema and literature.
I expect good Chinese tidings for Hindi Medium, which released there last week.
India might have a massive trade deficit with China -- pegged at $51 billion -- but we are clearly asserting our soft power in the land the whole world wants a piece of.
The only fly in this ointment seems to be the distribution structure in China, which still seems to operate in silos.
The Chinese government reserves only 25 per cent of the total box office revenue to foreign production houses for screening their films in the country, but this should change soon.
China has quotas for imported films.
In 2016, the Chinese government increased the quota from 34 to 39 films.
While Hollywood accounts for a bulk of the quota, Indian films' quota has been increased from two to four.
These numbers are slated to only rise over a period of time and more socially relevant movies -- be it Hindi or regional cinema -- should find more takers in a country that is no longer a shrinking violet.
Recent movies that I think will do really well in China are Newton (Hindi), Tholi Prema (Telugu), Vikram Vedha (Tamil), Aramm (Tamil).
After all, the story of a 14-year-old girl who aspires to become a singer (Secret Superstar) beat Disney's Star Wars: The Last Jedi hands down in terms of ticket sales and revenues in China.