This Khan superstar told Gulshan Grover, 'Go ahead, become a star in Hollywood.'
'I will always remain indebted to him,' says the Bad Man of Bollywood.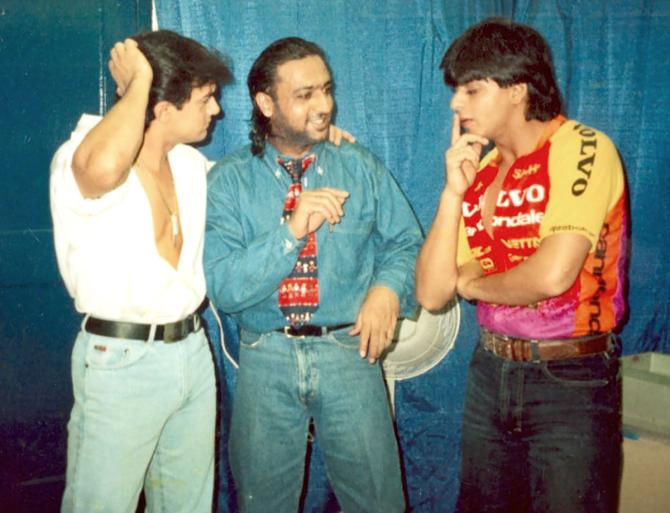 Gulshan Grover, or GG as he is fondly known, turns 66 on September 21, and he celebrates with a stroll down memory lane.
The actor sighs over a lost opportunity to play the Bad Man in the 21st James Bond film but smiles as he remembers how Shah Rukh Khan shook a leg to Chaiya Chaiya at his birthday bash in Los Angeles and paved the way for his Hollywood debut.
"I remember Shah Rukh dancing to Chaiya Chaiya. We did not have to tell them that he was our superstar. It was evident in his demeanour," Gulshan tells Rediff.com Contributor Roshmila Bhattacharya.
The actor still remembers the day he was at Clarence House in London's St James Palace for a meeting with Prince Charles on October 24, 2005.
He was introduced to the Prince's team, anxiously waiting to rush him into a chopper before it got too dark to fly.
"His Royal Highness's cousin immediately wanted to know if I was really doing the next Bond film," Gulshan flashbacks to that moment.
Yes, Hindi cinema's 'Bad Man' had been finalised to play Le Chiffre, the chess whiz and mathematical genius in the 21st Bond film, Casino Royale, with Daniel Craig as Her Majesty's Secret Agent 007.
The news had even been published by the leading British tabloid, Daily Mirror, which is how the royals knew about 'Bollywood's Bond Villain', as he was being referred to.
The news was leaked by one of Gulshan's reporter friends to whom the actor, in his excitement, had confided about having landed the coveted role.
"Unfortunately, it appeared before a formal announcement was made. That upset the producers, who replaced me with Mads Mikkelsen," Gulshan rues, still disappointed to have lost out on such a big opportunity.
But he has the satisfaction of having smoked a cigar with Janet Hirshenson and Jane Jenkins, the casting directors of the Bond film, at an exclusive nightclub in Beverly Hills. Its top floor was only open to Hollywood's elite, many of whom were cigar connoisseurs and rented humidors to keep their smokes fresh.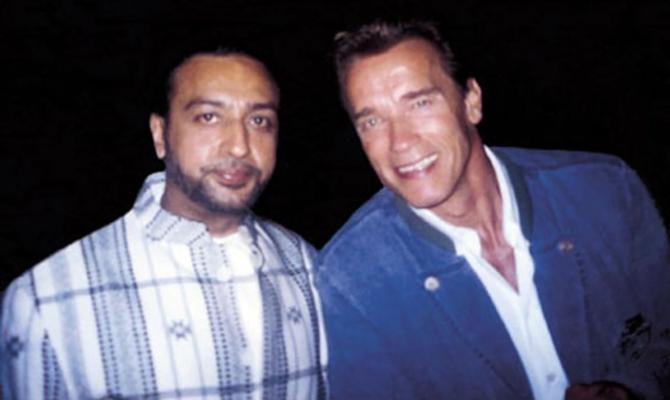 "By then, I had learnt how to smoke a cigar, which wasn't the case the first time I puffed one at Schatzi," admits Gulshan, reminiscing about his visit to Arnold Schwarzenegger's restaurant in Los Angeles during his struggling days with actress-friend Madhu Kapoor.
Arnold and he got chatting over the former's body building photographs from his Mr Universe and Mr Olympia days, which lined the walls of the restaurant.
"He admitted that, in Hollywood, one's name, background or country of birth did not matter as long as you could impress the audience. On that note, we smoked a cigar as a toast to the film industry that had made a global star of an immigrant, boosting my confidence of making a mark in the West too. He smoked like a connoisseur, I like the novice I was then," Gulshan chuckles at the memory.
GG may have missed out on taking on Bond but he went on to do other international projects, including the British-French horror film, Prisoners Of The Sun.
It featured John Rhys-Davies, who played Gimli in the Lord Of The Rings trilogy, as well as Nick Moran, who played Scabior in Harry Potter And The Deathly Hallows.
"I also spent a lot of time on the sets with British-French actress Carmen, chatting about her grandfather Charlie Chaplin," says Gulshan, who played Professor Rohit Singh in this film about a perilous expedition which leads to a pyramid in Egypt and a desperate race to save the world.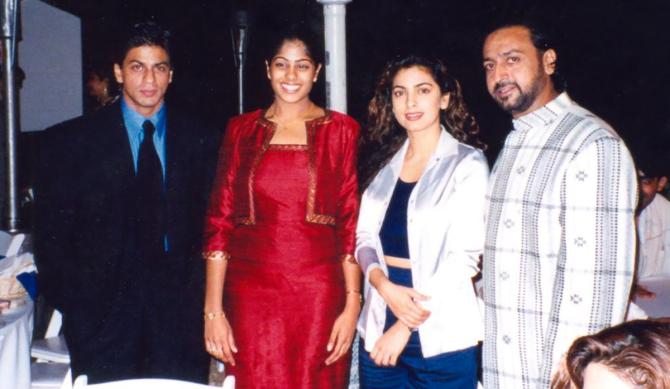 GG was among the last actors to join the unit which had already started shooting in Ouarzazate in Morocco.
He reached the Mohammed V Casablanca International Airport to learn that his flight to Ouarzazate was after seven hours.
To make matters worse, when he approached the consular representative for a visa, the immigration officer, a lady, refused to issue him one.
A die-hard Shah Rukh Khan, she was upset because he had beaten up her idol in a film!
It took Gulshan quite a while to convince her, and the other lady officers, that he had only been acting. "I solemnly promised them it would never happen again and I would bring Shah Rukh along with me on my next trip. Only then was I allowed entry," he smiles.
Interestingly, it was thanks to Shah Rukh's intervention that Gulshan was able to accept The Second Jungle Book: Mowgli & Baloo. The film paved his way into world cinema.
"I got a call from the film's co-producer, Peter Shepherd, offering me the role of the main villain, Buldeo, a jungle guide who wants to kill his nephew, Mowgli, and grab his inheritance. The catch was that I had to join the shoot at Kandy Mountain in Sri Lanka the very next day," says Gulshan.
This put him in a fix because he had committed to a long outdoor shoot of Yes Boss.
That night, he met Shah Rukh, the hero of Yes Boss, and told him about the Hollywood film offer, wondering what he should do.
SRK told him to go to Sri Lanka, assuring Gulshan that he would explain things to director Aziz Mirza and Yes Boss's producer Ratan Jain.
Gulshan couldn't believe his ears and asked Shah Rukh again, somewhat tentatively, if he should fax his acceptance of the offer to the Hollywood producers the next morning.
To that the Badshah reiterated, "Go ahead, become a star in Hollywood."
As promised, he convinced everyone to let Gulshan shoot his scenes later.
"I will always remain indebted to him. I owe the start of my Hollywood journey to the Badshah of Bollywood," the 'Bad Man' asserts emotionally.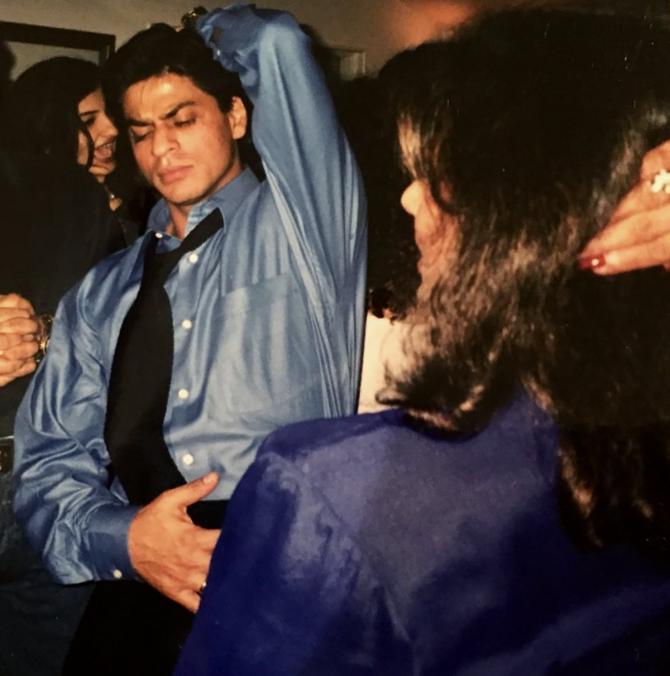 Interestingly, Gulshan had been on a concert tour of the US with Shah Rukh, Akshay Kumar, Kajol, Juhi Chawla, several Bollywood dancers and the Morani brothers when he had met Duncan (Dee McLachlan, director of The Second Jungle Book: Mowgli & Baloo) in Beverly Hills.
The director was immediately fascinated by the exotic Indian gentleman with the hypnotic, shifty eyes and offered him the role of Buldeo right then and there.
It's another story that the producers had gone and signed a popular American star for this all-important part. After shooting with him for a day, Duncan had threatened to quit if they didn't get Gulshan to replace him.
"And that's how I had finally landed the film," he says.
That trip to the City of Angels is memorable for another reason.
While there, Gulshan's extended family, scientist and studio owner Raj Dutt and his wife Kumkum, hosted a huge party to bring in his birthday.
Among the guests were several Hollywood actors, Indian-American yoga guru Bikram Choudhury, Gulshan's producer friends like Jagmohan Mundhra, Krishna Shah and Raju Patel and the mayor of LA.
"I remember Shah Rukh dancing to Chaiya Chaiya with Rajshree (V Shantaram's actress daughter) who, having married an American, Grep Chapman, had settled down in LA," says Gulshan, recalling how the Americans -- mesmerised by SRK's moves -- had clapped and cheered enthusiastically.
"We did not have to tell them that he was our superstar. It was evident in his demeanour," avers Gulshan.
That memory returns today, on his 66th birthday, and makes him smile.
"By God, dil garden garden ho gaya," he quips, borrowing one of his trademark one-liners from International Khiladi.