'We dated for a while and I treasure those moments.'
'He was fun-loving and mischievous.'
'He was a super guy to know.'
Reportage: A Ganesh Nadar/Rediff.com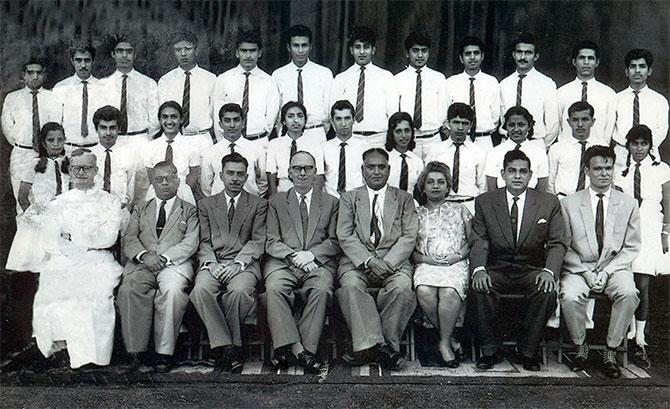 IMAGE: Vinod Khanna (last row, sixth from right) in an annual school photograph. Photograph: Kind courtesy Pamela Shah
When he was in Class IX, Vinod Khanna's parents decided to send him to boarding school.
That was how the charismatic actor came to spend the next three years at Barnes School and Junior College at Devlali, near Nashik, in Maharashtra.
His former schoolmates pay tribute to their late friend:
Pamela Shah, schoolmate
We knew each other in school but we were not dating then.
I was three years his junior.
He passed out of Barnes in 1962; I left school the same year because I could not cope with Hindi and Marathi.
I used to live at Peddar Road (south Mumbai). His uncle was my neighbour and he would occasionally stay with them for a few days.
That's when we dated for a while and I treasure those moments.
We used to go to a restaurant in Worli (central Mumbai) or to one near the Taj (south Mumbai).
After that, he left to join the team of his debut film, Man Ka Meet, and we drifted apart.
He gave me his group picture from Barnes and I have kept it safely for 55 years.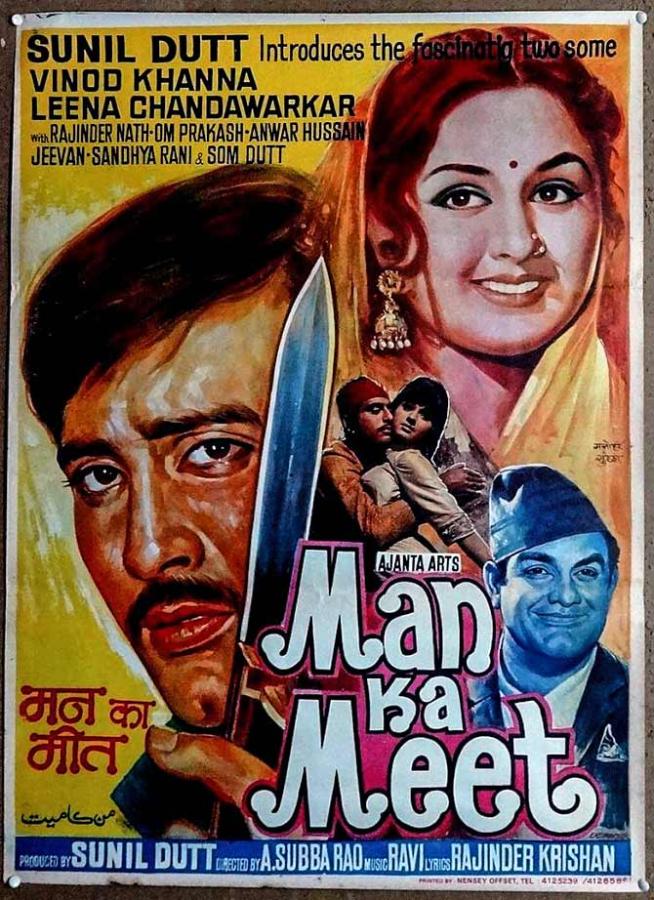 Ghanshyam Skewakramani, classmate
He joined school in 1960 in Class IX. Though we were classmates for the next three years, we were in different houses -- I was Candy, he was in Greaves.
He was good in both academics and sports.
We took part in dramatics together.
He was fun-loving and mischievous. Since he was good in studies, he was close to the teachers.
He went on to become captain of Greaves House.
We passed out together in 1962 as honours students. He joined Sydenham College to study commerce and I joined Jai Hind College (both in Mumbai) to study science.
We continued to keep in touch after school as well.
When I had a bypass surgery in 1999, he was waiting outside the operating room.
I will miss him dearly.
Munnuwar Hussain, dorm mate
I was his senior by two years. I knew him well as he was in my house, Greaves, and we shared the same dormitory.
He was good in studies; his name is on the Cambridge Honours Board at Barnes.
His younger brother, Pramod -- I think he was three years younger than Vinod -- was in school with us as well.
I remember the time Vinod was shooting a polo match sequence at the Artillery Centre in Devlali for Main Tulsi Tere Angan Ki.
We were having a school reunion so I met Vinod and told him he should visit.
Not only did he come, he brought along the entire unit – including the director, the heroine and the support staff.
The next day, he took Leslie Chris Coutinho, who was then a teacher at Barnes -- he later became the principal -- and a few students to the shooting venue. Arshad Warsi, who was a student then, was chosen to give the clap to start the day's shoot.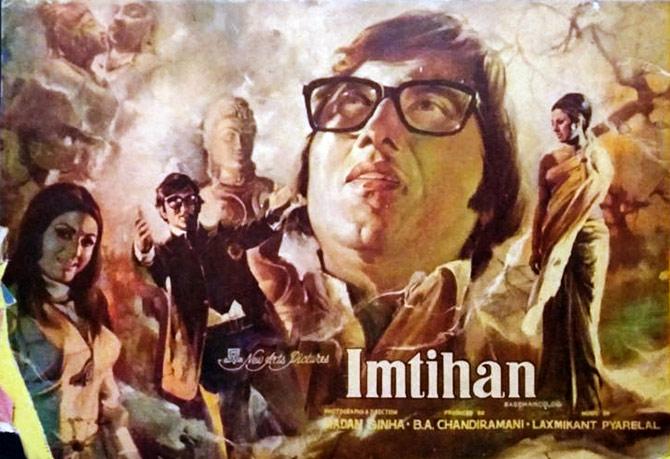 Many, many years later, I was sitting at the Taj (south Mumbai) and having a drink. He walked in and went straight to the bar.
After he picked up his drink, he began staring at me. After a while, he came up to me and whacked me on the back.
"You don't recognise me or what?" he asked.
"I totally recognise you," I replied, "but I was scared that if I greeted you, you might ask who I was."
"Don't be silly," he said. "How could I forget my dormitory and house mate?"
He was a humble guy. He never misbehaved even when he drank.
He shot most of Imtihaan in our school. He was as proud of Barnes as we are of him.
Leslie Chris Coutinho, schoolmate
I have fond memories of Vinod Khanna as a prefect in the Sixties, hurrying us juniors to assembly.
After he left school, I met him in 1997, when he graced a school function.
We last met when he helped draw the lots at the Barnes Fete in 2009. He showed us his name on the Cambridge Honours board and he spent quite some time with old timers.
Incidentally, Arshad Warsi inaugurated the fete that morning.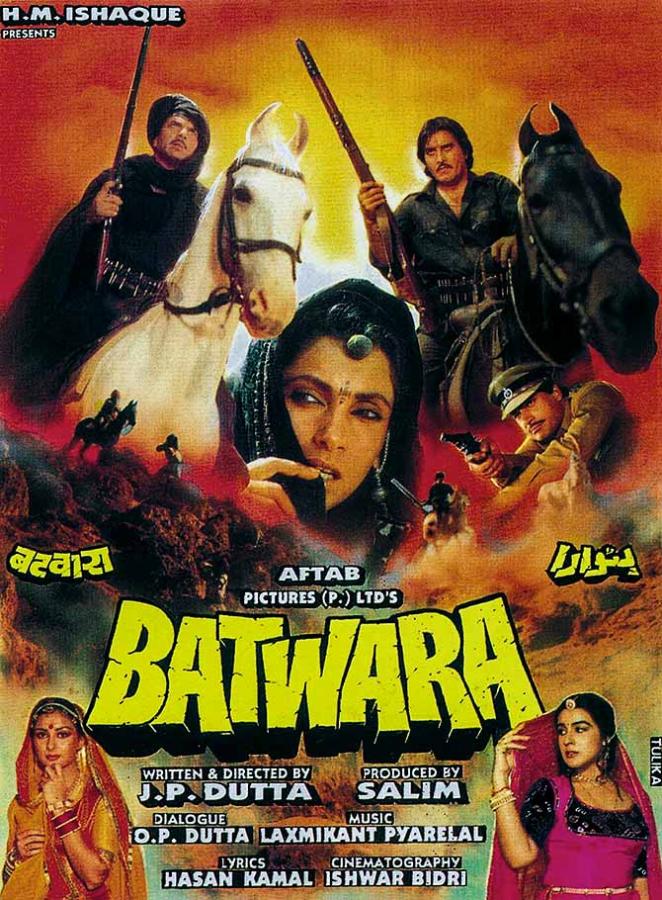 Talat Jani, schoolmate
"I met him at Barnes. Later, I was his assistant in Batwara.
He was a super guy to know. He even came for my marriage.
I have some super memories of him. We used to go drinking together in Jaipur at the Samode Palace. I also played badminton with him regularly.
I am going to miss this super guy.
Iabina Sharma, schoolmate
I met him at a family function.
He was very happy to know that I was from Barnes.
We spoke about our school and the dal and porridge served there.
He said eating that had made us tough enough to tackle every challenge in life.
I will always cherish that memory.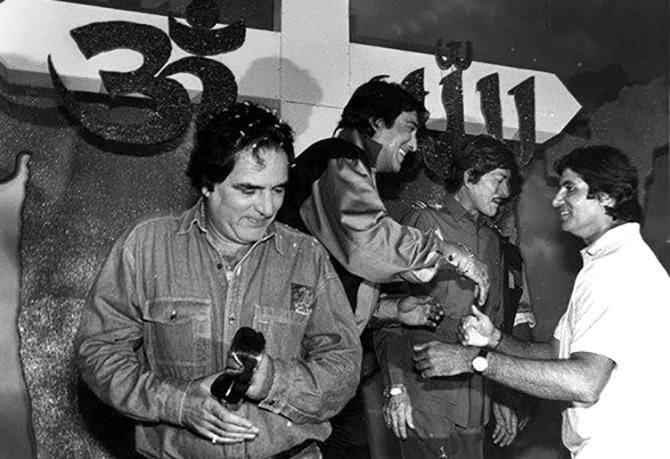 IMAGE: Vinod Khanna with his co-actors -- Feroz Khan, Raaj Kumar and Amitabh Bachchan. Photograph: Courtesy Movies N Memories/Twitter
Samuel Bardey, schoolmate
I met him through the late Feroz Khan.
When I told him I was from Barnes as well, we ended up remembering the porridge and dal served at school.
After that, I met him many times.
The last time I saw him was when he and Dharmendra came to visit Feroz Khan, who was suffering from cancer.
That was the first and last time I ever saw three tough men crying together.
The sight was heart breaking.
The writer of this feature, also a Barnes School alumnus, recalls meeting Khanna at the BJP conclave in Mumbai a year ago.
"We journalists were scattered around the venue. After a while, we were asked to leave as they were going to have a meeting.
"I was walking out when I spotted him sitting in the first row.
"I introduced myself as a journalist and then added, 'I am also from Barnes.'
"He immediately put out his hand, shook mine and, with a broad, warm smile that remains with me even today, said, "It is always a pleasure to meet a fellow Barnicle."