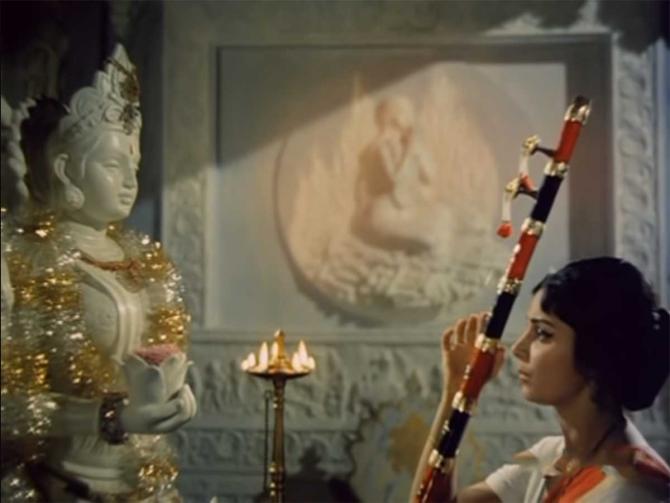 Bollywood has a history of great bhajans for Lord Ram, Lord Krishna and Lord Shiva.
Great melodies like O Duniya Ke Rakhwale (Mohammed Rafi, Baiju Bawra) and Satyam Shivam Sundaram (Lata Mangeshkar, Satyam Shivam Sundaram) are favourites in every household.
Ram bhajans -- like Lataji's Rama Ratan Dhan Payo, Thumak Chalat Ram Chandra and Ram Ka Gun Gaan Kariye (the immortal duet with Bhimsen Joshi) -- start each day in many Indian households.
On the occasion of Ram Navmi, here are five Ram bhajans from Hindi films that you probably haven't heard, but should right away.
Mann Ki Aankhon Se Main Dekhun Roop Sadaa Siya Ram Ka (Mohammed Rafi, Mahabali Hanuman, 1981)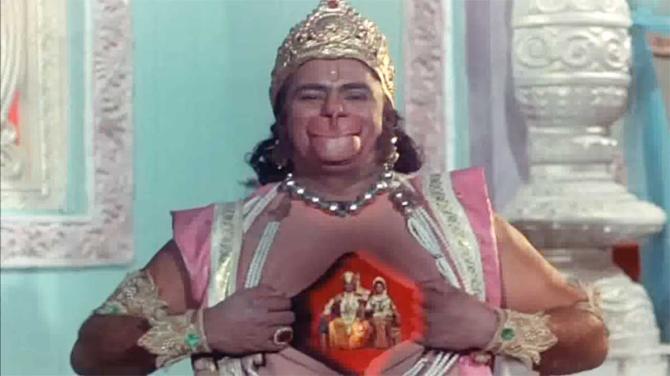 Not much is known about Composer Kamalkant who composed this emotional bhajan.
It's sung by the incomparable Mohammed Rafi, who is known for his devotional songs like Sukh Ke Sabb Saathi Dukh Mein Na Koi (Gopi) and O Duniya Rakhwale Sun Dard Bhare Mere Naale and Man Tarpat Hari Darshan Ko Aaj (Baiju Bawra).
This Ram bhajan got eclipsed by the film's failure to find an audience. A pity, because it displays to advantage Rafisaab's versatility while singing devotional songs.
Hey Rom Rom Mein Basne Wale Ram (Asha Bhosle, Neel Kamal, 1968)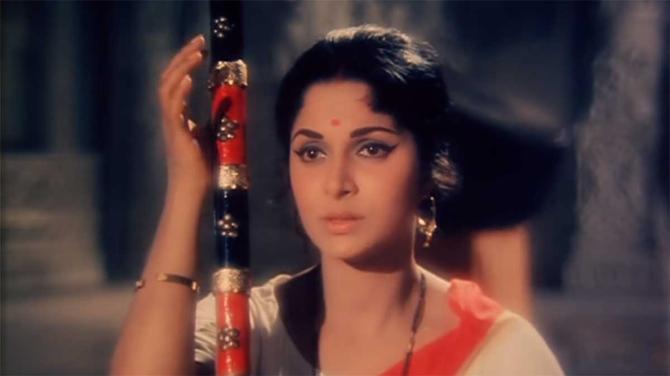 While most of the great composers of the golden era preferred Lataji for devotionals -- her Allah Tero Naam is one of the most cherished bhajans in Hindi cinema -- Composer Ravi went to Asha Bhosle for that immortal bhajan, Tora Man Darpan in the film Kajal.
The lesser known Hey Rom Rom Mein Basne Wale Ram, filmed on Waheeda Rehman in Ashaji's voice, celebrates Ram's supremacy on two levels -- the mythological and the celluloid.
Incidentally, Manoj Kumar and Waheeda Rehman's characters were named Rama and Sita in the movie.
Hey Ram Tere Raj Mein Kaise Jiyen Sitayen (Lata Mangeshkar, Bajrangbali, 1976)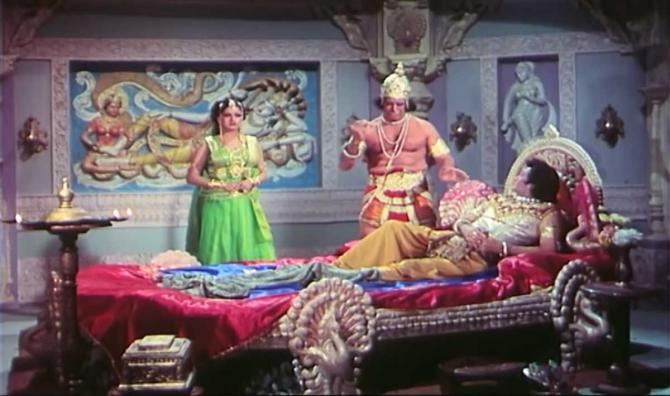 This lavish superhit film, featuring Dara Singh in the title role, had Biswajeet as Ram and Moushumi Chatterjee as Sita.
Kalyanji-Anandji's devotional soundtrack featured this gem where Lataji asks Ram about the status of women during his rein.
It is an unorthodox approach to the bhajan, where the sacrosanct Lord is actually questioned about gender dynamics.
Written by the great poet Pradeep (who wrote Lataji's immortal Ae Mere Watan Ke Logon), this devotional has a searing relevance even today.
Ram Se Bada Ram Ka Naam, Banaye Sabke Bigde Kaam (Kishore Kumar, Ram Bharose, 1977)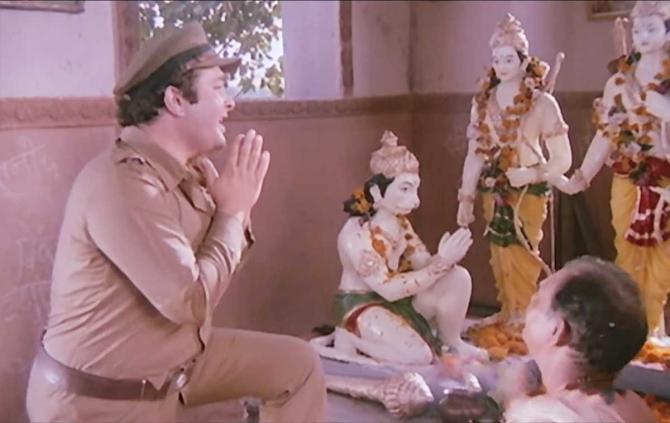 Curiously, Kishore Kumar didn't sing too many bhajans in his vast repertoire of songs.
I can recall a beautiful Krishna bhajan for Rajesh Khanna in the film Mere Jeevan Saathi -- Aao Kahnaiyee Mere Dhaam Ke Subah Se Ho Gayee shaam.
After much brain-wracking here is a very unusual Ram bhajan, written and composed by the great devotional expert Ravindra Jain for a Randhir Kapoor comedy.
Kishore keeps it light and bouncy.
After all, we don't have to get all solemn and existential to communicate with God.
Sabse Pehle Sabse Aakhir Loon Main Tera Naam Hey Ram (Mohammed Rafi, Lata Mangeshkar, unreleased film)
This Rajesh Roshan-composed bhajan is a resonant rendezvous with Lord Ram, written feelingly by the great Anand Bakshi.
The singing by the two stalwarts is flawless.
Sadly, this beautiful ode to Ram isn't counted among the great devotionals of Bollywood because the film was never released.
I got some details from Rajesh Roshan.
"This bhajan is one of my favourites. Sadly it never got its due.
"It was composed for a film called Hey Ram, not the Kamal Haasan-directed film, but a 1977 project produced by Hiren Khera and directed by B R Ishaara. It starred Sanjeev Kumar, Shashi Kapoor, Sulakshana Pandit and Mithun Chakraborty. Shashi Kapoor was to be featured in a negative role."
What happened to the film? Ram jaane!
Feature Presentation: Ashish Narsale/Rediff.com