Games Sukanya Verma learned at the movies.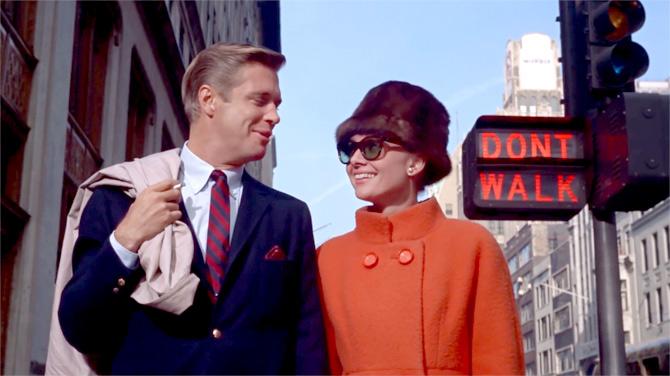 The world of films is fabulously fertile. One feels the grip of its larger-than-life charisma when things happening on screen inspire our reality.
Be it clothes, courtship or recreation.
Take Audrey Hepburn's iconic Breakfast at Tiffany's for instance.
Earlier in the 1961 classic, Hepburn's character Holly Golightly suggests to her friend, "We could spend the whole day doing things we've never done before. We'll take turns. First something you've never done, then me."
Needless to say their almost harmless pursuit leads to much adventure and amusement.
Meanwhile here are some of the most curiously fun games I picked up at the movies.
Paapad Rap!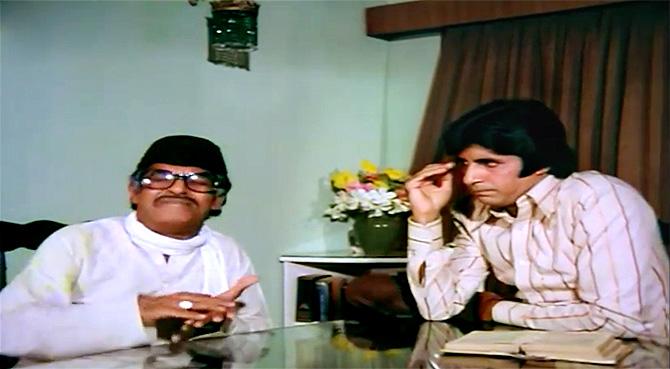 Remember how Amitabh Bachchan outsmarts his diction tutor by throwing a nerve-racking tongue twister at him in Yaarana?
Of course you do, it's easily the BEST scene in the movie.
Having spent a lifetime parroting Kacha Paapad Pakka Pappad in full speed, I can now proudly claim to be the game's undisputed Paapad Queen.
Shuru karein Antakshri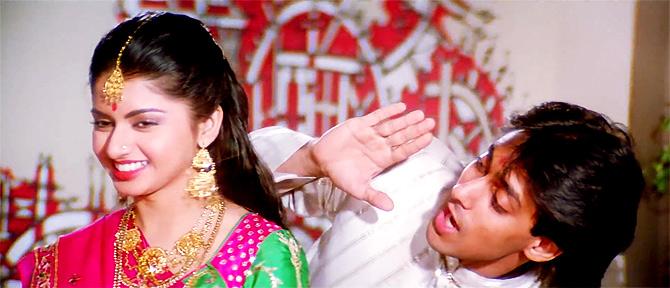 Antakshri may have existed from time immemorial, but Maine Pyar Kiya introduced me to the concept.
Salman Khan and Bhagyashree kick started the Bollywood singsong bandwagon around a lively medley of chartbusters -- where the only rule is to begin a new song from the last letter of the previous one -- to slyly proclaim their love to one another in public.
Its phenomenal craze prompted Annu Kapoor hosted musical contest of Antakshri on television and continues to be a hot favourite among families and friends that still interact outside Whatsapp groups.
Sherbet league football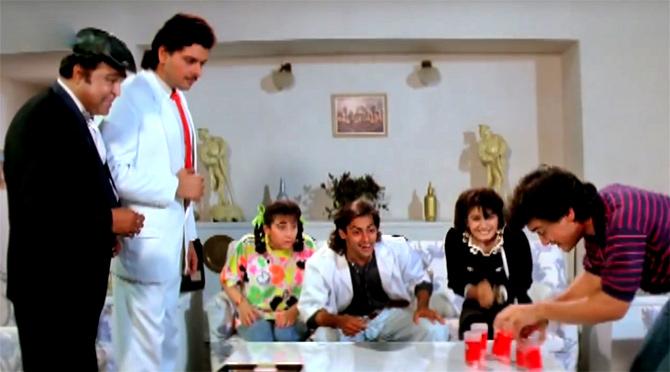 Those who say don't play with your food are clearly oblivious to Aamir Khan's delightful commentary of indoor football where the players aren't people but sherbet filled glasses.
The way he pits one glass against another, breathlessly zigzagging and dodging the winning glass all the way to the goal post is no less thrilling than a live match between premier league teams.
Khoobsurat Kaafiya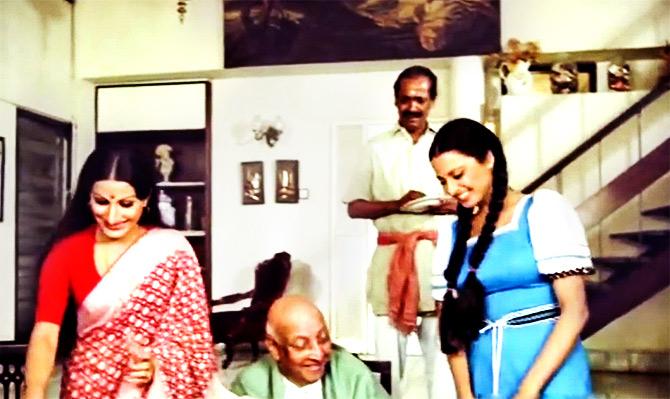 "Zara Dhyaan Se."
"Yeh Umeed Nahi Thi Shree YP Chauhan Se."
There's abundance of nirmal anand in Hrishikesh Mukherjee's movies. And the wonderful kaafiyas exchanged between David, his two daughters and their house help inhabiting a happy-go-lucky household set the tone for the contrast Dina Pathak's is about to provide for the rest of this breezy entertainer.
These limerick sessions are as cute as they are creative.
Years later, in Kal Ho Naa Ho, Saif Ali Khan and Preity Zinta tried their hand at it by rhyming Kya Subhash Ghai ki picture Taal Hai to Laal mere dil ka haal hai?
The Palat theory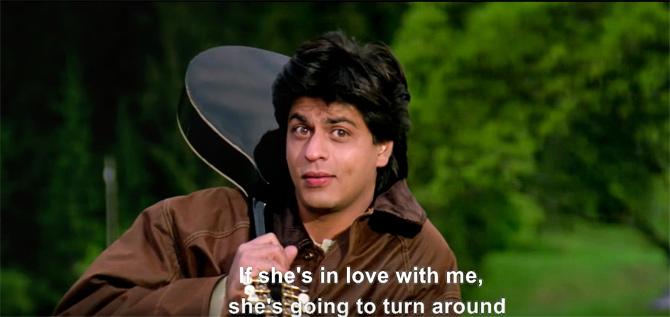 Does FLAME (standing for Friendship, Love, affection, marriage and enemies) ring a bell?
That childish game we all indulged in as school kids to calculate what sort of relationship we'll share with the person we dig in our class?
Right.
Now imagine probability combined with Jedi force and you've got Shah Rukh Khan's palat theory in Dilwale Dulhania Le Jayenge.
Okay, so, technically, Nana Patekar came up with it first in Raju Ban Gaya Gentleman, but Raj Malhotra made it totally epic.
Ask any '90s kid who desperately hoped for their crush to turn around and look at them with a smiling Simran face.
What's the word?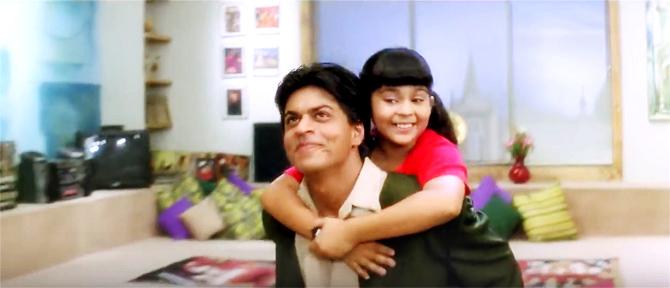 Karan Johar's Kuch Kuch Hota Hai is high on sport. The leads are totally into basketball. And later use the good ol' game of dumb charades to express their feelings.
But it's that innovative rapid fire round of what's-the-first-thing-that-comes-to-your-mind-on-the- mention-of-so-and-so-word played by Shah Rukh Khan and his precocious kid Sana Saeed that caught everyone's fancy.
Snooping was never this much fun.
Burn Milkha Burn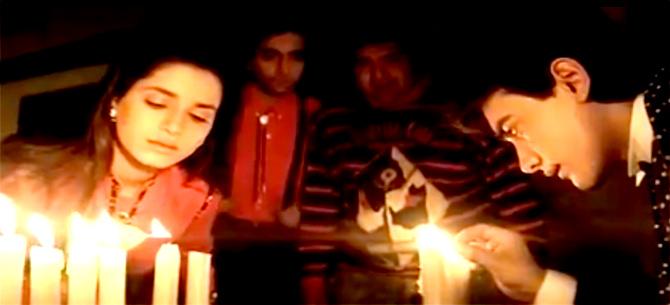 Potato race, sack race, lemon and spoon --there are all kinds of races but nothing like the one in Afsana Pyaar Ka.
Here Aamir Khan and Neelam are teamed up as partners and have to light a row of candles from opposite corners using a single matchstick. If they fail to do that, they'll lose.
Stupid movie doesn't care about the score as long as they burn their differences and reunite as a couple.
Blink wink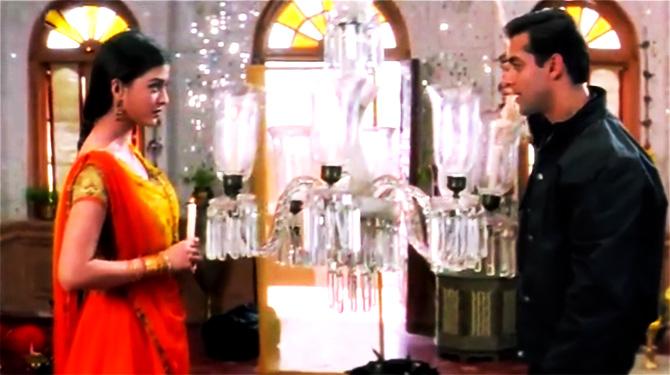 Finders are keepers and blinkers are losers.
Aishwarya Rai Bachchan and Salman Khan compete in a game of who'll blink first as a form of icebreaker in Hum Dil De Chuke Sanam.
Salman being Salman babbles all sorts of of nonsense to distract his pretty opponent and win by hook or crook.
Let's see how well Bhai fares before Deadpool.