B R Chopra was a reformist film-maker, way ahead of his times, says Subhash K Jha.
Baldev Raj Chopra was the visionary film-maker who directed Indian cinema's first multistarrer Waqt... If he had lived longer, he would be 106 years old on April 22.
History has not been very kind to Choprasaab in granting a lot of credit for the cinematic glory of the Chopra clan to his younger brother Yash Chopra, when in fact it was BRsaab who taught his sibling everything about film-making.
The senior Chopra was a trueblue reformist film-maker, way ahead of his times, who addressed issues while entertaining the multitudes.
Yash Chopra directed such landmarks of Hindi cinema as Dharmputra, Dhool Ka Phool, Waqt and Ittefaq for his brother's banner before branching out as an independent producer-director with Daag in 1973.
The parting was a severe blow to BRsaab. He never recovered from the separation, though he went on to make very successful films without his brother.
Here are B R Chopra's best directorial ventures:
Afsana, 1951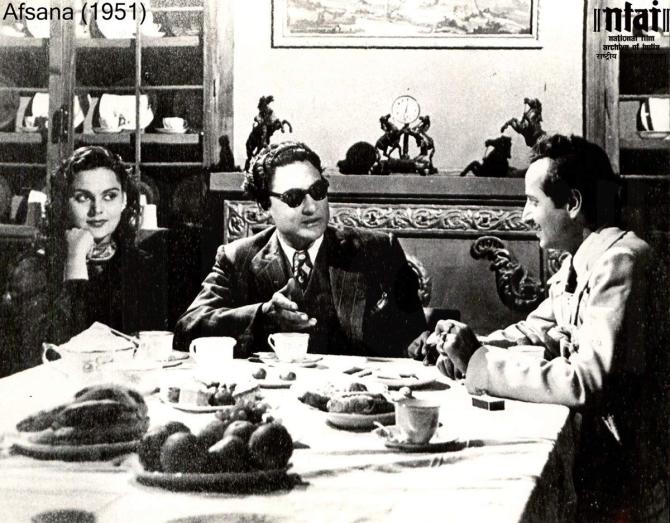 The father of double-role films, Afsana featured Ashok Kumar as two brothers, Ratan and Chaman, who had totally different aspirations.
To shoot a double role during those days was not as easy as it is today.
B R Chopra had to shoot with one Ashok Kumar first, then with the other, and coalesce the two shots together to make them look like one.
Afsana is rightfully the pioneer of all famous double-role films that followed like Ram Aur Shyam, Seeta aur Geeta, Haseena Maan Jayegi, Chaalbaaz and Judwaa.
Ashok Kumar was B R Chopra's favourite male actor.
They later collaborated for Kanoon (a songless courtroom drama in 1960), Ek Hi Raasta, Gumrah, etc
Naya Daur, 1957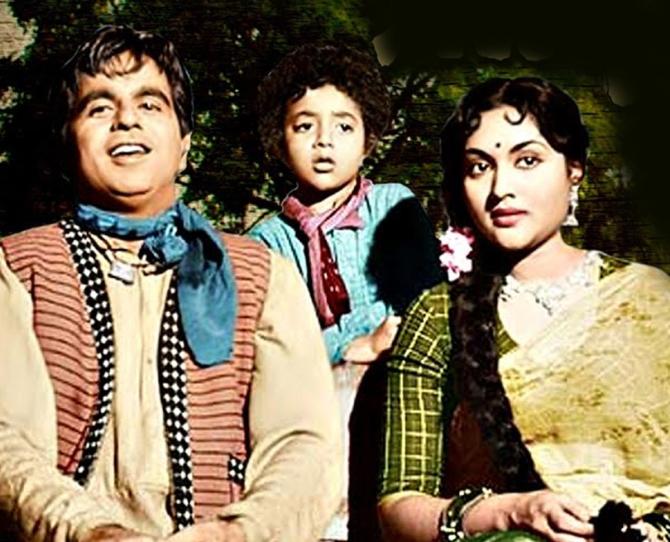 One of Indian cinema's most influential films, Naya Daur addressed the impact of the industrial revolution on rural India.
It was a work of tremendous power and strength but got talked about more for its controversial casting when Madhubala was sacked and replaced by Vyjanthimala, apparently on the film's leading man Dilip Kumar's say-so.
He didn't want to work with Madhubala after their romantic association ended.
Among its other vital assets, Naya Daur is remembered to this day for O P Nayyar's chartbuster songs.
Sadhana, 1958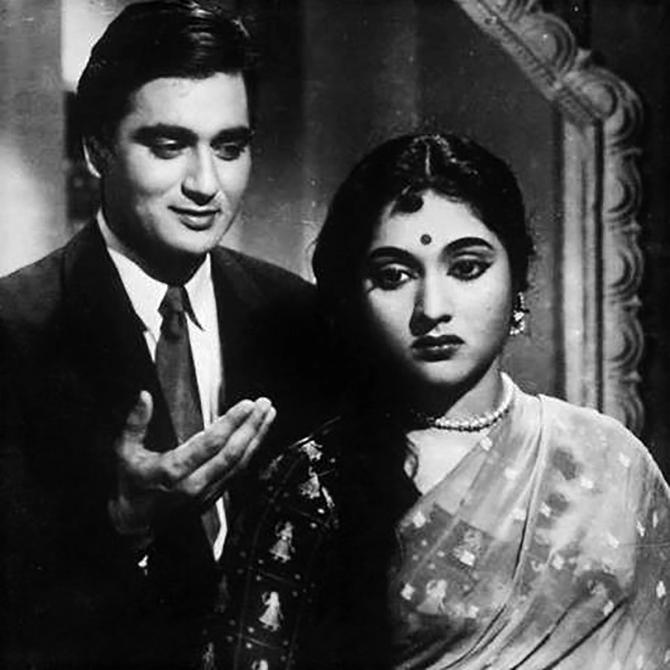 A remarkable reformist drama about the rehabilitation of a prostitute, it spoke of gender empowerment long before it became fashionable to do so.
Sahir Ludhianvi wrote the song: Aurat Ne Janam Diya Mardon Ko, Mardon Ne Ussey Bazaar Diya...
His words on the status accorded to women in our society rings true to this day.
B R Chopra's reputation as a reformist film-maker hinged on an impressive body of work.
While Sadhana was set around the powerful theme of a prostitute's rehabilitation, Dhool Ka Phool -- which Chopra produced a year later -- dealt with unwed motherhood.
Much later, Nikaah focused on Islamic laws and how they affect a woman's marital status.
Recalling B R Chopra's commitment to reformist progressive cinema Vyjanthimala, his leading lady in Naya Daur and Sadhana said, "I learnt so much from him during Sadhana and Naya Daur. Both were progressive, socially relevant subjects.
"There was nothing exaggerated and overdone in his cinema.
"I played a village girl in Naya Daur. But there was no exposure.
"Today, when heroines play village girls, directors take advantage of their costumes and gestures.
"When I did my two best films with Choprasaab, we were like one big family.
"He was not only a great filmmaker but also a wonderful human being. I was fortunate to be in two of his finest and most successful films."
Gumrah, 1963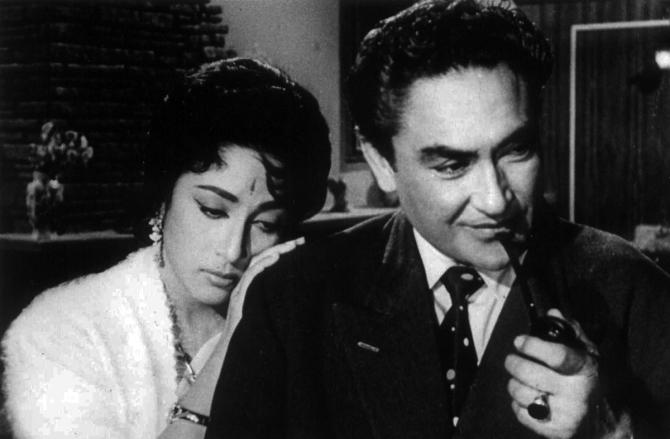 This was the first mainstream Hindi film to go headlong into the theme of marital infidelity.
In Gumrah, Mala Sinha, who was B R Chopra's favourite actress, played the gumrah (straying) wife.
Mala Sinha's best performances were in B R Chopra's cinema.
She recalls fondly, "Choprasaab was like family. I was an integral part of their team. I did my most powerful progressive parts in Choprasaab's Dhool Ka Phool where I played an unwed mother, Gumrah where I was an unfaithful wife and in Dharamputra, which was about communal relations."
Gumrah was a bold film with great songs written by Sahir Ludhianvi, composed by Ravi and sung by Mahendra Kapoor, the centrepiece being Chalo Ek baar Phir Se Ajnabee Bann Jayen Hum Dono.
Interestingly, B R Chopra chose to use Mahendra Kapoor and Asha Bhosle instead of Mohammed Rafi and Lata Mangeshkar to sing the songs for his films.
Nikaah, 1982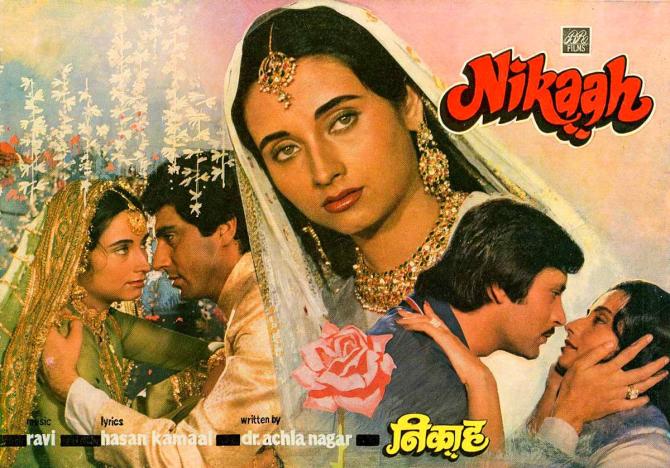 Salma Agha, an actress freshly imported from Pakistan, played wife to Deepak Parasher who divorces her by saying 'talaq' thrice.
Boldly, the film questions the male spouse's right to discard his marital duties on a whim.
Salma Agha not only played the lead but also sang Ravi's chartbusting compositions, which went a long way in making this film a superhit during the year of Amitabh Bachchan's Namak Halaal, Khuddar, Satte Pe Satta and Desh Premee.
B R Chopra had similarly launched Vimi in the hit suspense thriller Humraaz. She too vanished after a successful start.