There's still some time before silver screen lights up again.
Keeping the current lockdown situation in mind, Director Shoojit Sircar's much-anticipated Gulabo Sitabo, starring Amitabh Bachchan and Ayushmann Khurrana, is skipping a theatrical release and will now directly premiere on Amazon Prime Video on June 12.
Teamed together for the first time, AB and AK play a bickering pair of landlord-tenant in Lucknow engaged in a wild game of one-upmanship.
Quite a few Hindi movies have explored different shades of this relationship in passing or purposefully.
Sukanya Verma lists a few.
Judgementall Hai Kya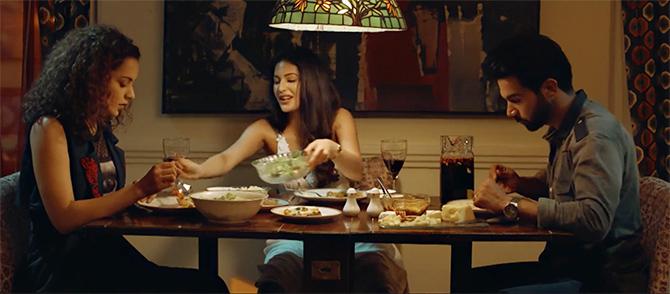 Though her reputation is that of an unstable mind in public perception, Kangana Ranaut proves her snooping suspicions about her deviously shadowy, seemingly innocuous, tenant (Rajkummar Rao) being a demented serial killer as absolutely accurate.
Mission Mangal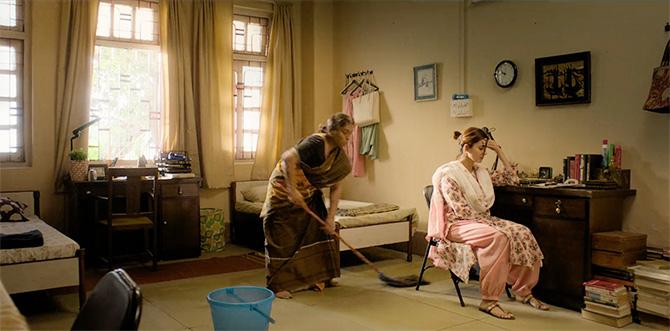 For all her education and economic independence, a woman's significance continues to be measured by her marital status in Indian society. Much worse if she's a Muslim.
It's why Kriti Kulhari grumbles about being a 'divorcee' or 'changing her surname' to find a home to rent in Mission Mangal.
Dear Zindagi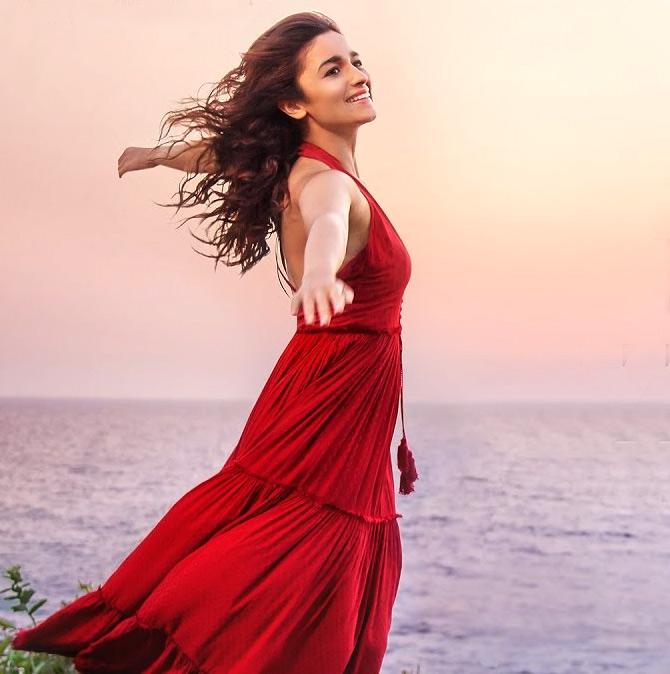 Alia Bhatt's landlord in Dear Zindagi isn't central to the story, but he's certainly a significant catalyst.
Besides underscoring the widespread bias young, single, people in Mumbai face in finding accommodation, her sudden expulsion from her apartment forces her to move back home in Goa and address her acute anxiety to an incredibly wise therapist.
Mujhse Shaadi Karogi
A good chunk of laughs in this David Dhawan brand of comedy can be credited to Kader Khan's whimsical landlord and his handicap of the day.
Yeh Teraa Ghar Yeh Meraa Ghar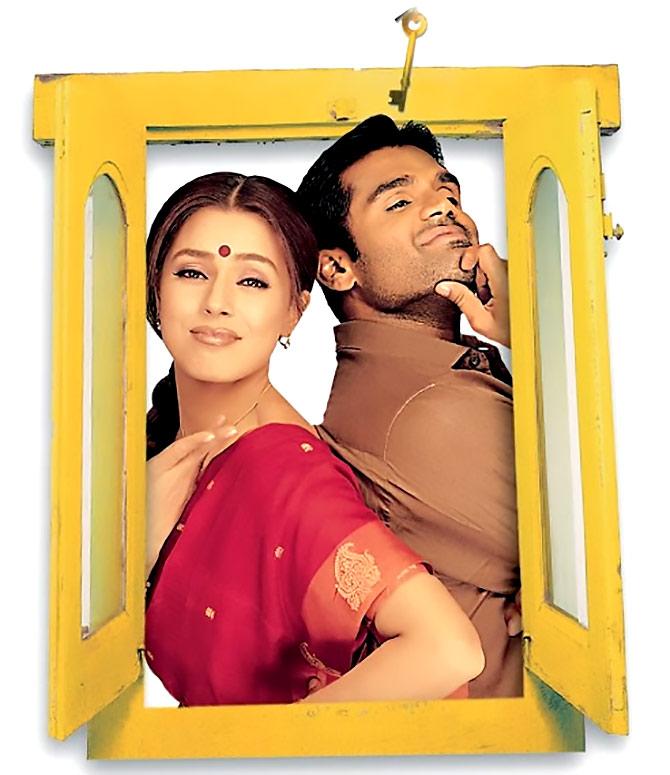 The age-old tenant-landlord tussle is once again reiterated between Suniel Shetty and Mahima Chaudhary in Priyadarshan's Yeh Teraa Ghar Yeh Meraa Ghar and belongs to the same space as Kirayadar.
Except this one's a remake of the Malayalam comedy Sanmanassullavarkku Samadhanam and not a whole lot fun.
<p]=>
Hera Pheri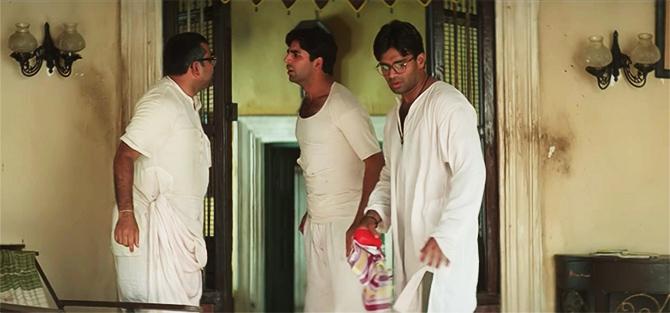 Landlord Paresh Rawal shares a comic camaraderie with his tenants, Akshay Kumar and Suniel Shetty.
The troika's constant wrangling and wishful thinking is set aside after they receive a call from a kidnapper and a hilarious scheme to exploit a 'wrong number' is set in motion.
Chachi 420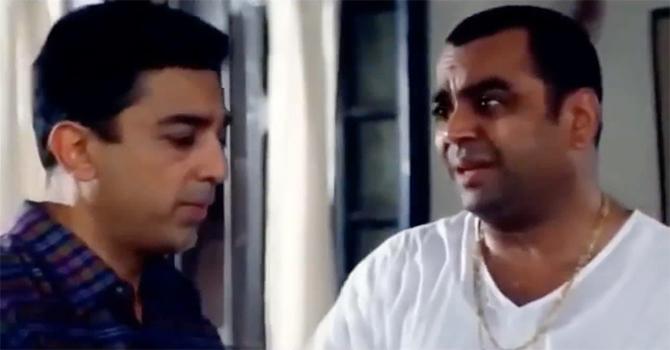 Paresh Rawal is a droll mix of curiosity and nagging as he pesters Kamal Haasan's struggling Bollywood choreographer for rent and gossip. But the real fun follows when he falls for Haasan in Chachi's getup.
Bombay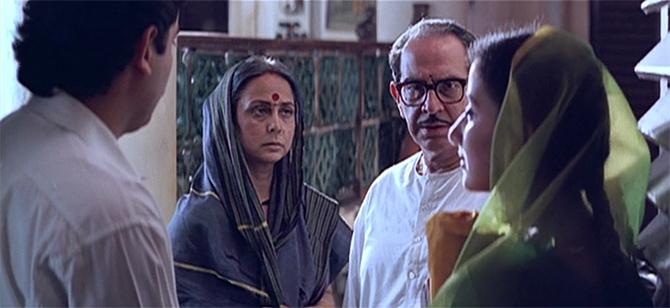 Communal disharmony and religious prejudices are at the centre of Mani Ratnam's Bombay in both its most brutal and subtle forms.
The cold, unfriendly welcome Manisha Koirala's character receives from her Hindu landlady in Mumbai once she learns of her Muslim identity is a case in point.
Mr India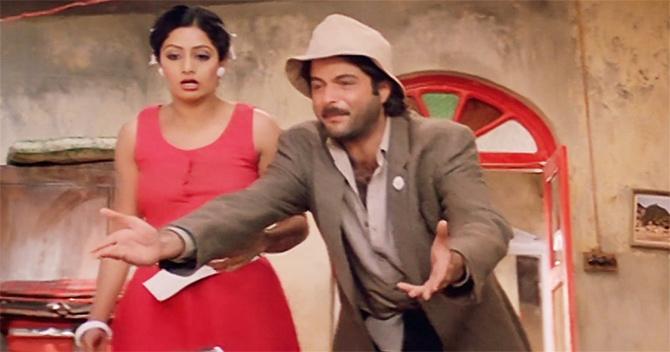 Sridevi is happy to pay advance and rent a floor of Anil Kapoor's huge house overlooking the sea with the hope of peacefully filing her news reports.
Only to realise the one and only condition she placed -- no kids -- popping out from every corner in abundance.
Woh Saat Din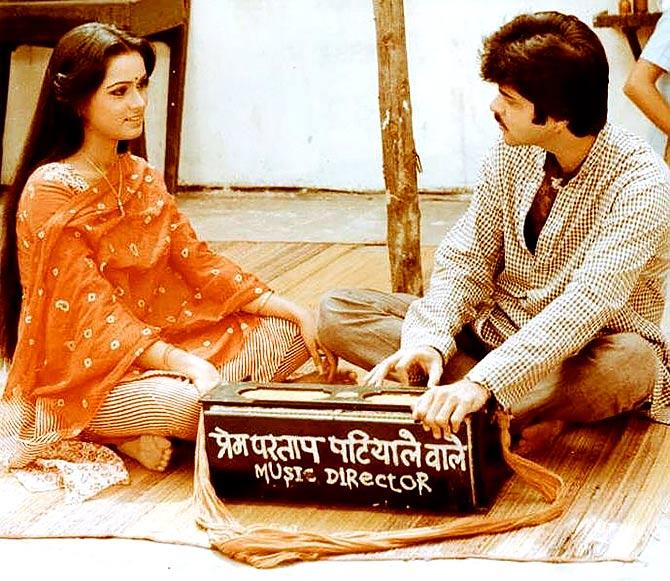 Falling in love with your landlord's (Nilu Phule) nubile daughter (Padmini Kolhapure), no matter how mutual the affection is never a good idea.
Planning to elope and get married only to get caught is even worse.
Anil Kapoor's wide-eyed musician learns it the hard way in Woh Saat Din.
Saaransh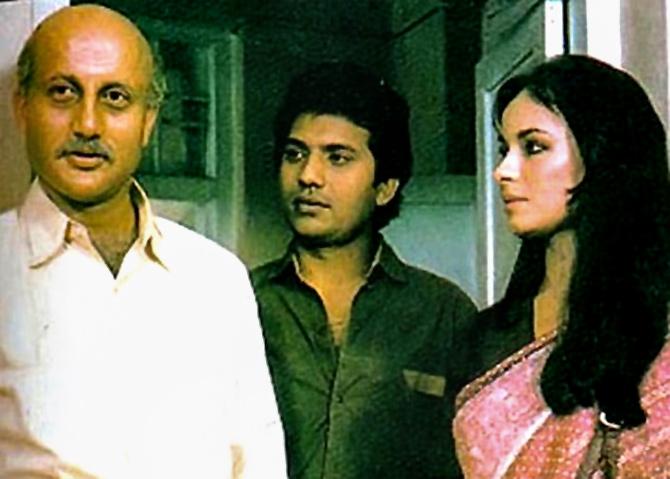 In Mahesh Bhatt's acclaimed drama, Anupam Kher and Rohini Hattangadi playing an old couple, still recovering from the untimely loss of their only son, rent out a room to an aspiring actress (Soni Razdan).
The latter's intimidation at the hands of an influential politician after she gets pregnant by his son compel her aged landlord/lady to step up and support her in whatever way they can.
Kirayadar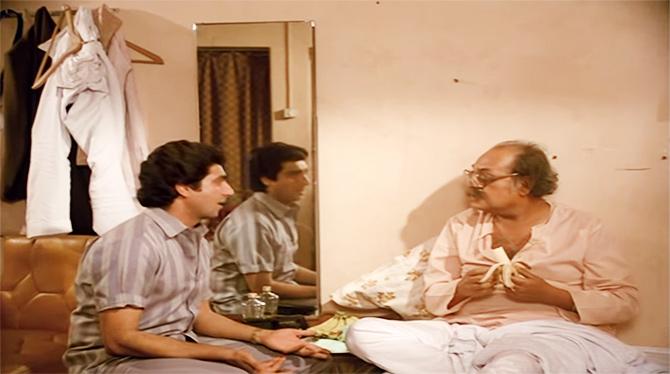 Known to depict reality in his breezy slice-of-life features, Basu Chaterjee's Kirayadar chronicles the legal woes of a father-son duo forced to reside in a tiny room after the tenants refuse to vacate their flat in Mumbai.
What makes it worse is the son's in love with the tenant's daughter.
Mohan Joshi Hazir Ho!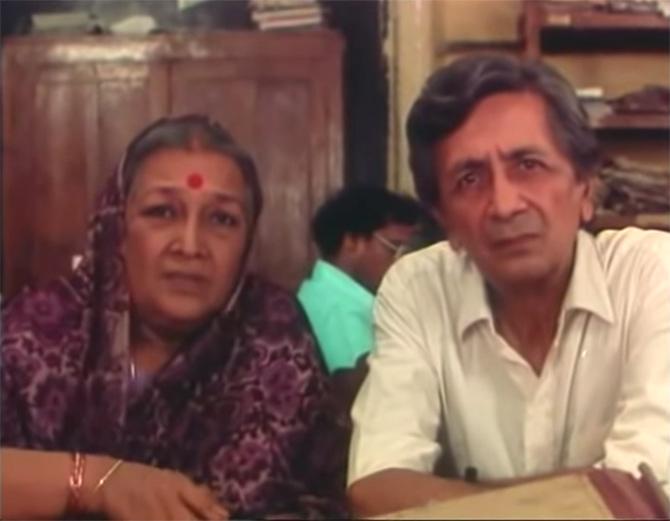 Saaed Mirza's affecting satire depicts an elderly couple's (Bhisham Sahni and Dina Pathak) legal battle against their wily landlord (Amjad Khan) over their residential building's doddering condition.
Paying Guest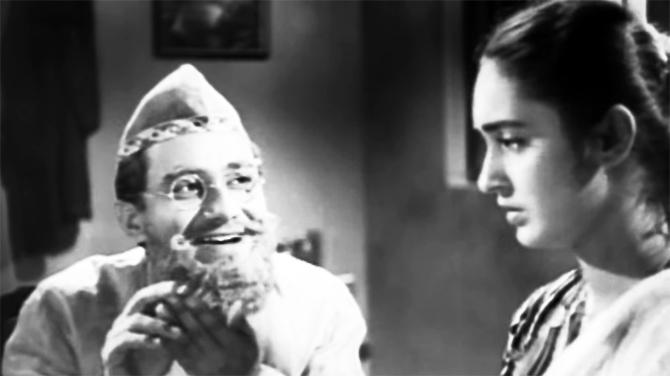 Finding rental accommodation can prove rather tough when you're young and broke as Dev Anand charmingly demonstrates by disguising himself as an elderly fella in the 50s rom-com, Paying Guest.
Musafir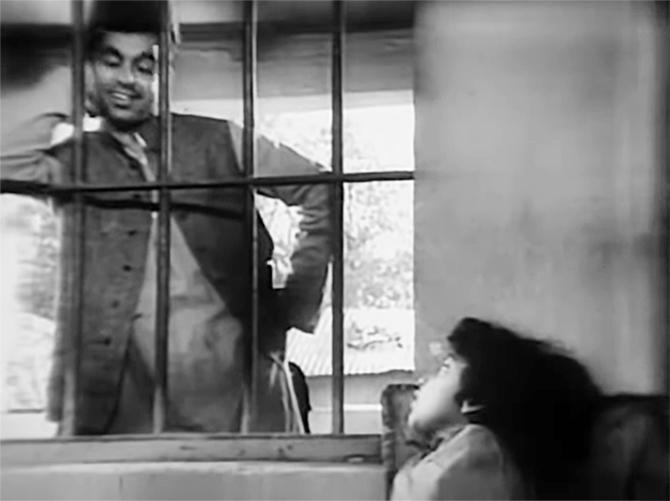 Hrishikesh Mukerji's directorial debut unfolds in three segments commenting on the cyclical nature of birth, marriage and death respectively -- David's landlord is common to all three star-studded episodes starring the likes of Dilip Kumar, Kishore Kumar and Suchitra Sen.
The genial supporting actor and a Mukerji regular cheerfully rents out the home to all its new residents with the promise of hope and happiness.
New Delhi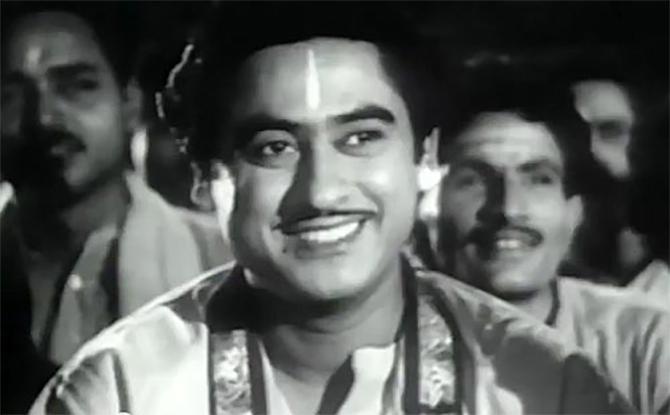 Kishore Kumar highlights an enduring problem as an engineering student from Punjab struggling to rent a flat in the capital of India.
Every available accommodation's owner insists the candidate belong to his community forcing our man to masquerade as a South Indian out of sheer desperation.
Dastak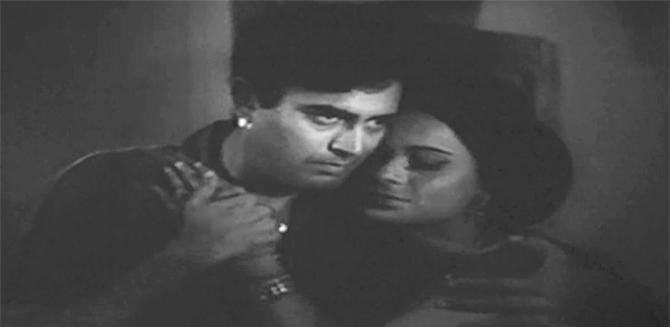 Mumbai's big bad side shows itself in the schemes of sneaky landlords and middlemen who trick naïve newlyweds to rent a room shrouded in infamy.
Oblivious to its disreputable history, the couple fight through much prejudice and humiliation.