'I always felt that Basu Chatterjee was a kind, gentle, man who truly believed that in directing films like Chhoti Si Baat, he was impacting our lives,' remembers Aseem Chhabra.
'He seemed to be on a mission to make us believe that the world could be a better place.'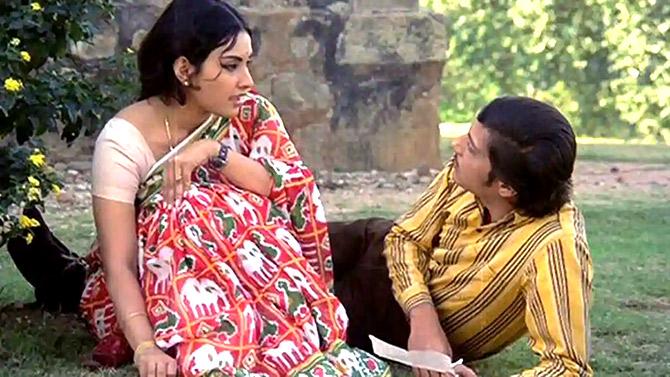 This had to be more than a coincidence.
When MUBI India streamed Basu Chatterjee's Rajnigandha in March and then Swami in April, I felt the urgent need to watch the two films, even though I had seen them a few times.
The element of coincidence did not end there.
In February, when I was recuperating from surgery, I watched Basu Chatterjee's second film Piya Ka Ghar for research I was doing on the Hindi films of the 1970s, when friendly neighbours would drop by unannounced.
When the quirky actor Ranjit Chowdhry suddenly passed away in April, I revisited his songs from Basu Chatterjee's films, Na Bole Tum (Baton Baton Main) and Thoda Hai (Khatta Meetha).
Suddenly I missed Chowdhry's impish charm, later also seen in films directed by Mira Nair and Deepa Mehta.
But watching the songs from the earlier films connected me with my teenage years, when life was easier.
The last three months have been tough for all of us.
We are all stuck in our homes in a lockdown situation.
There is a dangerous virus that we cannot see, lurking somewhere outside our front doors. And there is a fear of the unknown, especially what our future will be like.
To add to that there are daily reports of the misery faced by migrant workers desperate to get home.
Basu Chatterjee's films were a much-needed antidote for these trying times. Without giving much thought, I sought Chatterjee's films. They provided comfort for my soul when all I could see was a depressing path leading to uncertainty.
Chatterjee's films were from another time -- long before India went on the road of liberalisation, when Hindi cinema adopted a global perspective, and Bombay's film industry became today's Bollywood, in large part due to the works of the likes of Yash Chopra and Karan Johar.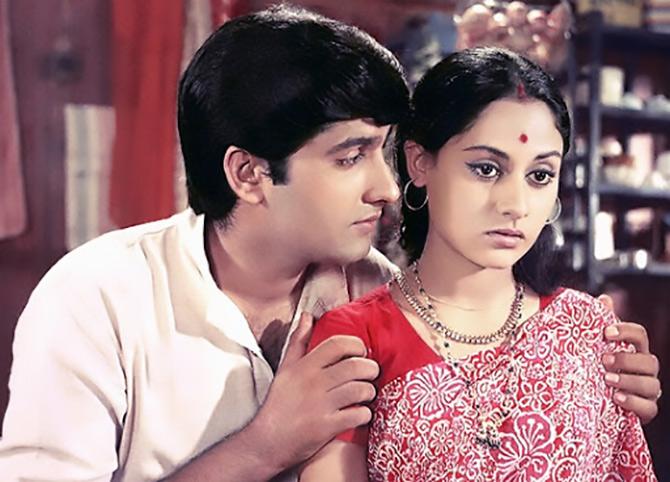 The young couple in Piya Ka Ghar had a very basic concern that seemed obvious to us, but no one in their family understood.
They wanted privacy and space, not just for sex, but also to get to know each other, to share what they were thinking and feeling.
India of the 1970s also faced a lot of political and social turmoil, but Piya Ka Ghar calmed us and gave us a feeling of hope.
Basu Chatterjee was the master of hope.
I never met him, but I always felt that he was a kind, gentle man who truly believed that in directing films like Chhoti Si Baat, he was impacting our lives. He seemed to be on a mission to make us believe that the world could be a better place.
There were no villains in Chatterjee's world.
At the most, there were gray-characters, annoying people like Nagesh in Chhoti Si Baat (played by Asrani), who would distract Chatterjee's common man -- sometimes played by Amol Palekar (Arun in this film), from talking to Prabha (Vidya Sinha) the girl he liked.
Arun's focus was how to express his love to Prabha who he would see in the bus everyday and follow to her office.
In Rajnigandha, the main concern for the film's protagonist -- a young woman named Deepa (Sinha in her first lead role) was to decide who she should love, Sanjay (Palekar in one of his early screen appearances), the charming man who dropped by everyday with a bouquet of flowers, had a heart of gold, but talked non-stop about his own problems, or an old flame (Dinesh Thakur, playing Navin), who reminded her of a painful breakup.
In Swami, Shabana Azmi's Saudamini noticed how her husband Ghanshyam (Girish Karnad) was treated badly by his stepmother (Shashikala). But then Ghanshyam told her he was not bothered by these small things and he still respected his stepmother.
She was his mother, Ghanshyam said to Saudamini, not a mean-spirited villain.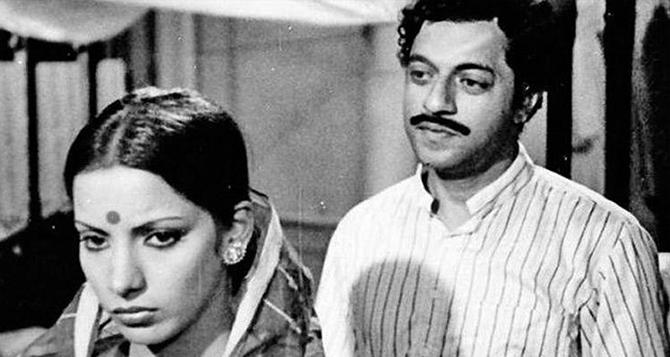 Chatterjee's films keep reappearing in my life at regular intervals.
Two years ago, I watched Chitchor on an Air India flight from New York to Delhi.
I could have watched many other films, but Chitchor was going to take me back to the time when I skipped a college class to watch the new release with Zarina Wahab and Amol Palekar, again playing the uber charming common man.
Perhaps I told a little lie to my mother when I went to see Chitchor, instead of attending a micro economics class.
But I remember feeling really good watching Basu Chatterjee's new film. And on the return flight to India, I wanted to reconnect with that emotion, a time of innocence, when even if I lied to my mother, I knew everything would eventually be okay.
Gulzar's lyrics from Khatta Meetha summed up that time, the world Basu Chatterjee wanted us to inhabit.
Thoda Hai, Thode Ki Zaroorat Hai/Zindagi Phir Bhi Yahan Khoobsurat Hai.
Basu Chatterjee was 90. He had lived a full life.
Fortunately, he left a lot of films for us to revisit during these troubled days.
He also left us a reminder that zindagi will eventually be khoobsurat again.