'They are waiting for the kind of experience they had in the film, the kind of emotion they felt in the film.'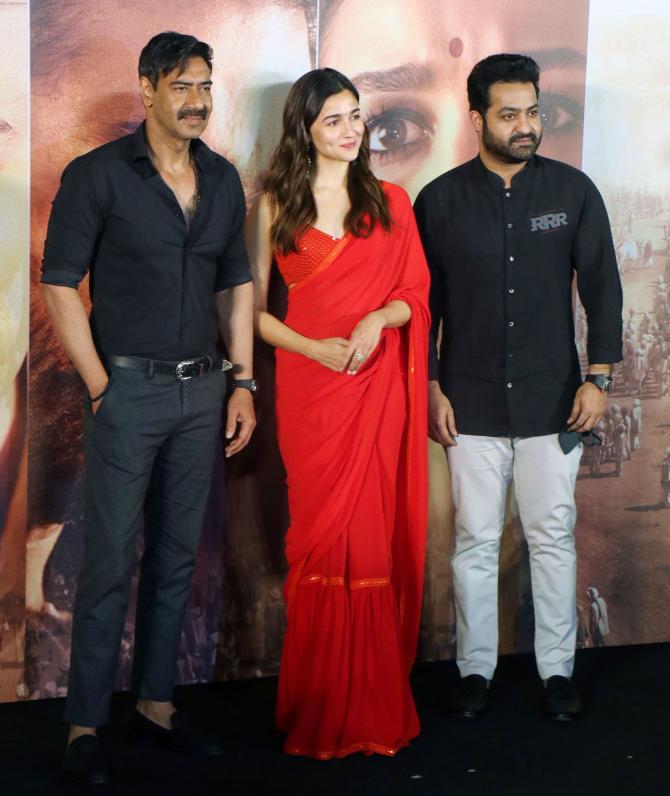 After facing several setbacks due to the pandemic, S S Rajamouli's RRR is finally scheduled to enter theatres on January 7. It features Ram Charan, NTR Jr, Ajay Devgn, and Alia Bhatt on the ensemble cast.
The team unveiled the theatrical trailer of RRR at a multiplex in Mumbai on Thursday.
When Rajamouli was asked how it felt to know that everybody is expecting a bigger film than his blockbuster Baahubali franchise, he replied, "I will be banking more on my story and my emotions rather than my previous track record."
The cast fielded questions from the media, and Rediff.com Contributor Mohnish Singh listened in.
S S Rajamouli's cinema is unconventional and since you are a director too, what appealed you the most about RRR from a director's point of view?
Ajay Devgn: Rajamouli's cinema is not different, it is one cinema. Even if someone tries to attempt it, it is very difficult.
Apart from his ideas being massive, they are entirely different.
I remember him telling me how he studied the characters and every single day, he studied a new version of Mahabharata. There aren't any characters left in the world which are not there in the Mahabharata.
So, I think, the way he does the characterisation, his thought process and how he thinks from the character's point of view is fabulous.
In Telugu cinema, NTR sir is known to be fire and Ram Charan is known to be the ice and you have cast them just so in this film. Could you tell us the idea behind casting the two of them as fire and ice?
S S Rajamouli: To tell it commercially, if I show them how the other directors have shown them, then I won't be special.
So I want to be special.
See, why I chose them for the characters is the characterisation itself.
There are certain aspects of Bheem that can portrayed only by NTR. There are certain portions, certain characteristics of Ram that can be portrayed only by Ram Charan.
Characters made me choose them for their roles rather than their images.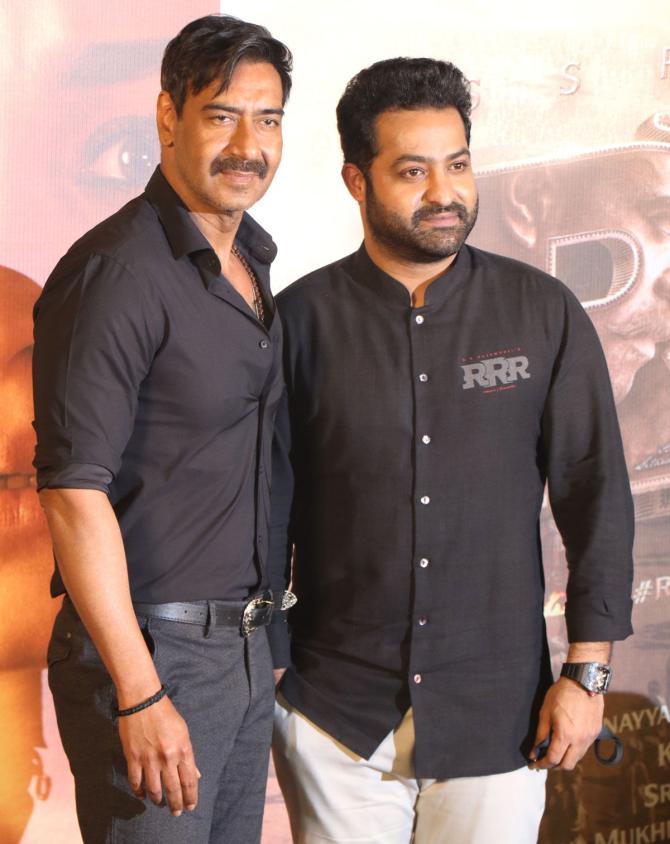 Do you believe that an S S Rajamouli film is the perfect vehicle for any actor to go pan-India?
NTR Jr: Absolutely. Why not?
Let me not talk about the business aspect in this, but as an actor, for me, Rajamouli has been a director, who has always satisfied my thirst of wanting to do something new, something that an actor should not be comfortable with.
Rajamouli is one of the very, very, few directors who has tickled that part in me.
It is not only the films he does with me, but also when we discuss in general.
He has been a very close friend for a long time.
When I discuss scripts, he pushes me to get out of my comfort zone.
Being a part of RRR has opened out a lot of doors for me as an actor.
After the Baahubali franchise, expectations are too high for RRR. How difficult is it to know that everybody is expecting a bigger movie thanBaahubali?
Rajamouli: Obviously, a lot of people will be expecting the same kind of film after Baahubali. But we can't keep making the same films again and again.
The trick is, if you look deeply, the audience is not waiting for another Baahubali.
They are waiting for the kind of experience they had in the film, the kind of emotion they felt in the film.
That is what they want, but they can't tell you that. They don't have that much analysis to tell you that.
So they will simply say, 'We need another Baahubali.'
But what people want is the same kind of emotion, the same kind of highs that they got in that film.
I am aware about the expectations people have.
Like I said, I will be banking more on the story, on the characters and the relationship between the characters and the emotional highs that we get when we watch the characters.
The trailers, heroes's images, my previous track... everything will help us bring them to theatres.
The moment they come to the theatres, two-three minutes into the film, they will be watching what this film is, not what we did before.
So I will be banking more on my story and my emotions rather than my previous track record.
There was a time in the '80s and '90s, where we did see this kind of pan-India cinema. Do you think you are starting that trend again?
Rajamouli: I believe -- and I have said this many times before -- that if you believe in your core storytelling, you don't need to worry about language.
Whether it is Telugu, Tamil, Hindi or North Eastern, it doesn't matter because the language is just a medium of communication.
What is actually communicating to the people is the story that we are telling, words are just small bridges.
In cinema, the visual is what tells you the story and the language doesn't matter.
You bank on which actor best suits the role.
For example, I did not approach Ajay Devgn because I have a relationship with him.
I did not approach him because we have NTR and Ram Charan from Telugu and we have Ajay Devgn from the North, so it will be a big commercial combination.
That is not how I approach it.
When we were writing the character, we thought who had the image to carry this role. The immediate name that cropped up in all our story departments was Ajay Devgn.
I immediately called him and said, 'Sir, I need 15 minutes of your time' and I narrated his role. The first question he asked me was, 'When do you need my days?'
So things fall in place when you approach it in the right way.
Of course, commercials are important to everyone, but if your story leads your way, then everything will fall into place.
When you do a Rajamouli film, people know that you have to dedicate not days but years to that film. Between Aravinda Sametha Veera Raghava and RRR, how many movies did you have to let go?
NTR Jr: Basically, dedicating your whole lifetime to only one movie,RRR.
I was offered only one movie after Aravinda Sametha Veera Raghava. Do you think someone would even dare come up and ask for dates when Rajamouli is doing a movie with you?
Impossible!
This doesn't happen in our industry when you are working on a movie with Jakanna.
You know you are in there for a long time and you have to accept it.
Alia, you have an 'R' in your own life and this film has a triple 'R'. Do you think 'R' is a lucky alphabet for you?
Alia Bhatt: I am stumped. I am speechless.
I am trying to be intelligent, but I don't have a good answer.
Yes, 'R' is a lovely alphabet, but so is 'A'.
How did you become a part of this magnum opus?
Alia Bhatt: So, actually, the story is very interesting. I bumped into Rajamouli sir at the airport. I was going to Hyderabad for a shoot.
I said, 'Sir, I want to work with you. I will do anything, just give me a part in your film.'
It was a casual meeting.
At the end of it, he said, 'Actually, I do have something, but am not sure. I wasn't sure whether I should approach you and I am not sure about your timeline.'
I could not believe my luck.
I could not believe that there was actually something for me.
I said, 'Sir, whatever it is, I will come and meet you.'
Then, of course, it became more legitimate. We did a Zoom call, then I went to Hyderabad and he took me through the film.
Just being a part of his vision and his cinema is a dream come true for me.
Speaking about the character, it was very important for me that I match the character because Sita is very, very loved and the way you portray her on screen, your look, the way you speak, your energy, everything has to be up to the mark. I have to live up to the audiences' visualisation and characterization that they already have of her.
So I took that very, very seriously and I worked for a year on my lines.
I think the scariest part was I had to speak in Telugu. I think I managed it eventually.
What do you have to say about the response as we welcome you into the Hindi film industry with an S S Rajamouli directorial?
NTR Jr: First of all, thank you so much. I call him Jakkanna, I can't call him Rajamouli.
Jakkanna is this great sculptor.
I don't know when we started our relationship a few years ago.
This is my first interaction with the media in Mumbai, so I am nervous, very nervous.
It makes me feel like I have gone back 20 years in the industry.
Everyone is playing characters based on unsung freedom fighters. Did you feel their sacrifice while portraying them on screen?
Ajay Devgn: There are a few characters, where you feel a lot.
One such character that had engulfed me was Bhagat Singh, what he was in real life.
Their brothers, who are more than 90 years old, used to visit our sets and would narrate stories, and you want to shoot for another six months.
You change as a human being. That is the kind of effect it has.
Alia Bhatt: I have done a film called Raazi where I have played an unsung hero and I think I completely agree with Ajay.
If you play such a character even for a month, you really feel it because we can't imagine what they went through when they put their lives at stake for the country, for their people.
So living through the beats of the character and the psychology of what they go through is just a small part of it.
NTR Jr: Some characters are such that we have heard their stories since we were born and when you get an opportunity to play them, we go down that memory lane and start remembering those stories.
Somewhere, you feel that you really don't need to work that hard for it because they have already become a part of your life.
So you are playing yourself there, you are not playing some character.
These are the freedom fighters, these are great people who have become a part of your life already. So you are playing yourself.
There wasn't a special effort for this and, of course, when you have a director like Rajamouli who is ready to guide you, it becomes very easy.
If there are any mistakes, please accept my apology.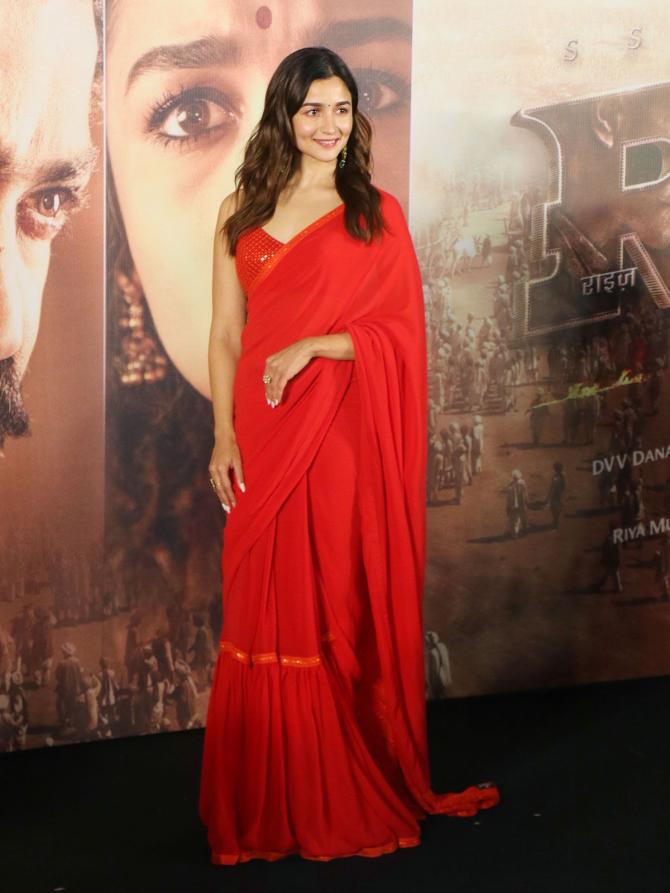 When you were finalised to play Sita, what were your emotions?
Alia Bhatt: I was very excited and, at the same time, very nervous.
I knew the language, I had studied it.
I had gone through my part.
I was sitting every day with my language coach, going through it.
But at the end of the day, I think in Hindi and English, not in Telugu.
So I was very nervous because I wanted to portray the line, give the right pauses.
Once I went on set, I realised that Rajamouli sir had done everything for me. He made it so much easier because he was so clear about exactly what he wanted -- every line, every shot, every emotion.
I was just observing him.
After a while, I was literally like an audience watching him.
He would also perform in front of the camera, then I would try and imitate him.
Once it was done, I was quite sad. My experience with sir was over, but hopefully, I will have another one.