Believe it or not, Anees Bazmee began his film career as a teenaged Shatrughan Sinha in Manmohan Desai's Naseeb.
See that smiley-faced young man with hair as big as his tie in the picture below? That's him, alright.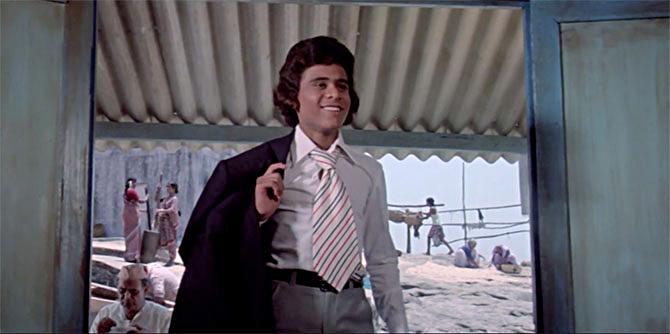 Guess the masala bug hit him hard while working on the lost and found multistarrer.
Bazmee went on to assist Raj Kapoor on Prem Rog and wrote several David Dhawan entertainers like Swarg, Bol Radha Bol, Aankhen, Raja Babu and Deewana Mastana before he decided he's ready to call the shots with the Ajay Devgn-Kajol starrer, Hulchul.
Best remembered for kicking off a romance between its leads, Hulchul's failure was quickly forgotten to rejoice in the success of their French Kiss rip-off, Pyar Toh Hona Hi Tha.
But the cackling sounds he heard during No Entry made Bazmee realise comedy is where his heart is.
The man's made quite a few of those since; Pagalpanti being the latest.
Sukanya Verma lists Anees Bazmee's stockpile of silliness. Vote for your favourite at the end!
No Entry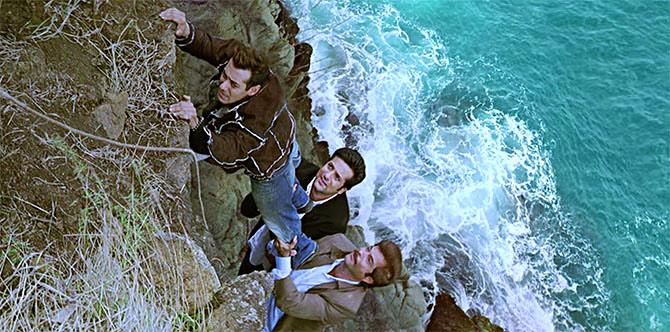 Straying men and suspicious wives are the script and source of comic confusion in No Entry.
Most of Bazmee's hokum is a droning exercise in highlighting this cliche until Anil Kapoor, Fardeen Khan and Salman Khan, in an extended cameo, come to the rescue in a truly amusing climax.
Sandwich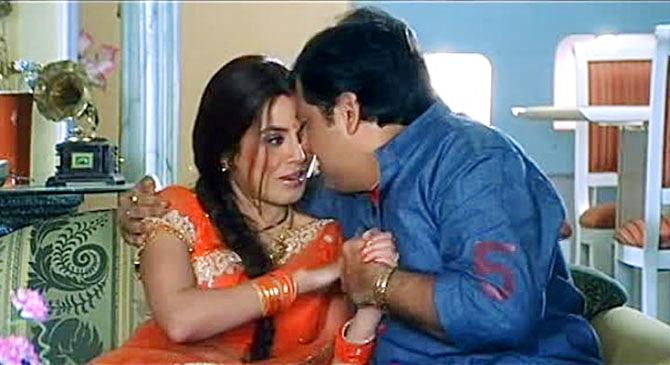 Bazmee's recycled Saajan Chale Sasural stretches the bigamy joke too far and solely depends on its leading man's famous comic chops to make a stale shtick work.
But the long-in-the-making Govinda-Raveena Tandon-Mahima Chaudhary is well past its sell-by date to oblige.
Welcome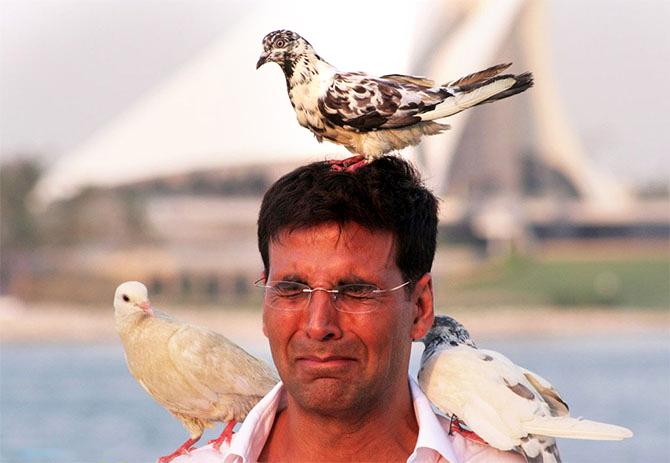 Anil Kapoor and Nana Patekar's madcap antics and camaraderie as mafia brothers conned by the same girl run the show in Welcome.
Toss in a jittery Akshay Kumar and jumpy Paresh Rawal in its slapstick scenario and Bazmee is laughing all the way to the bank.
Singh is Kinng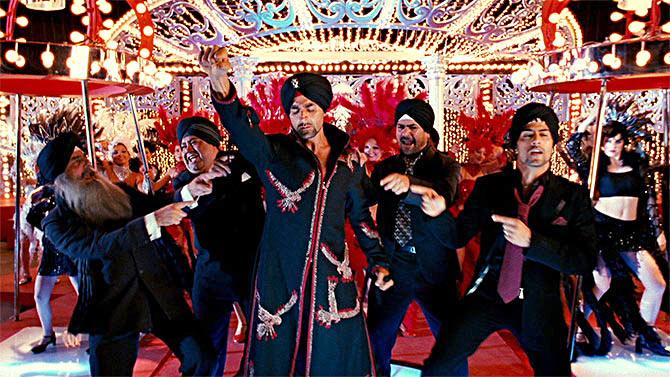 Akshay Kumar's potential for comedy peaks around Singh is Kinng's puerile, playing for laughs humour.
Bazmee's film though, juggling between farce and hot air, is dedicated to tomfoolery of the highest level.
No Problem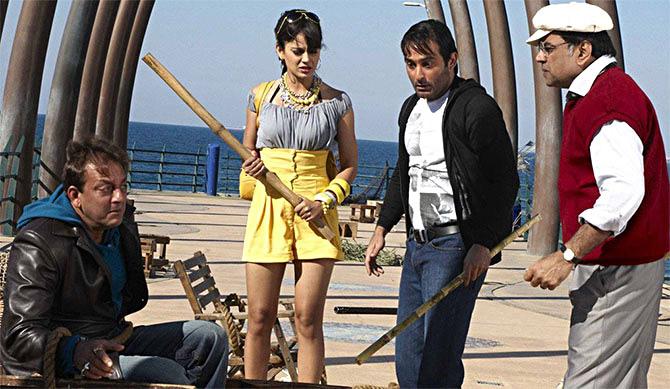 Akshaye Khanna in drag.
Bullets that tickle Anil Kapoor's belly.
Ranjeet shows more hair than Kangana has brains in the movie.
Monkey, dogs, fish, no one is spared or make sense.
This one is besieged with problems.
Thank You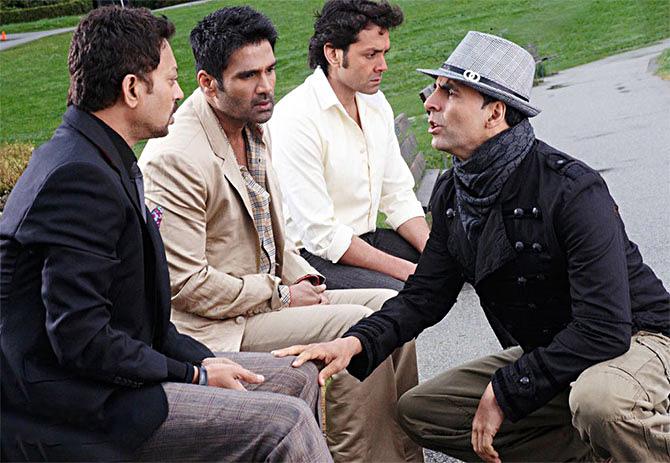 Another one that goes directly to worst-of everyone associated career's list, Thank You reiterates Bazmee's love for seeing humour in adulterers.
Neither Irfan Khan's talent nor Akshay Kumar's charisma is enough to salvage this abomination.
Ready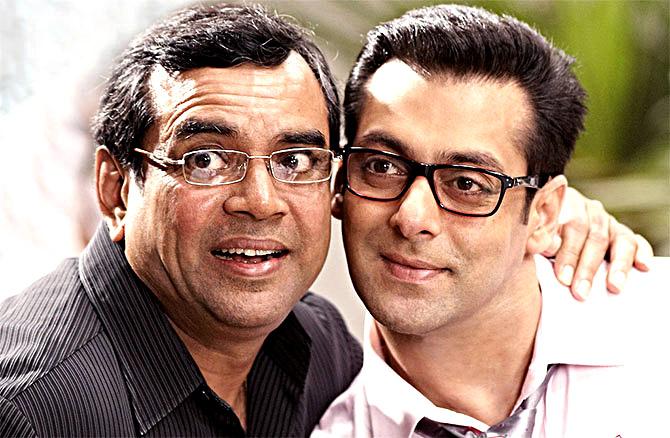 Anees Bazmee's remake of the Telugu hit piggybacks on Salman Khan's superstar draw to dhinkchika its way to the box office.
Strictly for Sallu fans, is the best you can say about this senseless mishmash of romance, action and comedy whose idea of substance is the actor's rippling muscles.
Welcome Back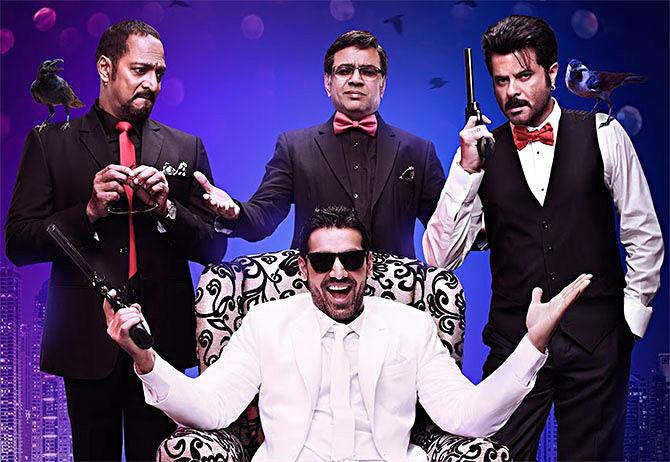 Bazmee falls back on his bankable old-timers Anil Kapoor, Nana Patekar, Paresh Rawal as well as a humorous Dimple Kapadia for Welcome Back.
The fun bunch elevate its feeble farce doling out LOL wit in what is a definite improvement from his preceding mess.
Mubarakan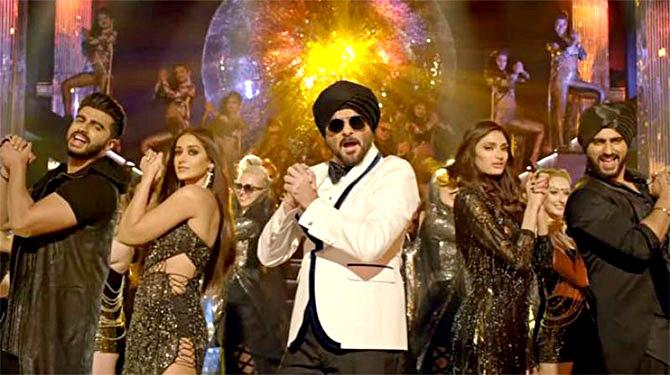 Mubarakan stars two Arjun Kapoors, but it's really just 'chachu' Anil Kapoor along with Ratna Pathak Shah and Pavan Malhotra at the helm of every trick and treat in Mubarakan.
The troika provide heft and humour that makes the exasperating goof-ups more endurable than they deserve to be.
---
Sukanya Verma is the Principal Movie Reviewer for Rediff.com. One of the most perceptive observers of Hindi cinema, Sukanya has a dazzling portfolio of features that have engaged Rediff.com readers for 20 years. You can read her features at https://realtime.rediff.com/news/-sukanya-verma
She can be contacted at mailto_sukanyaverma@rediffmail.com
---