When Aamir was in his teens, someone suggested that his uncle Nasir Husain should cast his nephew sometime in the future.
'No,' Husain said, 'he can never be an actor.'
'I am a director. I have a director's eyes.'
'Aamir can never be an actor.'
Akshay Manwani traces Aamir Khan's fascinating journey to stardom.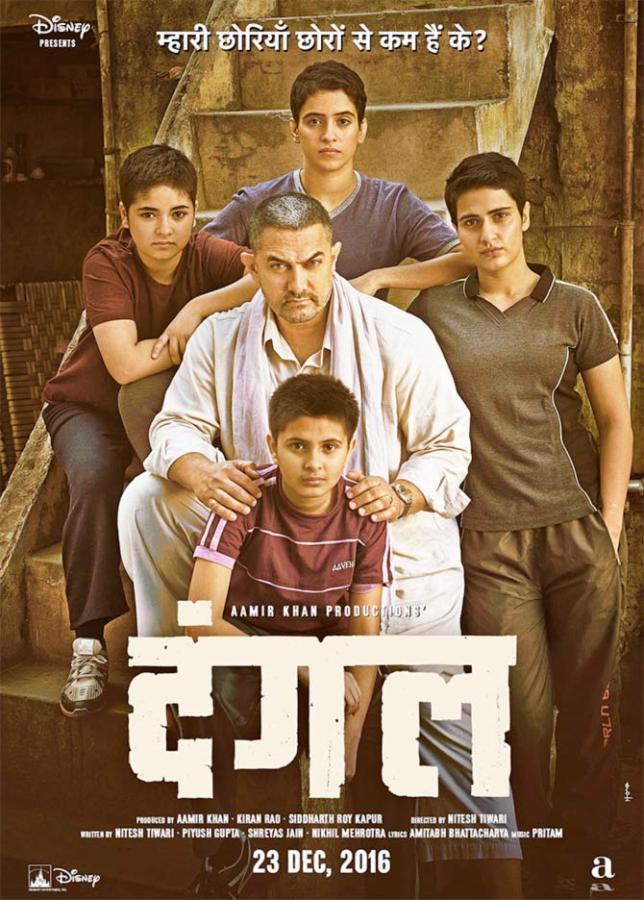 IMAGE: Aamir Khan's Dangal has wooed both the critics and the box office.
Rashmi: Pata nahin humaari shakal kaisi lag rahi hai (I don't know how my face looks).
Raj (smiling gently): Lekin yeh sab hua kaisey (But how did this happen)?
Rashmi: Hum Sitanagar ja rahey thay aur humaari bus kharaab ho gayee. Hum jungle mein kuchh tasveerey leney lagey aur phir na jaaney kahaan se ek ladka aur uskey dost wahaan aa gaye aur humaarey saath budtameezi karney lagey. Humney bhi usey ek aisi laat maari ki yaad rakhega. (We were going to Sitanagar and our bus broke down. I was taking some pictures in the jungle, when a boy and his friends appeared from nowhere and started misbehaving with me. I also kicked him in such a way that he won't forget.)
Raj: Aur kahin chot lagi hai (Any other injuries)?
Rashmi: Nahin. Dettol waali koi chot nahin (No. None that can be treated with Dettol).
-- Rashmi (Juhi Chawla) and Raj (Aamir Khan) in Qayamat Se Qayamat Tak.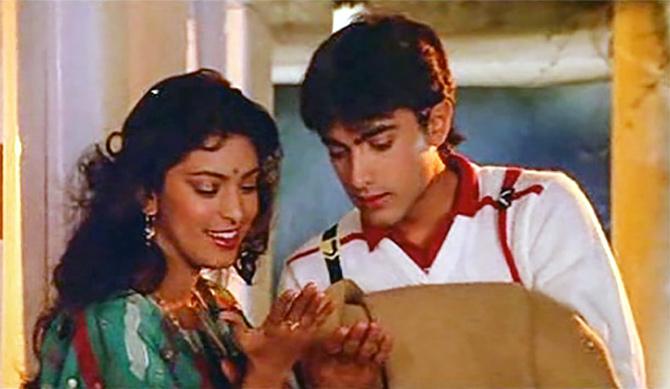 IMAGE: Aamir Khan and Juhi Chawla in Qayamat Se Qayamat Tak.
Ratan: Yeh le, Sanju! Bank mein paisey jama kar de. Double roti main bana deta hoon. (Sanju, go and deposit the money in the bank. I will make the bread.)
Sanjay Lal: Ah! Bank tum chale jao! Kalpana ke liye double roti main bana leta hoon, Tunna! (No. You go to the bank. I will have the bread organised for Kalpana, Tunna.)
Ratan: Dekh, zyaada hoshiyaari mat dikha, haan (Listen, don't act smart)!
Sanjay Lal: Theek hai, theek hai ja! Lekin sunn, yeh mauka haath se mat jaaney dena. Jhappi maar ke pappi le lena. (Sanju's friends laugh)
Chal be Ghanshu, Ghodey, yahaan bahut garmi ho gayee hai, yaar.
(Starts singing) Aankhon hi aankhon mein ishaara ho gaya, baithey, baithey jeene ka sahaara ho gaya...
(It's ok, it's ok! But listen, don't let this chance go. Take her in your arms and kiss her. Ghanshu, Ghodey, come, let's go. Things are heating up here...)
-- Ratan (Mamik Singh) and Sanjay Lal Sharma (Aamir Khan) in Jo Jeeta Wohi Sikandar.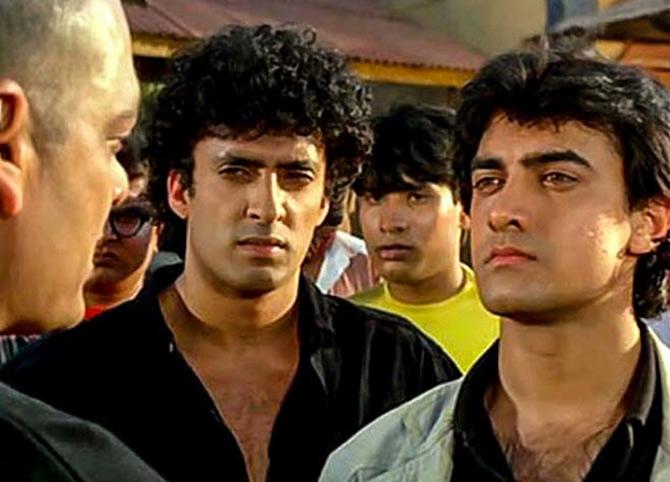 IMAGE: Aamir Khan and Mamik Singh in Jo Jeeta Wohi Sikandar.
Among the more endearing moments from Yaadon Ki Baaraat is when the title track is rendered by the mother at the beginning of the film.
While the mukhda of the song is being repeated, the youngest of the three children, dressed identically to his elder siblings, signals his intention to go to the toilet.
He reappears, buttoning up his shorts, as the first antara is being sung (Badley na apna yeh...).
The mother takes this boy, with his bow tie, his toothy smile and his neatly combed hair with a sharp left-parting, on her lap.
The older two siblings gather around the mother and she extends her right arm to offer them similar love, but her youngest son, still seated comfortably on her lap, enjoys pride of place in her affections.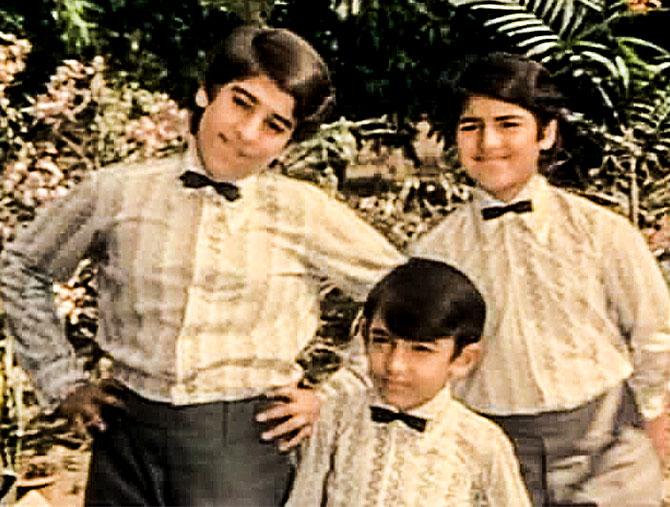 IMAGE: A cute-as-a-button eight-year-old Aamir Khan in Yaadon Ki Baaraat.
Aamir Khan, who played this youngest child, was only eight years old when Yaadon Ki Baaraat released in 1973. Nasir Husain had earlier cast his children Mansoor and Nuzhat as the young Mohan and Mona in Phir Wohi Dil Laya Hoon.
The pair are also seen in the song Aaja Piya Tohe Pyaar Doon in Baharon Ke Sapne where they play the young Ram and Geeta.
Continuing with this trend, Aamir was actually supposed to play the young Sunder in Pyar Ka Mausam. But that role eventually went to Aamir's younger sibling, Faisal Khan.
Apparently, Aamir threw a fit on the day of the Pyar Ka Mausam shoot.
'On the day of the shooting I was crying my head off and they could not calm me down,' recalled Aamir. 'They were shooting at Mehboob (Studios). After attempts were made to calm me down, Nasir sa'ab said, "Arrey yaar abhi chhodo isko. Faisal ko le aao (Forget him. Get Faisal)".'
'So Faisal was brought in and he calmly gave all the shots,' said Aamir, chuckling.
Consequently, Aamir's film debut happened only four years later in Yaadon Ki Baaraat.
Aamir didn't remember how exactly his uncle roped him in for the film, but said that it was while he was 'playing carrom one day at my uncle's house.'
But this didn't mean that Husain was waiting to launch Aamir.
On the contrary, Husain had discouraged his nephew from turning actor.
Aamir remembered that while in his early teens, at a party at Aamir's house, when someone suggested that Husain should cast his nephew sometime in the future, Husain said, 'No, he can never be an actor. I am a director. I have a director's eyes. Aamir can never be an actor.'
Aamir's explanation for Husain's reaction was, 'He was saying that to protect me. Plus, I was a very shy kid, very shy. I hardly spoke. I was an introvert. It was very unlikely for anyone to be able to read that this guy is going to be a good actor.'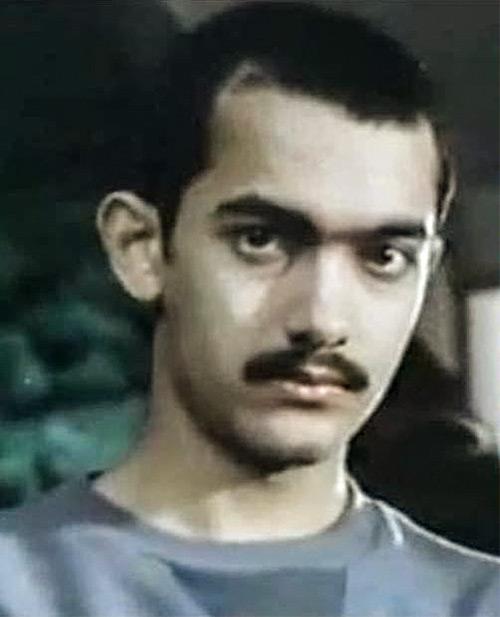 IMAGE: Aamir Khan in Holi.
By the time Aamir had completed his twelfth standard, he was clear that he wanted a career in films.
'I didn't have a clear thought whether I wanted to be an actor or a director. I wanted to do both, but didn't know which would come first. I wanted to learn as much about acting and filmmaking. That is why I became an AD (assistant director).'
Aamir told Husain that he wanted to work in his films.
'I told him, "I want to work as an assistant. If you take me, great. If you don't take me, I will go and meet some other directors and I will find some work somewhere."'
This is how Aamir came to be an assistant director on Manzil Manzil and Zabardast.
As an AD, Aamir impressed Husain with his work ethic.
He introduced Husain to the concept of action continuity, which basically helped the filmmaker establish where exactly to pick up a scene in terms of its little nuances (what are the background artistes doing, etc) after the previous shot.
'He was the best AD ever,' admitted Nuzhat.
Aamir is also seen in passing in a couple of sequences in Manzil Manzil.
However, before he worked as an AD, Aamir had already acted in a short film called Paranoia, followed by a couple of student diploma films called Subah Subah and Young Törless.
He also worked backstage in Gujarati theatre with Mahendra Joshi for a year-and-a-half.
While Aamir was working as an AD with Husain, he got a call to act in Ketan Mehta's Holi (1984), which was under production.
'I told Chachajaan, "Chachajaan, mujhe woh film karni hai (Uncle, I want to do that film). You need to give me 40 days' holiday from work."'
Husain agreed and Aamir went to Pune, shot for Holi and returned.
Up to this point, Aamir hadn't mentioned the 'acting' word to Husain, 'but he (Husain) knew that I had been acting -- diploma films, theatre, the movie with Babla (Aditya Bhattacharya's pet name, who made Paranoia).'
Later, towards the end of Zabardast's shooting, which was under production in Khandala, Javed Akhtar happened to visit Husain at the Fariyas Hotel.
During their chat in Husain's room, in which Aamir was also present in 'one corner, far away', Akhtar asked Husain, '"Woh ladka kaun hai? (Who is that boy?)" He said, "Woh Tahir ka beta hai. (He is Tahir's son)."'
Akhtar then asked Husain what he did to which Husain replied, 'Yeh mera assistant hai (He is my assistant).'
It was at this point, as Aamir clearly recalled, Akhtar told Husain, 'Yeh aapka assistant kyun hai? Isko toh aapka star hona chaahiye (Why is he your assistant? He should be your star).'
Akhtar's remark may have been the tipping point in Husain making up his mind on casting his nephew since the filmmaker had been aware of Aamir's acting pursuits.
'It must have had some impact,' Aamir told me.
'Over time, when he saw that I was serious about it (acting), and I wanted to do it, when they (Husain and Mansoor) saw Holi, it gave them confidence. I'm assuming that the kind of person he was, he wouldn't have taken me unless he felt that I could deliver.'
Nuzhat endorsed this sentiment. She said that while her father always had a 'huge sense of family responsibility', which led to Tahir Husain being launched as an independent producer in Caravan, Tariq being given a break in Yaadon Ki Baaraat, 'he must have seen more in Aamir because Aamir AD'ed with him. He saw that the man was willing to put in the labour.'
But Aamir didn't bring up Akhtar's comment with Husain.
However, a few days later at the Fariyas Hotel again, Husain met with an old friend. Husain introduced Aamir to him as, 'This is Aamir, the star of my next film.'
The introduction surprised Aamir completely.
'Toing karkey main ruk gaya. (I was dumbstruck.) Where did that come from?' recalled Aamir of that pleasant moment.
But even after this Aamir didn't follow up the matter with Husain. He thought Husain was 'joking'.
Meanwhile, Zabardast released and didn't do well.
It was after this that Husain called Aamir one day and said, '"I'm writing something, which I want you to act in."
That film was Qayamat Se Qayamat Tak.
Husain had started writing Qayamat Se Qayamat Tak with Sachin Bhowmick. But because Bhowmick and Husain appeared to have run out of ideas, Husain replaced Bhowmick and involved Aamir and Nuzhat to write the script along with him.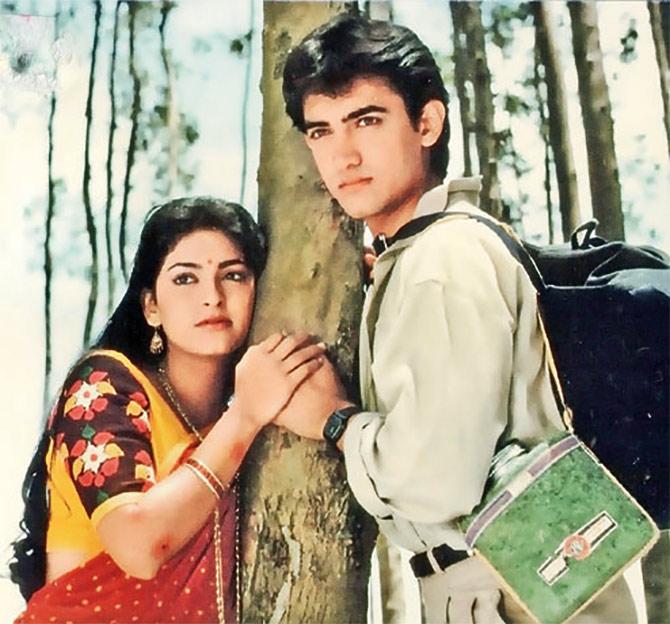 IMAGE: Aamir Khan and Juhi Chawla in Qayamat Se Qayamat Tak.
The broad idea that Husain had was that he was writing a film for Aamir, which was a pure love story, but with a doomed ending.
'We were clear that it was going to be Romeo and Juliet,' Nuzhat confirmed to me.
Husain was clearly going against the norm since action, vendetta films, with an overall coarseness in language, music and lyrics dominated the Hindi cinema landscape in the late 1980s.
Meanwhile, Husain's illness forced him to turn to Mansoor to direct the film.
Mansoor at this time was struggling with his own career. He had dropped out of engineering, having spent eighteen months at IIT-Bombay, a couple of years at Cornell and another eighteen months at MIT, 'all of which adds up to five years without getting a degree,' Mansoor told me self-deprecatingly.
Having returned to India from the US in 1980, Mansoor assisted his dad on Zamaane Ko Dikhana Hai with the lighting, and then 'pretended' to assist him in Manzil Manzil.
'I was a useless assistant. I should have been thrown out actually. I was reading Ayn Rand on the sets.'
The one good thing that Mansoor did in this period was that he made a short film called Umberto. The film's central character is a 'bum', not unlike Sanjay Lal Sharma in Jo Jeeta Wohi Sikandar.
When Husain saw Umberto, he liked it. 'I liked his picturisation of songs,' Husain told Nasreen Munni Kabir.
'He felt that I had some control over the storytelling medium,' Mansoor added.
That's when Husain asked Mansoor to direct Qayamat Se Qayamat Tak.
But Mansoor was uncertain. He was focused on making Jo Jeeta Wohi Sikandar, but was stuck with its writing.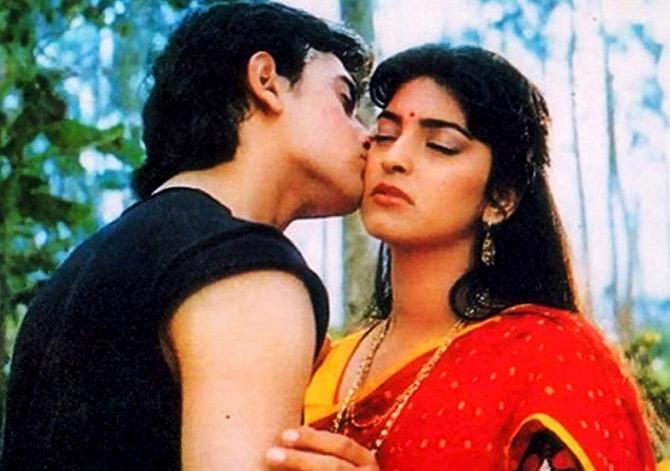 IMAGE: Aamir Khan and Juhi Chawla in Qayamat Se Qayamat Tak.
Additionally, for Mansoor, Husain's film was 'like looking through the same lens -- pehley yeh ho jaata hai, phir woh ho jaata hai... (full of coincidences)'.
Even when Husain told Mansoor that his film was a good love story, and that the time was right for such a story, Mansoor dismissed the idea saying, 'All stories are love stories. What's new about this?'
Husain, though, convinced Mansoor to listen to the screenplay.
'When he narrated QSQT to us, I quite liked the film's premise. And that remained just the way he had written it, which was the first eleven scenes, up to the titles. I really liked the set-up. I found it interesting, detailed. And then I said I was willing to do it. We started working together on the screenplay.'
Mansoor's entry considerably changed the approach to Qayamat Se Qayamat Tak.
Husain was now dealing with Nuzhat, Aamir and Mansoor, whose sensibilities were very much attuned to the voice of a younger generation.
'When Mansoor came in, the slant of every scene changed. It became much more fresh,' said Aamir. 'Nasir sa'ab had his own flavour as a director. He used to write the scenes in a particular way and he wanted us, Nuzhat and me, to write the scenes in a particular way. But once Mansoor came in, Nasir sa'ab used to be very unhappy with the three of us.'
Husain frequently sparred with the three of them while writing QSQT's screenplay.
'He was like a tiger with us when he was arguing about the scenes,' recalled Aamir.
But Mansoor admitted that Husain was collaborative at the same time. 'He was willing to see reason. We would have disagreements, arguments, fights also, but somewhere we knew that we had to meet. And Aamir and Nuzhat were the mediators.'
One of the major sources of these creative conflicts between Husain and the next generation pertained to Qayamat Se Qayamat Tak's climax.
Midway through the scripting, Husain wanted to change the climax to a happy ending. He thought that would be more palatable to the audiences.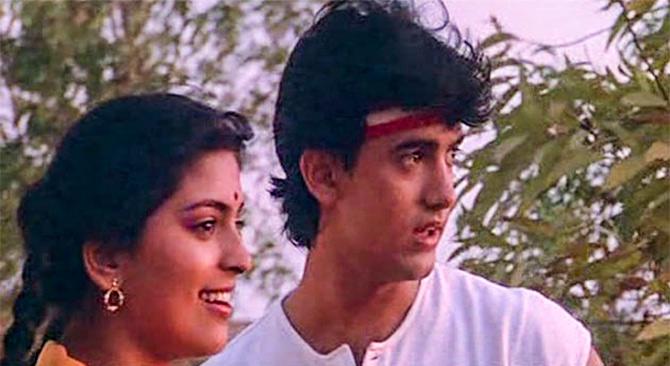 IMAGE: Aamir Khan and Juhi Chawla in Qayamat Se Qayamat Tak.
Husain was also probably haunted by Baharon Ke Sapne's tragic ending and that he had to change that in the wake of the film's underwhelming opening.
His fears about the tragic ending found support amongst his friends, who belonged to his peer group.
'He panicked,' said Nuzhat. Mansoor explained that Husain used to tell him, 'You cannot make it a sad ending because in India people have too much tragedy in their lives anyway.'
Although Husain rarely came on the sets of Qayamat Se Qayamat Tak, he would call up and say, 'Mansoor woh happy ending zaroor shoot karna (Mansoor, shoot the happy ending).'
But Mansoor, Aamir and Nuzhat stood their ground.
When Husain saw the final cut of the film, with Raj and Rashmi dying, he was convinced he had a 'hit' in his hands.
He told Nasreen, 'Mansoor did the right thing by changing the ending. I had not seen the film, but when I went for the first trial I said, "It is a hit picture." The moment I saw it, I said that. Even my wife asked and I said it is "super hit".'
When Nasreen asked him how he knew that, Husain replied, 'It's a gut feeling. Every evening we used to have a drink and whosoever came, I used to tell them it is a "hit". Mansoor used to think I was talking about the drink.'
Excerpted from Music, Masti, Modernity: The Cinema Of Nasir Husain by Akshay Manwani, with the permission of the publishers, HarperCollins India.