'You can't compare A R Rahman to any human being.'
'He's so amazing! I can't believe humans can be that pure and good.'
Celebrating 25 years of A R Rahman's musical career -- his first film Roja first released on May 11, 1992 -- with this dedication from singer Ash King.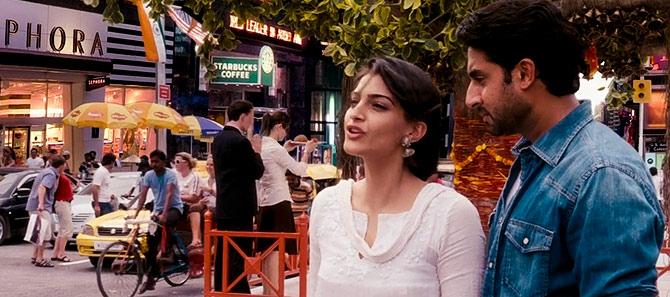 IMAGE: Sonam Kapoor and Abhishek Bachchan in Delhi 6.
Working for A R Rahman is a dream come true for most singers.
Ashutosh Ganguly, popularly known as Ash King, was lucky to get his big Bollywood break with the Dil Gira Dafatan song in Delhi-6, composed by the maestro himself.
"There was a time when we would wait for an A R Rahman cassette to release. We wouldn't watch the film, but would just buy the cassette and be happy," Ash King says, adding, "Anyone who grew up in the 1990s will understand this."
Ash King had been through his share of struggles and had almost given up hope of becoming a playback singer.
"Then all of a sudden, A R Rahman gave me a break in Bollywood," he says with a smile.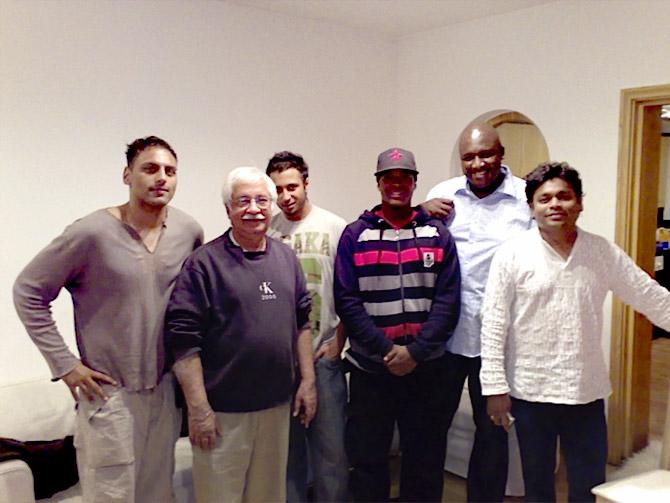 IMAGE: Ash King's first meeting with A R Rahman.
Rahman heard about a kid who liked singing in London. When Ash King heard that Rahman wanted to meet him, he didn't believe it.
A gentleman from the Caribbean in England set up the meeting, and took Ash King to the location.
"This guy took me to some house in London. I went because I wasn't doing anything in life anyway. I was all suspicious looking, then Rahman was standing there along with Shekhar Kapur. I didn't know who Shekar Kapur was at the time, but I knew Rahman," he recalls.
The first thing Ash told Rahman was: 'I don't speak Hindi; I can't sing in Hindi. I am really sorry.'
This cracked Rahman up.
He asked Ash to sing something for him. "I sang an R&B song to him and he was like, 'Now, put Hindi words in it'."
When Ash looked at him puzzled, Rahman told him, 'Don't worry, Ash, even I don't know Hindi.'
Later, Ash, who has Bengali and Gujarati origins, accompanied Rahman to Chennai and sang a song "in a language that I couldn't speak."
Rahman made Ash believe that he was a singer.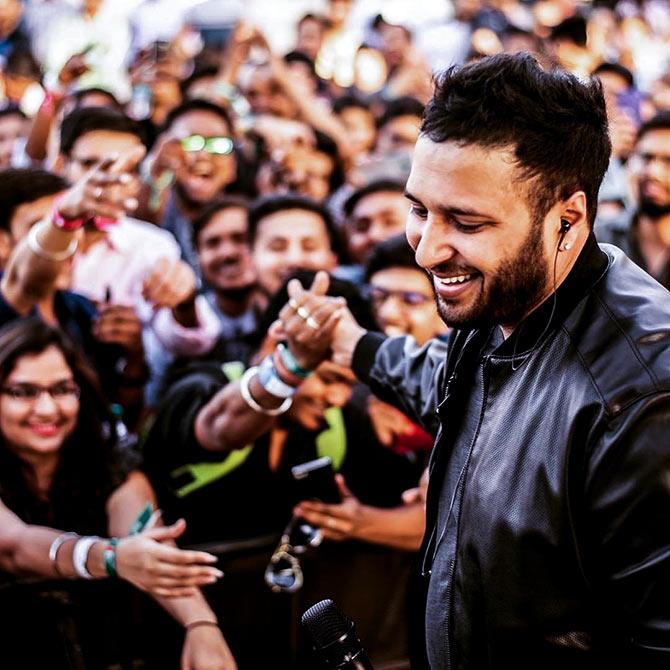 Photograph: Kind courtesy Ash King/Instagram
"I didn't know how to sing. I just thought I am a guy trying to sing,"; Ash says. "Only when someone you look up to tells you you're good do you know that you're good. Otherwise, you don't know what 'good' is."
"Once someone sings a song for Rahman in a Hindi film, the industry knows you," he says. "When people from the industry meet me, they don't talk about I Love You (from Bodyguard) or Te Amo (from Dum Maaro Dum)) or Aunty Ji (from Ek Main Aur Ekk Tu). They talk about Dil Gira Dafatan."
VIDEO: Ash King sings his tribute to A R Rahman. Video: Afsar Dayatar/Rediff.com
What was his experience with Rahman like?
"When I write my autobiography I will say, Rahman gave me my career. Without this guy, I would have been nothing," he says, adding, "I would be in London, working in a call centre."
"It's hard to find words to describe A R Rahman. He is something else. The closest thing you can say to him is that he is an alien -- because you can't compare him to any human being."
"He's so amazing. I can't believe humans can be that pure and good. You just can't fault him," Ash says.
Ash King turns to only two people for musical advice -- Rahman and Pritam.
"When I ask Rahman what I should do, he gives the best advice in just one sentence -- 'Work with everyone' or 'As long as you are growing, that's all that matters'."
He doesn't meet Rahman as often these days, but maintains a great connection.
"For singers, singing for him is bigger than a Grammy or a hit song. If you have sung a song for him, you have made it in your career."
"That's the confidence he gave me with my first song. I started at the top of the pyramid."