Love, fear, sadness, and much more, seen through the filmi lens.
Hindi film songs contain many beautiful emotions.
Dinesh Raheja, who has written 101 Haiku, tries to capture these eternal emotions, and sets them against the poetry in his book.
Since the haiku (a Japanese form of poetry) are open to interpretation, Dinesh leaves it to your discretion to infer your conclusions.
But he elaborates on the film songs and spotlights their unique ability to bring alive emotions through lyric and visual.
Excerpted from 101 Haiku by Dinesh Raheja, published by Om Books International, with the publisher's permission, Rs 150.
LOVE
the new moon withdraws
when the cloud caresses its cheek:
wait the night is young
Jaadu Hai Nasha Hai, Madhoshiyan (Jism)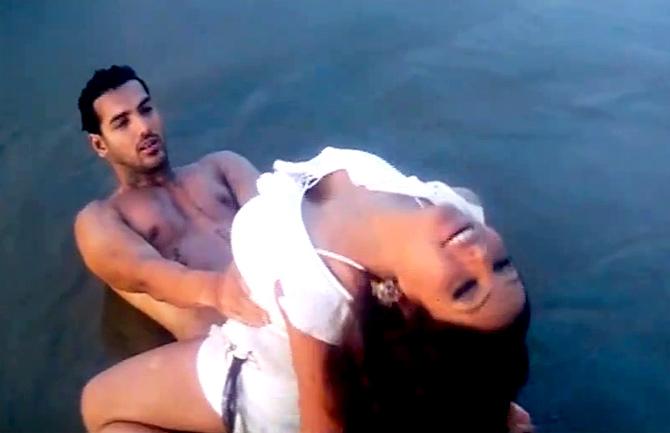 Passion infuses a vitalising energy into Hindi films' multitudinous songs on love.
Shreya Ghoshal's seductive vocals makes this Valentine number pulsate with passion.
I would rank it in the top three of her oeuvre.
John Abraham and Bipasha Basu (allegedly a duet those days) kiss uninhibitedly on screen, their palpable love bringing alive lines such as:
Dekhti Hai Jis Tarah Se Teri Nazrein Mujhe
Main Khud Ko Chhupaao Kahan
Film songs have explored every facet of l'amour -- from the smoky passion of Kishore Kumar's voice in Roop Tera Mastana to the searing intensity of Shailendra's poetry in O Mere Sanam (it has the knockout line Kuchh Aur Nahin Insaan Hai Hum) and Varun Grover's incredibly delicate lyrics in Yeh Moh Moh Ke Dhaage Teri Ungliyon Se Ja Uljhe.
JOY
tunnel of memory--
I am back in my childhood
soaked in happy light
Bachpan Ke Din Bhi Kya Din The, Udte Phirte Titli Ban Ke (Sujata)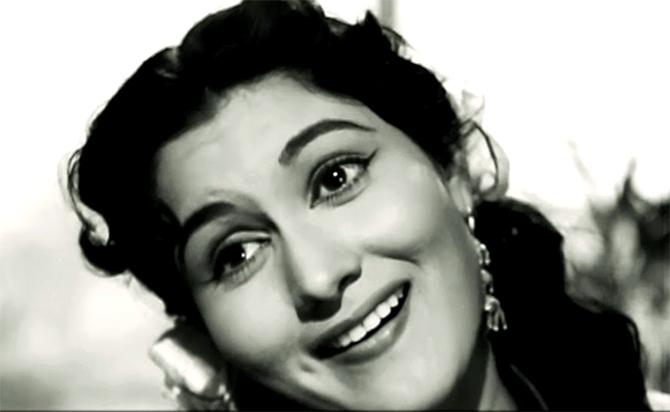 Will we ever be able to recapture the unalloyed, unquestioning, live-in-the-moment joys of childhood?
This is one of my go-to happy numbers thanks to Majrooh Sultanpuri's evocative words, Asha Bhosle's verve, S D Burman's spirit-elevating lilt and not least because of the understated but unmistakeable love that spunky Shashikala (she normally played the vamp) shared on screen for her quiet foster sister, Nutan.
Songs that revel in nostalgia about childhood seem to have become a thing of the past... though we had a rich harvest earlier of songs such as Bachpan Ke Din Bhula Na Dena (Deedar), Aaya Mujhe Phir Yaad Woh Zaalim (Devar) and Ek Tha Bachpan (Aashirward).
Have we become a tad too pragmatic?
COURAGE
entrapped by the rocks
waves struggle to reach the shore:
forever hopeful
Koi Kahe, Kehta Rahe, Kitna Bhi Humko Deewana, Hum Logon Ki Thokar Mein Hai Yeh Zamaana (Dil Chahta Hai)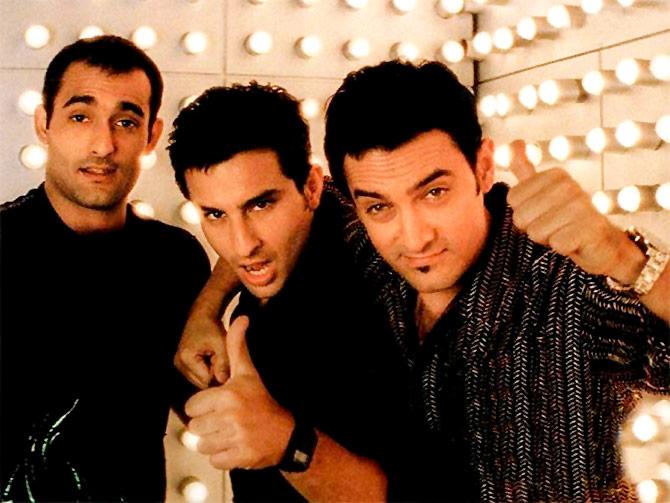 The indefatigable nature of the human spirit always fascinates me; and is justifiably celebrated in song and poetry.
In this popular song, the rebellious 'Thokar Mein Yeh Zamana' attitude is brought vividly alive via Aamir Khan, Saif Ali Khan and Akshaye Khanna's synchronised foot-stomping dancing.
Songwriter Javed Akhtar has a feel for the pulse of the youth when he perceptively pens, Darr Kya Hai Aur Haar Kya, Hum Isse Anjaan Hai.
I would love to doff my hat to another yesteryear song too: Kaise Jeete Hai Bhala from Dost in which Mohammed Rafi belts out Anand Bakshi's inspirational line: Pahenke Paon Mein Zanjeer Bhi, Raks Kiya Jaata Hai.
WONDER
a tree drops a leaf
silently in a forest--
trees don't grieve lost leaves
Duniya Banana Wale, Kya Tere Man Mein Samayee, Tu Ne Kahe Ko Duniya Banayee (Teesri Kasam)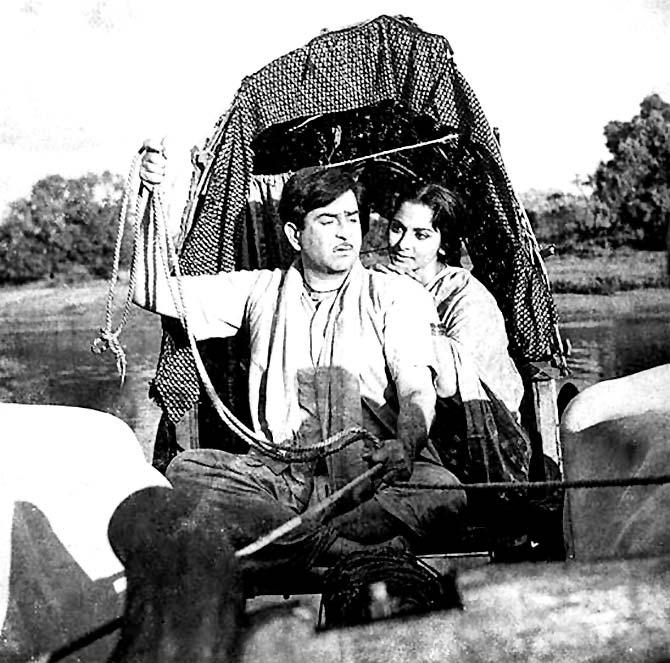 This gem from Shailendra's mature palette of songs always makes me marvel at the simplicity yet unerring profundity of his pertinent poser to God: Why did You create this world?
And I love the sardonic humour in the phrase: Gupchup Tamasha Dekhe.
Songs questioning the unfathomable mysteries surrounding life, love and loss are a personal favourite.
PEACE
they sit in black robes
in a plateau of silence...
meditating rocks
Prem Ke Pujari, Hum Hain Ras Ke Bikharee, Hum Hain Prem Ke Pujari (Prem Pujari)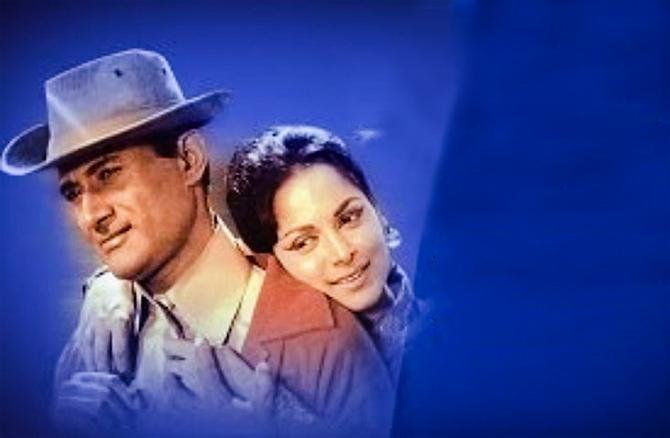 In S D Burman's soothing and sagacious voice, these words sound like a gentle stream snaking down from the lofty Himalayas.
Both the singing and the song have an unhurried rhythm and the lyrics by Neeraj pithily convey the message of peace and communal harmony: Phool Hum Hazaron Lekin Khushboo Ek Hamari (We are thousands of flowers but the fragrance is one).
FEAR
bison and his son...
ominous thoughts at night
lurk dangerously
Gumnaam Hai Koi, Badnaam Hai Koi (Gumnaam)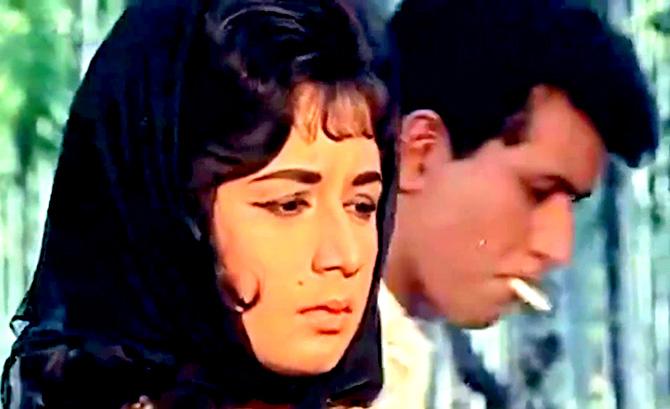 Fear, like love, knows no rationale. But songs that seek to scare play on our apprehensions of dark nights and, of course, death.
In the film Gumnaam, this haunting and fear-inducing song precedes the murder that takes place every night on an isolated mansion in an unknown island.
The urgency in Lata Mangeshkar's vocals and the atmospheric sound effects escalate the nail-biting tension of the eerie lines: em>Kaun Bala Toofani Hain
Maut Ko Khud Hairani Hain
Aaye Sada Veeranon Se,
Jo Paida Huwa, Woh Faani Hain.
This song, like a ghost from the past, continues to haunt even today's generation, and was reprised in the recent film, 1920, London.
SADNESS
beautuful Geisha
dab more powder on your face...
I can feel your pain
Bulleya... Meri Rooh Ka Parinda Phadphadaaye, Lekin Sukoon Ka Jazeera Mil Na Paaye (Aye Dil Hai Mushkil)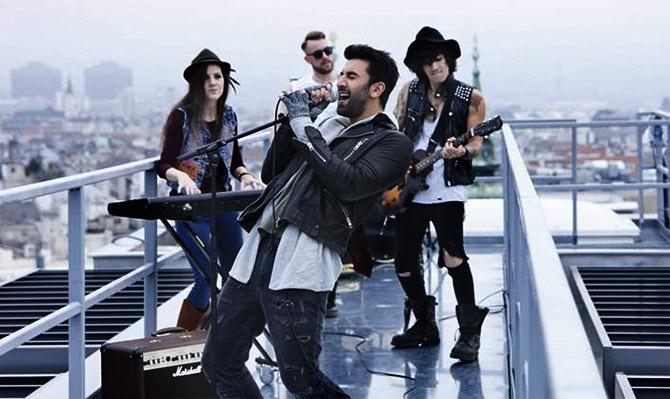 In a bid to impress, lyricist Amitabh Bhattacharya, I suspect, actively seeks out unconventional words at times, but here he has encapsulated the forlorn angst of a lovelorn soul with panache and precision.
There are myriad songs that explore every contour of the emotions encompassing sadness, but since I have written about a geisha in my haiku, I can't help but recall and marvel at Sahir Ludhianvi's cynical-but-heartrending lament, Aurat Ne Janam Diya Mardon Ko, Mardon Ne Usse Bazaar Diya from B R Chopra's progressive tale of the rehabilitation of a prostitute, Sadhna.