Lucia: An independent Kannada film funded by common people
Last updated on: August 06, 2013 09:30 IST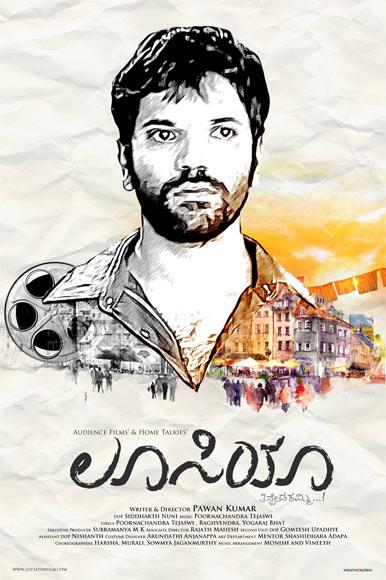 An independent film in Kannada titled Lucia has made the right noise by winning the Audience Award and accolades at the fourth London Indian Film Festival (LIFF), held on July 20. It was screened alongside Hindi films Bombay Talkies and Monsoon Shootout.
Lucia, directed by Pawan Kumar and starring Satish Neenasam and Shruti Hariharan with cinematography by Siddharth Nuni and music by Poornachandra Tejaswi, will be the first crowd-funded Kannada language film.
While appreciation has been pouring in from all quarters including the vibrant social media, the local Kannada industry has given the film the cold shoulder.
Pawan Kumar assisted Yograj Bhat in Manasaare and Pancharangi before making his debut as a director with the Diganth starrer, Lifu Ishtene, in 2011.
Lucia is his second venture, crowd-funded through Pawan Kumar's blog and powered by UK-based online outfit Distrify.
Despite receiving the Audience Award in London and several invitations for screening at various international film festivals, he is still struggling to get it out to the audience back home in Karnataka.
In this interview, he talks about the film, Kannada cinema, and the unusual funding and distribution of the film.
'Within 27 days, I got Rs 50 lakhs from people all over the world'
Last updated on: August 06, 2013 09:30 IST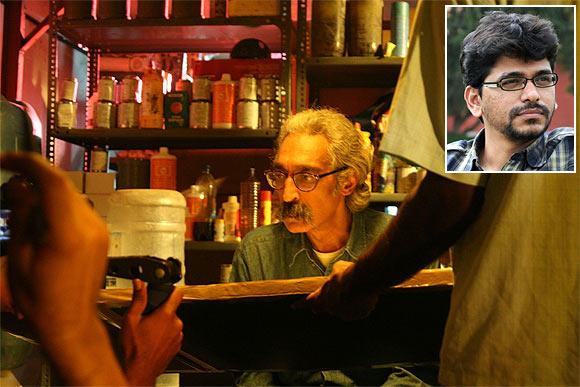 What is Lucia all about? Why did you pitch online for crowd-funding?
There are two aspects to this. One, it was a feature film and second, the way it became a feature film.
When I started writing, I knew the narrative was going to be different and the existing Kannada market might find it difficult to accept a fresh script like this. I enjoyed writing it and when I pitched it to a few producers they showed some resistance to funding it.
I was frustrated. I set up a blog online, calling it Project Lucia, sometime during February 2012, mentioning only the synopsis of the film and a proposal saying if I manage to get Rs 50 lakh, I will put it up online, and not go for a theatrical release.
I thought it might not work, but to my surprise, within 27 days, I got Rs 50 lakhs from people all over the world. That's how it started.
Can you give us a synopsis of Lucia?
I won't tell you what the film is all about; all I can say is, it is a new attempt in Kannada language and it is about an insomniac cinema usher who sleeps and gets great dreams as long as he takes a drug, but nightmares when he doesn't.
There is a thriller and mystery element to it. This is all I mentioned on my blog. I still wonder how people were convinced to give me the money to make it! I hadn't even put up a video, just the title and a few lines.
'I did not make Lucia with the intention of taking it to film festivals'
Last updated on: August 06, 2013 09:30 IST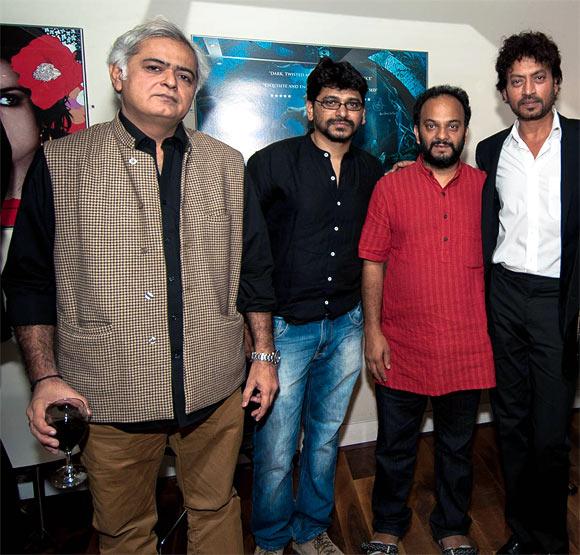 How did the London Indian Film Festival happen?
I did not make Lucia with the intention of taking it to film festivals. Mine was clearly a mainstream film for a commercial release. After I made the film, I uploaded the trailer of Lucia on YouTube, which went viral.
One of the festival organisers in London, Naman Ramachandran, contacted me and said it looked interesting and was in a way spearheading the culture of independent cinema with its subject, and that was the theme of the festival.
I am not someone who is into film festivals, but since this was a crowd-funded film, I thought having a premiere in London would attract the attention of the industry in my home state. I thought more Kannada people will take notice.
Have they? And, how has the Kannada film fraternity reacted to your film winning awards and accolades in London?
Right from the beginning, I have been very open that this is a Kannada film, ideally coming from the Kannada film industry, but not many from the industry have been treating it that way.
The people in control of the industry are not being very progressive. I am not saying they have to talk about Lucia because it is my project, but it is a people's project, a crowd-funded film, a first of its kind here, and when more people from the industry respond to this, it will only add value to the industry itself.
There are some people who are not even aware of the project. But, yes, a few open-minded actors and film personalities have been hearing about it and calling me personally to congratulate me.
'The passion for making films is a lot more in Tamil Nadu than in Karnataka'
Last updated on: August 06, 2013 09:30 IST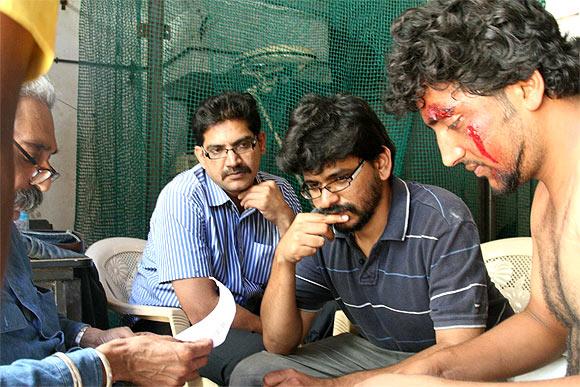 In the neighbouring states, particularly Tamil Nadu, a lot of short film makers have managed to find producers and are making decent path breaking films in the mainstream. Why do we not see this happening in Karnataka?
The passion for making films is a lot more in Tamil Nadu than in Karnataka. Also, when you know that a lot of people are going to be watching your film, you, as a creative person, would want to do a lot more good films.
The audience base in Karnataka is small, quality has gradually dropped in the last two decades, and my generation especially has moved away from watching Kannada films.
I hear only 15 per cent of Kannada speaking people in the state watch Kannada films. Also, if you notice, in Chennai, the most educated guy will speak in Tamil. We have lost that in our state. The youth have lost the 'connect' with the Kannada language. I hope it changes slowly.
When you grow up in a city like Bangalore, you end up being a little confused when it comes to language. I myself cannot speak great English or talk Hindi fluently or even Kannada completely.
Why didn't you approach a production house in Mumbai, say UTV, who have ventured into Bengali and Malayalam cinema, to invest in your project? That would have taken care of your distribution.
Had I gone to them they might have loved my script at a creative level and possibly even come forward to fund it. But, may be not in Kannada. They may have insisted that I make it in Tamil or Hindi where the returns are high.
I did do a lot of research as I was jobless at that time. In the last one-and-a-half years, we see people pitching for crowd-funding across social media platforms like Facebook and they are saying, look we exist and we can make a good film if you support us in your own small way.
With digital technology and all that, the day is not very far off when you will see more of this kind of thing.
'The passion for making films is a lot more in Tamil Nadu than in Karnataka'
Last updated on: August 06, 2013 09:30 IST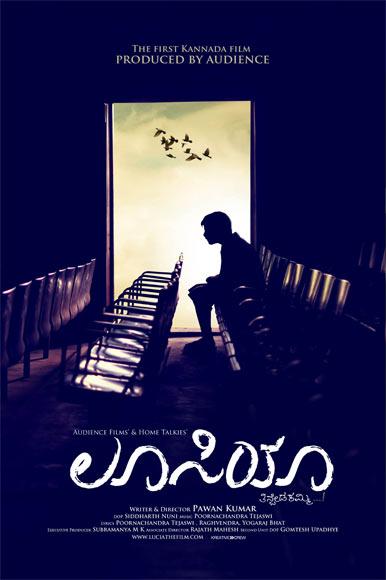 Now that there are no distributors for a theatrical release even after the LIFF premiere, how are you planning to take Lucia to the audience?
We have tied up with this UK based company called Distrify, an online film distribution system, where when you pre-order a film by paying say Rs 5000, they give you a link or a code that you can share with as many people as you want for a lifetime and with each share you get 75 per cent per ticket.
Film connoisseurs and people who genuinely love watching good cinema sitting at home could benefit from this and it would help independent cinema grow. The independent filmmaking movement in Kannada has just started and we need a lot of word-of-mouth promotion.
What if this system doesn't work and you do not get the support and encouragement that you think you deserve in Karnataka? Would you move to another industry to make films?
That thought crosses my mind every day. I would love to make a film in a place where my creativity is respected and I get enough money without much hassle to make the kind of film that I want.
But, having said that, I do not want to move my base away from my home state because somewhere, when you are a filmmaker or a story teller, you would like to make a film from where you came from and what you have lived through with your life experiences within your culture.
For now, I am happy trying to build a network here and trying to be an entrepreneur.