'Spain was gorgeous with lots of naked people'
Last updated on: July 7, 2011 14:18 IST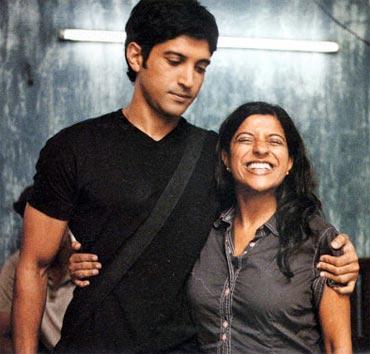 After the lukewarm response to Zoya Akhtar's Luck By Chance in 2009, she is back with Zindagi Na Milegi Dobara starring Farhan Akhtar, Hrithik Roshan, Abhay Deol, Katrina Kaif and Kalki Koechlin.
Zoya speaks to Patcy N about the experience of shooting the film in an exotic foreign locale including the much talked about nude beach -- and her choice of actors.
Why did you change the title from Running With The Bulls to Zindagi Na Milegi Dobara?


Running With The Bulls was a working title. When you write a script, there are so many scripts written. I have five to six scripts, Reema has 10, Farhan has 10, so we must have some name to call it. You can't call it 'Zoya Akhtar's next' or 'script No 1 or 2'. But how did we get that as the working title, I don't know. It is a great title for me and Reema but it is not a title that communicates with audiences in India.
'Kalki is a very interesting actress'
Last updated on: July 7, 2011 14:18 IST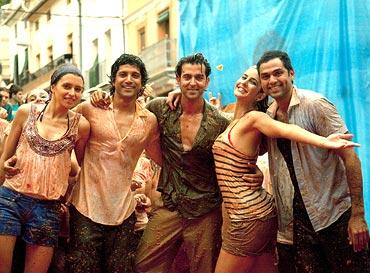 You auditioned many girls for the role Katrina now plays. Were you looking for fresh faces?
I met a lot of women because I wanted a half Indian and half Caucasian girl. I tested a lot of girls in New York and London. I just didn't like any of them and at that point I didn't know Katrina. I had never even met her socially. I happened to meet her at a party while I was casting, and I thought she would be really good.
How did Kalki fit in?
Kalki is a very interesting actress, she is very edgy. In the Hindi film industry, it is very difficult to cast two actresses in a particular frame, like if Katrina Kaif is in a movie and she is a superstar then lots of actresses that I approach will be intimidated to work in a film with her... there is too much politics. Kalki has no such notion; she doesn't come from that school of thought, which is very refreshing.
In
Zindagi
she is playing a different kind of role. It is not a typical 'heroine' role, it has a comedic bent to it without being over the top. We needed that balance in the actress, where you are completely serious and still people can laugh at you. You need someone who will understand that sensibility. Kalki was perfect.
'Every actor gives you inputs and that's what you want'
Last updated on: July 7, 2011 14:18 IST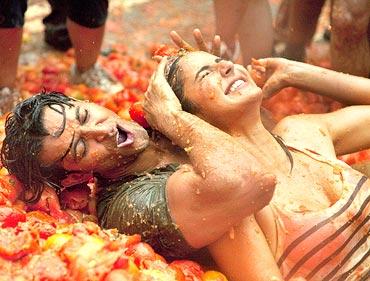 Did your brother Farhan give you any inputs?
Every actor gives you inputs and that's what you want.  If I am working with a director of photography or an art director it is not only I who is working -- this is my story, my vision, but they are experts in their field so they will take the story and come back with 150 ideas, and it is my job to choose the ideas and it is my job to say this works, this makes it better. So every person in your cast and crew will give you ideas.

You can't have an actor who says I don't know anything you tell me what to do. They are not props, they are thinking actors, and good actors have ideas. I like working like that and most people do. If the idea doesn't fit in, you tell them, it is not a big deal.
You had Farhan in your first film too. Any specific reason for that?
It will sound lame because he is my brother, but I think Farhan is a really good actor, he is a good dramatic actor. I have done so many road trips with him and so he is part of the ethos of the script. I have shared those experiences with him.
Reema Kagti is a very close friend of his and knows him inside out so when we started writing the characters, our reference for one of them was Farhan and the character just became more and more like him. Besides, I like working with him.
'My next film will not be like this one at all'
Last updated on: July 7, 2011 14:18 IST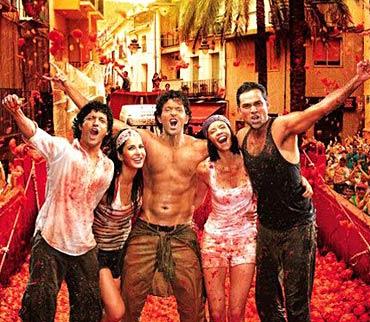 It is said that the boys had great fun on the sets. What about the girls?


The cast does have fun and that includes Katrina and Kalki, in fact, the whole crew had a blast. I made the film which I wanted to make so I was really having fun, but as a director you have to work a lot so I did not have as much free time as the rest of them did. But they also had a hectic schedule.
But this is still a boy's film, so where does that leave the girls?
Rang De Basanti is a boy's film, or even Dil Chahata Hai, and Rock On, but the women had very key parts. I don't write bad characters for my girls.
How did the story of Zindagi come to you?
I have done many road trips and I always wanted to do a film on a road trip. My film Luck By Chance was a very interior film. It is set in Mumbai and we don't have an outdoor life here so all the characters were in their own bubble and they had their own spaces. In this movie I wanted to do something visually completely different.
For me, it was a two-and-a-half year process so it had to be exciting. My next film will not be like this one at all otherwise it is too boring for me.
Reema Kagti, who is my co-writer, and I, just started talking about it and the ideas just came. It was the fastest movie I have written actually; it took just three months.
'The Spanish locals had not seen a Bollywood film and had no clue about us'
Last updated on: July 7, 2011 14:18 IST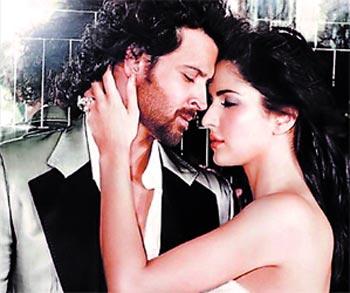 What made you get Hrithik, Farhan and Abhay to sing? Do you think they have good voices?


There is one proper lip-sync song in the movie. They are in the south of Spain and they happen to be at a village square where there is a fiesta. In Spain they have lots of fiestas and everyone dresses up in their traditional best, there is a local band, they cook food, drink, sing and party, it is very India on a lot of levels.
I thought it would be fun to see that, and if my actors are going to get up there and sing, then it would look good. I didn't want to do playback for such a scene.
I thought it would be more fun if this Spanish singer sang and the three boys joined in naturally, even if their voices were a bit off. I asked them whether they would like to sing and they were all okay.
How did the locals react to that?
It was very funny. We got permission to shoot in the plaza in a little town called Alhaar. They had not seen a Bollywood film and had no clue about us. It's a sleepy town and everyone hangs out at the local bar and it is very quaint. We warned them we would be shooting at night and there would be songs so it will be loud.
The first day of rehearsal we played down the volume, the next day all the locals came to see the shoot and the third day they all came in costume -- the Mayor of the town was a woman and she came in a dress and she is in the song. They had a blast and they just loved it and could not get over it. It became a party day for them.
Spanish people are very chilled out, they are happy, they enjoy a lot. For them it is not about how much money you have and how rich you are, they don't care. For them every day should be amazing, their attitude is very positive.
'I am working very hard on a holiday after this movie'
Last updated on: July 7, 2011 14:18 IST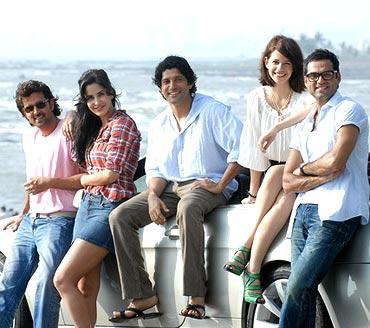 The shooting of the Tomatina festival in the movie is much talked about. Tell us about it.
The Tomatina festival is a visual treat. It would be foolish not to shoot it. It is packed with people who are naked it is just red tomatoes splashed everywhere -- it is beautiful.
We shot the festival as you can't recreate the scale. But you cannot take the actors into the festival because you will get killed, so for the close-ups we had to recreate patches.
You shot the introduction scene of Katrina on a nude beach.
We were looking for a beach and this Spanish guy called Charlie who was hunting locations for us shows me this beach. It was absolutely gorgeous with lots of naked people around. It's amazing because there are families -- father, mother, children, grandparents -- all walking naked on the beach. They are in all shapes and sizes, fat and thin, tall and stout, old and young. After looking at them for some time you realise that it is just the human body. No one cares whether you are sagging or not, it's all in the head.  
We would go there early for the shoot and tell the people that we are making this film in India so please not to come into the frame as we have censor problems.
Your last film was appreciated by critics but it did not do well at the box office.  Have you cast so many big stars this time to assure a commercial success?


It does not work like that. You have a film with a particular budget and then you have to cast so that you can recover that budget. For me, even if I was making a one crore film I would have Hrithik in it because he is probably my favourite actor and he was part of Luck By Chance as well. For Katrina's role I needed a half Indian and half Caucasian girl who would be willing to ride a bike, to scuba dive, who is physically fit. I didn't know her, but when I met her, I just knew that she is the girl.
What are you working on next?


I am working very hard on a holiday after this movie, that's the plan and nothing else for a while.