Rakeysh Mehra: There's no such thing as formula in films
Last updated on: July 31, 2013 15:05 IST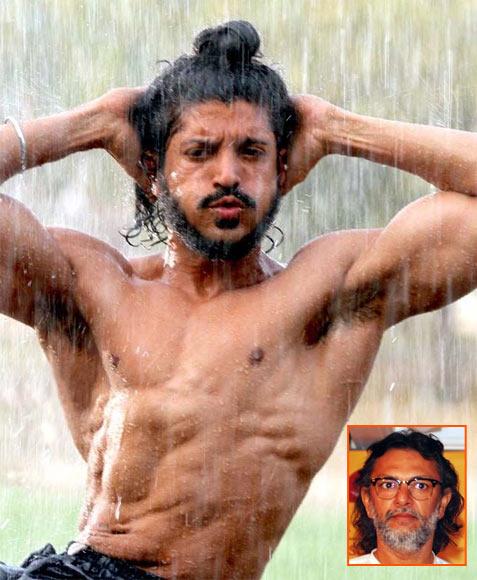 Director Rakeysh Omprakash Mehra's latest film Bhaag Milkha Bhaag didn't only garner critical acclaim but has emerged as a winner at the box office.

While the response to the film doesn't come as a surprise considering the fact that it was one of the eagerly-awaited movies of the year, Mehra is yet to process all the post-release hysteria, he says.

In conversation with Subhash K Jha, Mehra tells us why his new film will not exactly spawn a whole new series of formula films.

What are your feelings about Bhaag Milkha Bhaag's triumph?
I am still processing the reactions. It will be a while before I understand the full impact of the film.

What I do understand at the moment is that the impact cuts across all sections of people. The other day, Farhan Akhtar (who stars in the film) and I were in a coffee shop when a young NRI couple spoke with us.

They said they had seen the film twice already and that they felt proud to be Indians. Then the waiters came forward and said how much they liked the film. Farhan and I get such responses everywhere. It's most humbling.
Milkha Singhji is also very happy with the outcome.
I still remember my conversation with him four years ago when I told him that I wanted to make a film on his life.

In the course of our conversation, I just heard myself saying, 'I've a feeling your life goes way beyond athletics. I feel there's a Milkha Singh in all of us. Knowing about your life has touched the Milkha Singh in me.'

The challenge as a director was to put the Milkha in me across to my audience. There's a gap between us and some of our aspirations.

Somewhere, that sense of incompleteness accentuates Milkhaji's brilliance. I wanted to capture that incompleteness.
'Rang De Basanti, Delhi 6 and Bhaag Milkha Bhaag are part of a trilogy'
Last updated on: July 31, 2013 15:05 IST
Are you still in touch with Milkha Singh?
Oh yes. I just got his daughter Sonia's book for which I had written the Foreword.

It has been placed before Milkhaji's son Jeev Milkha Singh's Foreword in the book. What a marvelous gesture it was!

The love that Milkhaji and I share and the open way in which I was accepted in his life is something I'll carry in my heart forever.

The three people, who made the film happen -- Jeev (Milkha Singh's son), Rajeev Tandon (producer) and P S Bharathi (Mehra's wife and the film's editor) -- really shaped my vision of the film. I was totally uncertain of how to go about it.
Milkhaji feels there are many unsung athletic heroes. Do you think more film on such lives need to be made?
It will happen but we need to give it time. Evolution of new ideas has its own curve. When a film like Milkha gets made and is accepted on such a level, filmmakers and producers are bound to think about a new genre opening up.
Your earlier film Rang De Basanti too inspired and changed lives...
Right from Aks (his directorial debut), I've never done a film that doesn't reflect my thoughts and ideology.

It is important for me take my own conscience very seriously while making my films. I get very emotionally attached to the projects I do.

To me, Rang De Basanti, Delhi 6 and Bhaag Milkha Bhaag are part of a trilogy.They are very personal expressions.

Rang De Basanti addressed the issue of corruption and the participation of the youth. Also, I studied at the Air Force school and my college days in Delhi went into Rang De Basanti. It was not a new thought but a new one.

Delhi 6 encapsulated my childhood in Delhi. In the film, I saw everything from a child's view point.
'Bhaag Mikhla Bhaag is a healing process for me'
Last updated on: July 31, 2013 15:05 IST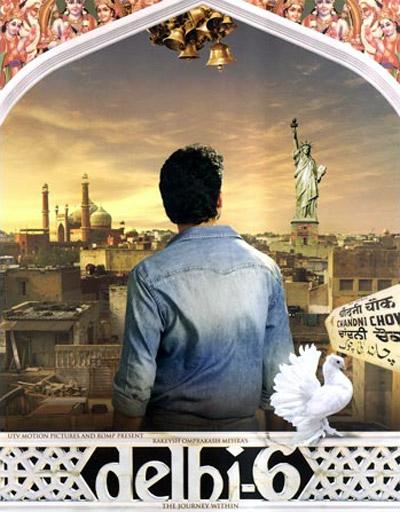 You had to change the ending of Delhi 6. Do you think that affected its impact adversely?
We can keep speculating.

Even Rang De Basanti could have been improved on. We are looking at re-releasing Delhi 6.

It addresses religion and caste -- issues that have always troubled me. BMB addressed the theme of Partition. I never understood why the country had to be divided on the basis of demography. Tomorrow we might have separate Gorkhaland or a Jat-land because a lot of our people operate with a tribal mentality.

I feel it's time to build a highway among countries. Europe has fought so many wars.They have seen World War 1 and 2 and the holocaust. But now Europe stands as one nation with a single visa and a single currency. They've understood the value of peace, cultural exchange and working together. BMB is a healing process for me to some extent.
What started this healing process?
Two scenes in BMB were very important for me. I wrote these scenes first. The first one is the prologue in Rome where Milkha looks back to see his tortured childhood. In the end, he looks at the same childhood but this time, the child is smiling at him. So the healing process is complete. For me that was the film. We interpreted his life in a dramatic form to make it cinematic.
You were vehemently opposed to the concept of intervals in films, and had decided not to interrupt your stories. But BMB has an interval...
As a storyteller you don't want to break the flow of your story but one has to be practical. If I didn't plan an interval, others would have broken the narration.

Also, considering the film's length, an interval was required. Delhi 6 didn't need an interval. When you make a movie there are innumerable variables. For the movies to turn out right you have to let them breathe.
'A R Rahman inspires me in many ways'
Last updated on: July 31, 2013 15:05 IST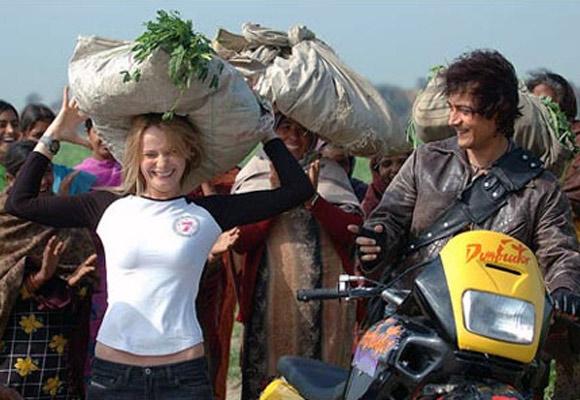 Shankar-Ehsaan-Loy's music in BMB is pitch-perfect. Did you feel the absence of A R Rahman, who worked with you on Rang De Basanti and Delhi 6?
Rahman inspires me in many ways, and not just with his music.

When you look up to someone the way I look up to him, one can never feel that person's absence because they're always there in spirit.

You won't believe this, but on the day we completed the music of BMB, Rahman was the first to call me and asked, 'Mr Mehra, are you done?'

I don't know how he knew it was done. I am going to show him the film as soon as we both have time. Having said that, I must say I had an amazing connect with Shankar-Ehsaan-Loy.

All three have such varied talents. One is a jazz musician, the other is a rock guitarist and the third is trained Hindustani-Carnatic musician. I've spent innumerable hours with Shankar Mahadevan. He is gifted beyond words. We didn't care whether the songs would work in the charts. We just did what we had to.
Milkha has proved to be a huge revenue generator. Does that give you significantly empowered as a filmmaker?
Most certainly. I have seen both success and failure and success does change a lot of things including finances for your dreams.

Having said that, I must tell you that even after Aks (and its box office failure) there were corporate houses willing to back Rang De Basanti. A success like BMB not only empowers the individual filmmaker but the entire film industry.
'I am yet to explore romance in my films'
Last updated on: July 31, 2013 15:05 IST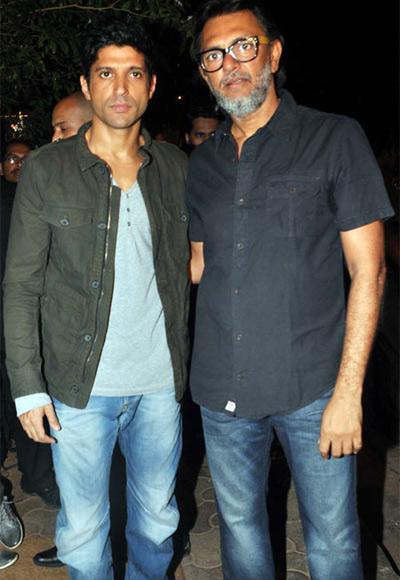 What is your opinion of filmmakers who insist on giving audiences what they want?
I think the audience is very unfairly projected on the basis of the numbers game. It is insulting to presume audiences don't want to think while watching a film.

They've always accepted change, innovative ideas and experiment in cinema. They've proved it again with BMB. I am feeling a sense of completeness. However it is part of my larger journey as a filmmaker. It cannot be a destination.
Where do you go from here?
There are so many things to explore. I am yet to explore romance in my films. And that's what I have in mind. I have my own definition of time...Then there is another project called Raja. It has been evolving for seven-eight years. Now I feel I am close to closing the subject.
What is Raja about?
On the face of it, it's a caper about the search for Lord Krishna's flute and the search for the lost city of Dwarka.

My naani (maternal grandmother) always said that Ram and Ravan was two faces of the same personality.

Cinema is a modern day tool of storytelling and we need to use it the way we most honestly can. Anyone who practices any art-form has a responsibility towards it.
'I'd love to make a film on Mother Teresa or Swami Vivekanand'
Last updated on: July 31, 2013 15:05 IST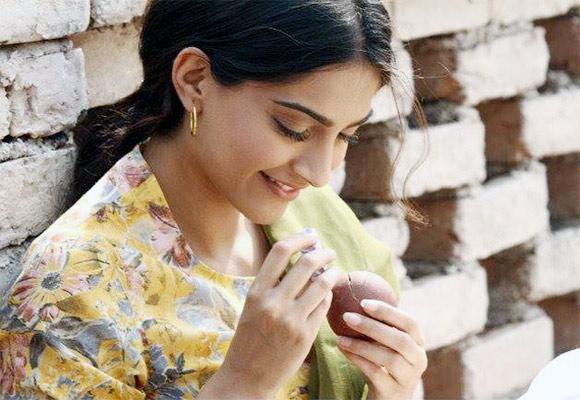 Other biopics on sportspersons are being made too. Do you think films on sports personalities may become a formula after BMB?
There is no such thing as formula. There are just good and bad films.

It'll be wonderful to have films on other sports heroes that explore the human angle .

Why do we have so few good films on the Partition?
Because we need to grow out of patriotic jingoism and stop looking at the other nation as the enemy . The other day we had a screening of BMB in Delhi for the politicians and bureaucrats. It was a theatre filled with government officials. And I saw such a deep connect with the film. It's a healthy sign.
If you had to make make another biopic whom would you choose?
At some point in my career, I'd love to make a film on Mother Teresa or Swami Vivekanand. Whatever I know about them proves that they gave us light to guide our paths.