Why it took 42 YEARS to release Joy Mukherjee's Love In Bombay
Last updated on: July 30, 2013 18:51 IST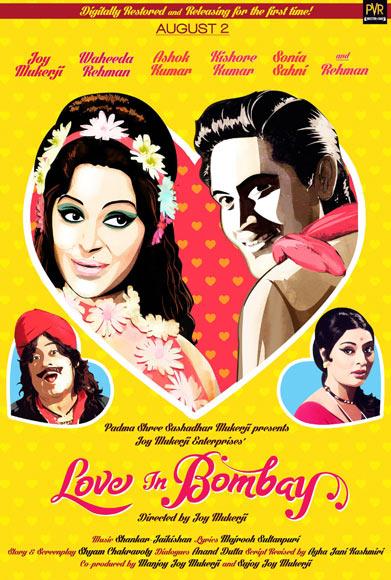 When was the last time you saw Joy Mukherjee on the big screen?
The late good-looking hero of the 1960s and 1970s, who starred in some beautiful romantic movies, will be 'back' on the marquee this week with his yet-unreleased 1971 film Love In Bombay.
Mukherjee has produced and directed the film as well.
A year after he passed away, his sons Munjoy and Sujoy are releasing Love In Bombay, which also stars Waheeda Rehman, and Joy Mukherji's uncles, Ashok Kumar and Kishore Kumar, in theatres.
Munjoy Mukherjee tells Rediff.com's Patcy N about the Curious Case of the Unreleased Film:
I would call Love in Bombay the most expensive movie ever to be released.
The first few reels were shot on a ship. The film cost Rs 30 lakh to Rs 35 lakh (Rs 3 million to Rs 3.5 million). At today's rates, that would be anything between Rs 300 crore to Rs 350 crore ( Rs 3 billion to Rs 3.5 billion).
If my father had bought land in the 1970s for that much money, it would be worth Rs 300 crore today.
Please click Next to read more.
'My father did not have any money to release the Love in Bombay'
Last updated on: July 30, 2013 18:51 IST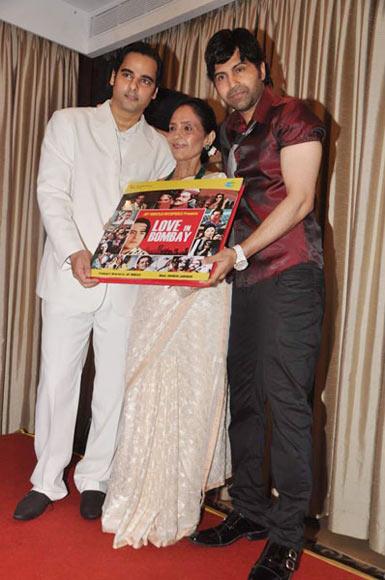 After investing a huge amount of money in making the film, my father did not have any money to release the film.
My father did try to release the movie in the 1980s and 1990s as the movie was a labour of love, but it was too costly to do so.
When satellite premieres of films came into fashion in 2000, I told my father, 'Let's have the film released on television, let's have a world satellite premiere.' But he wanted it released in a theatre, not on television.
Each time I spoke about releasing the movie, my father would shut me up. He never even told me where the reels of the film were stored.
I would tell him that there is no such film called Love in Bombay, and that he was lying.
I had not even heard songs from the film.
I pestered him about the film and finally in November 2011 he told me, "Let's try to release the movie. We will release in March 2012."
'I went into depression after I lost my dad'
Last updated on: July 30, 2013 18:51 IST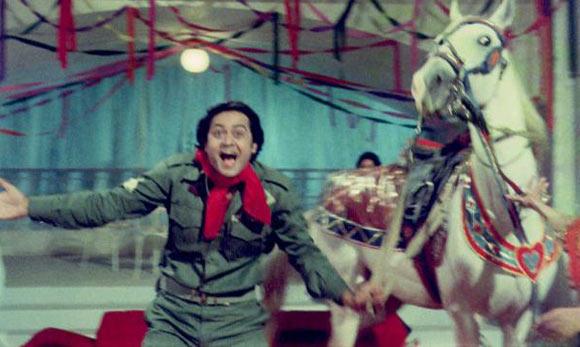 As fate would have it, my father passed away on March 9, 2012 without telling me where the movie was kept.
I went into a depression after I lost my father. I was so close to him. He would not eat his dinner if I was late. We had playful chats. When he passed away, the house seemed empty.
I stopped meeting friends. I would be angry all the time.
In May, I decided I had to get out of bed. I felt my father was telling me ,'You are the eldest son, you have to take charge of things, you have to carry the family baton.'
The first thing I did was search for the negative.
Normally, films are kept in cold storage, at low temperatures. I started going to cold storages where film negatives are kept. One day, as I was going through my father's bills, I saw a bill from Fazalbhoy Cold Storage, Worli (central Mumbai,/EM>).
When I called them, they told me they had the negatives for Love in Bombay.
I immediately went there, paid the bill and got the negatives.
'my father went to the cold storage every year and got the negatives cleaned manually'
Last updated on: July 30, 2013 18:51 IST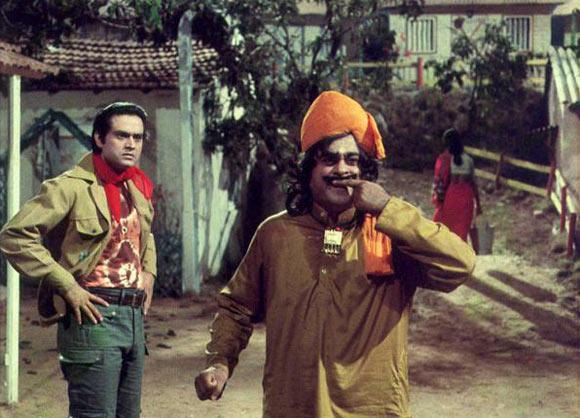 The next day I started hunting for a good post-production studio. Avitel studio scanned the negative and told me that 30 to 40 per cent of the film was damaged.
The technicians also said that was quite decent for negatives lying around for 42 years and somebody must be taking good care of the film.
The people at the cold storage told me my father went there every year and got the negatives cleaned manually. He did not know new technology, but because of his efforts the film was in good condition.
For the next seven months we cleaned the movie three times till I was satisfied. Once the cleaning was done, we did colour correction.
The sound was a huge problem. There was no clarity and there was a hissing sound. My friend Mansoor Alam helped me. For three months we worked on the sound.
After a year, the film was ready.
'PVR came to my rescue'
Last updated on: July 30, 2013 18:51 IST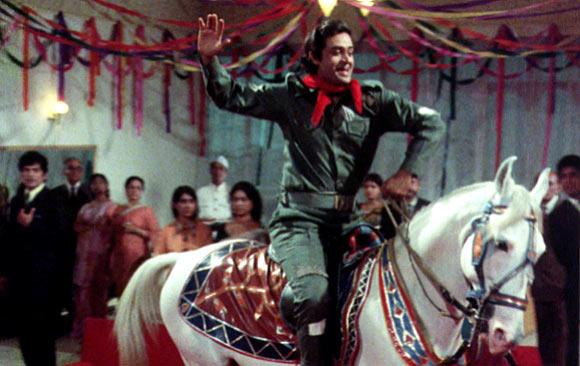 I was trying to sell a product that was 42 years old. I was not sure who wanted to watch it.
What worked to my advantage was that there were legends like Ashok Kumar, Kishore Kumar, my father and Waheeda Rehman in the film.
The movie has music by Shankar-Jaikishan, lyrics by Majrooh Sultanpuri, songs sung by Kishore Kumar, Mohammed Rafi and Asha Bhosle.
All these people were my aces.
I went to big music companies, but they did not want to release the music. The only company that saw the value of the music was HMV SaReGaMa. I had produced music albums for them and they released the music.
I went to many distributors, but they turned me down. Finally, PVR came to my rescue. They thought of releasing the movie in the PVR Director's Rare section.
Now I have a problem with the Censor Board. My father had got the censor certificate for the film in 1974, and I am releasing the film on the same certificate.
In the film, the title appears in three languages as it did in films in those days.
The title in English and Hindi was Love in Bombay and in Marathi it was Love in Mumbai.
In those days 'Bombay' was called 'Mumbai' only in Marathi. The Censor Board wants me to remove the Marathi name as the censor certificate is for the movie Love in Bombay.
I made those changes, but now they have a problem with the promos. In the promos, we have mentioned my name and my younger brother Sujoy's name as co-producers, but the actual movie has my father's name. So I have to remove that and get the promo approved.
If I postpone the film to promote it well, I may not get theatres later as there are big releases back-to-back like Chennai Express, Once Upon A Time in Mumbaai Dobara, Madras Cafe. So we have decided to go with the release now.
Love in Bombay will release on August 2.