Who Romances Aamir Khan The Best? VOTE!
Last updated on: December 4, 2012 10:21 IST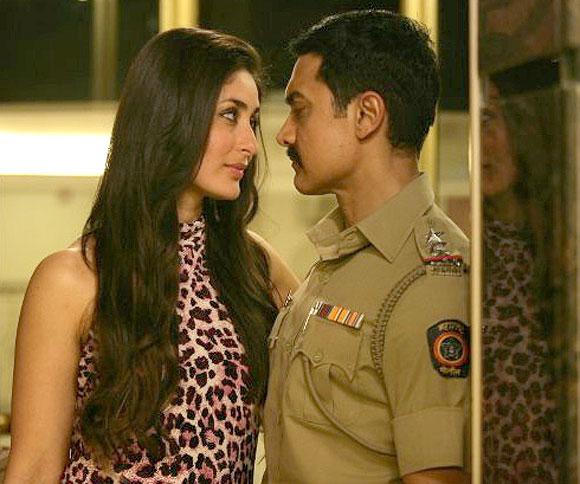 Whether it's saying his lines with conviction, labouring to get under the skin of a complicated character or gazing into his reel love's eyes with exclusive passion, Aamir Khan is, as the popular label goes, a thorough perfectionist.
No wonder he's known to create magic with nearly every heroine he's worked with. While most top of the line leading ladies are aching to work with this Khan, only few get the opportunity because of his one film a year policy.
Since his adult debut, AK has co-starred an incredible range of actresses from Kitu Gidwani to Katrina Kaif (in the upcoming Dhoom 3) as well as worked with two of his favourites Rani Mukerji and Kareena Kapoor once again in the critically-acclaimed Talaash.
So opposite whom do you think he makes the best pair? Here's your chance to vote for your favourite chemistry.

Kareena Kapoor

Despite a 15-year age difference between them, the actor somehow pulled off an engineering student engaged in lighthearted flirtations with a frothy Kareena in 3 Idiots. If the film's record-making box-office is any indication, people loved this pair.

Their cool chemistry plays a key role in making Reema Kagti's Talaash all the more alluring.

What do you think? Zoobi or Doobi?
Rani Mukerji
Last updated on: December 4, 2012 10:21 IST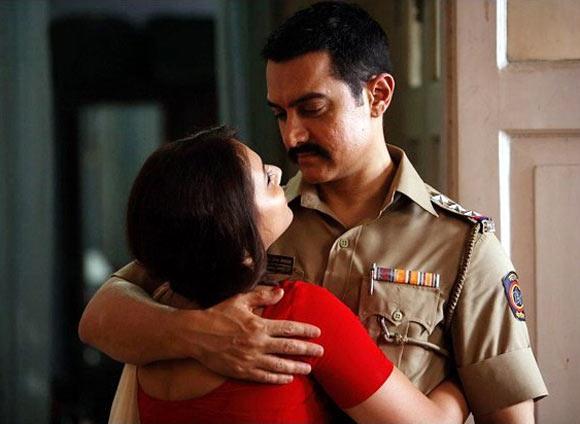 The Aamir-Rani jodi was deemed successful immediately after Ghulam's Aati kya Khandala became a huge rage.

Friends in real life as well, Rani joined the cast of Mangal Pandey as the golden-hearted prostitute who gains his affections.  
Despite the lukewarm response to that chapter, which is quite literally, history, the duo demonstrates what makes them such a fine pair yet again in the few days old, Talaash.
So Aamir-Rani or you'll stick with Rani-SRK?

Kajol
Last updated on: December 4, 2012 10:21 IST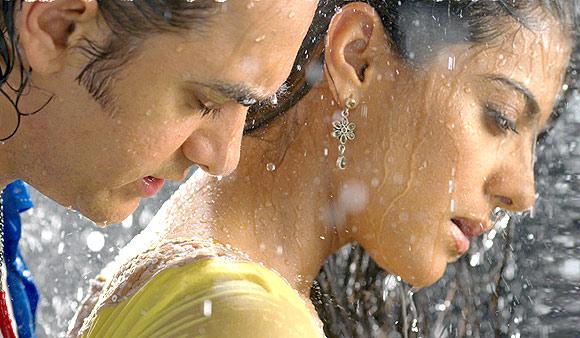 Speaking of Shah Rukh Khan, it's foolish to suggest anyone other than him can make a better team with Kajol.

Even so, Aamir tried and met with considerable success in Kunal Kohli's old-fashioned action drama, Fanaa.
The duo, previously conveying sibling-like affection towards each other in Indra Kumar's Ishq, sizzled on silver screen with their no-holds barred intimacy in the 2006 hit.
Aamir-Kajol hit or miss?
Preity Zinta
Last updated on: December 4, 2012 10:21 IST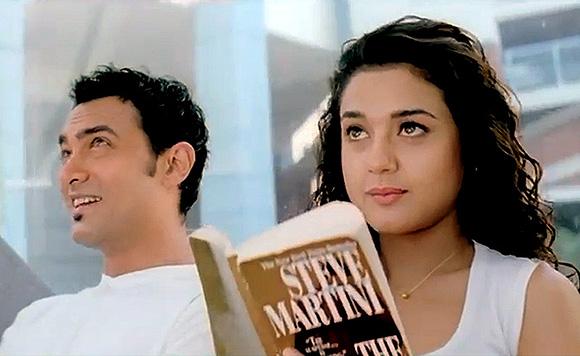 He's naughty. She's nice.

Together, they're just perfect even if only in just one film. Aamir's easygoing chemistry with Preity Zinta in Dil Chahta Hai makes it easy for everyone to root for this couple.
And if that requires Khan's smug Akash to go on his knees and provide this hip film with its most jarringly filmi moment, so be it.
Does Preity make a pretty pair with Aamir?

Karisma Kapoor
Last updated on: December 4, 2012 10:21 IST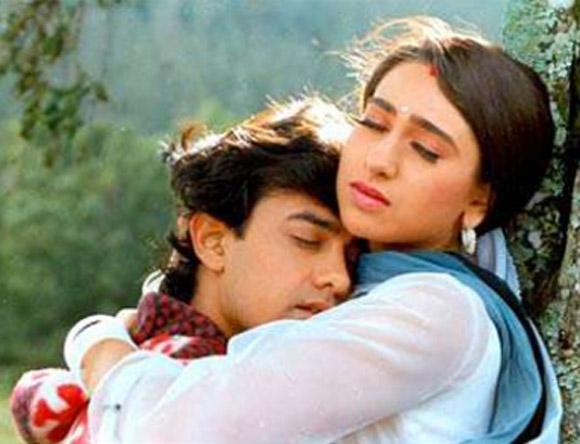 Karisma's makeover from gawky to graceful is quite easily the most talked-about aspect of Rani, er, Raja Hindustani.

Yes, even more than that hot lip-lock she exchanges with her titular hero. 
Still, they do make a sweet pair under the Memsaab-Minion category.

Or do you still prefer Shashi Kapoor and Nanda's version of the same?
Love the Aamir-Karisma charisma?

Pooja Bhatt
Last updated on: December 4, 2012 10:21 IST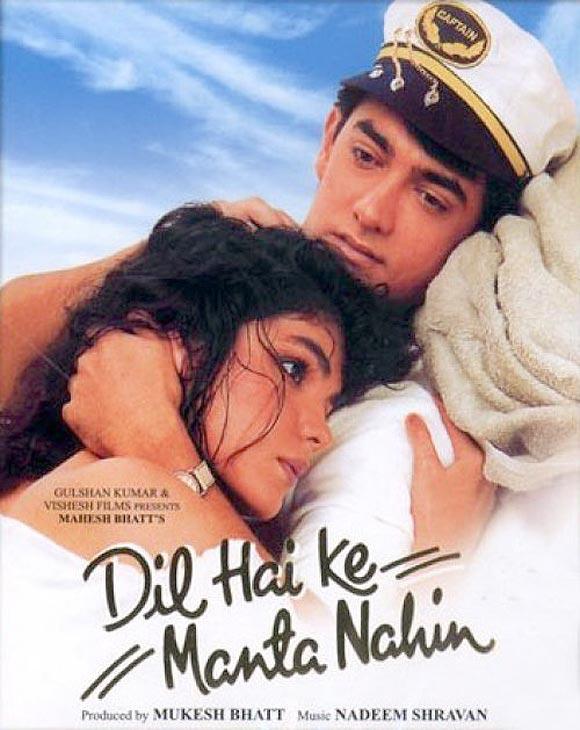 Aamir's chocolate faced smart alec and Pooja Bhatt's tailor-made spoilt, bratty heiress elevates the lively ride of Dil Hai Ki Manta Nahi from fun to fantastic. 
Because it's practically dripping with that nine-lettered-word called chemistry.

Too bad it's the only film they did.
Love Aamir-Pooja together?

Raveena Tandon
Last updated on: December 4, 2012 10:21 IST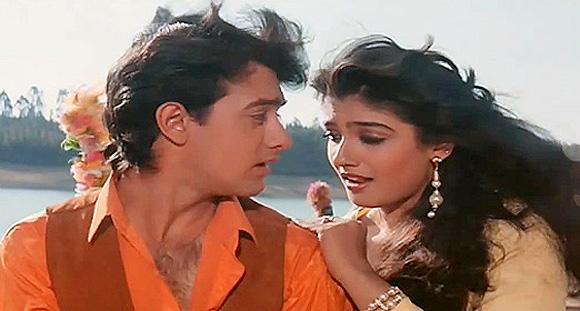 The breezy tonga ride while crooning Elo ji to Raveena is quite easily one of Khan's best hat tips to Shammi Kapoor's brand of serenade in his uncle Nasir Hussain's musicals.
Apart from wooing Raveena while competing with Salman Khan's antics in Andaz Apna Apna to hilarious effect, the actor shared some delightful vibes with the white churidar-clad leading lady of Yash Chopra's Parampara.

They also filmed quite a few scenes of Shekhar Kapur's hugely-anticipated, unceremoniously-shelved, Time Machine (said to be based on Back to the Future).
Love Aamir-Raveena together?
Madhuri Dixit
Last updated on: December 4, 2012 10:21 IST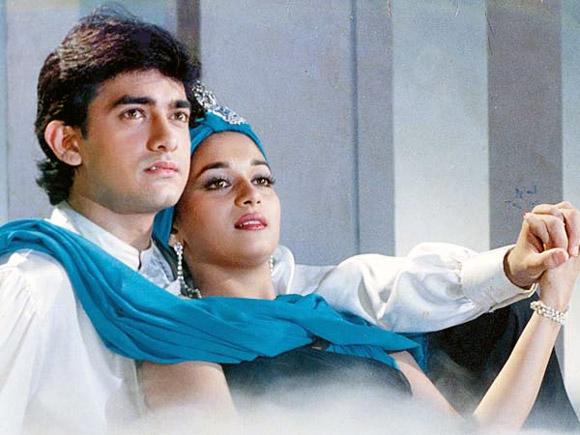 While many preferred Madhuri Dixit with her macho, moustached hero Anil Kapoor in intense fare like Tezaab and Parinda, the teenybopper crowd appreciated her war of pranks and one-upmanship with Bollywood's freshly-minted Khan in the college caper turned melodrama, Dil. 
Their pairing didn't meet the same success in Deewana Mujhsa Nahin.

Do you think they'd still look that great today? 
Juhi Chawla
Last updated on: December 4, 2012 10:21 IST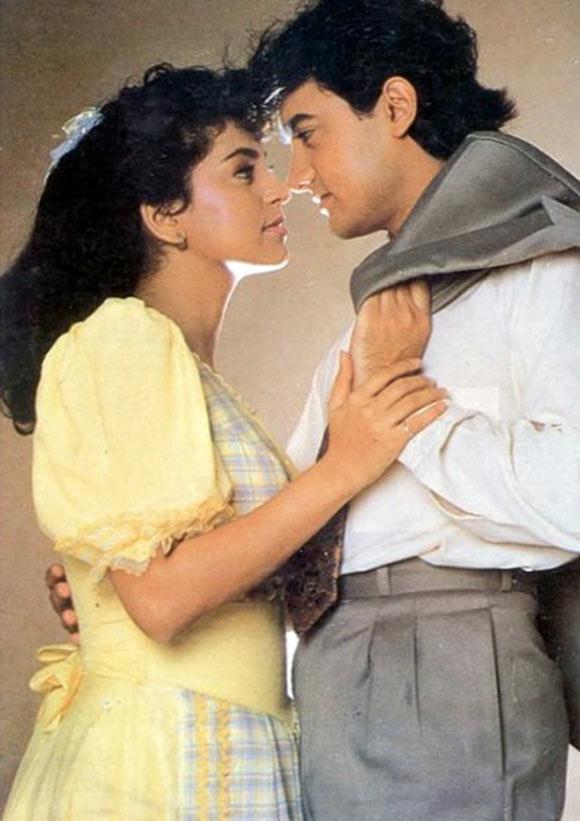 Of course no one has worked with Aamir Khan as closely and often as Juhi Chawla.

The two worked in their first big blockbuster together, Qayamat Se Qayamat Tak, which relaunched their respective careers in a big way.

Only to follow it up with a spate of flops like Daulat Ki Jung, Tum Mere Ho, Love, Love, Love and Aatank Hi Aatank and later redeem it with a Hum Hain Raahi Pyaar Ke and Ishq.
All through good or bad films, the bubbly duo remains consistently adorable.

Though they had a tiff and didn't speak to each other for several years, they've patched up and continue to be good friends.

Now if only someone would whip a script that would do justice to Ms Kurkure's talents as well get a green signal from the picky Khan.
Want to see Aamir-Juhi ishq on screen again? 
Urmila Matondkar
Last updated on: December 4, 2012 10:21 IST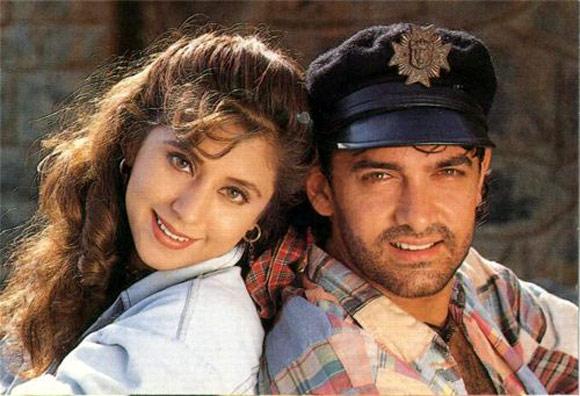 One of Aamir Khan's career-defining roles came with Ram Gopal Varma's Rangeela.
While Urmila spends most of the screen time with Jackie Shroff, her equation with Munna is unassuming and great to watch.
Loved the tapori-style love affair?