Alok Nath: I have played father to people older than me
January 16, 2014 18:33 IST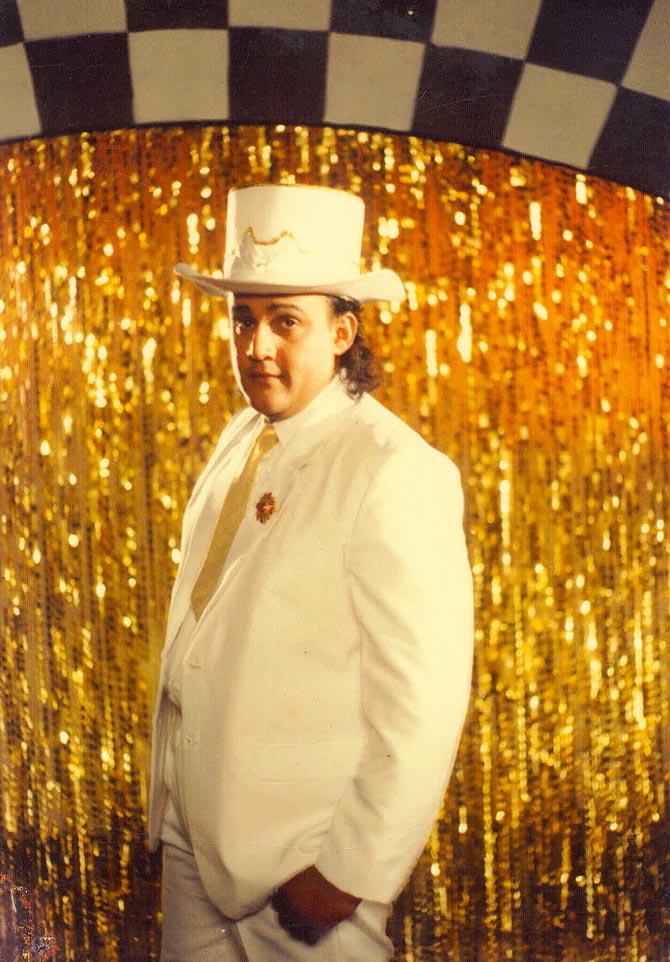 Alok Nath suddenly became a social media phenomenon last fortnight, restoring his national celebrity of the 1980s when he dominated the small screen in Ramesh Sippy's Buniyaad.
'I came to Bombay with some intentions,' Alok Nath tells old friend Aseem Chhabra, 'but I could not do what I wanted to do. I became satisfied too early.'
Alok Nath grew up in Delhi, and studied at the Modern School and Hindu College. During his college days, he acted in plays with Ruchika, a Delhi-based theatre group. That led to his joining the prestigious National School of Drama for a graduate degree in theatre.
His biggest break in acting was in the 1980s, in the hit television serial Buniyaad, directed and created by Ramesh Sippy.
Three decades later, Alok Nath, now 57, is a character actor in Hindi cinema and on television, always playing the father role -- something he has been doing since he was in his 20s, youthful looking and with a full head of hair.
Two weeks ago, suddenly people started sending out jokes on Twitter, poking fun at the morality-laced characters that Alok Nath often plays in films produced by Rajshri, a family-entertainment focused production house that has a sense of the pulse of India's middle class families in small towns, mostly in the Hindi belt.
Suddenly, Alok Nath was trending on Twitter in India, which was remarkable for an actor who usually keeps a low profile.
Aseem Chhabra, who knew Alok Nath in Delhi in the 1970s, spoke to the actor about the jokes, his work and career.
Alok, I am curious, when and how did you hear about the jokes?
I really don't know how it happened, but recently one of my films -- Rajshri's Hum Saath Saath Hain was on television. You know that Rajshri films are lovey-dovey about family values, sugar-coated.
I play the eternal goodie-goodie father.
So I must have spoken a dialogue about sanskar (culture) and family values. Some guy took that, made a pun and must have tweeted something. It just took off.
In the morning, I started getting calls. My wife got worried. She asked, 'Did you do or say something, because you are trending.'
I was paranoid. I don't have a Twitter account. I have never done anything on Twitter. I am not a tech savvy person at all. I am on Facebook, that' it.
I checked with my kids. They told me to be 'cool' and relax. They said that something happened last night and it went viral. Everybody is enjoying it, so I should too.
Please click Next to see more...
'Initially, I freaked out when I saw the jokes'
January 16, 2014 18:33 IST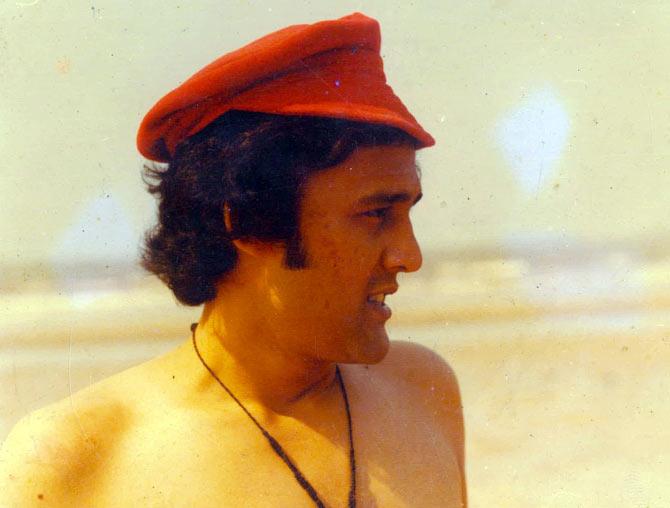 That's interesting, that you were getting calls and wondering what is happening. And you saw the jokes, right?
I saw the jokes and initially, I did freak out.
I thought why me? I am a totally private person. I don't go to Bollywood parties. There are no issues, so why me suddenly?
For one or two days I was trending on Twitter.
When Michael Schumacher had the bad accident, I came down in the trend list. But today there were some jokes about Kejriwal and me.
People are taking up current issues and connecting them to me.
There are some cheeky, some vulgar, some under the belt, but it is okay. I am cool with it.
You have been working for so many years and you are still on people's minds. I think all publicity is good, by the way!
(He laughs)
I am looking at your career; I just went to imdb.com My god, how many films have you done? Do you have a count?
I don't have a count, but anywhere near 500.
Some of them are not on imdb.com I have done regional films -- Bengali, Rajasthani, and Tamil films. So I think it must be nearing 500.
Please click Next to see more...
'Gandhi gave me enough money to make the move to Bombay'
January 16, 2014 18:33 IST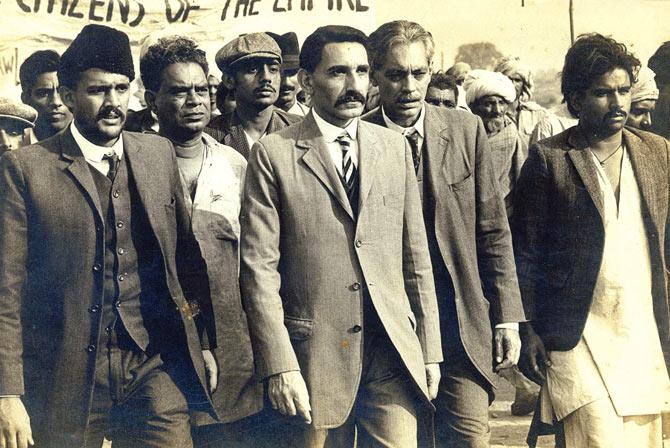 When I left India in 1981, you had just done Gandhi. When did you move to Bombay?
I came to Bombay in January 1981. It was primarily for Gandhi.
I was at the National School of Drama and Dolly Thakore had come there to cast for small roles for Gandhi. She wanted people, who were trained in acting.
I got permission to act and did a miniscule role in that film. It gave me enough money to make the move to Bombay.
I was trying to decide whether to go to Bombay. Raj Babbar (also an NSD graduate) had suddenly become a big star.
Naseeruddin Shah and Om Puri had gone to Bombay, but they had become parallel cinema stars, an extension of the kind of theatre they did.
But Raj Babbar made a huge difference to the students of NSD because he made it in commercial films.
In the theatre versus films debate, theatre then was like a poor mother. I was acting in plays in Delhi, but we would sometimes perform before six people in the auditorium.
After Raj Babbar's success, there was an exodus of people from Delhi shifting to Bombay.
My batch mates like Annu Kapoor and Neena Gupta moved and then Anupam Kher followed -- although he was senior -- as did Pankaj Kapoor.
Ravi Baswani also moved to Bombay.
He was a theatre actor in Delhi, but he wasn't from NSD.
Now for everyone who graduates from NSD, the next step is to come to Bombay to act in films, people like Irrfan Khan, Nawazuddin Siddiqui and Ratna Pathak.
They are recognised and they are making a mark for themselves.
Please click Next to see more...
'I didn't have to look back after Buniyaad'
January 16, 2014 18:33 IST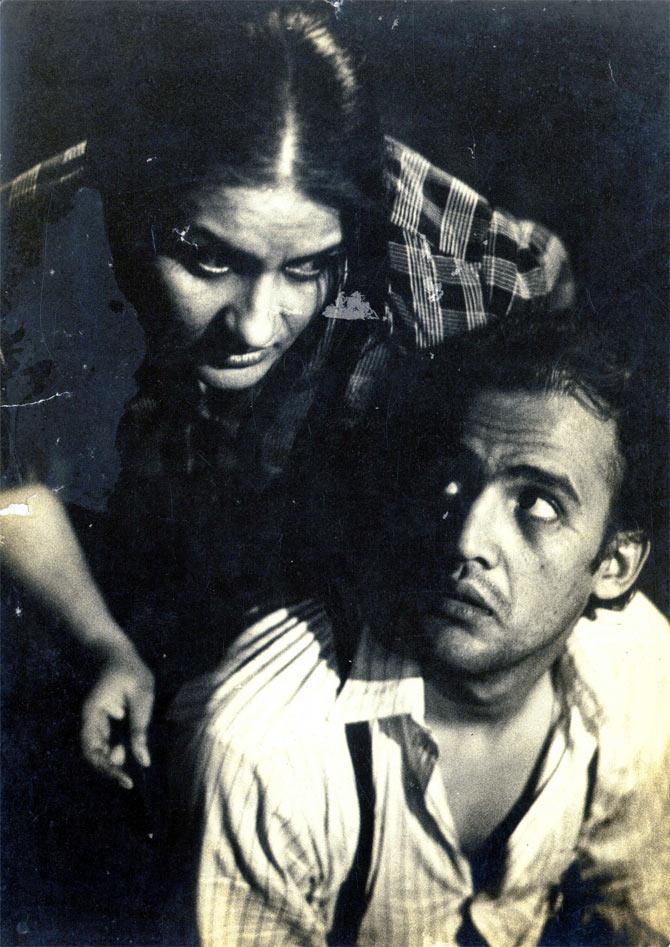 Was there work available easily after the move to Bombay? You were in Saaransh.
Saaransh was my first Rajshri film. It was in 1984.
Was it a struggle?
Oh yes, because in those days there was nothing else besides films.
With the private channels coming now, there is a huge amount of television work as well.
At that time there was only Doordarshan. I did many plays for them since Om Shiv Puri (the drama teacher at Modern School) introduced me to Doordarshan.
Luckily, Raj (Babbar) and his wife Nadira were doing theatre at a commercial level in Delhi. I earned some money from that.
I directed plays for Modern School and Convent of Jesus and Mary.
Bombay just had films. There were also no modelling opportunities. So it was a lot of struggle, going to offices and leaving my photographs.
When Nadira started a group in Bombay, I acted with her, in Prithvi Theatre. And because of Raj, many people would come from the film industry and my work got noticed.
I got a small break in a film called Aaj Ki Awaz (1984). Then Yashji (Chopra) saw me in a play, and he gave me a role in Mashaal (1984). So things started happening.
Around 1983-84, Hum Log was being made and that started the trend of TV serials. I did some work for Ramesh Sippy. The serial was called Chapte Chapte.
It was a comedy, a take on journalists, a sort of caricature view.
Then Buniyaad (1987) happened, and I didn't have to look back.
Please click Next to see more...
'After Buniyaad, I was transferred to a pedestal'
January 16, 2014 18:33 IST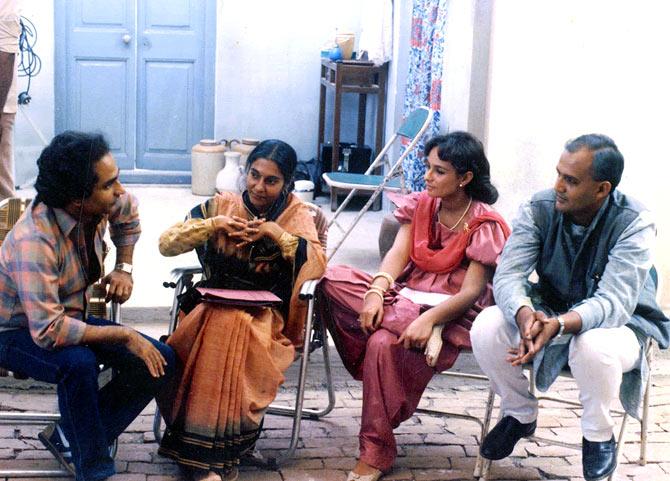 In Buniyaad, you played a young guy and your character also ages. How old were you at that time?
I was in my late 20s then. In Buniyaad, my character starts in the early 20s and by the end, I am almost in my 80s. I played that role within the span of a year.
Was that the first time you played a character who was much older than your age?
No. When I did theatre in Delhi, often the parts were of older men. In plays like The Father and Enemy of the People I played roles that were much older than my 20-year-old self.
I was comfortable and always in the groove playing older characters. I had those mannerisms, the thought process.
The lasting memory of Buniyaad with producers and directors was that here's a man who is young, but he plays old roles.
After Buniyaad, I was transferred to a pedestal. The reviews were good, people were recognising me.
Meanwhile, the expenses were piling up.
I couldn't say no to work. So I killed my instinct, my desire to become a hero and started accepting those roles.
Once you get into the groove, you get stuck in it. It is absolutely impossible to break away.
I did play a few younger roles. I was a hero in a film opposite Tina Munim. But that film --Kaamaagni (1987) -- didn't work commercially. It was too ahead of its time.
After that, I said to myself 'Let it be.' I had gotten fame early. I got money.
Please click Next to see more...
'I never went to film company offices and begged for roles'
January 16, 2014 18:33 IST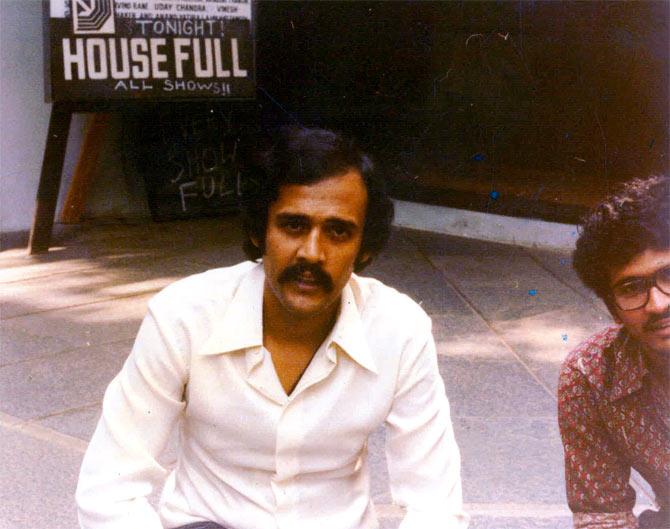 Did you tell directors that you wanted to play younger roles?
I was never the outgoing type. You have a close circle of friends and people who understand you and you understand them.
Suddenly from the confines of Delhi and the security and a very different culture, I was in Bombay among the glitterati, the larger-than-life world.
It took me a lot of time to adjust to it. I never went to film company offices and begged for roles.
Somehow I couldn't push myself, couldn't hard sell myself at that time. So whatever I landed up with, I accepted.
Buniyaad became my buniyaad in life. It was my foundation.
That image of Haveli Ram, Masterji, the old man, did not leave me for a very long time. But I have no regrets.
What I am today is because of Buniyaad.
I had to be happy with the work I getting. Once that happened, I was comfortable, getting work, getting money.
It was also the time I fell in love, got married, and then children come along.
Please click Next to see more...
'A producer from Madras wanted me to play Jeetendra's father'
January 16, 2014 18:33 IST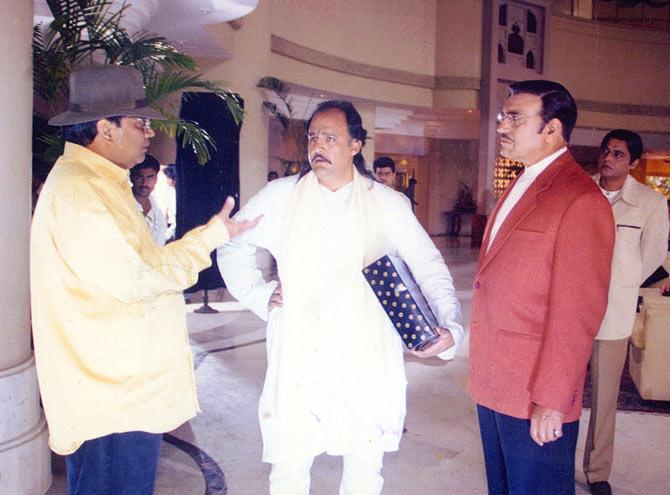 When I look at a film like Maine Pyar Kiya (1989), Salman Khan is probably 10 years younger than you?
Yes, he is exactly 10 years younger than me.
I played Aamir Khan's uncle in Qayamat Se Qayamat Tak (1988). But that is no big deal.
I have played father to people who were older than me. I have played father to Jackie Shroff and Rishi Kapoor.
I have never said no to a film. Except once, 20, 25 years ago, when a producer from Madras wanted me to play Jeetendra's father.
Tell me about Hum Aapke Hain Koun? which became a huge hit. That took your career to a different level.
Yes, as did Maine Pyar Kiya.
I also did some nice films like Taal and Pardes with Subhashji (Ghai).
Hum Aapke... was a major, major success, but it was a freak success.
When we were making it, we all enjoyed because it was a party -- although vegetarian in thoughts and food.
It was literally like a wedding ceremony. They (Rajshri Productions) insist on our spouses and children coming along.
After the film was shown to some members of the press, the news started floating -- I don't know who started it -- but the word was that Rajshri had made a video film of a shaadi.
Rajshri have this strategy of showing films in small cities, and taking the view of the people -- cycle rickshaw-wallahs, chaiwallahs. They are wizards at this technique of marketing.
Their instincts were right and that shaadi ka video became a big box office success.
You were also in Karan Johar's Kabhi Khushi Kabhie Gham and that was also one big shaadi film.
Yes (laughs).
Please click Next to see more...
'It has been a very nice and happy journey all along'
January 16, 2014 18:33 IST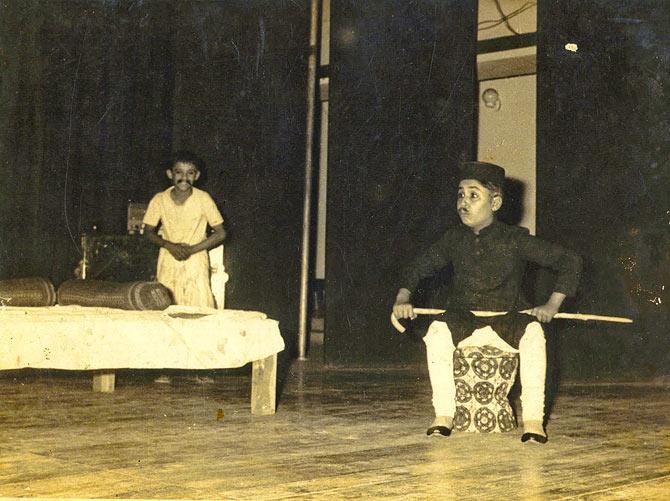 I know you are still working and are very busy. Any regrets at all?
No, I have no regrets. I came to Bombay with some intentions, but I could not do it.
I just could not do what I actually wanted to do but this was fine too.
Meri jholi mein itna kuch mil gaya mujhey, that I became satisfied too early. So I stayed in that state.
I didn't beg for roles. And then when you get married, you have a lot of responsibilities. Bombay is an expensive place.
One very good thing that happened was that I have done as much film work as television.
If I say I have done almost 500 films, I must have also done 50 to 60 serials. And both the industries accepted it.
It has been a very nice and a happy journey all along.
Do you miss theatre?
I was doing theatre until the late 1980s. When films and television took over, there was no time for theatre.
Once you get into films, it becomes impossible to find time to commit to theatre.