What you MUST know about Pakistan's first Oscar star!
Last updated on: February 27, 2012 19:05 IST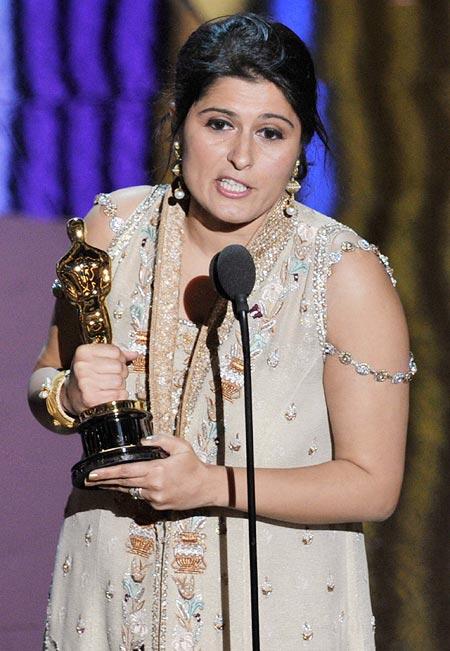 Sharmeen Obaid-Chinoy. That name may be vastly unfamiliar to Indian viewers but those who watched the 84th Annual Academy Awards on February 26, wide-eyed and with avid interest, would find an instant recall value.
Bagging the statuette for her documentary Saving Face, Sharmeen became the first Oscar winner from Pakistan.
The Oscar arrives in Karachi at a time when our friends across the border are in dire need of a reason to cheer, celebrate and tell the world outside that there's a Pakistan that is intellectually thriving. Sharmeen's win, being a woman, makes this a doubly proud moment – even doubly ironic - for a nation in which womanhood has been mercilessly abused time and again.
Saving Face takes up the cause of women who have suffered acid attacks in Pakistan and their struggle to not only restore their disfigured faces but also their disfigured destinies.
So, just who is Sharmeen? Read on to find out more about her:
'Pakistan can solve its problems if it so chooses'
Last updated on: February 27, 2012 19:05 IST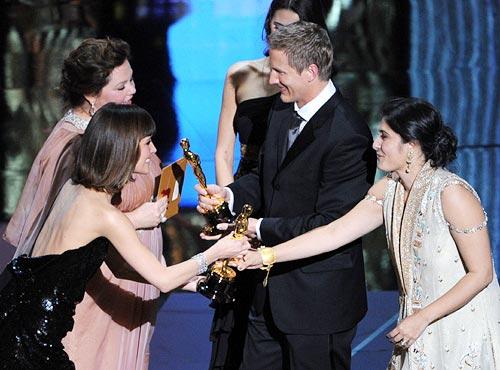 Before leaving for the Oscars, Sharmeen told Pakistan's Dawn.com that the idea behind Saving Face was to underline that "Pakistan can solve its problems if it so chooses."
Speaking with easygoing charm and clarity, she said, "Saving Face shows a very powerful female lawyer who fights the case of one of our main characters, Zakia. It shows a Pakistani British doctor giving something back to his country. It shows that one issue is being tackled by so many people from so many fronts that a solution arises and that it's possible to prosecute the men who do this, to have harsher sentences, to have a court system that supports these women and rehabilitates them."
She believes that this film should not be viewed only as one on acid violence but as "a full story -- of Pakistan solving its own problems."
Finding Her Calling At 21
Last updated on: February 27, 2012 19:05 IST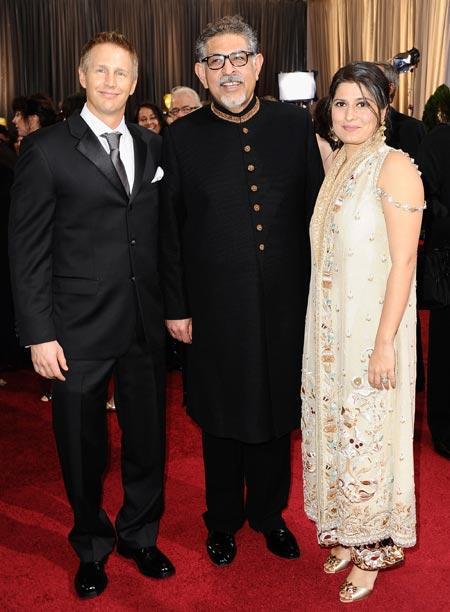 The only one in her family in possession of Western education, Sharmeen studied economics and political science. But documentaries were the "medium to go", as she told Dawn.com.
She started making documentaries at 21. "I never studied filmmaking. I hadn't seen many documentaries. Once I decided I am going to make them, I went online and did research on how to make films, what does a documentary look like. All that helped."
Struggle Behind Her First Film
Last updated on: February 27, 2012 19:05 IST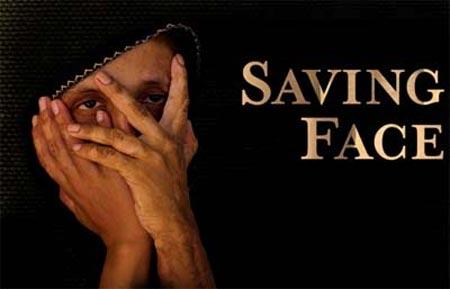 The inspiration to segue into documentaries struck her in 2001 when she arrived one winter in Karachi and noticed the plight of Afghan refugee children. "I saw that there was an influx of Afghan refugees because of the bombing that had started in Afghanistan. What stood out were the children. I started thinking, 'What about the next generation of Afghans? What kind of a life will they have? So, I met several of Afghan children, took their photographs and wrote out their bios."
When her research was more or less ready, she dispatched her proposal to 80 odd channels and production houses in the US. "Anybody that had the name TV attached to their name got my letter," she laughed.
'These are not everyday breakfast conversations. These are real issues'
Last updated on: February 27, 2012 19:05 IST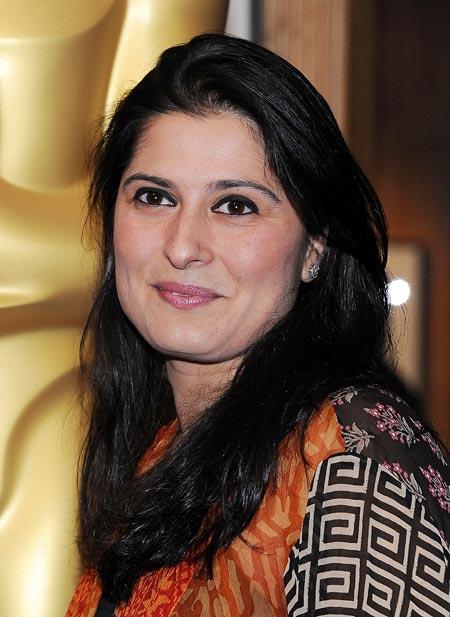 Remarkably fearless, Sharmeen has risked her life many times to make documentaries on controversies subjects and at times, under difficult circumstances.
While her earlier films, like Terror's Children dealt with the influx of Afghan refugee kids and Pakistan's Double Game with sectarian violence, City of Guilt looked at the Catholic Church's pro-life agenda in Manila, Philippines. "Not one of them you can say is a frivolous film," she stated in an interview. "They are all issue-driven films, whether it is taking on the Church or the clergy in Saudi Arabia or dealing with gangs in East Time 8744 these are not everyday breakfast conversations. These are real issues."
'My father passed away when I was going for the Emmy'
Last updated on: February 27, 2012 19:05 IST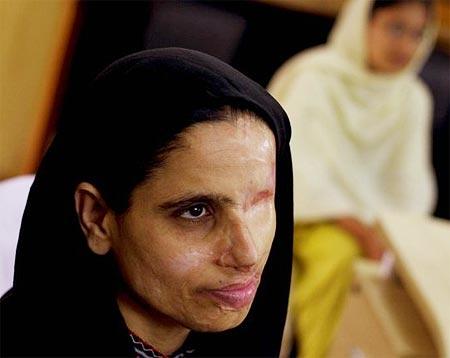 This is not the first time Sharmeen has come under the international spotlight. In 2010, she won the Emmy Award in 2010 for her documentary, Pakistan: Children of the Taliban, a commendable effort on the recruitment process of Taliban and its impact on young children.
Tragically, her father's untimely death prevented her from personally collecting her award. "I was going for the Emmy Awards and I got a call that my father passed away. I had to turn around," she said. "I spoke to my father on phone just the day before he died and he told me, 'Hey, you won the Emmy,' and I said, 'No, no dad, not yet.' On the flight, I was thinking, 'My god, he knew before he died.' It was unbelievable."
'I am a really an angry person'
Last updated on: February 27, 2012 19:05 IST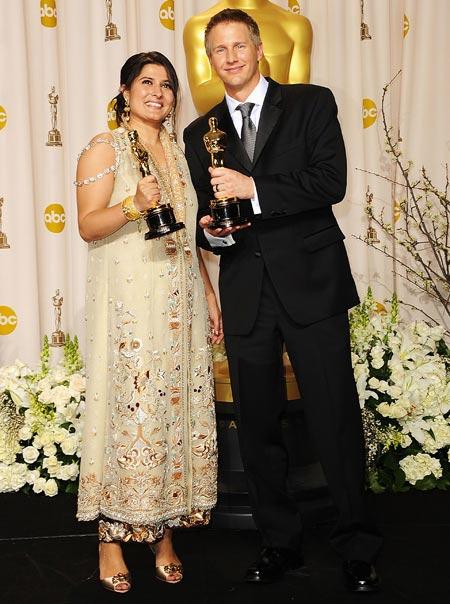 So, what inspires Sharmeen to make films and go on investigating issues plaguing her society? "I am a really angry person. When something angers me I want to channel that anger into a film because I want people to know about the issue and get them educated about it. I want someone to do something about it."

Time spent with the Taliban recruiters and suicide bombers
Last updated on: February 27, 2012 19:05 IST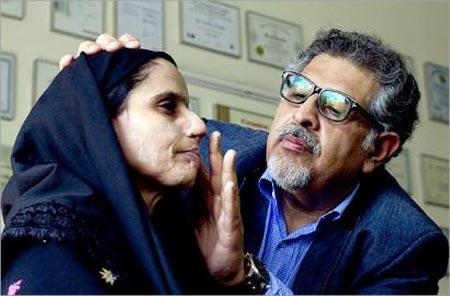 Speaking at aTechnology, Entertainment, Design (TED) conference, she recalled that in 2009, there were 500 bomb blasts across Pakistan and she spent that year working with children "who were training to become suicide bombers" and with Taliban recruiters, "trying to understand how the Taliban were converting these kids into live ammunition and why they were actively signing up to their cause."
Sharmeen's hardcore research resulted in the documentary Pakistan: Children of the Taliban. She believed Taliban had perfected the way in which they recruit and train children. It is a five step process, she surmised. "They prey on poor families, they distort the teachings of Quran, they make the kids hate this world, promise them glories of martyrdom and their final message is that the Western powers do not care about civilian lives by showing them footage of atrocities in Iraq, Iran, Afghanistan and Pakistan."