Can Farah Khan direct or choreograph better? Vote!
Last updated on: November 30, 2010 10:39 IST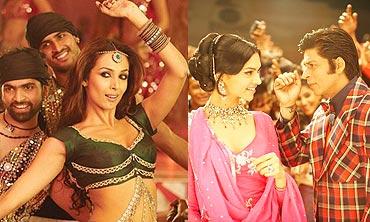 Mostly, the film industry is a place where you get typecast very early on. A major success means you end up trying to keep cloning that, and very few actually get the chance to experiment as much as they like.
So here, we've picked ten people who multitask. A lot. These are people with clearly more than one career, and while this balancing act is hard, your task today is easy as pie: tell us what role you think these ten filmi folk are better suited to.
Enjoy, dear reader, and don't forget to vote.
Farah Khan

Choreography came accidentally to Farah Khan, but the very first song she did Pehla Nasha from Jo Jeeta Wohi Sikandar was such a success that she soon became one of the industry's most wanted choreographers.
As a director, her two films Main Hoon Na and Om Shanti Om were blockbusters, with entertainment and originality stamped all over them, making her one of our top directors a position women have very rarely held.
So while she can do a Munni Badnaam, she can also direct a Tees Maar Khan. Remains to be seen which one will be more memorable.
Farhan Akhtar
Last updated on: November 30, 2010 10:39 IST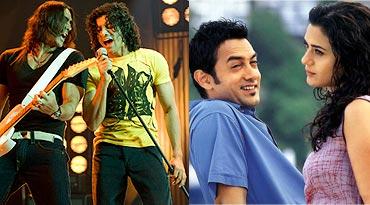 His directorial debut was a smash hit, and one that really struck a chord with the youth. His acting debut, ditto.
Farhan Akhtar, maker of films like Dil Chahta Hai and Don, has an effective and unique on-screen presence, something that comes to the fore in critically appreciated cinema like Rock On and Luck By Chance.
Akhtar will be wearing both his hats in 2011, with Don 2 and Zindagi Na Milegi Dobara, and both films are eagerly anticipated.


Aamir Khan
Last updated on: November 30, 2010 10:39 IST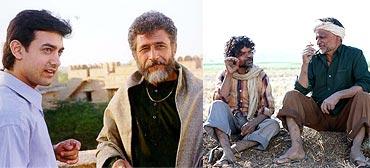 Sure, he directs too, and Taare Zameen Par was impressive, but while we wait for him to dazzle us again, we should really look at how Aamir is one of the most important producers in modern-day Bollywood.
He's brought a new polish to the finished product, makes sure the craft of filmmaking is in place be it Jaane Tu or Peepli Live and manages to find audiences for his films, no matter the subject.
He might act in just one film a year, but as a producer, he has the power to surprise audiences more often.
Dev Anand: Actor or director?
Last updated on: November 30, 2010 10:39 IST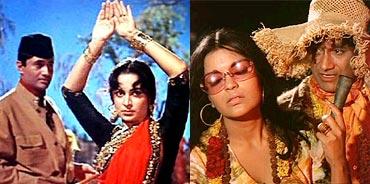 The original multitasker, Devsaab was one of the most popular actors from the 50s to the 70s and earned himself the well-deserved 'evergreen' tag.
He made his directorial debut with Prem Pujari in 1970, and while that didn't work, his second film Hare Rama Hare Krishna was a massive success.
The plaudits dried up after his last success, Des Pardes in 1978, but that doesn't stop Devsaab from rolling out a film every couple of years, even now.


Sanjay Leela Bhansali
Last updated on: November 30, 2010 10:39 IST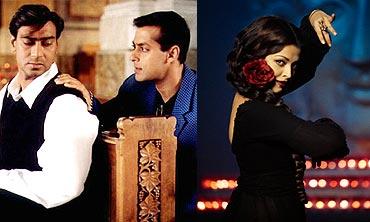 Sanjay Leela Bhansali's cinema has always relied on grand composition, bringing to us fascinating composers like Ismail Darbar in Hum Dil De Chuke Sanam and Monty Sharma in Saawariya.
But after the last film was savaged unanimously by the world even though the music was a success Bhansali decided to make music himself for his most personal effort, Guzaarish.
The film opened to mixed reviews last week, and Bhansali's music has found even more lukewarm comment.


Vishal Bhardwaj
Last updated on: November 30, 2010 10:39 IST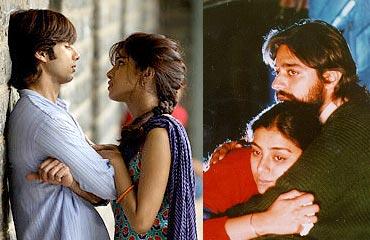 A composer lauded right from his early work with Gulzar in the 90s, Vishal ended up watching a lot of world cinema with his mentor and, as he once told Rediff, watching Polish filmmaker Kyrsztof Kieslowski's Decalog made him want to be a director.
Since then it's been magic, watching Vishal go from Makdee and Maqbool to Omkara and Kaminey, and the director continues to wear multiple hats, from writing and directing to singing and composing making his films, well, completely his.
Himesh Reshammiya: Composer or actor?
Last updated on: November 30, 2010 10:39 IST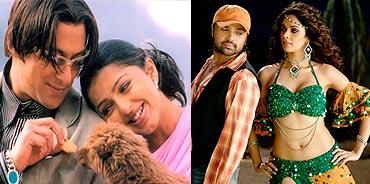 Reshammiya's music drew warm appreciation right from Pyaar Kiya To Darna Kya in the 90s, but it wasn't till he started weilding the microphone himself that his nasal voice became a sensation, and he became the country's hitmaker, ruling the music-sales charts.
Encouraged by his immense fanbase, he tried acting, and his debut Aap Ka Suroor: The Muviee: The Real Luv Story was a staggering success.
His next, Karzzz, was a big failure, though, and his most recent film, Kajra Re, was released in just a handful of theatres.

Abbas Tyrewala
Last updated on: November 30, 2010 10:39 IST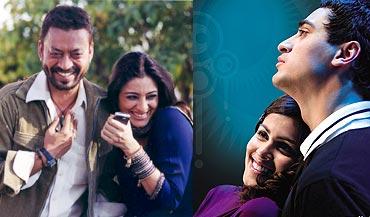 Starting off writing dialogue for Santosh Sivan's Asoka, Tyrewala hit peak working on films like Maqbool, Munnabhai MBBS and Main Hoon Na, soon becoming a very sought-after screenwriter.
His directorial debut, Jaane Tu... Ya Jaane Na, was a huge hit, instantly making him a top-rung director.
And while that film was loved by all, the same can't be said for his latest, Jhoota Hi Sahi, which tanked miserably a few weeks ago.

Karan Johar
Last updated on: November 30, 2010 10:39 IST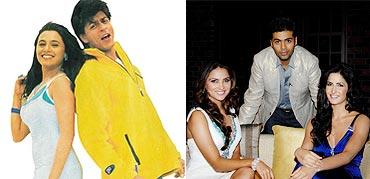 Karan does many different things producing, fashion designing, even acting and does them mostly successfully, but the best counterfoil to his primary career as a director is his avatar as a talk show host.
And while Johar's films are loaded with mush and melodrama, his chat show is a whole different ball game, saucy and wicked and mischieviously confessional.
And again, unlike his films, this allows actors to really let their hair down always a welcome sight.
Vidhu Vinod Chopra: Director or producer?
Last updated on: November 30, 2010 10:39 IST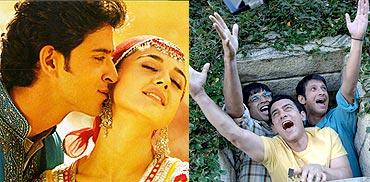 As a director, Chopra started out brilliant -- Sazaye Maut, Khamosh, Parinda -- started getting carried away by music and spectacle but still stayed top-notch -- 1942: A Love Story, Mission Kashmir -- while his last directorial outing, Eklavya, was mostly written off by critics.
Meanwhile, as a producer, he's gone from strength to strength, making Munnabhai MBBS, Parineeta, Lage Raho Munnabhai and the biggest film of all time, 3 Idiots.