Vote: Amitabh's Best Songs
Last updated on: June 6, 2011 15:44 IST
Amitabh Bachchan can, and has done, everything. In Hindi cinema, anyway. He's done every kind of role, and now, as Bbuddah Hoga Tera Baap heads our way, seems willing to not just turn into the Angry Man again but also sing his way into it.
Here, then, are that and nine other songs Bachchan has sung, mostly unforgettably. Have a listen to all ten songs, and while my favourite is the one from Nishabd, do feel free to express your choice in the comments section below.
Amitabh seems to be staking his claim on Rajnikanth turf with this Angry Old Man film, the theme track clearly believing in both funk and fists. The trademark baritone sounds groovy and defiantly cool, and that 'thoda action thoda Jackson' line is quite killer.
Rang Barse - Silsila
Last updated on: June 6, 2011 15:44 IST
It is testament to both Shiv-Hari's music and to Bachchan being at the peak of his powers that this mischievious song about adultery, however playful, has become Hindi cinema's de facto Holi song, the most iconic and memorable in a genre cluttered with gems.
Neela Aasmaan So Gaya - Silsila
Last updated on: June 6, 2011 15:44 IST
Also in Silsila is this bizarrely enticing song, puzzling because of how Bachchan -- while occasionally sounding off-key and flat -- manages to make the words work. True to his character in the film, this comes across as a poet's lament: heartfelt and whiskey-soaked, even if not perfectly sung.
Mere Angane Mein -- Laawaris
Last updated on: June 6, 2011 15:44 IST
It takes a lot for the industry's tallest actor to discard his Angry Young Man tag and dress not just in drag, but in a series of drag outfits -- a tall woman, a fat woman, a short woman (!) -- each uglier than the last.

Bachchan manages with self-mocking abandon, and sings it himself. Full points for effort and effectiveness, not to mention clutterbreaking -- even if not many were swayed by his vocal chords.
Mere Paas Aao, Mere Doston -- Mr Natwarlal
Last updated on: June 6, 2011 15:44 IST
It's one of those songs you grow up with. Mr Natwarlal wasn't the best of Amitabh's films, but as a child, this track in enchanting. He tells a (not particularly funny) story about almost being killed in a jungle, working it with exaggerated expressions, and then fatally funny deadpanning the last, surprisingly existential line with great flair.
Bhala Bura - Aks
Last updated on: June 6, 2011 15:44 IST
Rakeysh Mehra's debut film might have had several inspirations -- a Ramayana-lovin' reworking of Face/Off with more than a hint of Fallen -- but was a very cool first feature indeed, with Bachchan going wild in this seriously scorching track about good and evil. That maniacal laugh just ties it all together with sinister ease.
Rozana - Nishabd
Last updated on: June 6, 2011 15:44 IST
Clearly the best thing about Ram Gopal Varma's controversial Letchy Old Man film -- for all its numerous merits, including a great performance from Amitabh -- was the superstar crooning this gorgeous Vishal Bhardwaj composition. Mellow, surefooted, experienced and passionate. This, to me, is Bachchan's finest song.
Eer Beer Phatte - Aby Baby
Last updated on: June 6, 2011 15:44 IST
This strange Bally Sagoo reworking of a children's rhyme would have been decried as a desperate attempt at cool had it come from anyone other than the one and only Bachchan.

An older Amitabh somehow carried off the song, amusing despite being far past his prime. It's hard to imagine any other actor of that age pull it off.
Don't Worry Be Happy - Toofan
Last updated on: June 6, 2011 15:44 IST
Move over, Bobby Ferrin. Actually, given that the music composer was Anu Malik, it was more like a stick-up: "Give me your tune and move over, Bobby Ferrin." Malik's version incorporates some bizarre lyrics about problems in life, and Bachchan sings out the nonsense  -- about family planning etc -- sportingly enough.
Holi Khele Raghuveera Awadh Me - Baghban
Last updated on: June 6, 2011 15:44 IST
Unable to resist another great Holi song from Bachchan, the makers of Baghban convinced the actor to lend his voice to this spirited, albeit unmemorable number, one crowded by various other singers like Sukhwinder Singh and Udit Narayan. And yet Bachchan's stentorian vocals are the only ones that make an impact.
Vote: Amitabh's best songs
Last updated on: June 6, 2011 15:44 IST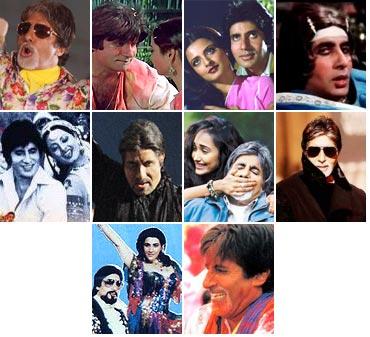 So what are you waiting for? Vote now!