Vote! Bollywood's best sufi songs
Last updated on: October 4, 2011 14:42 IST
In the earliest Bollywood movies, Sufism was represented in the form of qawwali which in turn made its way from dargahs (shrines). Mixing it with pop influences, Hindi movies began using Sufi music in a big way only in the current decade.
Sufi singer Tochi Raina, who has practised Sufi music over many years, describes the trend best when he says, "The Sufi tunes you hear in Bollywood soundtracks are just peripheral. It will take decades and decades to fully explore all its potentials. It took legends right from Bulleh Shah to Nusrat Fateh Ali Khan to devote their lifetime's practice to Sufism and whatever we know of Sufism today is through the recipe passed down to us."
What you are listening may be a watered-down version of the real Sufi experience but there's no denying the bewitching impact Sufi music leaves on a listener.
Which of these gems is your favourite? Vote at the end of the slideshow!
Arziyaan -- Delhi-6


Certainly amongst A R Rahman's best soundtracks for its sheer sweeping range, the real gem in the album is
Arziyaan
, a soulful hymn expressing a divine union with God and an appeal to restore one's faith and fate.
Allah Ke Bandey -- Waisa Bhi Hota Hai Part II
Last updated on: October 4, 2011 14:42 IST
The earliest modern Sufi song that can be credited with kicking off the trend,
Allah Ke Bande
reached out to almost every discerning listener.
It established singer Kailesh Kher as a unique talent with a strong and natural inclination towards Sufi music.
Rubaru -- Maqbool
Last updated on: October 4, 2011 14:42 IST
Composed by Vishal Bhardwaj for his second feature film, Rubaru is a beautiful qawwali which works not only for its music but for its equally poignant lyrics by Gulzar.

The surprise here is Daler Mehndi who sings Rubaru with single-minded devotion and focus, shedding his image as a bhangra-pop performer.
Ya Ali -- Gangster
Last updated on: October 4, 2011 14:42 IST
No producer has done more for Sufi music than the Bhatts, exploiting the genre's full potential.

Ya Ali is a passionate cry for sacrifice and forgiveness with touching lines like, 'Bina tere na ek pal ho, na bin tere kabhi kal ho/ Yeh dil ban jaaye pathhar ka na ismein koi hulchul ho.'
Piya Haji Ali -- Fiza
Last updated on: October 4, 2011 14:42 IST
Journalist-turned-filmmaker Khalid Mohamed's impassioned ode to the city of Mumbai and its most famous shrine, Piya Haji Ali has the quintessential Rahman touch.

The stunning visuals lend the song validity and a sense of realism and Mohamed's camera takes you where the qawwalis first originated.
Maula Mere -- Chak De! India
Last updated on: October 4, 2011 14:42 IST
Composed by Salim-Sulaiman, Maula Mere casts a magnetic spell over Chak De! India and come to think of it, it's not even the theme piece, but just an independent song.
Shukran Allah -- Kurbaan
Last updated on: October 4, 2011 14:42 IST
More than its music, it's the Arabic lyrics of Shukran Allah that hits you first. Once the original lines settle down, Sonu Nigam's familiar voice takes over.

The film has another Sufi-inspired number, Ali Maula which isn't as good though.
Mann Ki Lagan -- Paap
Last updated on: October 4, 2011 14:42 IST
Mahesh Bhatt whose daughter Pooja directed Paap once, while explaining why Sufi music will never run its course, said, "Sufi music is about love and devotion and love is ageless.

So long as there are people who hanker for romantic and spiritual solace music of love will work." When you listen to the Rahat Fateh Ali Khan-rendered Mann Ki Lagan, it gives you the solace that Bhatt refers to.
Khwaja Mere Khwaja -- Jodha Akbar
Last updated on: October 4, 2011 14:42 IST
In one of Rahman's weakest albums, he still leaves us with something that we will remember and that is Khwaja Mere Khwaja.
A traditional qawwali picturised against the background of whirling dervishes, the Khwaja Mere Khwaja blares from every shrine across India.
Maula Mere Maula -- Anwar
Last updated on: October 4, 2011 14:42 IST
Chances are you may not remember this film at all or on which actors Maula Mere Maula was shot but it is certain that you wouldn't have forgotten its tune.

Composed by Mithoon and sung tenderly by Roop Kumar Rathod, this number proves that surprises come in small packages.
Vote! Bollywood's best sufi songs
Last updated on: October 4, 2011 14:42 IST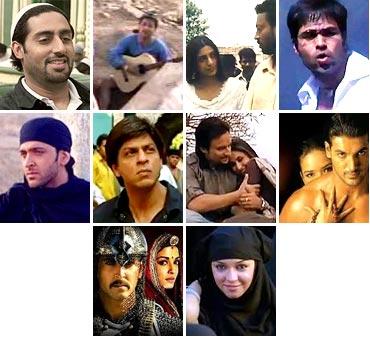 So what are you waiting for? Vote now!