'Action Replayy's failure taught me a lot'
Last updated on: April 9, 2013 16:29 IST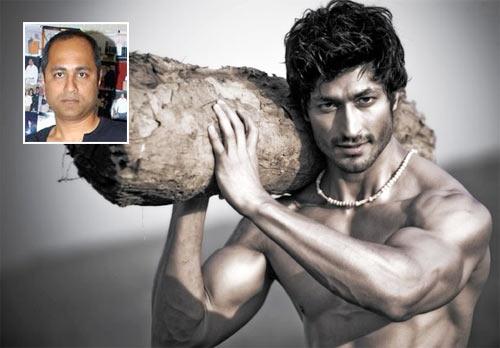 Vipul Shah's sprawling workplace in a western suburb of Mumbai bears testimony to the filmmaker's consistent discipline.
Posters of his previous productions adorn the walls, emphasising the fact that the director has not yielded the microphone since his disaster Action Replayy, and the passion for cinema hasn't dimmed.
Shah's next production is an ambitious action film called Commando, starring Vidyut Jamwal, which boasts of actions performed without the crutch of CGI or even cables and body doubles.
In this interview with Ankur Pathak, Shah talks eloquently about how he has tried to learn from past failures, his role of facilitator rather than mentor to new talent, and the star pair of Akshay Kumar and Katrina Kaif, with whom he plans to make Namastey London 2.
Is Commando inspired by the 1985 Arnold Schwarzenegger film that goes by the same name?
The similarity begins and ends with the title. Today, you cannot make a copy. There are issues with the copyright. You have to make an original film.
Also, if I made a 1985 film today, it would be outdated. So I had to make an original film.
The title comes from Vidyut's character who plays the role of a commando.
What exactly does that imply? Is he in the military, or does he work for the Secret Service?
Commando is the kind of person that he is, the best trained man - a man with extreme honesty and integrity. He is the toughest man to deal with a situation. His integrity and honesty remains unquestionable.
So, in that sense, he represents the institution of the military of our country, in which I hope people still have faith.
'All the stunts in the film have been performed by Vidyut'
Last updated on: April 9, 2013 16:29 IST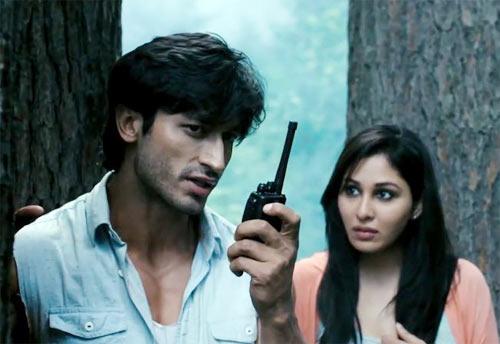 The trailers show a lot of exaggerated violence.
Actually, it is not at all exaggerated. It is all very real, done without the support of any cables or any special effects.
Everything is done by Vidyut himself -- in fact we are running this disclaimer in the trailer itself which says that all the stunts are done by the actor himself without any cables, special effects or a body-double.
It is as real as it gets. We are not used to seeing such action so we start believing it to be unreal. That's why we have put the disclaimer.
This guy (Vidyut) has trained himself in martial arts to achieve what he has achieved. We also called our South African stunt director and trained the crew for four months.
So what you see in the trailers is not exaggerated but a result of extreme hard work. In fact, Vidyut performed the stunts live recently at an event that we conducted in a mall. I don't think I can prove anything beyond that.
As the film's producer, weren't you apprehensive about this kind of chancy subject matter?
See, with action films you always have to take that kind of risk or else don't make one.
But here, we minimised the risk as much as we could by doing something that Bollywood doesn't do so often -- we practised and practised and practised.
We trained rigorously for four months before executing it. Just because we were going to do some daredevilry didn't mean that we had to do it recklessly. We ensured that we did all the stunts with the minutest precautions and everything went fine.
'I don't like to repeat myself'
Last updated on: April 9, 2013 16:29 IST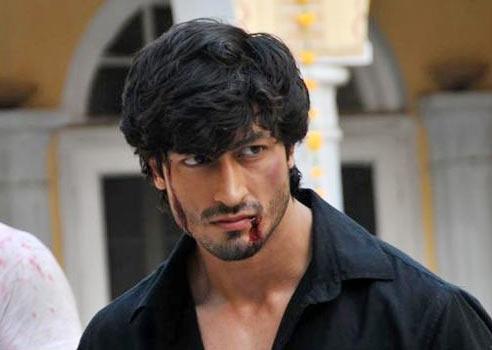 Did you at any point see Vidyut getting nervous about his act?
Not really. I had seen him work meticulously in the rehearsals and that took half the burden from my head. Once he had practised to perfection in the training, all I had to do was shoot with my camera. The result had to come out as there was no scope of my hero getting nervous.
As an individual are you a fan of the Stallone-Schwarzenegger school of action?
I am a big fan of cinema. If I can love a Rocky and First Blood, I am equally fond of Cinderella Man kind of cinema. I am equally fond of Paul Anderson kind of cinema; I am equally fond of Life is Beautiful kind of cinema and I can equally appreciate a Legends of Fall kind as well.
I love cinema and that's what reflects in my films. I don't like to repeat myself. I have done Aankhen, Waqt, Namastey London, Singh Is Kinng, London Dreams, Action Replayy, Kucch Luv Jaisaa, Force and now Commando. You'll find no overlapping similarities between any of them.
'I am very confident about females liking Commando'
Last updated on: April 9, 2013 16:29 IST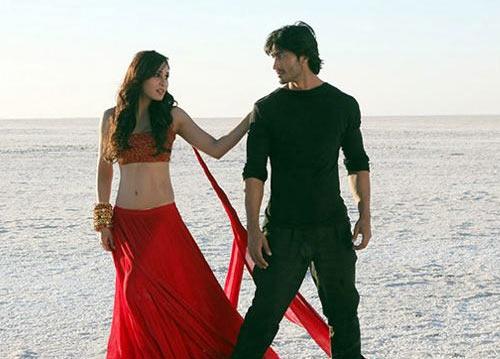 The first few titles are strong on melodrama, which is understandable since you started your career with a TV show called Ek Mahal Ho Sapno Ka. How come the transition to hardcore action films?
If I am making an action film that doesn't mean it must not have moral values. All my films are for family viewing and that will remain so till the very end.
I will never make a film that I can't sit and watch with my family because I have to go back to the same family and if I can't face my mother, wife or my kids, I'd rather not make such a film at all.
But don't you think Commando will restrict your audience to action buffs and may not attract families?
I think action has the largest audience in the world. Having said that, the film has great music, which the female audience loves. There is a strong relationship between the guy and the girl.
And then there is beautiful physical action. I call it beautiful because it isn't brain-dead or gruesome but is shot with some unseen aesthetics. I look at this action as ballet.
I believe dance and action both require a certain amount of grace without which the two will fall flat.
I think this is something that will draw people who don' traditionally love action as there isn't too much gore, or gore at all. Jackie Chan's films never had gruesome blood and that made families and kids his biggest audience.
So, action is not just about males. A girl may not love Kill Bill, but a Skyfall she will because Skyfall doesn't deal with blood but deals with gorgeous acrobatic action. I am very confident about females liking Commando.
'There is a huge risk involved in launching a new hero'
Last updated on: April 9, 2013 16:29 IST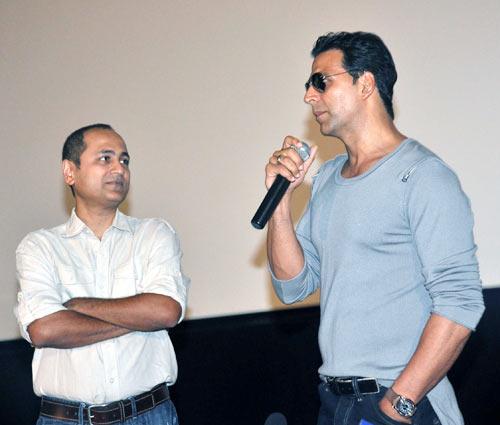 Seeing your fixation with Vidyut Jamwal, would you call him your new Akshay Kumar?
Akshay Kumar and I have a very strong working relationship which is almost ten years old now. In that family, Vidyut is a new entrant.
I hope I am able to make a huge action entertainer with both of them in the lead. Vidyut is a unique talent and it gives me great pleasure to present him in that space.
As far as Akshay is concerned, my relationship with him continues. I am already producing a film for him which is being directed by Murgadoss (Ghajini). We don't have a title for that as yet.
Would you call yourself a mentor to Vidyut?
I think that's a very strong word. I won't give myself so much credit. My role, at best, is in identifying his talent and giving him the platform to grow.
Yes, there is a huge risk involved in launching a new hero, and so I am taking a risk but I have conviction in my beliefs. But that risk is spread as almost the entire cast and crew is new, right from the actress to the music director to the director himself.
I won't label myself as a Godfather or a mentor, but someone who identifies talent and gives them the opportunity to perform.
'Action Replayy didn't do well at the box-office but remains a major success on television'
Last updated on: April 9, 2013 16:29 IST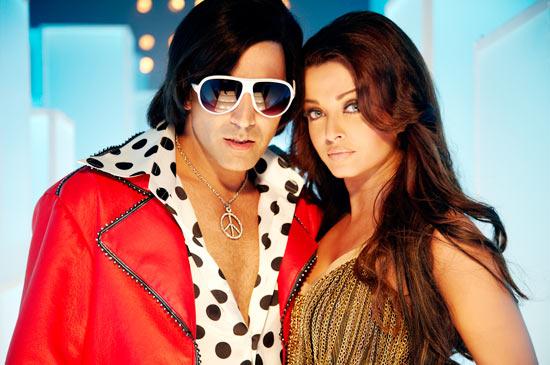 Ten years in the industry. Have you learnt any peculiar tricks-of-the-trade, so to say?
There isn't any. If there was, we wouldn't be making commercial failures.
All I have learnt is that cinema is a medium that thrives on passion. If you are not passionate about your subject matter, don't make it. If I am not convinced about it, I won't ever make it.
You can show me the greatest film in the world and I can point out the loopholes in it. The idea is that the director should have enough conviction, so much so, that the audience is willing to forget and forgive, and love the film with the same passion it was made with.
How did the failure of Action Replayy affect you as a filmmaker?
As people say, failure teaches you more than success does. It is very true. Action Replayy taught me a lot. As a responsible filmmaker, my duty is to introspect and identify the mistakes, and then learn from it enough to rectify it and not repeat it again.
I am not going to be defensive about Action Replayy and say things like "oh, it was ahead of the times (or behind the times), the release period was wrong (It released during Diwali), or the marketing went wrong."
No. Everything is nonsense. Maybe it really was a very bad film after all. If I can rectify it and not repeat the mistake, I think I am a sensible man. New mistakes will happen but at least not the same ones.
One thing that confuses me is that although Action Replayy didn't do well at the box office, it remains a major success on television. I don't know the how or the why.
'I hope I am able to start Namastey London 2'
Last updated on: April 9, 2013 16:29 IST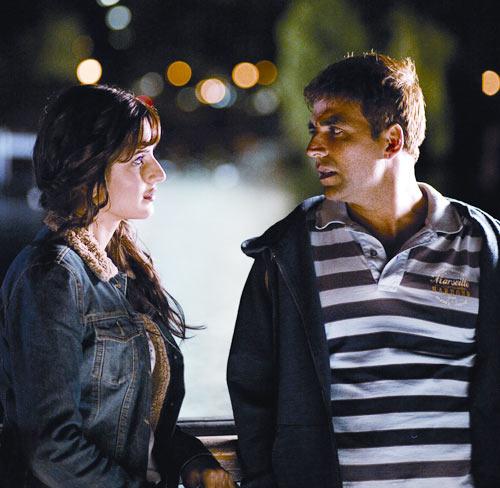 What's the reason for not directing a film since then? There is much curiosity about a sequel to Namastey London.
I hope I am able to start Namastey London 2. I am still working on the script and once it is ready I'm going to run to Akshay. Hopefully, we will start filming soon with the very same cast.
As for direction, like I said I won't make a film unless I am extremely passionate about it. I've been producing films and that has kept me occupied so let's see what inspires me to direct next.
I share a very warm friendship with Katrina Kaif. I respect the kind of success that she's achieved and more importantly the growth she has seen both as an actor and a person. It is so phenomenal to meet her and admire the progress. The reason for not directing her again is actually none.
Katrina Kaif has become a phenomenon today. How much credit do you think you deserve for that considering Namastey London was the first major success that brought her into the mainstream.
I think both worked very hard on the film. In our hearts, Namastey London is a special film and that's what matters. Even Akshay believes that.
About the credit, I think it is for people to judge. Katrina has been very vocal about it. She acknowledges the fact that Namastey London has been a very important film for her, and I believe that's where it should end.