High School Musical star upset over her nude pix
Last updated on: March 16, 2011 15:16 IST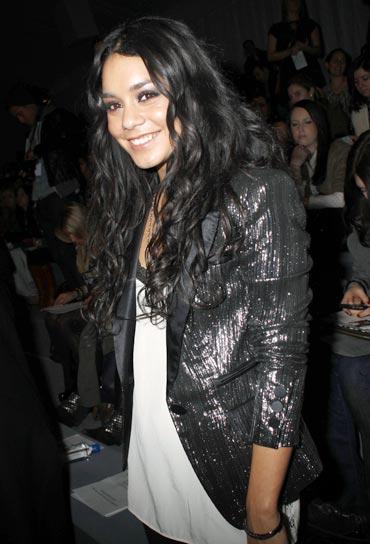 Get your lowdown on what's happening in the world of Hollywood, right here!
High School Musical star Vanessa Hudgens is reportedly fuming over her latest nude photo scandal.
Police are now investigating the release of nude photos on the Internet.
'Vanessa is deeply upset and angered that these old photos, which were taken years ago, continue to resurface," TMZ quoted Hudgen's lawyer, Christopher Wong, as saying.
'It is particularly disturbing that whoever got hold of these private photos seem to be intent on illegally leaking them out over a long period of time. We are actively working with law enforcement to determine who is responsible and to hold them accountable for their actions,' he added.
Justin Bieber unveils his Madame Tussauds waxwork
Last updated on: March 16, 2011 15:16 IST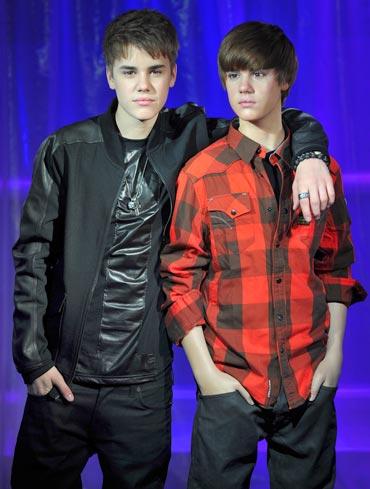 Teen pop sensation Justin Bieber unveiled his waxwork model at Madame Tussauds in London.
The 17-year-old singer looked delighted with his waxwork, despite the fact that the model only bears a slight resemblance to the singer.
'It's pretty incredible to see. I'm taller but this was a point in time. It looks awesome, thanks very much,' the Daily Mail quoted him as saying.
The pop star asked his mother to come up on stage, saying to her, 'It [the sculpture] doesn't have any facial hair.'
He then gave the wax work a hug, but refused to kiss it in front of photographers.
He later added, 'I'm just taking him home with me!'
The unveiling was broadcast live for the first time in the museum's history on a special website revealed by Bieber on the Twitter website earlier in the day.
Replicas of the teenager were simultaneously unveiled at Tussauds attractions in Amsterdam and New York.
Liz Hurley turns up the heat for Wonder Woman
Last updated on: March 16, 2011 15:16 IST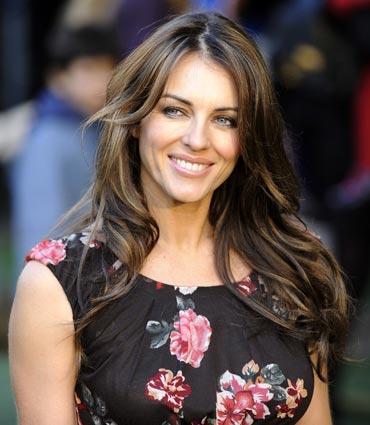 Elizabeth Hurley, who has landed a role in the new Wonder Woman television series, looked stunning as she learned her lines on the set.
The actress will star as Veronica Cale and was seen on the Los Angeles set prepping her lines and taping scenes, reports the Daily Mail.
Hurley looked age defying in a turquoise bandage dress that showed off her enviable figure and showed her pins were still in great shape. She paired it with peep-toe beige Christian Louboutin shoes.
After learning her lines, Hurley got to work and filmed a scene where she gave interviews to journalists before getting into a black Rolls Royce.
She later tweeted, 'First scene in the can. Phew.'
The NBC pilot is written by David E. Kelley and will also star Friday Night Lights actress Adrianne Palicki, 27, as the costumed hero.
Eva Longoria opens up about her divorce
Last updated on: March 16, 2011 15:16 IST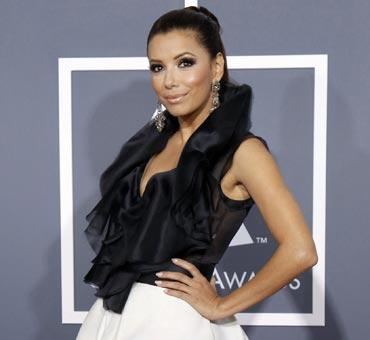 Desperate Housewives star Eva Longoria has finally opened up about her divorce from NBA star Tony Parker.
The Mexican-American actress said their split has been a difficult process, but insisted she is moving on.
'I need to find new patterns that I'm not used to having I'm used to always being on a plane and flying to a basketball game,' Fox News quoted her as saying in a new issue of Allure magazine.
'Every time I talk about it, I want to cry. It's been hard. I'm just trying to get through as gracefully as possible without any drama,' she said.
But Eva said she is looking forward to moving on and is welcoming her 'transition stage' and 'settling into a new routine.'