'TV shows like 24 don't get ratings because they are classy'
April 10, 2014 14:41 IST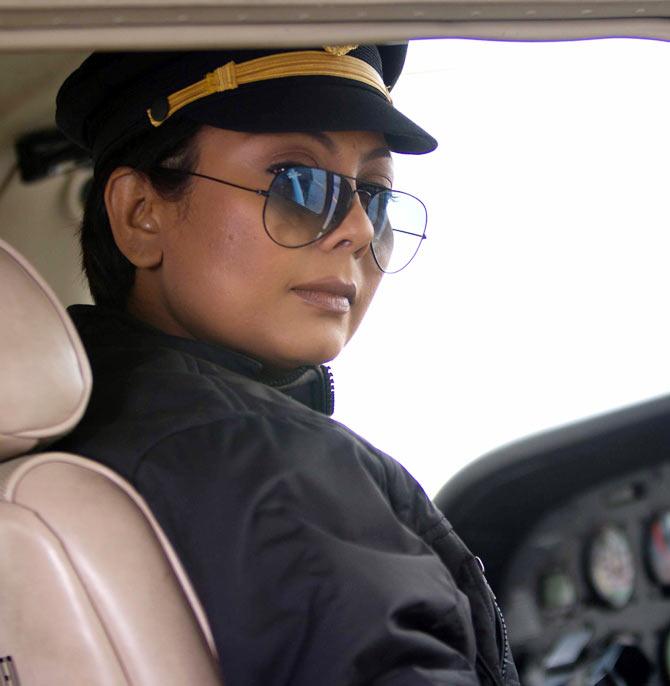 Television actress Manini Mishra talks about her newest project, her varied interests and what exactly is happening in the Indian TV scene.
You may remember watching actress Manini Mishra in hit TV serials like Jassi Jaisi Koi Nahi, and films including Krrish and Fashion.

She plays a strict police officer in her new stint on popular television show Diya Aur Baati Hum.

Manini discusses her new television project with Rediff.com's Rajul Hegde.

You play a police officer in your latest TV show, which is quite different from the characters you have portrayed before.

As an actress, I like to push my boundaries. I enjoyed this role as it is diametrically opposite to who I am.
As a person, I am affable, always laughing, so it was a challenge to play somebody this strict.

In fact, I was so happy with the look that I thought of cutting my hair short.

But my husband (actor Mihir Mishra) vetoed that idea!

Please click NEXT to read further.
'I have a wonderful husband who makes me laugh all the time'
April 10, 2014 14:41 IST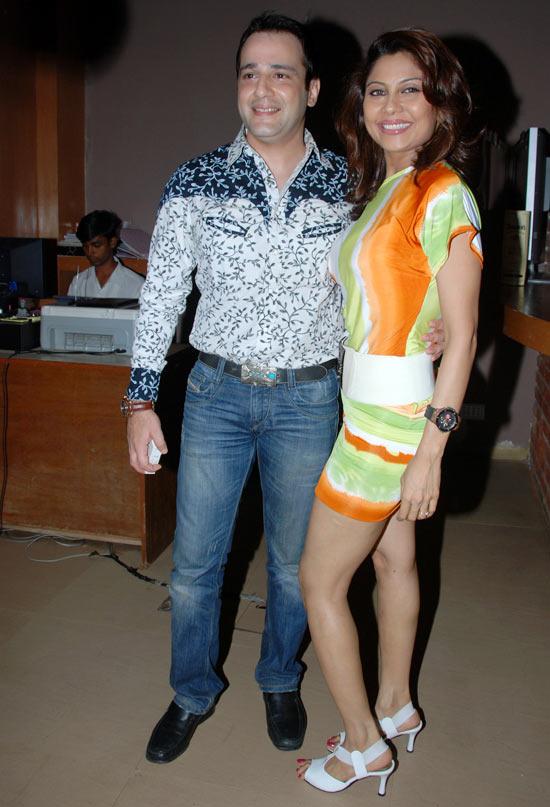 How has life changed for you in the last 10 years?
Life is wonderful.
I've been a proud mother for 15 years and I am still excited about it.
I have a wonderful husband who makes me laugh all the time. So it's great fun.

Are you an overprotective mother?
I am not an overprotective mother. I am independent and my daughter is independent too.
I don't put pressures on my child because I know she will perform well.
I believe in being a mother who gives wings, not clips them.
Everybody is not meant to be an IAS officer or an engineer and I want her wings to open the way they want to.
I will encourage her to do whatever she wants.

She wants to be a naval chaser and for the last three years she has been reading and checking it out on the net.
She also wants to study journalism which is very close to my heart; I cleared the Jamia Millia Islamia University exams because it always fascinated me.
'I don't have time to get bored because I am always learning'
April 10, 2014 14:41 IST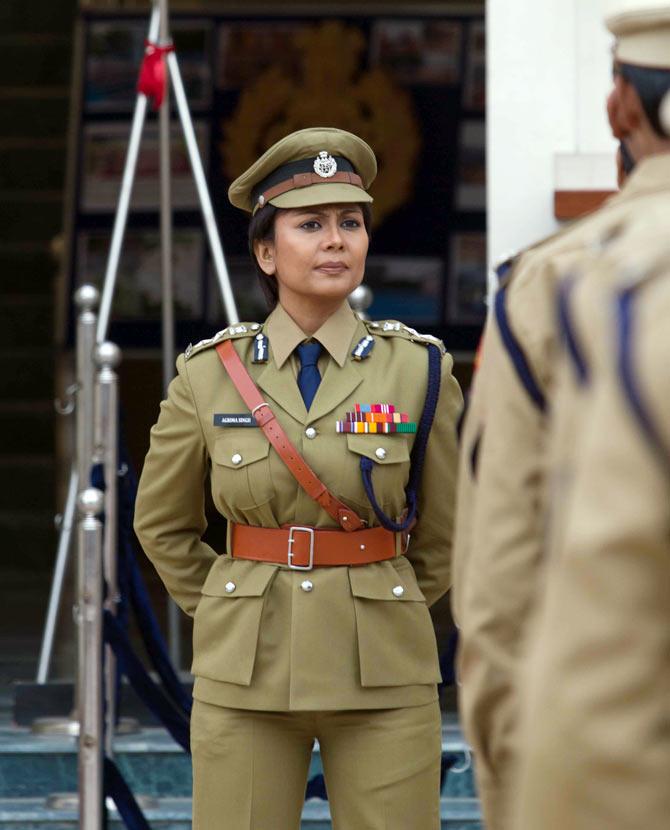 What else keeps you busy apart from acting?
I read a lot. I am a psychotherapist and hypnotherapist.
My aim is to upgrade my skills every year.
This year, I am going to be more compassionate and work with children, learn new languages like Marathi and Spanish.
I recently did my first Marathi film, which releases on May 1. I took it up as a challenge.
My first Oriya film releases in August. It's my father's language so it wasn't that difficult.
And there are two middle budget Hindi films.

I attend workshops and do a lot of angel therapy and healing workshops.
I don't have time to get bored because I am always learning. I do lots of workshops for children, to guide and help them. I love children and animals.

Anything else?

I write articles as a guest writer for the London Times; my cousin works there.
I write pieces on Bollywood, on life behind the camera, on junior artistes or about trends in television.
I also write on lifestyle, the economy of Bollywood, which is booming, and how every second person has an Audi and how it feels.
Mostly I write fun pieces. I want to start writing for someone here also now (smiles).
'I am penning down a concept for a radio show'
April 10, 2014 14:41 IST
You have been a radio jockey too…
Yes. I was a celebrity RJ for Big FM 92. Right now I am penning down a concept for a radio show.
It will be totally different, a fun show enacted on radio. It's like a radio play.

Any plans of producing shows?
Yes, I want to produce YouTube plays for children, who are sexually abused. I want to develop YouTube content and I want to produce.
That's my space I can do what I want.

My husband will be involved in this; he has a very keen sense of humour.
'People who don't have the time to watch TV are actually the ones with better IQs'
April 10, 2014 14:41 IST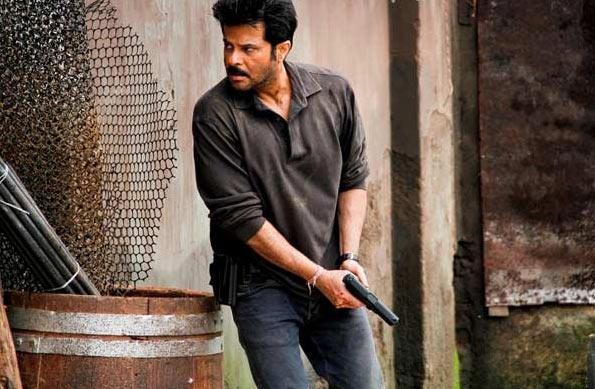 What shows do you watch on TV?
Isqh Kills. I love the genre. And I am a big fan of Channel V shows.
A confession of a teenager was the concept I was working on with somebody and when I saw that on TV, I was very happy. I like to watch crime-based shows.

How has television changed over the years?
It has changed radically in terms of people, economy, dynamics and content.
Some shows have definitely changed for the better while some have gone down the drain completely.
I don't understand one thing: why keep denying the fact that people want to see something new?

Let's just face facts that people want to see something different. Unfortunately, the television viewing audience -- the population that has time to watch television -- has a certain IQ.
The ones who don't have the time are actually the ones with better IQs. So what happens is, unfortunately, if you put a serial like 24 on air, it doesn't get ratings because it's classy and urban, it's something that people don't connect with.
I understand that 90 per cent of people live in small towns and 10 per cent live in big cities, but how come we are not being catered to?
'Mohit Raina is brilliant'
April 10, 2014 14:41 IST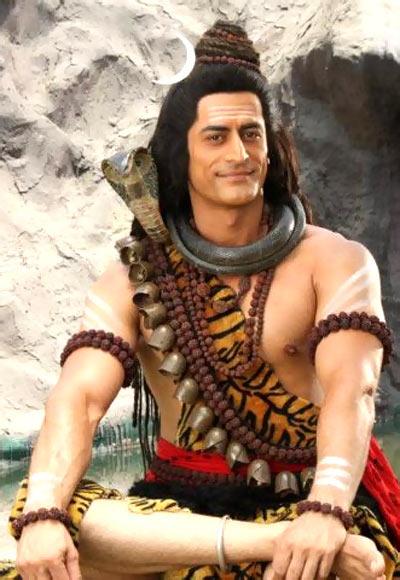 Which actors do you like from among the current lot?
Sriti jha (Kumkuma Bhagya) is one of my favourite actresses. Toral Rasputra (Balika Vadhu) is very honest. Deepika Singh (Diya Aur Baati Hum) also works hard on her character.
Meghna Mallik and Pawan Shankar -- who is hardly doing television -- are kick-ass actors too.
My husband is a subtle actor and Mohit Raina (Mahadev) is brilliant.

Tarun Khanna -- who played Ravan -- is honest to all the characters he has played.

Who are your friends in the industry?
I am a friendly person but I don't make friends easily.
Mouli Ganguly, Pawan Shankar, Mona Singh. The rest are from different backgrounds.