The Big Players of Bollywood, 2011
Last updated on: December 30, 2011 13:34 IST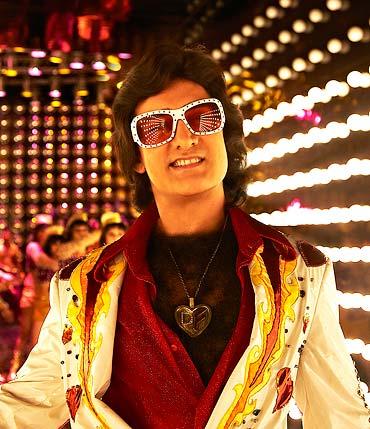 Raja Sen feels 2011 may be remembered as the year that laid down Bollywood's new pecking order.
For the better part of the last decade, it's been almost unanimously acknowledged that Aamir Khan knows what he's doing. Sure, he might seem too far out on a limb, but as the pieces fall, he always ends up topping himself and standing taller than before.
So the industry -- this industry that relies so heavily on what Conventional Wisdom and Trade Pundits say -- has, incredibly enough, thrown in the towel and given up trying to beat Aamir.
This year the two films Aamir produced, Dhobi Ghat and Delhi Belly, were radical products for the Indian market, and could not be more dramatically different from each other.
The first, directed by Khan's wife Kiran Rao, was a serene and artistic look at Mumbai, with understated performances and music. It felt a bit like a film school graduation movie, except with excellent production values, and Khan himself starred as a scowling artist.
The second, directed by Abhinay Deo, was anything but mellow. A loud and sloppy kerfuffle that made an anthem out of a swearword and stood apart as the most gloriously foul-mouthed Hindi film of all time, where Khan starred as a 1980s movie-star caricature.
The first won him -- well, not really critical encomiums -- at least brownie points from the missus, as well as some money where there would otherwise have been none at all, for a half-English arthouse film in a country of Dabanggs.
The other was one of the year's most lauded hits, one slapped on the back for breaking new ground. (Yes, it essentially swore a lot, but one of the things Aamir invites is hyperbole.)
Please click Next to read further...
Bhaijaan doesn't care!
Last updated on: December 30, 2011 13:34 IST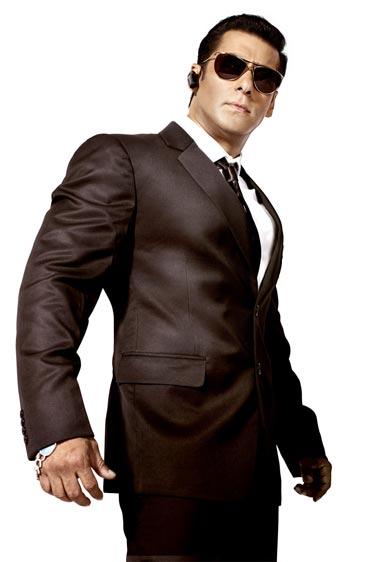 The other Khan who doesn't care what anyone thinks -- from critics to filmmakers to co-stars to ex-girlfriends -- has taken over the business side of things like a gluttonous behemoth.
Salman has hit some kind of unreal, Rajnikanth-ian stride, and -- with inexplicable hits like Ready and Bodyguard, the year's biggest smashes despite being films nobody can possibly like -- is getting more invincible with each step.
Distributors and producers have capitulated as Salman, taking on the formula for remaking South Indian superhits up in Mumbai (a formula pioneered by Aamir The All-Knowing with his Ghajini), has made it his own.
Flops happen to Salman, but Bhaijaan brushes off even self-produced disasters like Veer like Superman would bullets to the chest, and carries on hunting out the next item song sensation and, perhaps more critically, the next preposterous way to climactically separate shirt from upper body.
He has a few more assembly-line inanities lined up over the next two years, films that will exploit his seeti-inviting superhero image to the hilt and after that, showing his eagerness to tighten the stranglehold he has over the box office, he's already set to shed that image and return to romance.
Sometime next year, Khan's shooting for Sooraj Barjatya again -- the man who directed him in Maine Pyaar Kiya and Hum Aapke Hain Koun -- and at a time when nearly every major A-lister will be lining up their very own South-remake, Salman will be back as Prem.
Please click Next to read further...
The King, at least for now, has abdicated
Last updated on: December 30, 2011 13:34 IST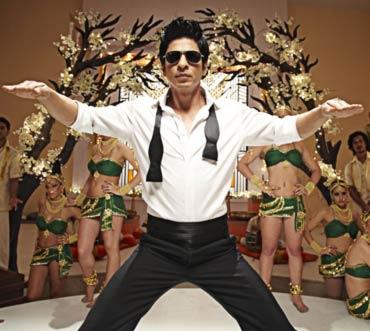 Meanwhile, the third Khan -- who, for most of his career, has been the greater one, the self-anointed King -- has tragically shot himself in the big toe.
His image has taken an almighty hammering, what with sobbing on talk shows and prostrating himself rather embarrassingly in front of young pop princesses, and hosting a gameshow, one where he was vulgar and painful and tacky, more Shakti Kapoor than any flavour of Khan we were used to.
Shah Rukh pushed everything he could into his Ra.One, a massive mega-budget disaster that he promised would take Indian films to the next level. The effects were occasionally impressive, sure, and while the film had a good opening, it came a cropper with audiences and critics bashing it from every angle.
The hype was excessive and apparently, Shah Rukh was asked to stay away from the publicity machine for Don 2 because people might be overstuffed with Khan.
The King, at least for now, has abdicated, and that leaves a spot on Bollywood's big three.
Please click Next to read further...
Will this usurper be bigger than the biggest?
Last updated on: December 30, 2011 13:34 IST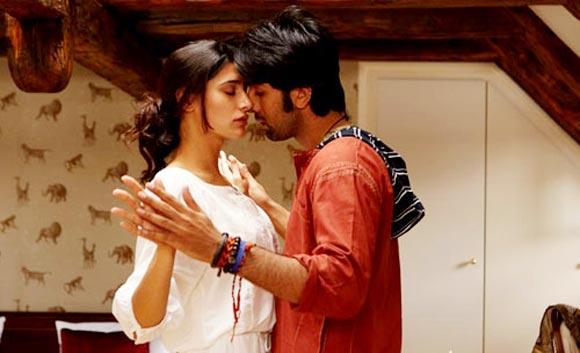 The usurper is a youngster, a mercurially talented lad all set to be bigger than the biggest.
Ranbir Kapoor impressed right from his first flop, and soon became that rare kind of star: One who would shine despite the film around him, one you would like no matter what you thought of the film around him and its mediocrity.
He amused wide-eyedly in Saawariya, showed screen charm in the forgettable Bachna Ae Haseeno, was disarmingly credible in Wake Up Sid, and was pitch perfect in the underrated and tragically lesser-seen Rocket Singh: Salesman Of The Year.
At around the same time, he goofed his way through a harebrained comedy called Ajab Prem Ki Ghazab Kahani, in the review for which I compared him -- thanks to his irrepressible spontaneity -- to the one and only Kishore Kumar, instead of any of his own illustrious forebears. Since then, he's been in bad films like Raajneeti and Anjaana Anjaani.
But this year, with Imtiaz Ali's Rockstar, he got a canvas large enough to scream in. As a self-flagellating rebel without a cause, Kapoor proved himself as the leading man of the year and an actor far more important than any from his generation.
And sometime not too far away, he's playing KishoreDa in a biopic. Yodleiee-oodleii-oo.
Please click Next to read further...
The She-Salman
Last updated on: December 30, 2011 13:34 IST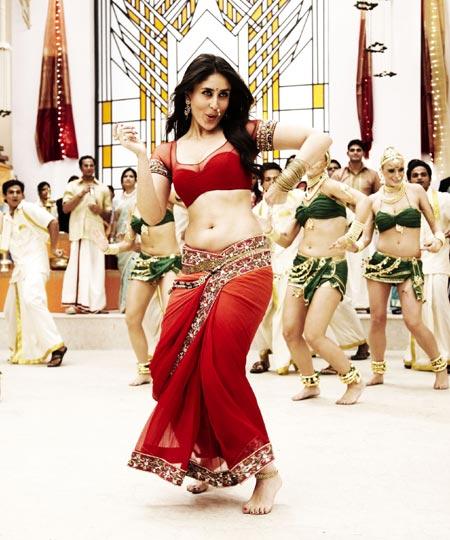 The woman of the year would have been Kareena Kapoor.
She starred in all the biggest blockbusters -- the industry's freshly formed 100-crore club -- and, earlier this year while negotiating for Madhur Bhandarkar's Heroine, became the first actress in the industry to net herself a percentage of the profits in addition to Bollywood's heaviest paycheck.
She's the She-Salman, a flop-proof larger than life superstar with hits by the bushel.
But then another woman came along and, with one hit, put Kareena into perspective. Kareena's amazing, one of our most talented leading ladies with more glamour than anyone in the biz, but her last few films -- that millions-filled club including 3 Idiots, Golmaal 3 and Bodyguard -- have seen her reduced to window dressing, a poster-ornament who fills up a song or two and gazes balefully at the omnipotent hero.
Please click Next to read further...
In an industry of disposable heroines, she's an actress
Last updated on: December 30, 2011 13:34 IST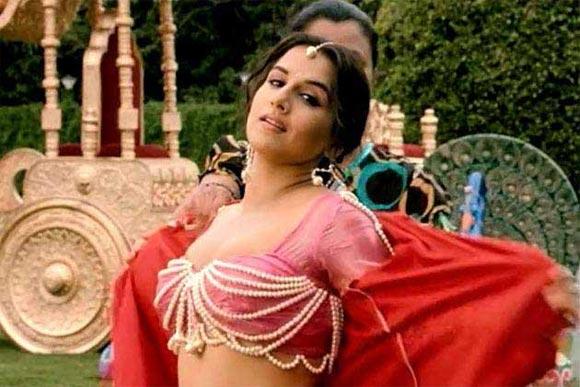 In one fell swoop, Vidya Balan has become the industry's big thing -- and feel free to read that sentence with as much euphemism as you like.
Her The Dirty Picture is one of the year's runaway hits, a film that's working well weeks after its release at a time when everything hinges on an opening weekend, a film that pleased feminists and sexists alike, a film that critics have been bowled over by and that audiences have gratefully endorsed.
It's a tremendous triumph for Balan who has, over the last few years, picked challenging roles other actresses might eschew -- Ishqiya, Paa, No One Killed Jessica and now the brilliantly brazen The Dirty Picture, a film where she takes it all off and visibly enjoys drawing in the male gaze.
It is in the way that she owns her character -- a fictionalised 1980s star named Silk who shares little else in common with Silk Smitha -- that Balan takes charge and never lets go of the reins.
In an industry of disposable heroines, she's an actress. And as if that wasn't enough, she's finally looked on as hot.
This one isn't going anywhere anytime soon, folks. Especially because she isn't afraid of getting her hands dirty.