The Top 10 Superheroines in the movies!
Last updated on: March 05, 2014 19:35 IST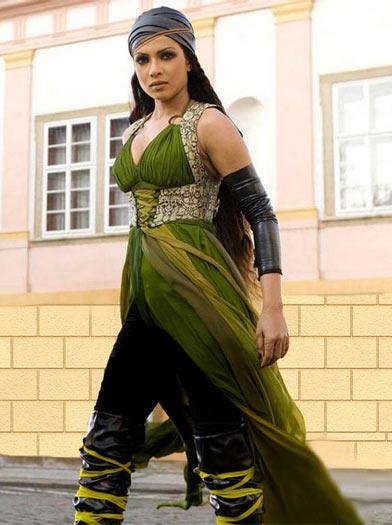 Who says superheroes do all the work? These girls can pack in a punch as well!
Make way for the ladies, Supe, Spidey & Krrish!
From kicking butt and dodging bullets to saving the world in under two hours is there anything the *superheroine* can't do? A lethal combination of skill, smarts and spandex, the wonder women of Hollywood and Bollywood meets every expectation in sight.
With International Women's Day just around the corner, here's looking at 10 of the Most Rocking Superheroines on screen -- both theirs and ours.
Priyanka Chopra, Sonia
Priyanka Chopra dons some fierce kohl and funky designer wear to portray Abhishek Bachchan's warrior bodyguard in the mythological fantasy, Drona.
Goldie Beh's direction is wanting but PC injects this wannabe epic with some serious kapow.
Please click Next to see more.
Angelina Jolie, Lara Croft
Last updated on: March 05, 2014 19:35 IST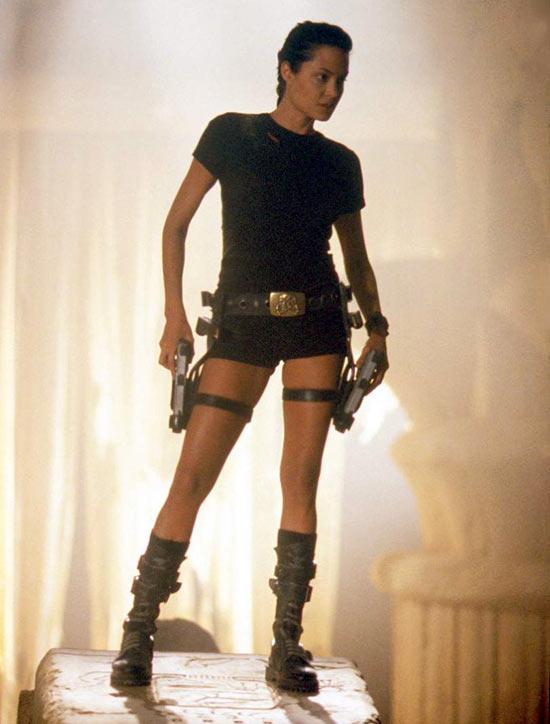 Angelina Jolie slips into the skin of the athletic and adventurous archaeologist with a penchant for daredevilry in big screen adaptation of a popular video game character -- Lara Croft: Tomb Raider.
Jolie proved so convincing in her feisty avatar, she went on make a blockbuster career starring in action fare like a Lara Croft sequel, Salt, Wanted and Mr and Mrs Smith.
Minissha Lamba, Zara, the Supergirl
Last updated on: March 05, 2014 19:35 IST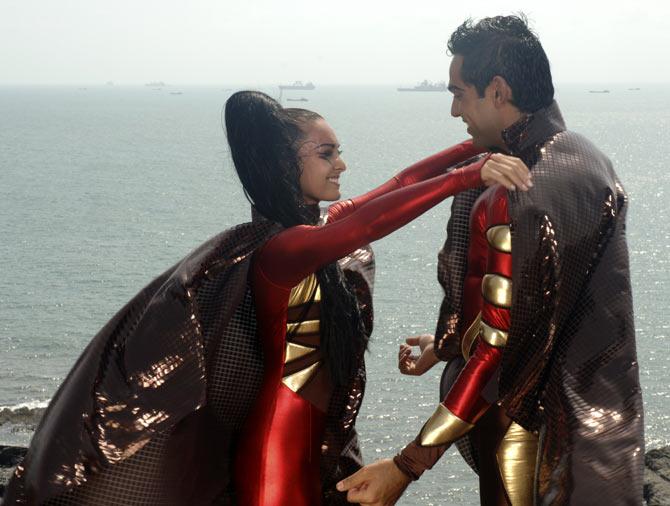 Though Reema Kagti's Honeymoon Travels Pvt Ltd is mostly a multi-narrative film about a group of couples traveling and exploring Goa, Minissha Lamba and Abhay Deol's sub plot works as its surprise element.
Initially perturbed by their curious made-for-each-otherness, the duo ultimately acknowledges they're both superheroes.
Kangna Ranaut, Kaya
Last updated on: March 05, 2014 19:35 IST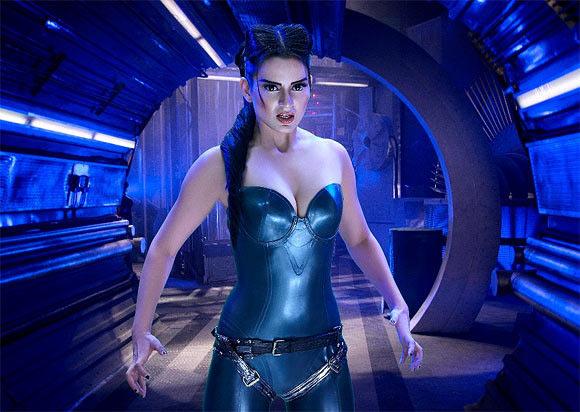 Another anti-heroine who decides to turn a new leaf after interacting with the virtuous hero Krrish (Hrithik Roshan) is our very own Kangna Ranaut.
While the film received mixed reviews, everybody had nice things to say about her shape-shifting mutant Kaya.
Scarlett Johansson, Black Widow
Last updated on: March 05, 2014 19:35 IST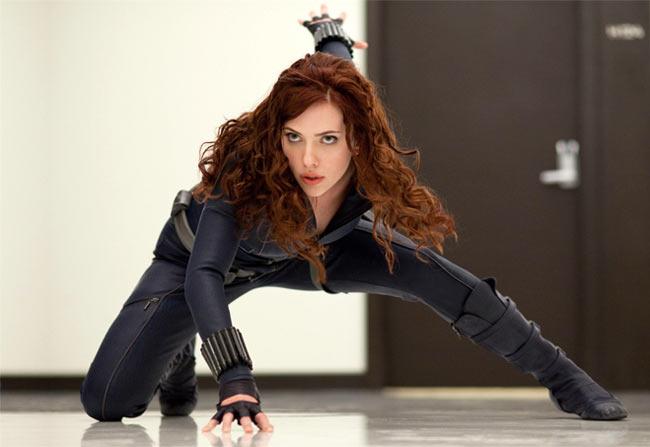 Hollywood's hottest star Scarlett Johansson turns on the heat with her sly manners and super flexibility as the Russian spy, Black Widow in Iron Man 2.
Even more exciting is her reformed and raring to go turn as a spunky Avenger battling the baddies along side Hulk, Iron Man, Captain America, Thor and Hawkeye.
Anne Hathaway, Catwoman
Last updated on: March 05, 2014 19:35 IST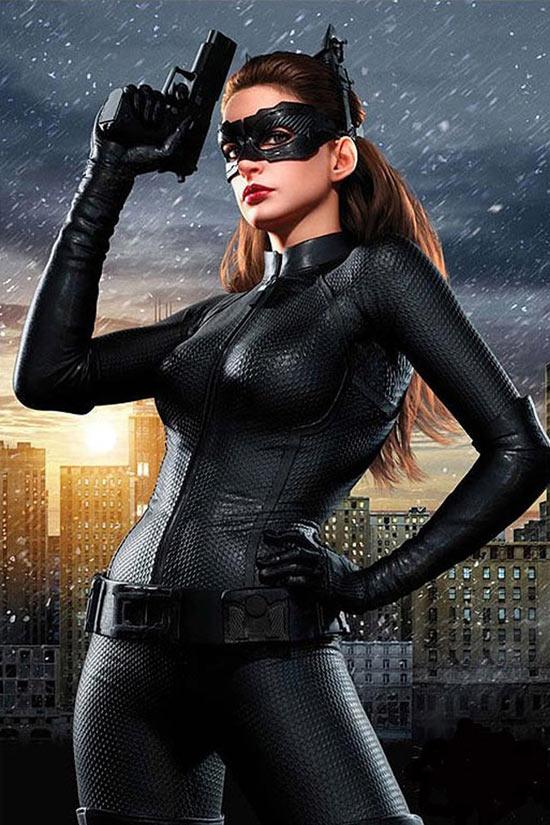 Unlike Michelle Pfeiffer and Halle Berry, Anne Hathaway's sneaky, shrewd Catwoman in Christopher Nolan's The Dark Knight Rises projects a little heart to go with that hot bodysuit.
It's her, and NOT Batman, who kills that monstrous villain Bane, remember?
Jessica Alba, Invisible Woman
Last updated on: March 05, 2014 19:35 IST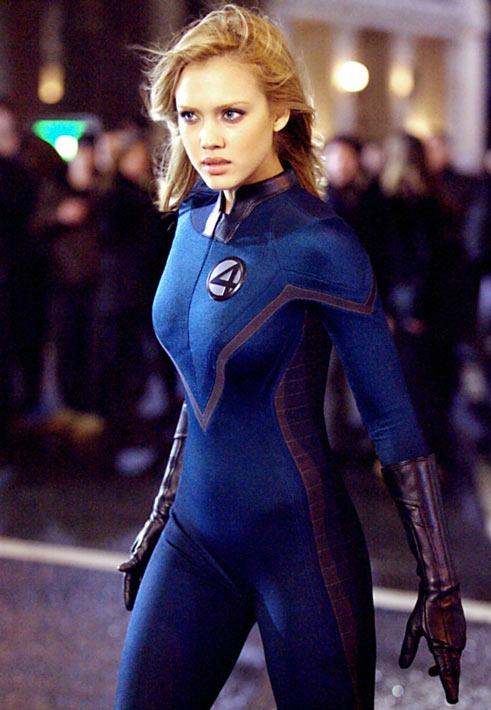 Things might sometimes get awkward for Jessica Alba no thanks to her Mr India-like gifts but her presence is what makes the foursome so fantastic.
Along with Mister Fantastic, Human Touch and The Thing, this Marvel comics star has rescued humanity from evil like Doctor Doom and Silver Surfer.
Uma Thurman, G-Girl
Last updated on: March 05, 2014 19:35 IST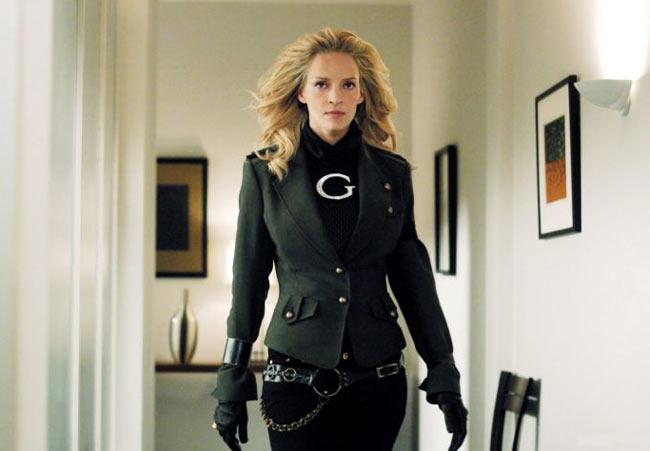 Hell hath no fury like a (super) woman scorned.
The leggy Uma Thurman lets her hair down to play G-Girl, Luke Wilson's ex-flame with the combined powers/temperament of Superman, Flash and Hulk in a rom-com that completely depends on its leading lady's charisma and talents to work.
Emma Watson, Hermione Granger
Last updated on: March 05, 2014 19:35 IST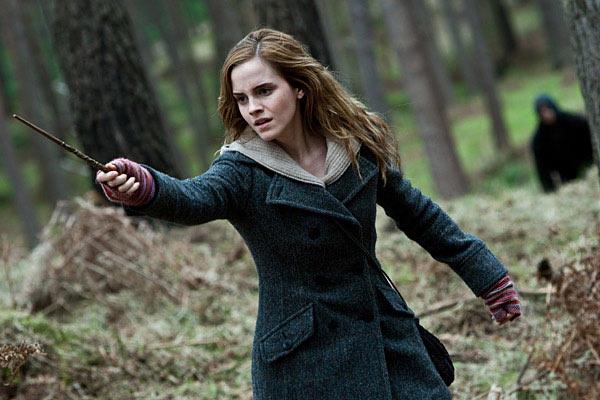 Before growing up into the edgy leading lady of indies like The Bling Ring and The Perks of Being a Wallflower, Emma Watson turned into a household name across the world with her portrayal of the adorable "know-it-all" best friend of wizard Harry Potter.
Her Hermione Granger is Harry's most loyal friend along with Ron Weasley.
Watson's fiery impulses and quick thinking is what makes this wand-wielding superheroine of a beloved franchise such a treat.
Holly Hunter, Elastigirl
Last updated on: March 05, 2014 19:35 IST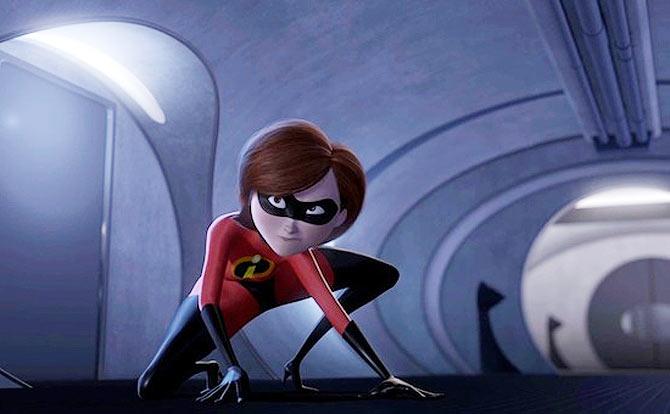 The Holly Hunter-voiced Elastigirl is not just any toon. But a rather Incredible one.
In this terrific Pixar-Disney collaboration, Elastigirl juggles between a superwife, supermom and superheroine with her exceptional stretching skills around an equally endowed family.
Very, very nimble!