'The sex scenes were difficult for me'
Last updated on: July 14, 2014 17:24 IST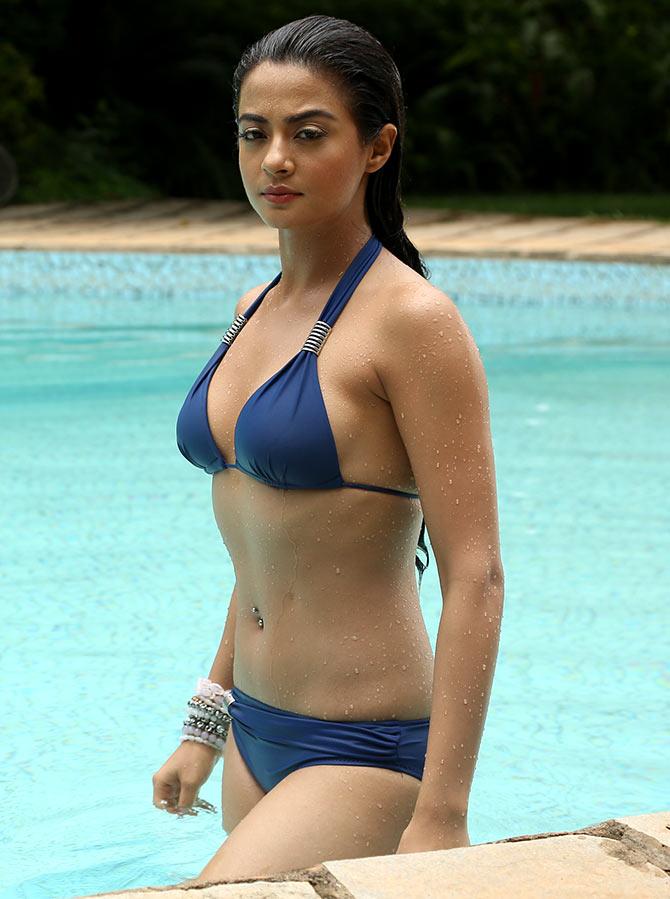 'I don't think the promo of Hate Story 2 has sex in it. It has everything you look for in a high voltage drama. The problem with our country is that we only highlight the titillating parts in films because they seem to be a big deal.'
Surveen Chawla explains why being a part of Hate Story 2 was important for her.
Television actress Surveen Chawla, best known for her shows Kahiin To Hoga, Kasautii Zindagii Kay and Kaajjal, took a break from TV to act in Punjabi films.
Now, she will be seen in her first Hindi feature film, in Vikram Bhatt's erotic thriller Hate Story 2.
Chandigarh-based Surveen speaks to Rediff.com's Patcy N about the much talked about sex scenes in the film and the reactions her bare back on the film poster, among other things, has elicited.
Tell us something about yourself.
I was born and brought up in Chandigarh.
My father is a business man, my mother and I own a clothing label called Contemporary Dupatta. I don't have the time to look after it so she handles it.
I was an all-rounder in school. I wanted to be a doctor, but lost interest.
I did not know what I wanted to do so I took up commerce in college. I topped that, but I was still not happy so I did Arts and from there I was inclined towards acting.

Please click NEXT to read further.
'I came to Mumbai to pursue acting in 2003 and after just three days, I got my first television serial'
Last updated on: July 14, 2014 17:24 IST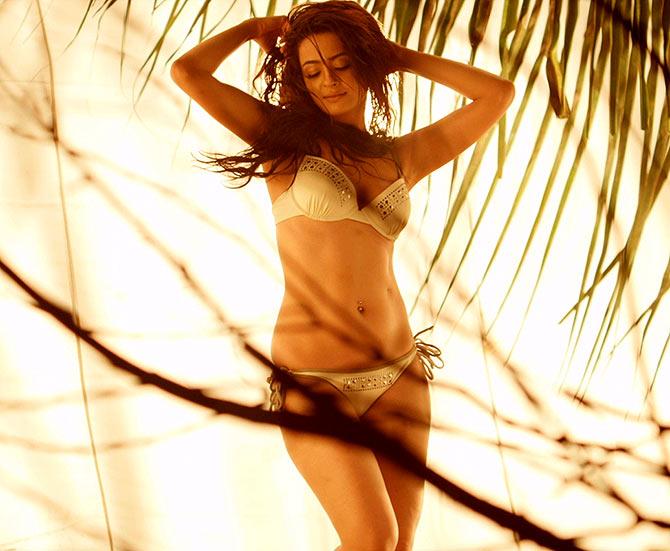 How did television serials happen to you?
My family love movies, music and sports, so I have grown up on a diet of all of them.
My father has been my biggest inspiration. I would dance at family gatherings.
I came to Mumbai to pursue acting in 2003 and after just three days, I got my first television serial. A friend told me to go for an audition and I landed the role in Kahiin To Hoga.
I had no training in acting so I was very fortunate to find work in three days when people struggle for years to get a small role.
After Kasautii Zindagii Kay, and Kaajjal, I did a reality show Ek Khiladi Ek Haseena.
I did a couple of films in the south (Paramesha Panwala in Kannada, Raju Maharaju in Telugu, Moondru Per Moondru Kadal in Tamil).
Vipul Shah's production house asked me to host Comedy Circus. I did not have any knowledge but I thought of giving it a shot. I did Comedy Circus Ke Super Stars.
While I was doing that, Jimmy Shergill noticed me and offered me my first Punjabi film, Dharti; he was the producer.
That was a huge hit and I got the best debutante award too. After that I did a few Punjabi films, Taur Mittran Di, Saadi Love Story, Singh vs Kaur, Disco Singh.
I am currently shooting for a Punjabi film with Jimmy Shergill in Vancouver.
'Every actress aspires to be part of Bollywood'
Last updated on: July 14, 2014 17:24 IST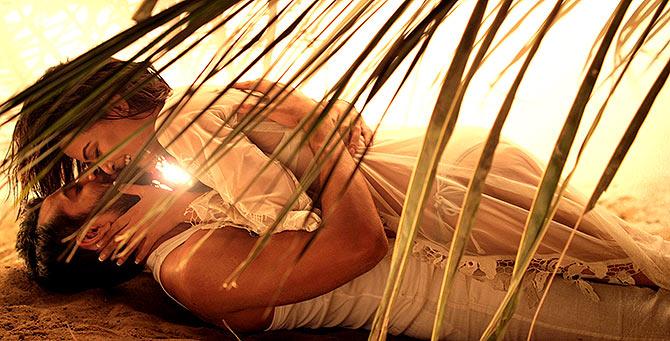 When you were doing so well in Punjabi films, what made you sign a Bollywood film?
My aim is not to do Punjabi films; my aim has always been Bollywood.
Every actress aspires to be part of this industry.
All the work that I have done -- television, South and Punjabi films -- has been a means to get to Bollywood.
But I did hard work everywhere. I focused on whatever work I did as you never know what work will lead to what.
I did an item song in Himmatwala. I like to take opportunities and make the most of them.
How did you get Hate Story 2?
They saw the rushes of Singh vs Kaur, my Punjabi film, at T-Series. Bushan Kumar liked it and I was called.
Vikram told me he wanted me to do Hate Story. I don't know why they wanted me for the role.
Before Hate Story 2, I had signed Anurag Kashyap's Ugly. While I was shooting for Hate Story 2, Ugly went to Cannes, so there was no way that Vikram had seen Ugly and then offered me Hate Story 2.
'I take lot of pride in being a part of Hate Story 2'
Last updated on: July 14, 2014 17:24 IST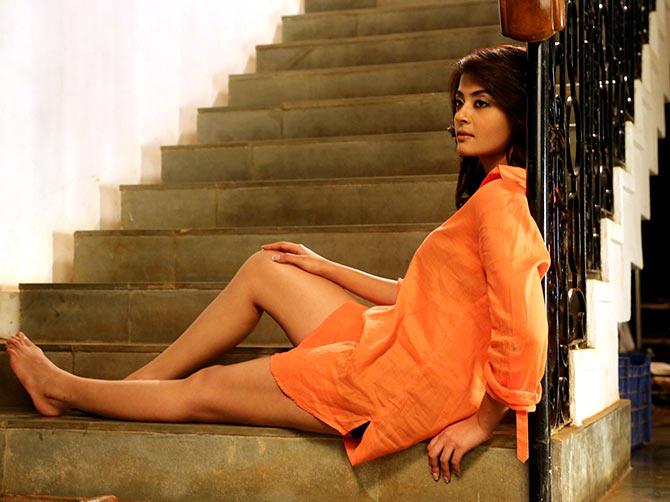 Before signing Hate Story 2 did you have any apprehensions?
Stereotypically, one would want to do a song and dance, glamorous, commercial film with a big hero and a big director. But Hate Story 2 was centred on me, plus it was a successful franchise.
The film was riding on my shoulders. I had to carry the weight of the whole film, but I thought of going ahead with it.
I am very lucky because Priyanka Chopra and Vidya Balan have done women-centric films and I am in that league now.
I would never back out from taking a risk. The plot and the story were so strong that I didn't think I was taking a risk.
How difficult was it doing the sex scenes in the movie? The trailers seem to be full of it.
See the promo again, I am there for less time than others.
I don't think the promo has sex in it; it has everything you look for in a high voltage drama entertainer.
The problem with our country is that we only highlight those parts because they suddenly seem to be a big deal.
We don't make a big deal of them when we watch films overseas. When they do it, it becomes matter of fact; only when we do it that bit catches the eye.
The promo is good and it has everything in it. It has done well without a Khan surname. I take lot of pride in being a part of Hate Story 2.
'Certain scenes were physically and mentally challenging'
Last updated on: July 14, 2014 17:24 IST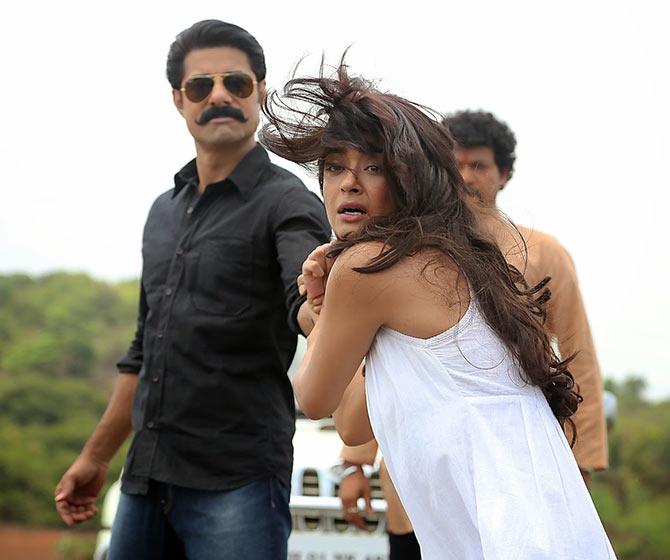 Was it difficult doing those scenes?
There is abusive sexual interaction between Sushant Singh and me in the film. They were very impactful scenes. They were heavy physically and mentally, they would leave me numb sometimes.
The emotion that I had to bring out came from within me, so it really shook me up emotionally.
Especially if you have not gone through something like this and you have to bring out those emotions of pain and helplessness it's difficult.
It stayed with me even after the shooting. I am the kind of person who cries at the drop of a hat so it was difficult for me.
The sex scenes were difficult for me. Mentally. Otherwise, as actors we are okay doing anything because at the end of the day, it is just acting and nothing more than that.
'My parents have always respected me for the work I have done'
Last updated on: July 14, 2014 17:24 IST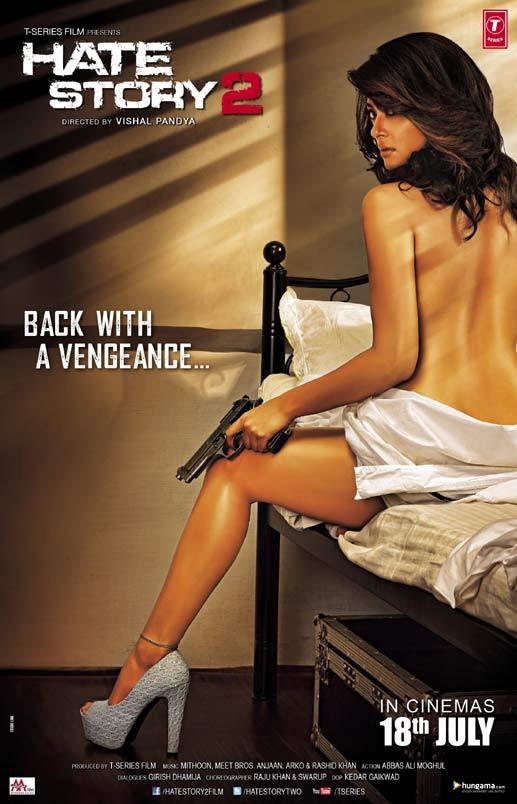 What was the reaction of your parents when they saw the trailer and the poster of the film?
When my father saw the first poster of me with my bare back, he called me and said 'You look hot darling'!
My mother's reaction was hilarious. She said, 'Badi cute lag rahi hain tu' (you are looking cute).
I laughed my guts out and asked my mom what made me look cute. My mother said, 'You are my child. Whatever you do, you will be cute for me.'
That is the kind of reaction and support my family gives me. They are the most wonderful parents in the world.
They have always respected me for the work I have done and we have a great understanding.
'I have known Jay from my television days so that made things easier for us'
Last updated on: July 14, 2014 17:24 IST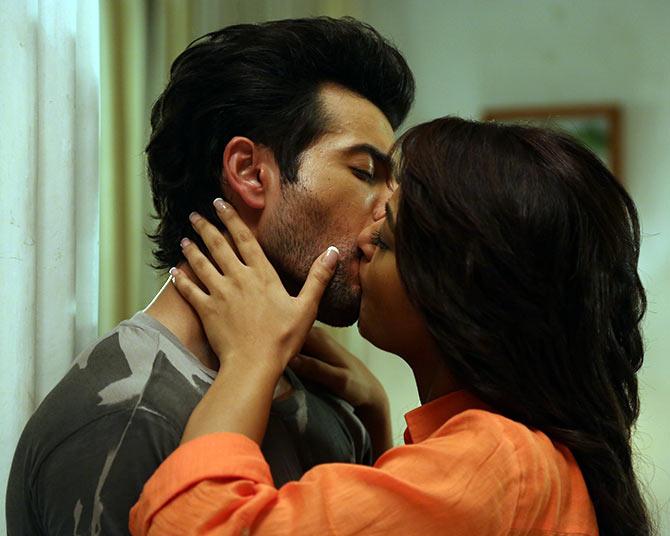 How was it working with your co-stars Sushant Singh and Jay Bhanushali?
Sushant is a dream to work with. He is a fantastic actor. He is one of my favourite actors, and everybody loves him.
He is actually the opposite of what he does on the screen. In real life, he is hilarious. He has a wicked sense of humour. He can't be serious at all. He is very intelligent too, and very encouraging.
I have known Jay from my television days so that made things easier for us.
We were comfortable doing scenes together, discussing things very elaborately with each other so we could do the scene in one take.
'I was in touch with Vikram Bhatt when I had to do intimate scenes'
Last updated on: July 14, 2014 17:24 IST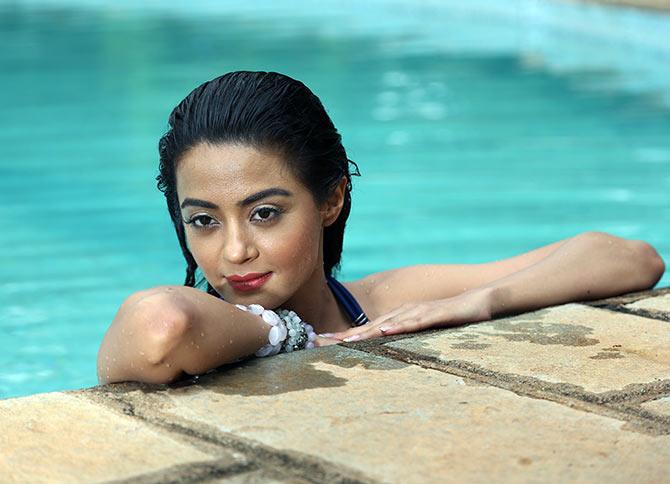 How was it working with director Vishal Pandya?
I was a little nervous. I am sure he was too as we were working together for the first time.
Vikram has mentored Vishal well. He has learnt a lot from Vikram. Vishal has been editor for years and as and director if you have knack of editing too, then you put the pieces of the film together very well.
Vishal is an emotional person. He understands people very well and explains the same thing to two different people in different ways. He adapts himself according to the person.
Vishal and I gelled well. We had a great equation on the set. You can suggest anything, you can give your opinion and he has no problem with it.
I was extremely happy when I heard that he signed a three film deal with T-series, as he deserves it.
Did Vikram Bhatt come on the sets?
He came a couple of times. He has been a source of inspiration.
He saw Sonika in me and he believed in me.
I was constantly in touch with him, especially when I had to do intimate scenes.
He would say inspiring things like 'take it easy, be on the top of the game, go for the kill'.
'I got a slip disc on the sets because of the emotional outburst'
Last updated on: July 14, 2014 17:24 IST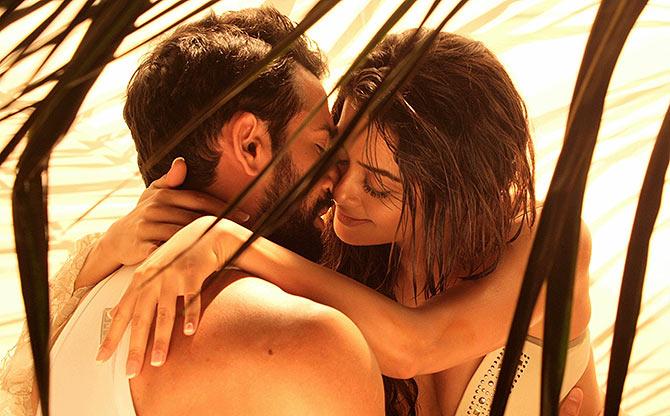 What was the most difficult scene to do in Hate Story 2?
The most difficult scene in the movie is one I can't disclose right now. You have to see the movie.
The second one was in the police station where police are interrogating me. The cops had to put water on my face and rub rock salt on my face and we did that for real.
In the same scene, I had to do an action scene but we did not have an action director on the sets.
There was a scene where the cop slaps me and I have to fall off the chair. I told Vishal I can't fall off the chair since there is an arm rest, so it was decided that I will fall with the chair and we could not keep the safety net.
So as soon as I was slapped I kicked with my leg and fell down with the chair. The scene was good, but I was bruised. But that is part and parcel of the game.
What was the most memorable moment?
I have one bad memory and I can share that. It was a very emotional scene. I had to say a very long monologue with an emotional outburst and I had to vent it on Jay Bhanushali's character.
As soon as the monologue was over, I had a shooting pain from my neck down my spine and to my left hand. I felt like a robot. I had a slip disc.
Normally a slip disc can happen because of an injury or fall. I got it because of the emotional outburst. I strained so much, I cried and I started howling.
After the scene I was rushed to hospital and I was in bad shape for a couple of weeks. Now I am fine.
'I have a crush on Ranbir Kapoor'
Last updated on: July 14, 2014 17:24 IST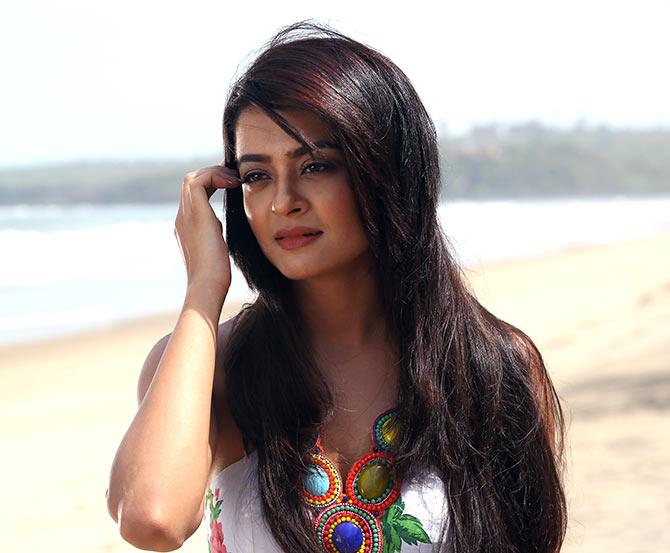 Which Bollywood actors would you like to work with?
I am keen on working with Ranbir Kapoor. I have a crush on him. He is brilliant.
Ranveer Singh has great energy. Arjun Kapoor is doing great.
Then, of course, all the Khans. Anybody would love to work with them.
Any director that you want to work with?
I want to work wit Sanjay Leela Bhansali, Raju Hirani, Vikas Behl, Maneesh Sharma, Ajay Bahl, Anurag Basu, Nikhil Advani, and I am waiting to work with Anurag Kashyap again.
All the new directors are promising and fresh with their new age ideas.