The rise and fall of Kannada star Darshan
Last updated on: September 27, 2011 13:19 IST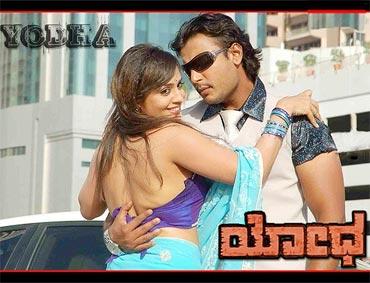 Kannada actor Darshan has recently been making headlines for everything but his films. His market and reputation are taking a beating following his arrest on charges of domestic violence and attempt to murder.
But it was not always like this.
Darshan was often lauded for his humble persona and hard work. With the passing years, though, fame and fortune seem to have gotten the better of him. Here is a backgrounder on the actor and his ups and downs.
Flashback
Despite coming from a filmi household (his father Tugdeep Srinivas was a famous artiste), Darshan never had it easy and thus was very committed at the beginning of the career. After training in acting in NINASAM, he joined the industry as cameraman Gowrishankar's assistant.
He later acted in serials, one of them directed by the famous S Narayan. He then acted in the film Devara Maga, where he played actor Ambareesh's son. Shivarajkumar was the main lead. Following this film, Darshan acted in a few others, but it was P N Satya's Majestic that brought him to the attention of the public. 
His Kariya, Dasa, Saradara and Dhruva were also declared hits, and Darshan formed his own camp that included director Satya, distributor Jayyana and producer Anaji Nagaraj. After some of his films flopped, the team did not remain that close.
Of mass and class
Last updated on: September 27, 2011 13:19 IST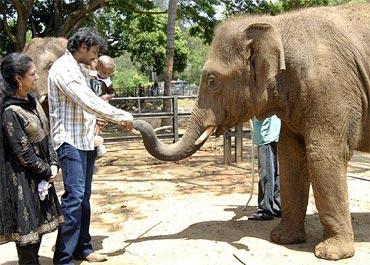 Darshan's career continued with a series of average hits and flops like Swamy, Arjun, Indira and Shastri. It wasn't till director Om Prakash Rao's Ayya that Darshan had another blockbuster. The film raked in the moolah at the box office.
Next came Mandya, which was another success and Darshan went on to become the favourite mass hero especially for the C centre audience.
Occasionally, he deviated from the trodden path by doing classy films such as Laali Haadu, Nanna Preethiya Ramu, and Anatharu. But these were less popular and he declared that henceforth he would do only films that would please his fans even if this meant doing little more than dancing and fighting! His one foray into a family-oriented film was Ee Bandhana, but that was about it.
Media war
Last updated on: September 27, 2011 13:19 IST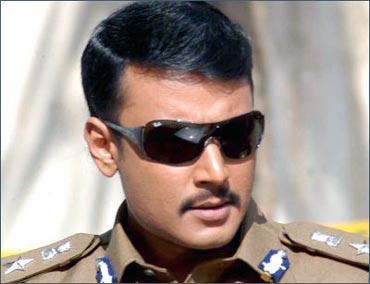 Following a series of flops and Darshan's monotonous choice of roles, articles and reports in the media started appearing urging him to experiment and not restrict himself to the same old dance and fight routine. This irked Darshan and he started avoiding the media.
The media trashed his Suntaragali that had released alongside the much appreciated Sudeep starrer My Autograph and this further widened the gap between the actor and the press. Some even say that he felt that the media was favouring Sudeep over him. There were unfavourable media reviews of his flops Datta, Tangigagi and his 25th film Bhupati. He kept the media way from his film Shastri.
Meanwhile, there was talk of his tantrums on the sets, his insistence on working with a particular music director, cameraman, editor, and action director. There were rumours that Darshan was insisting that his own outdoor unit be hired for his films.
Darshan, who till then had shown no preferences regarding his leading ladies, was believed to have refused to work with an A-list heroine just because she had danced to an item number in a film.
Then stray reports of his "affair" with Nikitha started surfacing. The actress was becoming a regular in his films (Yodha, Prince, andthe under-production Sangolli Rayanna) and was later accused of being responsible for the marital discord between Darshan and his wife. However, the press decided not to make a mountain out of a mole hill and just chose to write about his choice of films and nothing else. 
There was some excitement in the media when it was known that director Suri was planning a project with Darshan, as the film would surely bring out the actor in him and allow him to experiment a little. But the film fell through due to "ego issues," it is believed.
The epic project
Last updated on: September 27, 2011 13:19 IST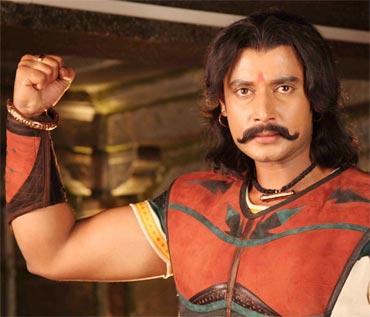 Darshan's recent disappointments, Porki, Shaurya, Boss and Prince were ready to be forgotten when he announced his historical film Sangolli Rayanna. There was great curiosity and enthusiasm to see Darshan in a different avatar. It was the first time that he would be playing an historical role.
But before the film was completed, his real life saga unfolded. The villain that Darshan played in Navagraha invaded his off-screen image too as his wife alleged that he was violent and the police charges landed him in jail.
Role reversal
Last updated on: September 27, 2011 13:19 IST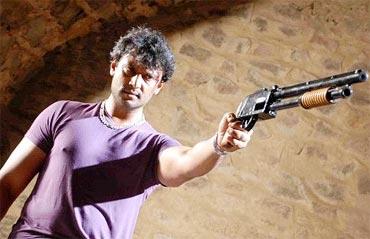 Darshan is definitely one of the popular heroes of the Kannada industry. The hero who should be setting an example is now behind bars like the worst of villains. There is some sympathy for his producers who have invested over Rs 30 crore in upcoming and ongoing productions involving him, but, just as we see in the films, justice must prevail.