Win an Oscar lose a marriage!
Last updated on: January 31, 2011 15:53 IST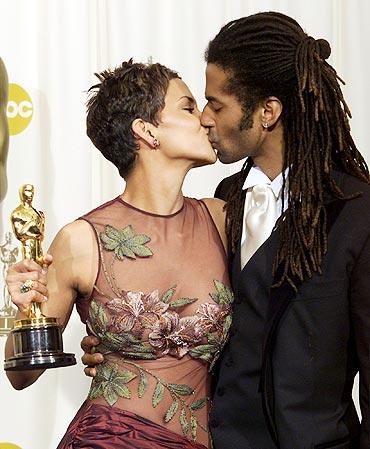 A new study has revealed that Oscar winners in the Best Actress category are at a higher risk of divorce than nominees who do not win.
A long line of best actress winners including Joan Crawford, Bette Davis, Halle Berry and Kate Winslet experienced the end of their marriages not long after taking home their awards, say researchers at the University of Toronto's Rotman School of Management and Carnegie Mellon University.
In the picture: Halle Berry kisses her then husband, singer Eric Benet, backstage at the 74th annual Academy Awards in Hollywood in 2002. Berry won Best Actress for her work in Monster's Ball.
Win an Oscar lose a marriage!
Last updated on: January 31, 2011 15:53 IST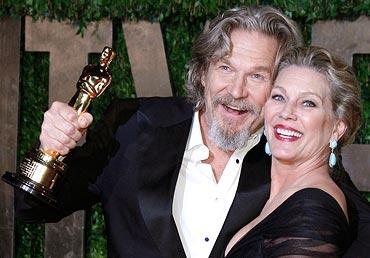 On the other hand, Best Actor winners like Jeff Bridges do not experience an increase in the risk of divorce after an Oscar.
'Research has shown that, in the general population, gender differences have historically given roles with greater power and status to men and roles with lesser status and power to women. Studies have demonstrated that breaching this social norm within a marriage -- for example, when a wife earns more than her husband -- can strain the relationship,' said Tiziana Casciaro, an assistant professor of organisational behaviour at the Rotman School, who co-authored the study with Colleen Stuart, a post-doctoral fellow at Carnegie Mellon University, and Sue Moon, a PhD student at the Rotman School.
'It appears that even the marriages of Hollywood actresses at the top of their careers are not immune to the consequences of violating social norms that affect the wider population. Our results suggest that the sudden success reduces the longevity of their marriages,' said Stuart.
In the picture: Jeff Bridges holds his best actor Oscar for his role in Crazy Heart as he arrives with his wife Susan Geston at the Vanity Fair Oscar party last year.
Win an Oscar lose a marriage!
Last updated on: January 31, 2011 15:53 IST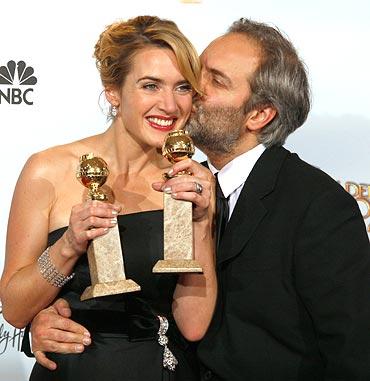 The study looked at the 751 nominees in the Best Actor and Actress categories of the Academy Awards between1936 to 2010.
The results show that Best Actress winners have a 63 percent chance of their marriages ending sooner than the marriages of non-winners.
In the picture: Kate Winslet holds her awards for Best Actress in a Motion Picture Drama for Revolutionary Road and Best Supporting Actress in a Motion Picture for The Reader' as her husband-director Sam Mendes kisses her at the 66th annual Golden Globe awards in 2009.
Win an Oscar lose a marriage!
Last updated on: January 31, 2011 15:53 IST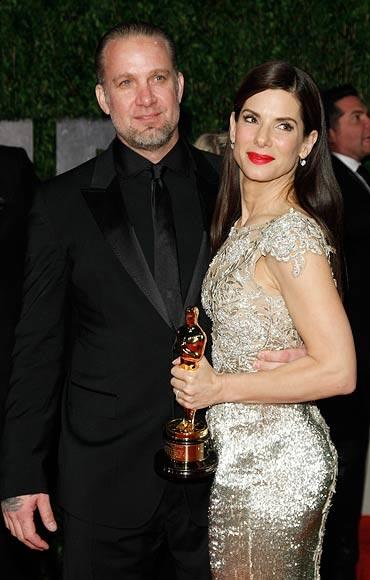 The median marriage duration for Best Actress winners was 4.30 years, substantially lower than the 9.51-year marriage duration for non-winners.
By contrast, the difference between Best Actor non-winners (12.66 years) and Best Actor winners (11.97 years) was not statistically significant.
In the picture: Jesse James and Sandra Bullock pose after Bullock won a Best Actress award for The Blind Side last year.
Source: ANI