The Best Oscar 2013 Speech? VOTE!
Last updated on: February 25, 2013 15:05 IST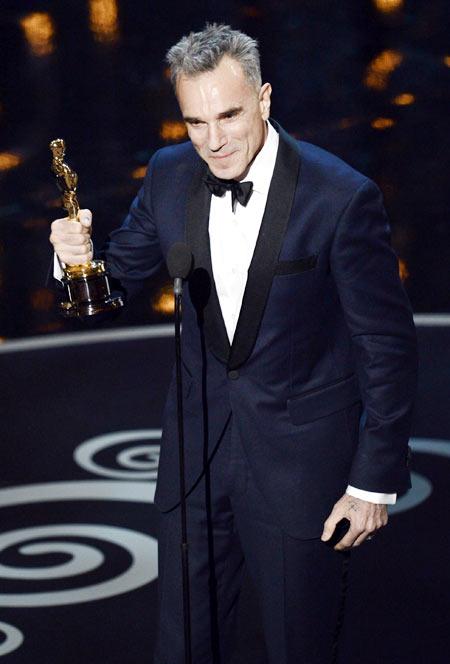 Most of them can act surprised.

But that isn't enough to craft -- or to spontaneously come up with -- a genuinely touching, clever or beautiful acceptance speech. 

Whose acceptance speech struck you as the most impressive? Vote for your favourite!

Daniel Day-Lewis (Best Actor, Lincoln)

As immaculate as the man himself, Daniel Day-Lewis's perfect speech starts out hilarious, gets sincere, and ends on the warmest note possible. A masterclass, this.

"I really don't know how any of this happened. I do know that I received so much more than my fair share of good fortune in my life, and I'm so grateful to the Academy for this beautiful honour. It's a strange thing because three years ago, before we decided to do a straight swap, I had actually been committed to play Margaret Thatcher, and Meryl was Steven's first choice for Lincoln, and I'd like to see that version.

Steven didn't have to persuade me to play Lincoln but I had to persuade him that if I were to do it, perhaps it shouldn't be a musical.

My fellow nominees, my equals, my betters. I'm so proud to have been included as one amongst you. When we got married sixteen years ago, since we got married sixteen years ago, my wife Rebecca has lived with some very strange men. I mean they were strange as individuals and probably even stranger if taken as a group, but luckily she's the versatile one in the family and she's been the perfect companion to all of them.

I'd like to thank Kathy Kennedy, our producer, and through you, Kathy, our mighty team of co-conspirators. At the apex of that human pyramid there are three men to whom I owe all this and more: Tony Kushner, our beloved skipper Steven Spielberg, and the mysteriously beautiful mind, body and spirit of Abraham Lincoln.
For my mother! Thank you so much."
Liked Daniel Day-Lewis's acceptance speech? VOTE!
Ang Lee (Best Director, Life Of Pi)
Last updated on: February 25, 2013 15:05 IST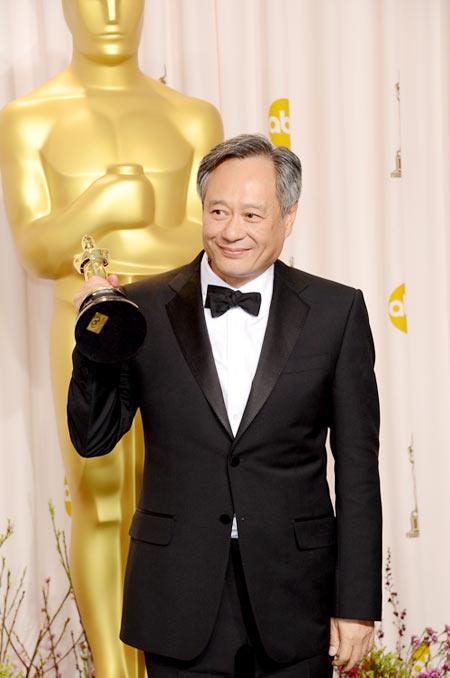 The only major upset this year, Lee's heartfelt speech won over many a skeptic.

(Looking heavenward) "Thank you, O Movie God.

"I really need to share this with all 3,000; everybody who worked with me on Life Of Pi. I want to thank you, I really want to thank you for making this story, for sharing this incredible journey with me. I need to thank Yann Martel, for writing this incredible, inspiring book. Everyone at Fox, thank you for taking the leap with me. Especially Tom Rothman, Jim, Elizabeth. My producers. My wonderful cast. Suraj, where are you? You're a miracle. He plays young Pi, carrying the movie. Every one of you in the cast: you're the golden statue in my heart.

"I could not make this movie without the help of Taiwan. We shot there and I want to thank everybody there who helped us. My Indian crew, I love you. My Canadian crew, I love you. My family in Taiwan. My wife, Jan Lin. We'll be married 30 years this summer; I love you. My boys, Han and Mason, thank you for your support. Thank you, Academy. Shi shi. Namaste!"

Like Ang Lee's acceptance speech? VOTE!
Jennifer Lawrence (Best Actress, Silver Linings Playbook)
Last updated on: February 25, 2013 15:05 IST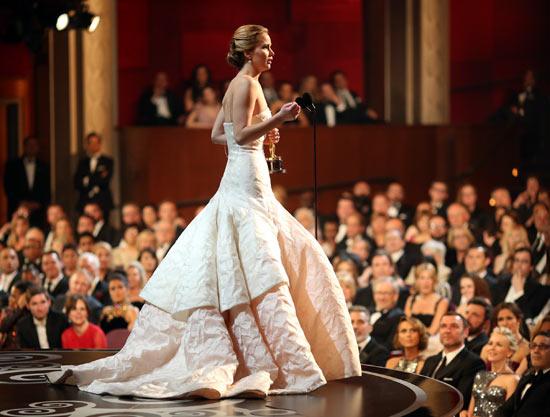 J-Law tripped on her way to the trophy, and called it 'nuts,' but her snappy speech shows just how much sincerity this incredibly talented 22-year-old has, to go with all her spunk.
Plus, she even gave her 86-year-old fellow nominee a birthday shout.

"Thank you. You guys are just standing up because you feel bad that I fell, and that's really embarrassing. But thank you. This is nuts! Thank you to the Academy and thank you to the women this year.
"You were so magnificent and so inspiring. And not just those of you in my category. It's been so amazing getting to know you. And you've been so nice; you've made this experience unforgettable.
"And thank you, the best producing team: Bruce, Donna, John and to my team at CAA and IDPR. And Bradley and our entire cast, Chris, Jackie, Bob and our crew. And... my family. Happy Birthday, Emmanuelle! Thank you.. So much! Thanks!"
Liked Jennifer Lawrence's acceptance speech? VOTE!
Quentin Tarantino (Best Original Screenplay, Django Unchained)
Last updated on: February 25, 2013 15:05 IST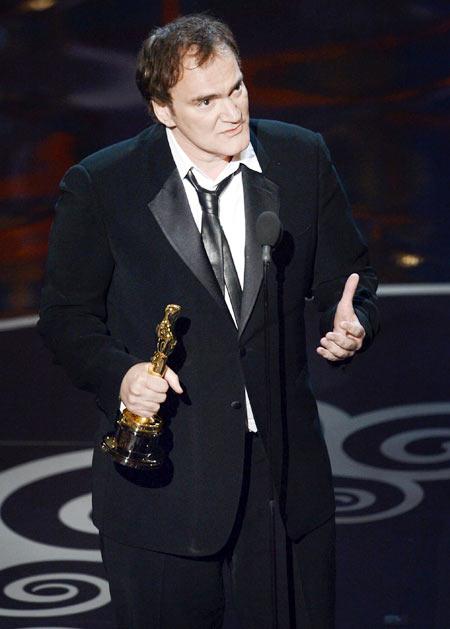 Not known for his modesty, Tarantino was gracious, and spoke from the heart.

He started completely off the cuff, commenting on Theron, drowned out the music meant to play him out, and ended with a v-sign and "peace out." Grooviest.

That's cool. Charlize is my neighbor. Very nice to get this from you. Thank you, Mr. Hoffman. Boy oh, boy.

You know, I've been saying things like I want to thank the actors for what they've done when it comes to my script. But it's not just an easy thing to say. It really is why I'm standing here. I actually think if people are like knowing about my movies 30 or 50 years from now it's gonna be because of the characters that I created.

And I really only got one chance to get it right. I have to cast the right people to make those characters come alive and hopefully live for a long time. And, boy, this time did I do it. Thank you so much, guys. Leo ain't over there, but I'm thanking him, too.

Okay, I know, I know. (Shuts out music meant to shut him out) I'm getting off.
But one last thing. I would like to say it's such an honour to get it this year because I have to say in both the original and the adapted categories, the writing is just fantastic.

"This will be the writers' year, man. Thank you very much. I love the competition. You guys are all wonderful. Peace out."
Liked Tarantino's acceptance speech? VOTE!
Chris Terrio (Best Adapted Screenplay, Argo)
Last updated on: February 25, 2013 15:05 IST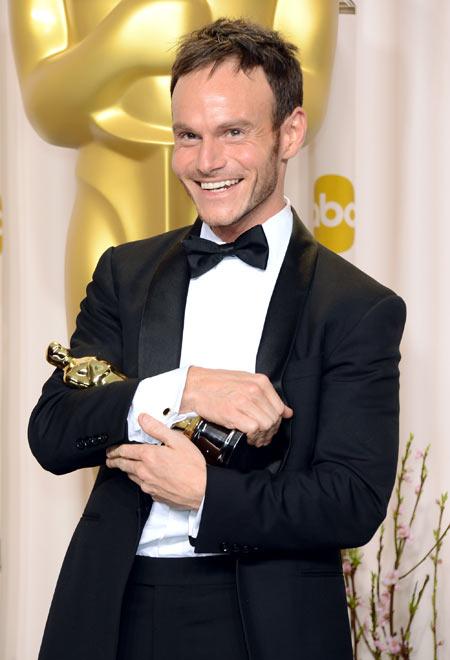 Terrio was a class act, starting with a great appreciation of Affleck which reminded us of his astounding Good Will Hunting feat, and ended with applause for Tony Mendez and the idea of non-violent solutions.

"I want to say I share this with the other people in my category: Lucy and Benh, and David and David and Tony, brilliant Tony. Thank you for inspiring me. Thank you, Ben Affleck. Ben, 15 years ago you were up here with the first screenplay you got made and now you made this film that's brought me up here and it's a gift and I can never repay it.
"And thank you, I love you. I want to thank Warner Bros.; everybody at Smokehouse, George, Grant, Nina. I want to thank my mom and dad, my friends who prop me up every day in all this. Josh Bearman.
"I want to dedicate this to a man named Tony Mendez. Thirty-three years ago, Tony, using nothing but his creativity and his intelligence, got six people out of a very bad situation. And so I want to dedicate this to him and the Taylors and the Sheardowns and the people all over the world in the US and Canada and Iran who use creativity and intelligence to solve problems nonviolently. Thank you.
Liked Chris Terrio's acceptance speech? VOTE!