The Life And Times Of Reema Kagti
Last updated on: March 28, 2013 09:02 IST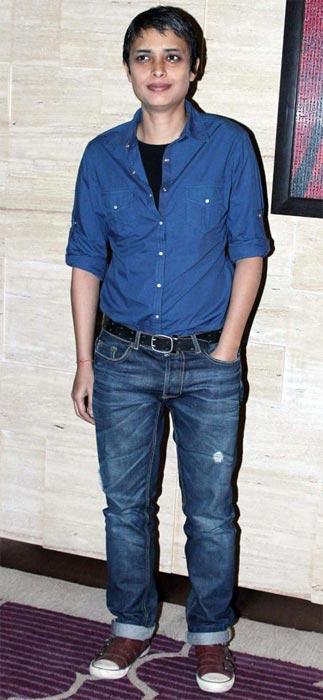 With films like Honeymoon Travels Pvt Ltd, Zindagi Na Milegi Dobara, and, more recently, Talaash to her credit, Reema Kagti is emerging as a formidable force in Bollywood.
Nishi Tiwari glances at the talented writer-director's cinema-crazed world, as Talaash prepares for its television premiere on Sunday, March 30.
Reema Kagti is fresh out of stories to tell.
After a long and exacting struggle to take her ambitious second directorial project Talaash off the ground, having it release amidst intense scrutiny, and giving countless interviews about her journey as a 'female writer/director breaking the glass ceiling in Bollywood,' there are few aspects of her life and work that she hasn't discussed in a series of interactions with the media.
Her friendship with Zoya Akhtar, with whom she co-wrote Zindagi Na Milegi Dobara and Talaash, is well documented. 'They are like sisters from another lifetime,' begins a Filmfare feature about the writer-duo.
It's quite telling if you've had the opportunity to see Zoya Akhtar in real life.
At the Times Literary Carnival last year, Zoya held court in a session moderated by comedian and playwright Anuvab Pal about new-age directors in Bollywood and their changing cinematic sensibilities.
She was joined by her contemporaries Imtiaz Ali and Wake Up Sid director Ayan Mukherji.
Please click Next to read more...
The Life And Times Of Reema Kagti
Last updated on: March 28, 2013 09:02 IST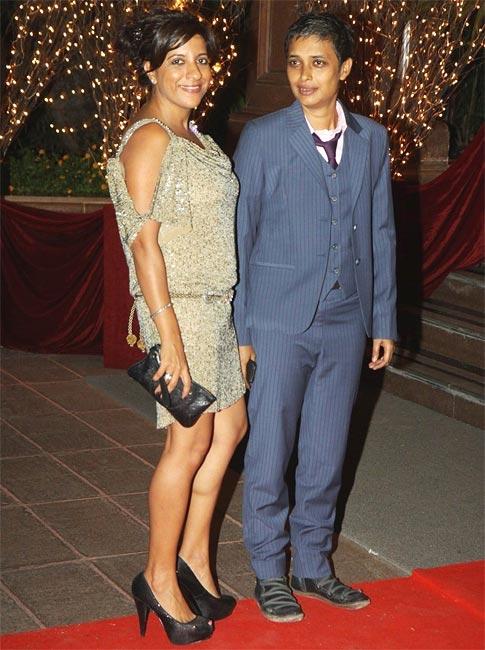 The venue was teeming with eager fans and animated conversations -- both Zoya and Imtiaz's films, ZNMD and Rockstar respectively, were among the most high profile films of the year.
When it was time to take questions from the audience, a young man who had been restive for the most part of the session declared, "Films nowadays are corrupting our youth by depicting violence and vices like smoking and drinking."
Zoya instinctively reached for the microphone and quipped, "If that's the case, why don't other films that send across the message of love and harmony reform those people."
like Zoya, Reema either has little patience for flippant remarks and inane questions or she's done the drill more than she would have liked.
When I ask her about her childhood, she lets out an exasperated sigh, "You can't be serious."
"I've done this so many times," she says apologetically, "that I don't think I can muster the enthusiasm that you deserve."
Please click Next to read more...
The Life And Times Of Reema Kagti
Last updated on: March 28, 2013 09:02 IST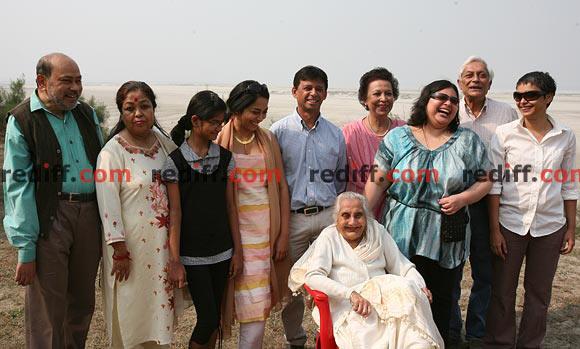 After almost a week of cautiously worded text messages, she has finally squeezed in some time for a brief chat over coffee at the Taj Lands End coffee shop.
Dressed in denims, a checked shirt and sneakers, Kagti has occupied a corner seat in the coffee shop. She's wearing her salt and pepper hair in what closely resembles a buzz cut.
She looks tired, but her lazy smile indicates that she's clearly in a happy place.
Born to chemical engineer Jitamrit Kagti and teacher Purobi Kagti, Reema is the second of three sisters.
Her father Jitamrit, an IIT-Bombay graduate, quit his job at a refinery in Digboi, Assam, to set up a tea plantation and poultry farm in Borhapjan -- a village well-known for its paddy fields and tea estates -- in Tinsukia district in eastern Assam.
Reema grew up in Borhapjan with her elder sister Julie before they were sent packing to boarding school -- first to Loreto Convent in Shillong and later to Delhi Public School in New Delhi's RK Puram.
In the picture (from left to right): Reema's uncle Satyamrit Kagti, aunt Seema Kagti, cousin Deeya Kagti, elder sister Julie Kagti, brother-in-law Arvind Palaniappan, mother Purobi Kagti, younger sister Shivani Kagti, father Jitamrit Kagti, Reema and her grandmother Latika Kagti.
Please click Next to read more...
The Life And Times Of Reema Kagti
Last updated on: March 28, 2013 09:02 IST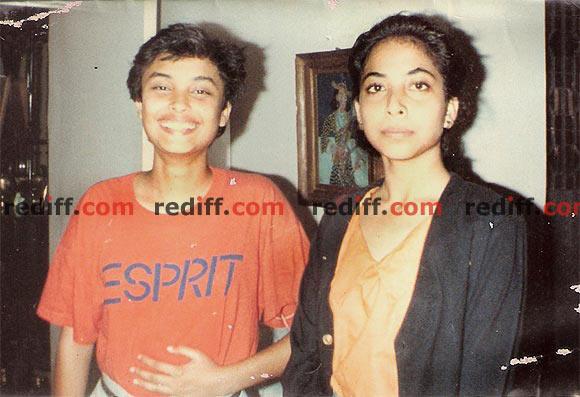 Julie, 42, is a textile designer and runs a small business. She is currently taking time off from work to raise her two children. Her rather feisty kids can be heard in the background as she revisits her Borhapjan days over the telephone.
"Reema was the family brat. She was very outdoorsy and loved roller-skating, cycling and fishing as a kid. Once, she fell from a guava tree and was hanging by her foot when someone spotted her and brought her down with the help of a car-jack," she chuckles.
"Growing up, she had a lot of friends. We used to fight a lot when we were kids; we were the best of friends and the worst of enemies," she says.
The family's quaint village life and the scenic tea plantations fuelled Reema's imagination at a fairly young age. She read Enid Blytons and other kids' classics that were available and before she knew it, she was writing short stories and plays.
Shivani, nine years younger than Reema, the youngest Kagti sister, is an assistant editor at People magazine in Mumbai. "Reema has always been very creative and determined to do things her own way," she says. "During her visits from boarding school, she'd always make up stories for me instead of reading them out of books."
The defining moment in the budding writer's life came when one of her short stories was selected for Tinkle comics and she received a cheque of Rs 25.
Please click Next to read more...
The Life And Times Of Reema Kagti
Last updated on: March 28, 2013 09:02 IST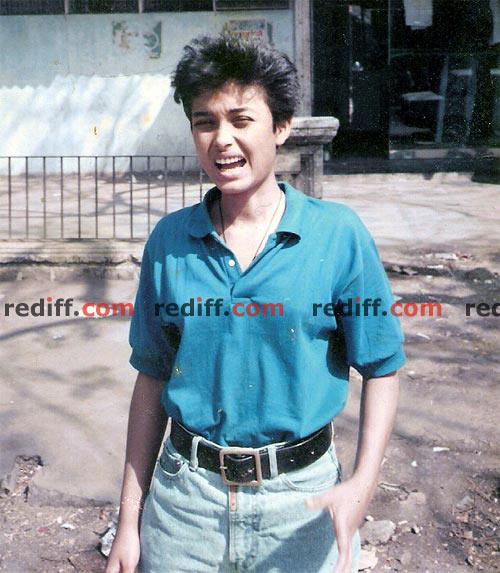 Of course, there were the much awaited weekly trips to the movies. Julie excitedly recalls the Kagti family's Saturday ritual of going to the club that screened Hindi films. "It would be the highlight of our week," she recalls.
The list of things Reema wanted to do as a kid is as interesting as her filmography. "I wanted to be a fighter pilot, then I thought I'd be an investigative journalist. I read somewhere about a school of mercenaries, I think it was in The Illustrated Weekly. For a year or two I wanted to become a mercenary killer."
Reema heard about the laid-back junior college system in Mumbai as opposed to New Delhi's regimented school life that extends to two more years after high school.
When Julie, who was studying at Mumbai's Sophia College for Women at the time, told her about the city's independence junior college students enjoyed in vivid detail, Reema's life as a Class 11 student seemed awfully lacklustre.
She decided to enrol at Sophia's.
"I wanted more freedom so I came to Mumbai," she says.
Raised on a diet of cheesy Hindi films of the 1980s, Reema discovered all kinds of films and was drawn to cinema like never before when she joined the Sophia college film club in her first year of junior college.
Soon after, she told her family that she wanted a career in the movies.
Please click Next to read more...
The Life And Times Of Reema Kagti
Last updated on: March 28, 2013 09:02 IST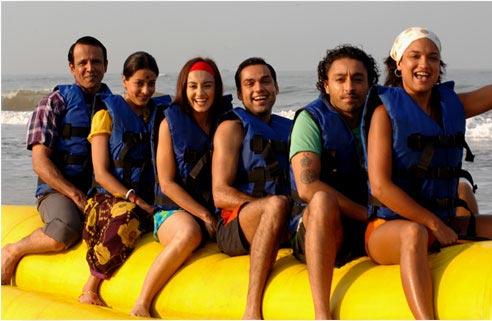 Her Bollywood journey began in 1997 with actor/director Rajat Kapoor's Private Detective: One Plus One Two.
Kapoor, whom Reema considers her first friend in the film industry, took an active interest in teaching her the ropes of filmmaking.
On the sets of the film she met Zoya Akhtar, who was supposed to act as an extra in one scene. They became friends while working as assistant directors on Kaizad Gustad's 1998 film Bombay Boys.
Subsequently, she met Zoya's actor/director brother Farhan and his friend Ritesh Sidhwani, partner in their production company Excel Entertainment.
After working as an assistant director on films like Dil Chahta Hai and Lagaan, Reema got her big break when Excel Entertainment bought her first script that she had developed in a year-and-a-half.
Her directorial debut, Honeymoon Travels Pvt Ltd, released in 2005 and was mildly successful at the box office though the film was favourably received by critics.
The fact that a woman had made an irreverent comedy was one of the most striking things about the film, apart from its ensemble cast that boasted of names like Shabana Azmi, Boman Irani and Kay Kay Menon...
Please click Next to read more...
The Life And Times Of Reema Kagti
Last updated on: March 28, 2013 09:02 IST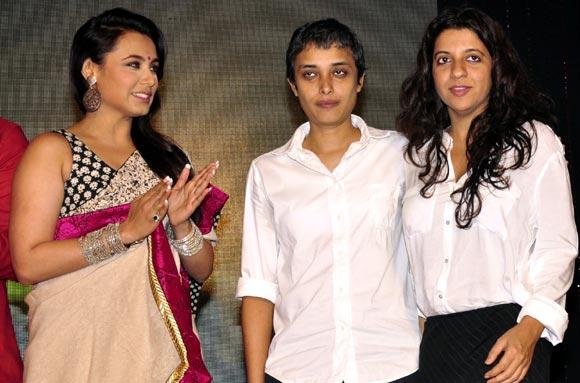 Reema fervently downplays her position as one of the few significant female directors in Bollywood. 'Woman-director is just reverse prejudice,' she told one interviewer.
"It's not just Bollywood, but every profession has traditionally been a male-dominated sphere," Reema told me. "It's just that my generation of women have had it easy because our parents, grandparents were aware of the importance of women's liberation."
"Moreover, Bombay and by extension Bollywood is a secular and democratic place. People don't care about your caste or gender. They just care about how good you are at your job," she adds.
It took Reema five years to release her second directorial venture, Talaash. And unlike it is wont to happen with relatively new directors, finance was not a problem.
In fact, if reports are to be believed, the script for Talaash was bought by Excel Entertainment for a record price, reinforcing how Reema along with Zoya Akhtar is rewriting the rules of scriptwriting.
Reema describes those five years of trying to get Talaash off the ground as a 'difficult and trying period.'
"This gap wasn't my idea; I was kind of forced into it, to tell you the truth. And being a person of limited patience, it was a really difficult time for me."
"I'm glad that it's over. I hope I've lived down my share of bad luck and my next film doesn't take so much time," she says.
"During that period, I kept telling myself that I just need to keep my head down, keep working and I'll get out of this."
"Zoya and Farhan really gave a lot of support and love. My family and friends have been really supportive. So I was trying to focus on the things I had going for me and not be upset because my next film wasn't taking off."
Please click Next to read more...
The Life And Times Of Reema Kagti
Last updated on: March 28, 2013 09:02 IST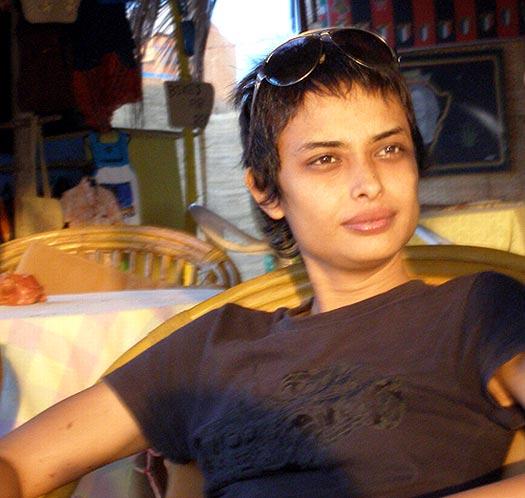 The biggest challenge she faced, she says, was putting the cast together.
"Zoya and I were writing the script with Aamir in mind. But when we approached him, he hadn't been reading scripts for over two years so we approached other people."
"The film was on the verge of being shelved when Ritesh called up Aamir as a last ditch effort and that's when I got the narration time."
"It was a very unusual script for mainstream Bollywood, so it was very difficult casting for it."
When I point out to her that the film's casting has been unanimously praised, she responds with yet another self-effacing answer, "Films are like people, they have their own destiny."
Her film wasn't the only thing weighing her down. Reema's father, who was diagnosed with lung cancer in May-June 2010, passed away a year after that in Guwahati, the family home where he had been living ever since the diagnosis.
"Reema had been worried sick as a lot was happening on the work front. She was required to go off to Spain for ZNMD, on which she also worked as the second unit director," says Shivani, "when the cancer was detected."
Please click Next to read more...
The Life And Times Of Reema Kagti
Last updated on: March 28, 2013 09:02 IST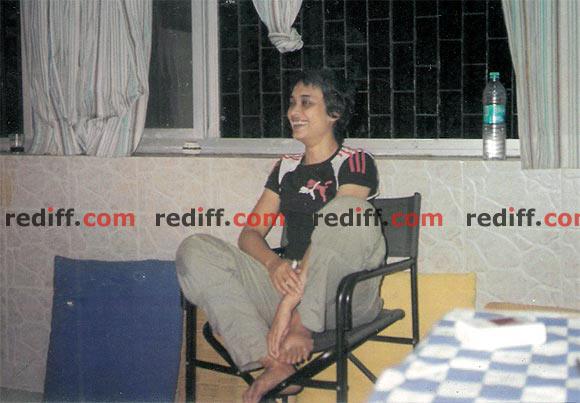 The two sisters bought an aparment in Bandra in 2010 and had their parents move in with them while their father was being treated at the Kokilaben Dhirubhai Ambani hospital in Andheri, north-west Mumbai.
"Mom lives in Guwahati and does a lot of back and forth between Mumbai and Guwahati," adds Shivani.
"People have either hated it (Taalash) or loved it," says Reema. "It's the kind of response we were expecting."
"We showed the film to certain focus groups and the film had gone down well. Besides the detractors, there are also people who have understood the spirit in which I made the film."
"One lot of people said it starts off well, but becomes a stupid film about the supernatural. The other lot says it starts off a certain way and becomes a very intense film later on about conquering your inner demons. They see the supernatural as a metaphor of the unknown."
"I think that's the beauty of film, you can choose what you want to see in them."
Please click Next to read more...
The Life And Times Of Reema Kagti
Last updated on: March 28, 2013 09:02 IST
When Talaash released, some viewers revealed the plot twist and ruined it for others who hadn't seen the film.
Reema, who says she knew this was going to happen, wasn't too worried.
The film is not just about the big twist, she says. "There's so much more to it and I was hoping it'd come through and it has."
"I've had messages from people on Twitter telling me they watched the film despite knowing the twist and it worked beautifully for them."
Please click Next to read more...
The Life And Times Of Reema Kagti
Last updated on: March 28, 2013 09:02 IST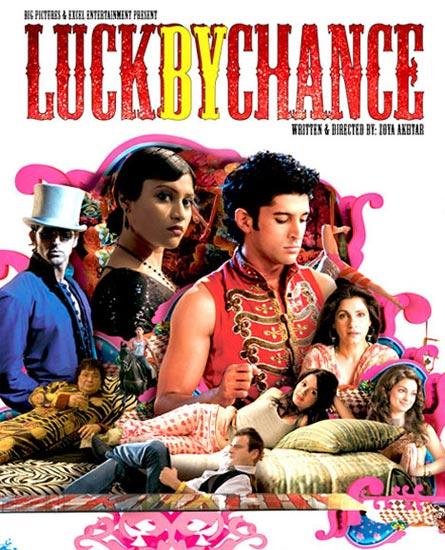 While she is a working partner in Farhan Akhtar and Ritesh Sidhwani's Excel Entertainment, most of her scriptwriting work has been with Zoya.
"Reema spends more time at Zoya's place than she does at our home. They are a very good support system for each other," Shivani says about the directors' friendship.
"We were in our 20s when we met and we are not anymore," says Zoya. "Nothing much has changed since then," she says.
She thinks that Reema is a better writer than her. "She is fully there, present when she is writing and has the strength that I lack. She is very good with structure and keeps the story moving," says the director of Luck By Chance and ZMD.
Lakshmipriya Devi, who has worked as an assistant director on films like Swades, Rang De Basanti and Luck By Chance as well as Talaash, thinks that Reema is the best assistant director in India.
One of Reema's childhood friends, she recalls, "We were in the same room in the hostel. She came across as very shy, a word I can't even imagine to associate with her now."
Please click Next to read more...
The Life And Times Of Reema Kagti
Last updated on: March 28, 2013 09:02 IST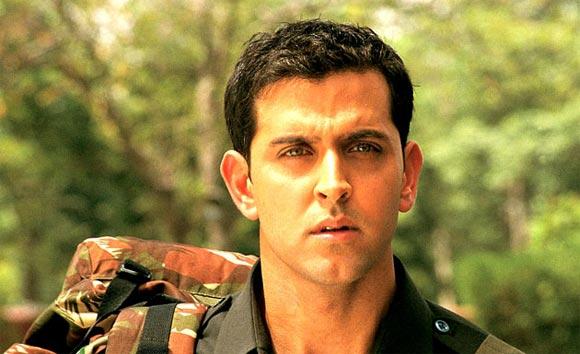 At one point, Lakshmi lets it slip that Reema excelled in a certain dance form, but refuses to divulge anymore. "There'll be a contract handed out to kill me if I tell you that," she quips.
Another friend, casting director Nandini Srikent met Reema on the sets of Farhan Akhtar's second film, Lakshya.
Reema was the first AD on the film; Nandini the second AD.
Nandini, who is behind the superb cast of Talaash, says Reema is very clear about what she wants, but is open to ideas.
"She's very passionate about social issues," Nandini adds. "She feels strongly about atrocities against women."
Reema, who counts German-Turkish director Fatih Akin, Martin Scorsese, Anurag Kashyap, Dibakar Banerjee among others as her favourite filmmakers, has chalked out the ideal goal for her filmmaking career.
"I want to be the kind of filmmaker who does the kind of work she likes, I want to tell stories that I believe in. For me, two successful movies mean being able to do that," she says.
Reema and Zoya are currently developing two scripts. "We should have them in hand in 2, 3 months," she says hurriedly over the phone. "What I am currently doing is a drama, but very different from what I have done before."