The CUTEST dogs in the movies!
August 07, 2014 09:49 IST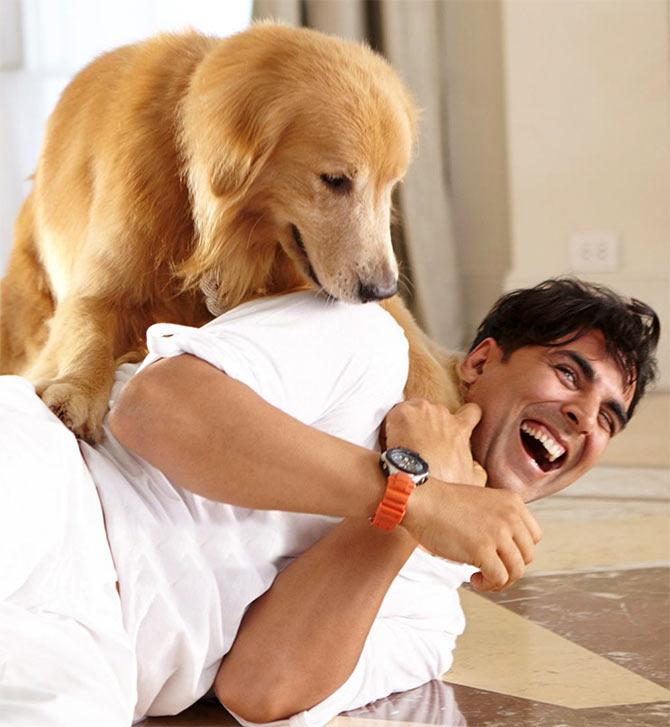 Here's a filmi look at man's best friend.
When Marilyn Monroe states 'Dogs never bite. Just humans,' she's summing up their most universally celebrated personality trait.
Synonymous with loyalty, these furry, four-legged creatures may not know bigger words that 'bow-wow' or 'woof' but they understand unconditional love better than the ones who coined it.
What's more, they're super fun to have around.
Guess Bollywood loves these attributes so much that the upcoming Akshay Kumar slapstick, Entertainment entirely revolves around a valuable golden retriever.
Here's then a look at some other Hindi films and their depiction of man's best friend.
Please click Next to see more.
Mujhse Shaadi Karogi
August 07, 2014 09:49 IST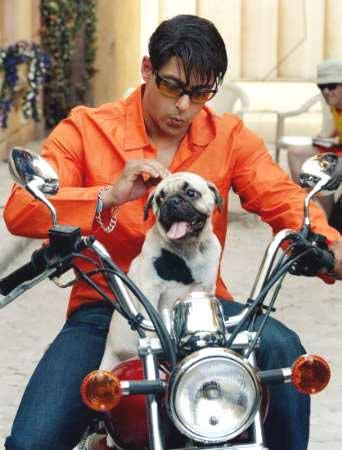 Amrish Puri's beloved Tommy, the pug enjoys considerable attention in David Dhawan's madcap Mujhse Shaadi Karogi.
Tommy is the bane of Salman Khan's existence since they refuse to get along while he's supremely pally with his arch-rival Akshay Kumar.
Hum Aapke Hain Koun..!
August 07, 2014 09:49 IST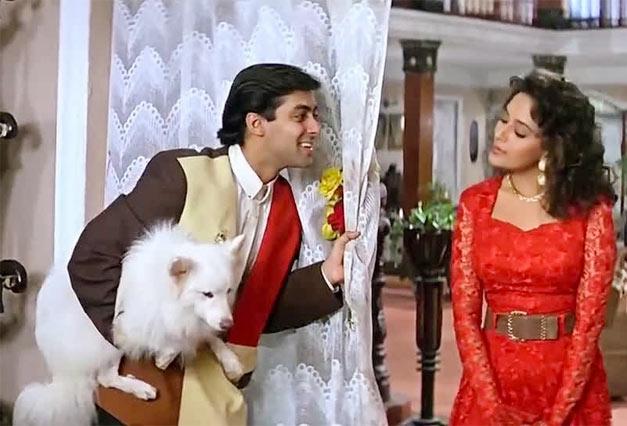 Tuffy, the pet Pomeranian belonging to Salman Khan's joint family enjoys a formidable position in Sooraj Barjatya's biggest hit, Hum Aapke Hain Koun..!.
From playing umpire at cricket matches to enjoying the pampering from his master and soon-to-be mistress Madhuri Dixit and finally playing a pivotal role in their dramatic reunion, Tuffy does it all.
Teri Meherbaniyan
August 07, 2014 09:49 IST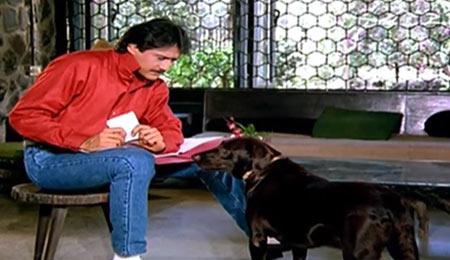 Few dogs can boast of an entire movie, a vendetta no less, centred on them like Brownie the wonder Labrador.
Brownie plays Moti who avenges the brutal murder of his master (Jackie Shroff) and his girlfriend (Poonam Dhillon) from three gruesome baddies in a rather Aakhri Raasta fashion.
Chillar Party
August 07, 2014 09:49 IST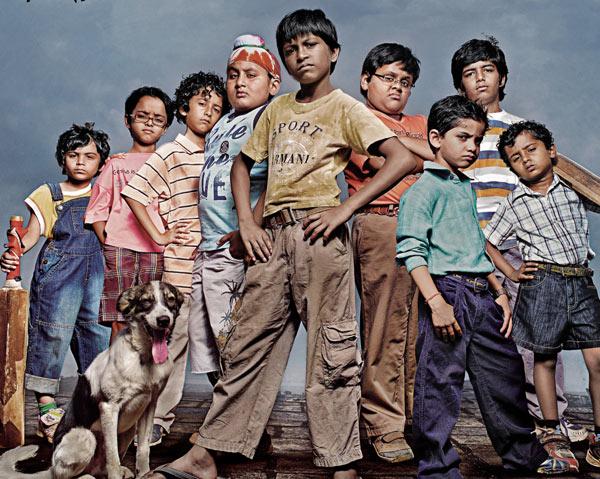 The National-Award winning children's flick is all about how a bunch of determined kids devise ingenious ideas to rescue the stray dog population of their locality with the help of their own beloved Bhidu in tow.
Despite its humble production values, Chillar Party, endorsed by Salman Khan and featuring an item song on Ranbir Kapoor, opened to glowing reviews.
Halo
August 07, 2014 09:49 IST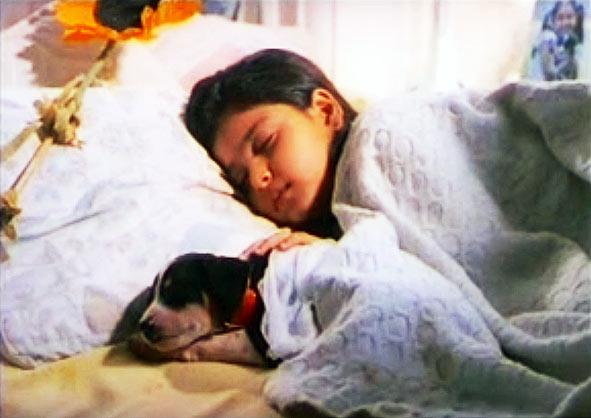 Long before Chillar Party, Santosh Sivan delivered a tiny gem of a kiddie adventure about a 7-year-old girl (the adorable Benaf Dadachandji) looking for her lost pup, Halo.
Halo, which won a National Award for Best Film stars director Rajkumar Santoshi as the little tot's dog-wary daddy.
Jab Pyaar Kisise Hota Hai
August 07, 2014 09:49 IST
A dog lover in real life, Salman Khan has starred in quite a few with them. In Jab Pyaar Kisise Hota Hai, he plays father to a knee-length Aditya Narayan, product of one of his many love affairs.
How he sneaks in this unexpected development and his pet Irish Setter, Sunny in a house that doesn't entertain dogs provides some laughs in the pleasant Salman rom-com.
Hum Tum Pe Marte Hain
August 07, 2014 09:49 IST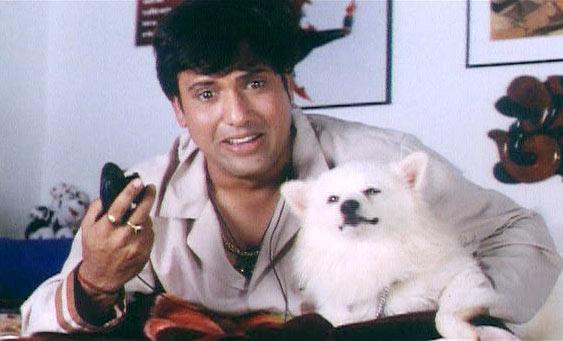 Once upon a time, 1999 to be specific, there was a movie called Hum Tum Pe Marte Hain about two neighbours, their respective domestic helps and pet dogs falling in love with another.
Govinda and Urmila starred in the monstrosity where the pooch romance between Jack and Jill displays more chemistry than the lead pair.
Maa
August 07, 2014 09:49 IST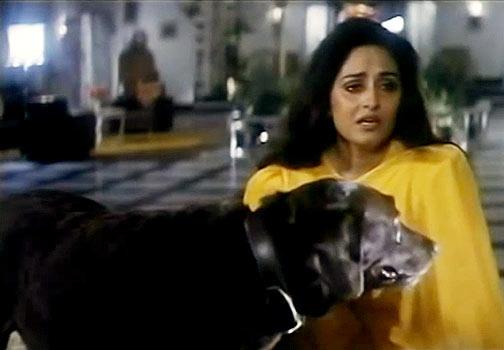 In Ghost rip-off, the dog Dobby (no connection to Harry Potter) again played by the chocolate brown Labrador Moti, Jaya Prada's spirit returns to caution her husband about the lurking danger as well as protect her infant baby.
The only person who can sense her presence and help is, obviously, Dobby.
Main Prem Ki Diwani Hoon
August 07, 2014 09:49 IST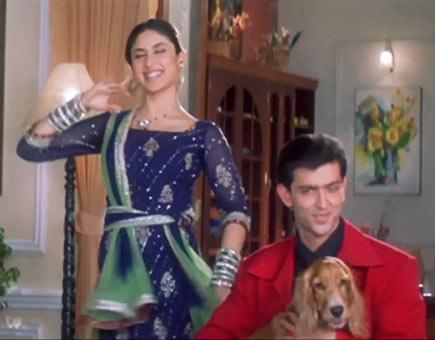 Kareena Kapoor's pets -- a parakeet Raja and a dog Johnny aim to achieve the stardom of Tuffy in Sooraj Barjatya's much-panned Main Prem Ki Diwani Hoon.
Even the otherwise adorable cocker spaniel, turning into his animated alter ego on occasions, adds to the film's overall nuisance value.
We prefer the genial, golden Labrador -- Sherry of Bebo's Braganza family in Ek Main Aur Ekk Tu.
Kya Super Cool Hain Hum
August 07, 2014 09:49 IST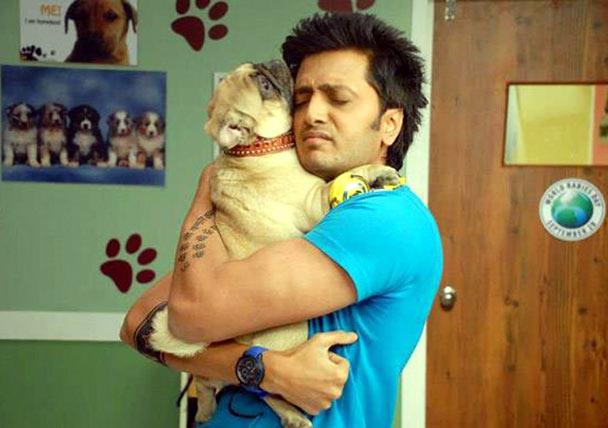 Dirty dog jokes dominate the below-the-belt humour of Kya Super Cool Hain Hum.
Here Ritesh Deshmukh plays a DJ obsessed by his pet pug named, er Sackru and the sick misadventures that follow form rest of the plot.
Roadside Romeo
August 07, 2014 09:49 IST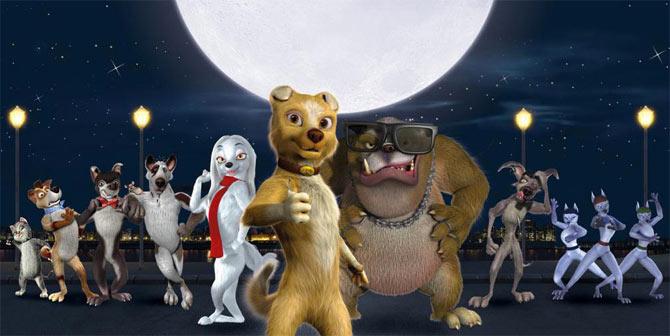 Animated films are yet to take off in a big way in India.
Even so, Yash Raj Films' tried (and failed) to change that with director Jugal Hansraj's much-publicised Roadside Romeo, a wannabe Lady and the Tramp about warring street dogs voiced by the likes of Saif Ali Khan, Kareena Kapoor and Javed Jaffrey.
Betaab
August 07, 2014 09:49 IST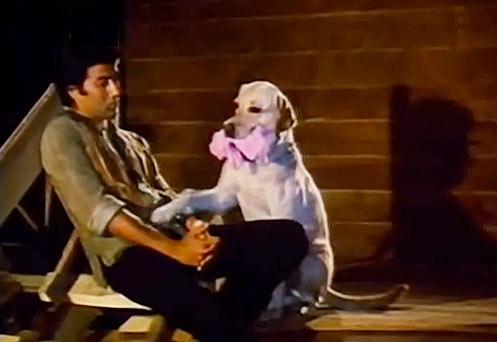 The 'man and his mutt' imagery is thoughtfully captured in Rahul Rawail's love story, Betaab.
Sunny Deol plays a handsome farm boy with a playful follower in his light-coloured Labrador, Bozo. His constant companion though highs and lows, Bozo seems to understand Sunny better than Amrita Singh.
Lawaaris
August 07, 2014 09:49 IST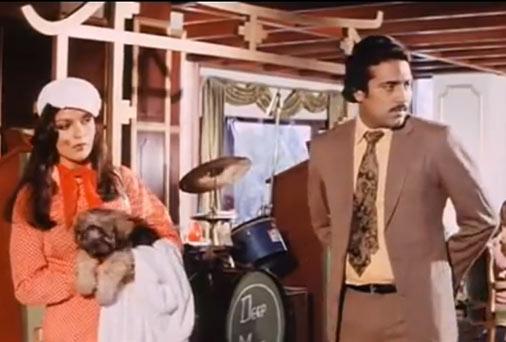 "Isse kehte hain garam kutta yaane ki Hot Dog," jokes Amitabh Bachchan in one memorable scene of Lawaaris.
He's talking about spoilt brat Zeenat Aman and her high maintenance, inseparable accessory and lap dog whom she insists on bringing in a fine dining restaurant that doesn't permit canines.
Mera Naam Joker
August 07, 2014 09:49 IST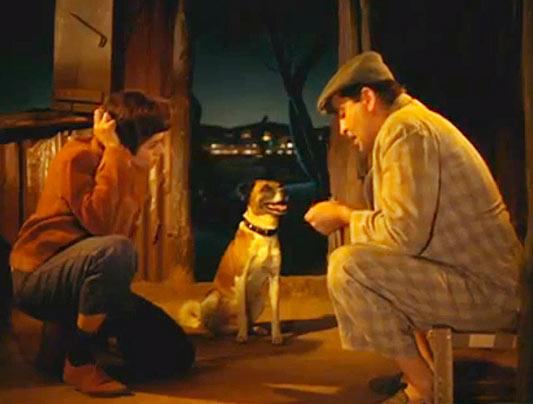 Raj Kapoor's eternally sensitive persona is further underlined in his most ambitious creation, Mera Naam Joker.
In the third and concluding chapter of the story, RK befriends a burly woman and her mongrel Moti and they form a street circus team till the latter is rudely grabbed into a municipality van meant to capture stray population, revealing the unsympathetic facets of society.