Movies that make you fall in love again!
Last updated on: February 14, 2011 18:07 IST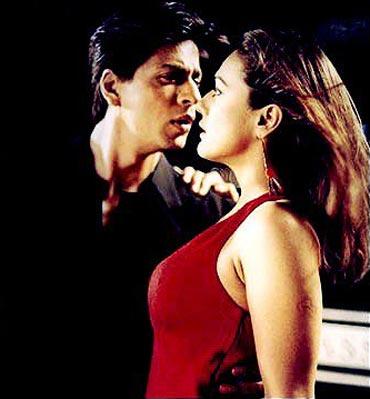 Love is in the air, or so at least declare greeting card companies, cellphone forwards, and Twitter. And while Valentine's Day might be mass-manufactured candyfloss, a bit too sweet to be palatable, it isn't a bad time to consider romantic cinema.
This list, therefore, features 10 films about Love. They are all films from over the last decade, they are all films that look at romance in starkly different ways, and they feature many-a-kind of screen Love, from intense to subtle, realistic to operatic.

Here are 10 films, I feel, that treated Love, with love.
10. Kal Ho Naa Ho
It's as cliched and melodramatic as love triangles can get -- a girl in love with a dying man while a fitter suitor waits in the wings. But this Nikhil Advani film was made memorable by the chemistry between the two male leads, Shah Rukh Khan and Saif Ali Khan.
Advani also treated the film with a refreshing lightness, and the production values on this one were truly world-class.
9. Ishqiya
Last updated on: February 14, 2011 18:07 IST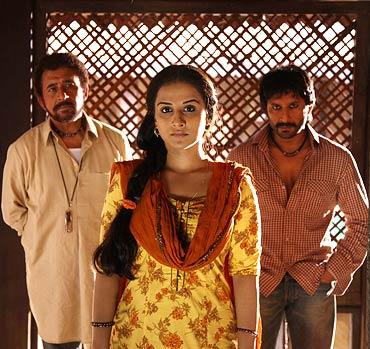 Abhishek Chaubey's saucy directorial debut might have had one femme fatale stringing along a couple of patsies, but both men (played by Arshad Warsi and Naseeruddin Shah) fell mighty hard for the dame, played so memorably by Vidya Balan.

And even as the hardboiled woman clearly in control of the situation, her motivation was pure, undying love for her husband -- even if he faked death to escape her. An ode to unrequited love, this film.
8. Saathiya
Last updated on: February 14, 2011 18:07 IST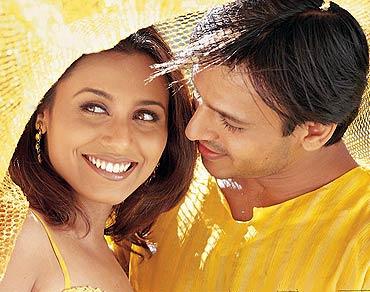 Back when Vivek Oberoi could act, he shone rather brightly in this Shaad Ali film where he and Rani Mukerji played young, earnest lovers. Meeting on the Mumbai local trains, the two got married on the sly and all was well till they actually moved in together. Then young discord set in, and things go downhill realistically quick, for the smallest of reasons.
7. Dev D
Last updated on: February 14, 2011 18:07 IST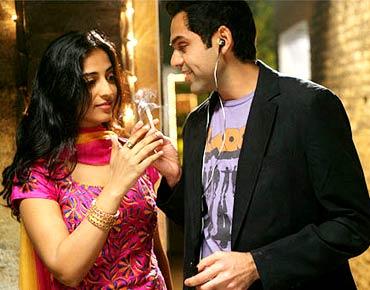 Sure, this Anurag Kashyap stunner might have had more to do with psychedelic colours and a life fuelled by drug abuse. But one can't deny that Abhay's Dev trips into his downward spiral simply because he can't have Mahie Gill's Paro.

The self-destruction truly begins when, at Paro's wedding, Dev goes vertical on a bottle of Smirnoff. That violent glug, we soon realise, is something he then keeps topping.
6. Omkara
Last updated on: February 14, 2011 18:07 IST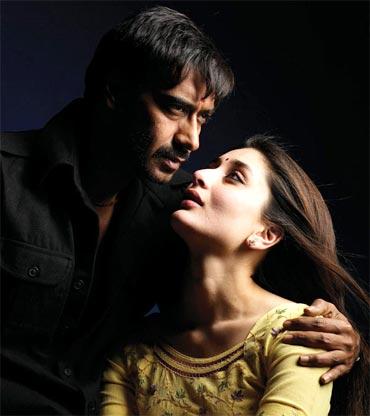 Vishal Bhardwaj's masterful adaptation of William Shakespeare's Othello is a story about vengeance and lies, racism and one particularly iconic rascal. And yet it is also a story -- a tender, heartbreaking story -- of two lovers.

Ajay Devgn's Omi Shukla is thoroughly smitten by Kareena Kapoor's ethereal Dolly, but has trouble believing she loves him as much as she does. The misunderstanding is fatal, and his brutal killing of her nothing but an act of misguided love.
5. Jab We Met
Last updated on: February 14, 2011 18:07 IST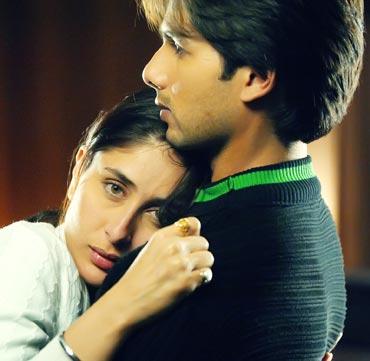 For a film industry that seems to survive on films with romance and comedy inevitably chucked into the mix, we make very few truly striking romcoms.
This Imtiaz Ali film, however, is an absolute treat, with Kareena's hyperactive heroine Geet more than complemented by Shahid Kapoor's muted leading man. A film with striking dialogue and two actors in top form, this one stays forever watchable.
4. Paheli
Last updated on: February 14, 2011 18:07 IST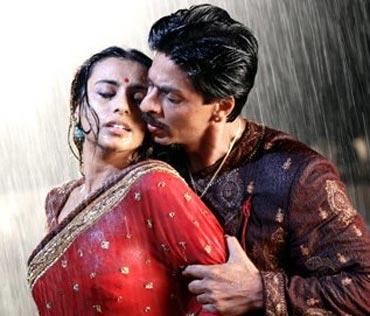 Fables are often more telling about emotions than more grounded stories are allowed to be, and this lusciously coloured Amol Palekar project is a love story for the ages.

A trader ignores his lovely wife and a shapeshifting ghost decides to take his place, to devastating effect.
Shah Rukh Khan plays both spoilsport and spectre, and the sizzling chemistry this latter avatar shares with a relieved Rani Mukerji is the stuff of screen magic.
3. Naach
Last updated on: February 14, 2011 18:07 IST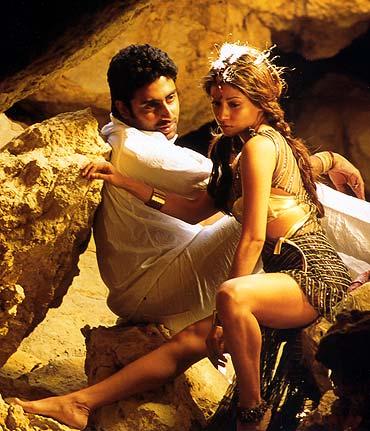 It might not be the most appreciated of Ram Gopal Varma's oeuvre, and remains admittedly a film with severe aesthetic issues -- a dance film let down by bad dancing and music -- but Naach, as a love story between two Bollywood strugglers, has a purely elegiac beauty.

Abhishek Bachchan and Antara Mali -- at their absolute best, making up dialogue as they go along -- gave us lovers so real their pain resonates, irritates, and even scares.
2. Socha Na Tha
Last updated on: February 14, 2011 18:07 IST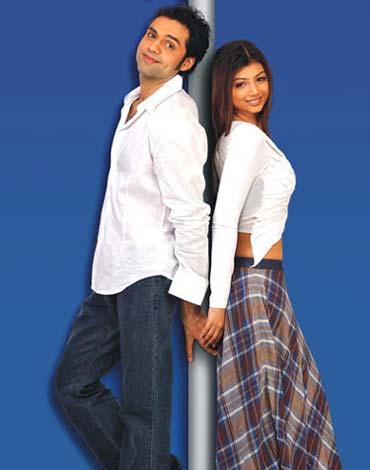 Imtiaz Ali's debut feature, starring a couple of fresh-faced kids too raw to be affected in any way, is one of the most realistic, relatable and refreshing romances Hindi cinema's seen in the last couple of decades.

Abhay Deol's escapist hero and Ayesha Takia's credibly irresistible leading lady are pitch-perfect, and their chemistry is palpable, flawed, reassuringly real.
1. Band Baaja Baraat
Last updated on: February 14, 2011 18:07 IST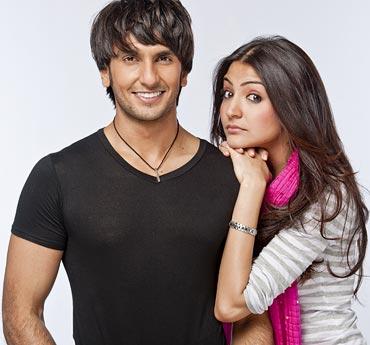 A lot of the other films on this list get the 'feel' of romance right -- the moments, the tenderness, the soft-glances, and the chemistry -- far righter than this film, but Maneesh Sharma's directorial debut is astonishingly well written.

It is by far the strongest-forged screen romance by dint of how the characters fall in love through actual communication, instead of hiding behind montages.
The characters have flaws and issues, and are often unfair; the actors aren't pretty or glossy; and the climactic resolution is through conversation, not high drama at an airport.

And yet this film, with its raggedy characters and its muddy-yet-shining dialogue, shows off enough heart and smarts to combat all the cynicism we can throw at it.
It rings true, warts and all, and isn't that what a love story is all about?