The films that show off Mumbai best!
Last updated on: January 18, 2011 14:16 IST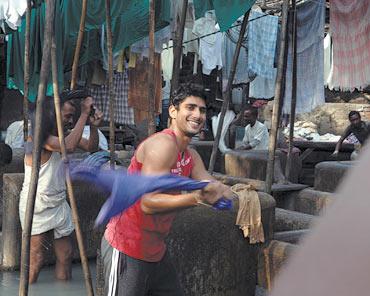 Not just the city of dreams, Mumbai's also the city of movies, the city immortalising the aforementioned dreams. So it isn't any surprise that filmmakers often look to it for inspiration, finding it in both the city's richest and most squalid corners -- and in Mumbai's case, they often co-exist side by side.
Here, then, are films that took their cues from the city that never sleeps, films that clearly love Mumbai:
Dhobi Ghat
'Dhobi Ghat is a metaphor,' director Kiran Rao has repeated over and over.
Her debut film, already making waves on the festival circuit worldwide, involves an artist (Monica Dogra) who falls in love with a young dhobi (Prateik Babbar, apparently delivering an awesome performance) from Mumbai's famed ghats.
Saathiya
Last updated on: January 18, 2011 14:16 IST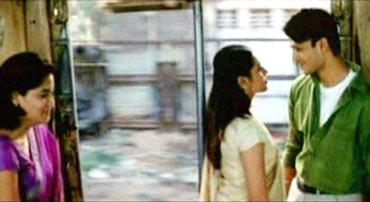 Shaad Ali's faithful take on his mentor Mani Ratnam's romance was set in Mumbai, and the film featured Vivek Oberoi and Rani Mukerji meeting on Mumbai's iconic local trains.
As their eyes meet over crowds, commotion and carriages, even most of their courtship takes place on trains and stations.
Munna Bhai MBBS, Lage Raho Munna Bhai
Last updated on: January 18, 2011 14:16 IST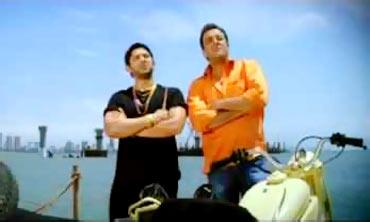 Sanjay Dutt's Munna Bhai is clearly fond of Mumbai's beautiful Marine Drive. In the first of Rajkumar Hirani's fantastic films, Munna sits contemplatively by the area's distinctive, wave-shattering tetrapods.
The sequel opens with him sitting by Marine Drive listening to his favourite radio jockey wishing Mumbai a good morning.
Satya
Last updated on: January 18, 2011 14:16 IST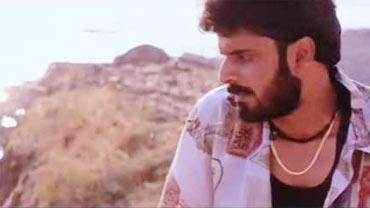 Ram Gopal Varma's Satya offered a grisly look at the city's underbelly, and one of its most memorable sequences was one involving a rapid chase through the slums.
Helmed mostly by the film's co-writer Anurag Kashyap, the chase is a landmark moment in modern Hindi cinema and one that director Danny Boyle says influenced his own Slumdog Millionaire.
Dharavi
Last updated on: January 18, 2011 14:16 IST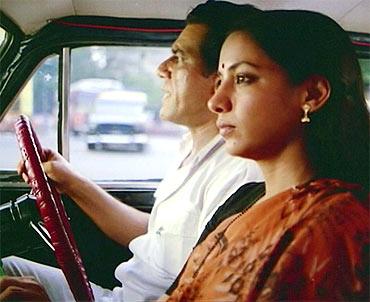 Named after the world's biggest stretch of slum, this Sudhir Mishra film shows off a huge part of Mumbai, often ignored by its filmmakers.
Om Puri plays cabbie Raj Karan Yadav, living in a miserable Dharavi room with his wife, played by Shabana Azmi. This is a fine film about desperation, disillusionment and, equally, dreaming.
Parinda
Last updated on: January 18, 2011 14:16 IST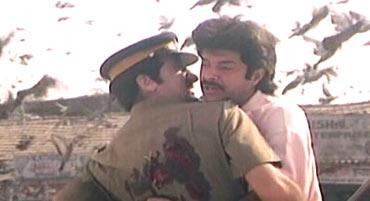 Ages before Ramu made Satya, Vidhu Vinod Chopra made not just the definitive Indian gangster movie, but one so influential the Mumbai underworld began to use phrases from the film in their own lexicon.
A lot of the key sequences in Parinda showed off the Gateway Of India, most crucially that memorable scene where Anupam Kher is killed.
Mithya
Last updated on: January 18, 2011 14:16 IST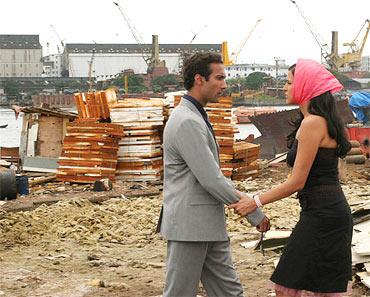 Rajat Kapoor's film about a lookalike actor pretending to play a mafia don (a great Ranvir Shorey in both parts) really kicked off as the actor sat by Marine Drive, that great Mumbai leveller, drinking cheap whiskey. Till, in that only-Mumbai fashion, his life is changed by a drive-by shooting.
Life... In A Metro
Last updated on: January 18, 2011 14:16 IST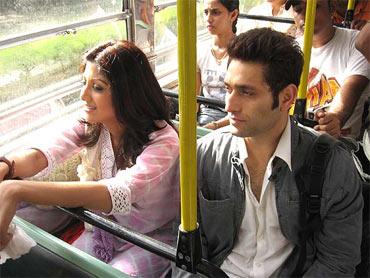 Anurag Basu's musically-interlinked ode to the city of Mumbai saw many parts of the city -- from its tubelit taxicabs to its old libraries, from mid-city beachfronts to iconic landmarks -- and did it all very flatteringly, showing off how beautiful, and how democratic, the city can be, even as it could be relentless and cruel.
Chandni Bar
Last updated on: January 18, 2011 14:16 IST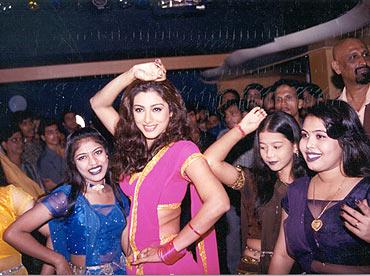 Arguably Madhur Bhandarkar's best film, Chandni Bar was one of the first to truly try and explore the world of the once-ubiquitous Mumbai dance-bar.
It is a subculture that never tried to hide too far away from the busy city streets, and this Tabu-driven look at it was both revealing and fascinating at the same time, no matter how real.
Jaane Tu... Ya Jaane Na
Last updated on: January 18, 2011 14:16 IST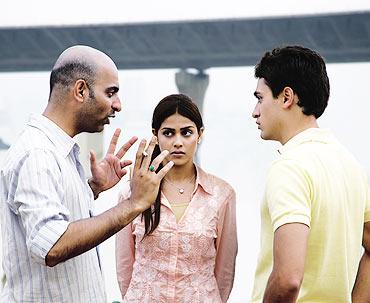 This fresh and urban Abbas Tyrewala romance showed off some Mumbai nightspots, from discotheques (where some patrons arrived with horses) to house parties and walks along the marketplaces and the seaside.
And for good measure, protagonist Imran Khan rides a horse down Marine Drive.