Special Series: The different get-ups of Pran
Last updated on: May 10, 2012 19:31 IST
In this edition of our Nostalgia series on veteran actor Pran, we highlight the legendary actor's different looks.

Do read our earlier features: Pran, through his daughter Pinky Bhalla's eyes and The man who made Zanjeer happen.
Don't miss 92 Facts You Didn't Know About Pran: Part 1, Part 2 and Part 3.
A film critic once appreciated Pran's work in a particular film, but criticised the way his make-up was done. An upset Pran decided he would, then onwards, take special interest all his get-ups. He made friends with make-up artistes and wig makers. He also had an artist who would sketch different looks for him.
Here are 10 interesting looks that Pran brought to the big screen.
Chakker Pe Chakker (1977)
In the comic thriller Chakker Pe Chakker, Pran played a bandit called Daku Sher who captures an actor called Ravi (Shashi Kapoor).
But he is a huge fan of the actor and releases him. Ravi is falsely accused of murdering his producer and Daku Sher helps him prove his innocence.
Halaku (1956)
Last updated on: May 10, 2012 19:31 IST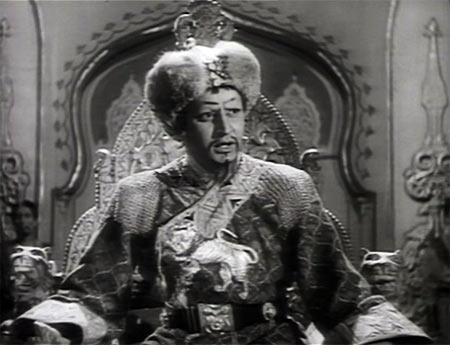 Pran played the title role of Halaku, the ruthless emperor of Iran.
Halaku wants to marry Niloufer (Meena Kumari), who is in love with Pervez (Ajit), despite opposition from his wife (Minoo Mumtaz).
Pran was new in the industry when he was offered the title role of Halaku.
Meena Kumari, who was the main lead in the film, was not happy about this. But when she saw Pran in his make-up, and she saw the rushes, she was happy he was chosen for the role.
Jis Desh Mein Ganga Behti Hai (1960)
Last updated on: May 10, 2012 19:31 IST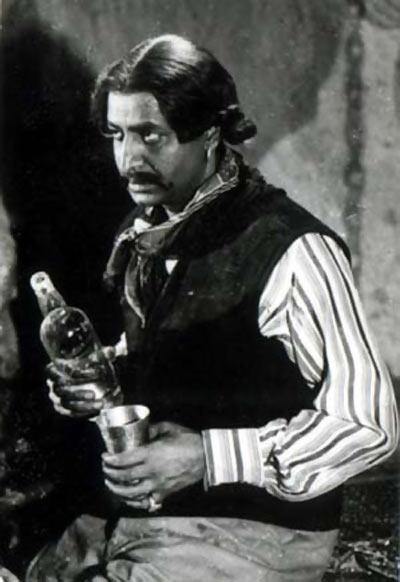 Pran played a bandit called Raka in this one too, but look at how the get-up has changed (he earlier played Raka in Chakker Pe Chakker).
Raka kills the leader and takes over the bandit gang. He wants to forcibly wed Sardar's daughter, Kammo (Padmini).
In Raj Kapoor's Jis Desh Mein Ganga Behti Hai, Pran added a specific trait to his body language as Daku Raka, repeatedly running his index finger inside his collar.
Majboor (1974)
Last updated on: May 10, 2012 19:31 IST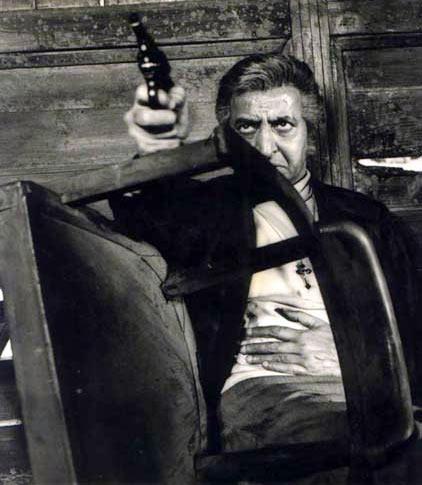 Pran played a Goan drunkard thief, Michael D'souza, in this thriller.
There is a song picturised on him, Daaru Ki Botal Mein Saahib Paani Bharta Hai, Phir Na Kehna Michael Daaru Peeke Danga Karta Hai. Pran makes the song a hilarious watch with his funny dance steps. A must watch!
Sanyasi (1975)
Last updated on: May 10, 2012 19:31 IST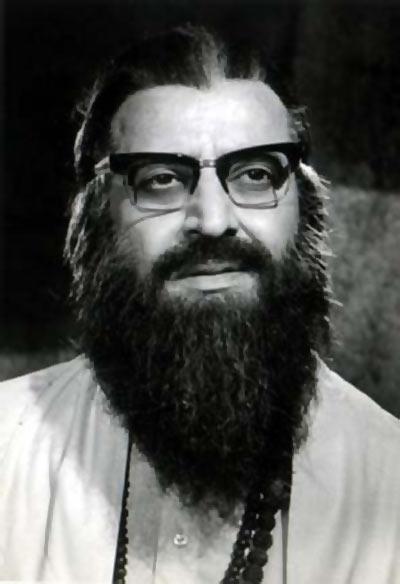 Pran played a sanyasi called Shanti Baba Guruji.
Shanti Baba lays down his life in order to rescue a woman from Mangal Singh (Prem Nath), who disguises himself as Ishwar Baba, a fraud sanyasi.
Upkar (1967)
Last updated on: May 10, 2012 19:31 IST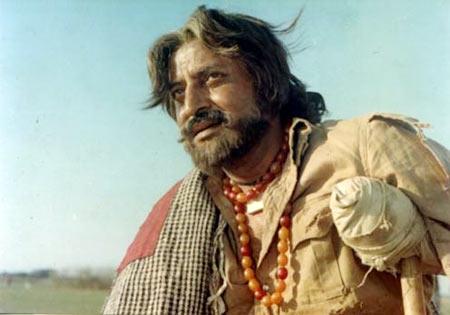 Pran played a handicapped man, Malang Chacha.
This character was the turning point in Pran's career. It was his first positive role and got Pran his first Filmfare award.
Aan Baan (1956)
Last updated on: May 10, 2012 19:31 IST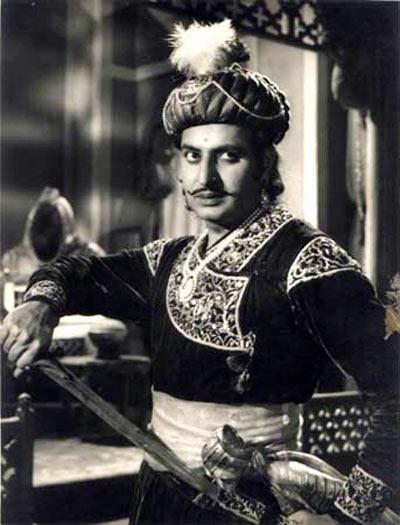 Very little is know about the 1956 film Aan Baan but there is an interesting anecdote about a sequence about  the film in the book ...and Pran.
Aan Baan had a twist wherein Pran, who plays Rajendra Kumar's brother, does not know that the girl he is to marry is actually his brother's sweetheart.
The entire scene of the elaborate marriage sequence was to be shot with Pran on horseback.
During the picturisation of that sequence, he had to even give the 'long shots' without the use of a 'double.' It was a long shot involving a whole lot of junior artistes crowding in the verandas of the houses on both sides of the huge street set.
The hero, Rajendra Kumar had to sing the song 'Lo Aaye Hum Dulhe Bhaiya Ke Baraati Banke' as the baraatis proceeded down the street.
Talking about it to a film journalist years ago, (the late) Rajendra Kumar said: 'Pran Saab is so dedicated to his work that never did he ask to dismount. He sat the whole day on the horse in that heat -- and he never once lost his cool!'
Zanjeer (1973)
Last updated on: May 10, 2012 19:31 IST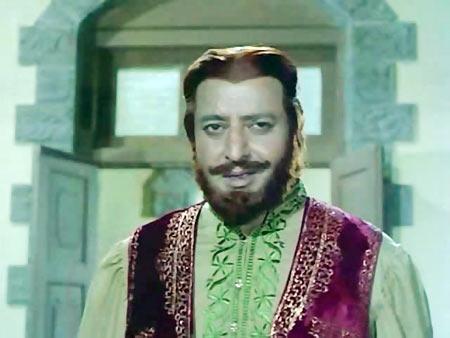 Pran played the character of Sher Khan who runs a gambling den but changes for the good after his encounter with Inspector Vijay Khanna (Amitabh Bachchan).
He later helps Vijay when he is implicated in a false bribery case and is behind bars.

To get the Pathan character's look, Pran got a wig that looked like it had been dyed with henna.
Jangal Mein Mangal (1972)
Last updated on: May 10, 2012 19:31 IST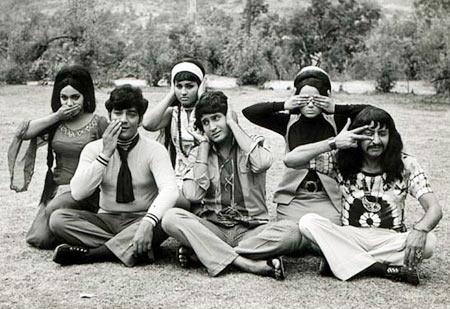 Pran played a double role -- he is both retired Colonel M K Das and Raghu.
Each character -- the older colonel and the younger Raghu -- had distinct looks. Raghu sported long hair and a hippie look.
Alif Laila (1953)
Last updated on: May 10, 2012 19:31 IST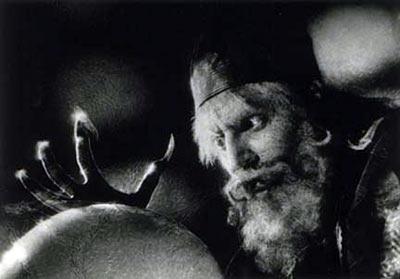 In this Alladin folk tale Pran played the character of a magician called Afratyam (Pran) who wants to become the most powerful person.
Very scary and interesting make-up used in 1953