It's Yogish vs Diganth at the box office
Last updated on: December 3, 2009 14:57 IST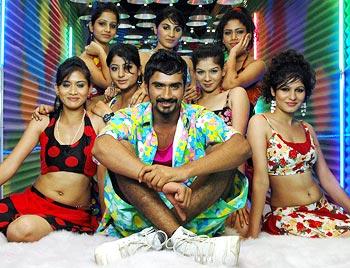 Two top Kannada actors -- Yogish and Diganth -- will fight it out at the marquee this Friday when both their films Raavana and Male Bille, respectively release at the same time.
Raavana is directed by Yogish Hunasooru while Mahesh Sukhadhare has directed Male Bille.
Raavana stars Yogi alias Yogish, who is affectionately called Lose Mada, along with Deepika Padukone look alike Sachitha Padukone.
Though Sachitha has been busy working in two Tamil films after she signed her first film Raavana, she feels that her debut film has a more memorable role.
Raavana is a remake of the Dhanush and Sonia Agarwal Tamil starrer titled Kaadal Kondein which was directed by Selva Raghavan. Newbie producers Uday Mehta and Mohan Naik are producers of this film
It's Yogish vs Diganth at the box office
Last updated on: December 3, 2009 14:57 IST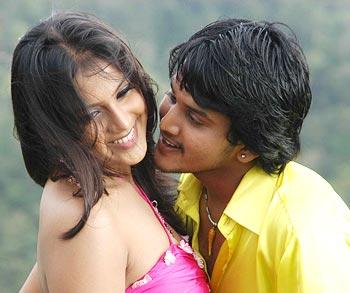 The other release Male Bille, the title of which has been taken from the opening song of the film Sainika directed by Mahesh Sukhadhare, stars Diganth, Akshay and Pragna.
Sukhadhare has also written the story and screenplay besides directing it. He is also the co-producer of the film.
He says that a near fatal accident inspired him to write the script of Male Bille. "I was bedridden for more than three months which made me depressed. To overcome it I started writing a story about the youth and how they can overcome depressing times," says Sukhadhare.
"We have shot the film in the most inaccessible and visually spectacular places of Kundapura, Kodagu and Mysore. The film revolves around a love story with some incidents based on real life. Diganth will be a big surprise in the film and his characterization will certainly please his fans," he adds.
Manikanth Khadri, the son of famous musician Khadri Gopinath, has scored the music for Male Bille.
"Khadri has done a fantastic job as a music director. Already the Chandamama Chandamama song has become a huge hit. All the songs of the film will be pleasing to the ears. I had to choose exquisite locations to shoot these melodious songs," says Sukhadhare.
It's Yogish vs Diganth at the box office
Last updated on: December 3, 2009 14:57 IST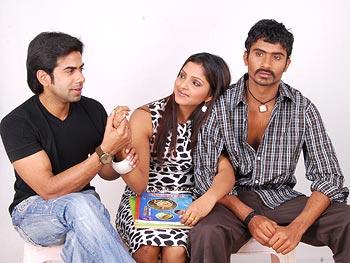 Coming back to Raavana, which is a remake of the Tamil hit Kaadal Kondein, Uday Mehta, who has produced the movie, says the production values of this film are pretty huge.
"We have taken fifteen days to shoot the most important climax sequence which will be the highlight of the film," says Uday.
Director Yogish Hunasuru has returned to films after a long gap but feels that Raavana is worth the wait. "I know that we are releasing the film at a time when the Kannada film industry is facing a big crisis. But I have great confidence in the film's script. Kaadal Kondein is one of the best Tamil films made in the last ten years and Selva Raghavan attained a big stature after directing it. The film also made Dhanush a big star of the Tamil film industry. Which is why we decided to take the essence of the story and narrate it in our own way. We have composed original songs for the Kannada remake and have subdued emotions in this film. The look of the film which has been shot in different locations is certain to give a new experience to the viewers," says Hunasuru.
He also says that the film's hero, Yogish has delivered an extraordinary performance in the film.
It's Yogish vs Diganth at the box office
Last updated on: December 3, 2009 14:57 IST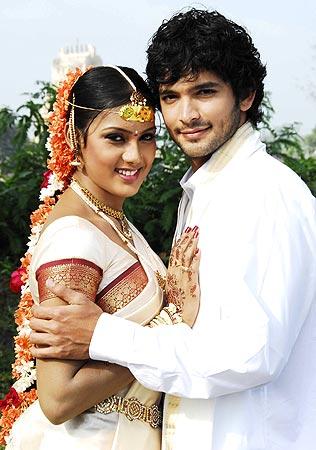 Yogish says that Raavana is one of his best films in his career. "My role has lots of opportunities for a stellar performance which I have utilised," he says.
"Yogish sir would enact each sequence for me. But what was inspiring was the script itself. I think this role has shown me as an innocent youngster in the beginning which has come out very well," Yogish adds.
Dusky beauty Sanchitha Padukone is playing the role originally played by Sonia Agarwal. "When the role was offered to me, I was little surprised as I was chosen to play a complex character in my very first film. But Yogish sir was a strict head master and got the best out of me. It was a pleasure working with the film's hero Yogi too," she adds.
Abhiman Roy's music has already become a hit with songs like Ninna Manevaregoo and Chakli Nippattu Thinkondu dominating the music charts.