Watch out for these Kannada films this week
Last updated on: June 2, 2011 12:46 IST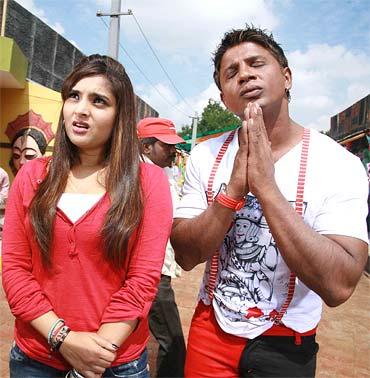 Along with the much anticipated Johny Mera Naam Preethi Mera Kaam, two other big budget Kannada films will be released this week. We take a look.
Johny Mera Naam Preethi Mera Kaam
Vijay, who plays the lead role in Johny Mera Naam, is hoping that the film will salvage his career. He has said all along that the role of Johnny in the film will give him a much needed makeover.
The plot revolves around Johnny, who lives in a middle class housing colony where he is everyone's favourite and showers love on everyone. He has even set up the Johnny Social Service Centre to address their woes.
Along comes Ramya (who is playing opposite Vijay for the first time), an NRI, who comes to the colony to meet her grandfather. 
Most of the film was shot on a set that cost Rs 80 lakh.
The film has generated a lot of curiosity mainly because of the odd pairing of mass hero Vijay and the darling of the classes, Ramya. The songs have only upped the hype. Such was Ramya's belief in the script that she even decided to do a sizzling song herself. Titled Urigoble Padmavathi the song is the Kannada film industry's answer to Sheila Ki Jawani The lead pair has also done an underwater sequence for yet another song.
Since Vijay is known as an 'action hero', some unique fight scenes have been incorporated to satisfy his fans.
Something else to look forward to in the film is the coming together of Vijay and comedian Rangayana Raghu. The two have been a part of several films starting with Vijay's debut film Duniya. Vijay and Ramya even joke that the chemistry between Raghu and Vijay is much better than the one they share on screen. 
Preetham Gubbi is back to the big screen after Maleyali Joteyali. Will he be able to deliver yet another hit? Will Vijay be able to erase his previous flops and will reigning queen Ramya be able to repeat the success story of Sanju Weds Geetha? This Friday will tell.
Rajadhani
Last updated on: June 2, 2011 12:46 IST
Yash, who was last seen in a cameo in Tamassu, is back as the lead hero in Rajadhani (Capital). The film tells the story of five friends who get into trouble because of their wayward behaviour. The support of corrupt government officials further encourages them to digress from the right path.  The film also highlights the effects of bad parenting.
"There is more to Bangalore than its ever-growing IT sector. There are several untold stories of the city's underbelly and Rajadhani is a sneak peek into the dark side of Bangalore," says director Sowmya Sathyan.
Yash is very kicked about the role and says that it gave him an opportunity to experiment with his image. "In my previous films I've projected a soft image. Here, you'll see me perform some heavy duty action. Rajadhani gave me scope to evolve as an actor. You'll see different shades to my character. From a playful lover boy I transform into a tough and serious guy. My look also changes accordingly. For the first time I have toned down my skin colour; in fact, make-up was used on my entire body," he reveals.
The film also gave him ample scope to show off his dance moves. "Arjun is my favourite music director and in this film, his numbers gave me a chance to shake a leg," Yash says. "There is an item number too. Mumaith Khan is in the song. We even roped in Russian dancers for a song shot in Goa. Arjun himself has sung one song and another song has been composed to the tune of the famous devotional song Bhagyada lakshmi baaramma ."
The action sequences are the high points of the film with Yash already making news for one daredevil stunt. "I jumped from the 24th floor of a building. It's the climax scene and since the scene is an emotional one, I insisted on doing it myself. Action director Ravi Verma warned me of the dangers involved if the rope got cut, but I did not want the flow of the film to suffer, so I did it myself," he says.
Actor Chetan Chandra of Premism fame has performed this stunt alongside Yash. Ravi Teja, Sandeep - who is a popular face on television - and Satya are the other leading men.
Prakash Raj is also cast in a pivotal role. He plays a cop who brings these vagabonds to book. Sheena Shahabadi is the heroine. Arun Sagar, Ramesh Bhat, Raju Thalikote, Umashree and Biradar are part of the cast. K V Raju has mentored Sowmya Satyan in direction. Will this film create a wave in the capital, we wonder?
Dushta
Last updated on: June 2, 2011 12:46 IST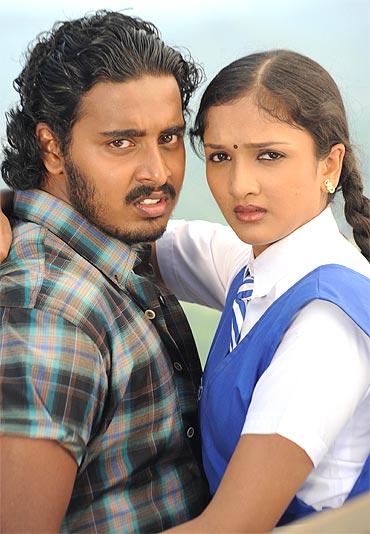 Pankaj, who didn't have much luck with either Chiatrada Chadramma or Cheluvina Chilipi, is giving films another shot with Dushta. The film is directed by his father, S Narayan, who directed his previous films as well.
The film is a love story between Esha and Parvathi and is based on a true story. "The story is that of my friend from Bhadravathi and making it took me back 30 years. It was like reliving several moments. The film was a very emotional process," says director Narayan.
This film is about love and friendship, so is one of the characters based on him? "I will reveal that once the film releases," is all he will say.
Pankaj has had a makeover in the film. He speaks Kannada as spoken in the rural areas of the State. "What's more, I had to audition for the role. Now my father thinks no one could have done it better. I have etched the character based on my father's accounts of his friend. I have done two films prior to this and the experience I gained through them was surely not enough to essay this role. But I took it as a challenge and gave it my best," says Pankaj.
Narayan is also optimistic about his son's performance. "After this film Pankaj is sure to get offers," he says.
Surabhi, a newbie, plays the leading lady. Several artistes from Bhadravathi have been given a chance to act in the film to give it a local flavour. Most of the artistes have been made to dub so as to give the film more authenticity. Beautiful locations in and around Bhadravthi and Shimoga have been captured on film.
The film is expected to release in 33 theatres.
And has the man on whose life the film is based watched the film?  "He may watch the film in Bhadravathi on the opening day," reveals Narayan.