A Walt Disney film in Telugu!
Last updated on: January 13, 2011 16:39 IST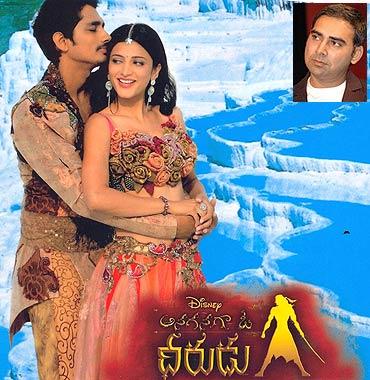 Prakash Kovelamudi, a product of the Lee Strasberg school of Acting in the US is well known for his Morning Raga where he acted with Shabana Azmi. Subsequently he directed A Bellyful of Dreams.
Prakash's full-fledged Telugu feature film titled Anaganaga O Dheerudu (Once upon a Warrior) is releasing on Sankranti (January 14).
Prakash talks about AOD which is part produced by Walt Disney (their first such venture in India) and by his father eminent director KR Raghavendra Rao. Excerpts: 
What prompted you to make a socio-fantasy titled Anaganaga O Dheerudu (Once upon a Warrior)?
I've been a fan of fantasy since growing up on my father's film Jagadeku Veerudu Atiloka Sundari. I enjoyed Harry Potter and Pirates of the Caribbean. Arundhati and Magadheera did well which means there is an audience for these kinds of films. I'd written a part fantasy and part real film which later turned into pure fantasy.
Is it fictional or inspired by any mythical tale?
It's not inspired. I've grown up reading Amar Chitra Katha and Chandamama. I like that space and genre. The story telling is reminiscent of Chandamama. The villain is inspired by the Greek villain Medusa in appearance. The swordsman is similar to the one in Japanese comic books (Manga). The influence is a mix of the East and West in terms of styling. Fantasy allows you to draw influences from different cultures.
'Disney and Dad supported me'
Last updated on: January 13, 2011 16:39 IST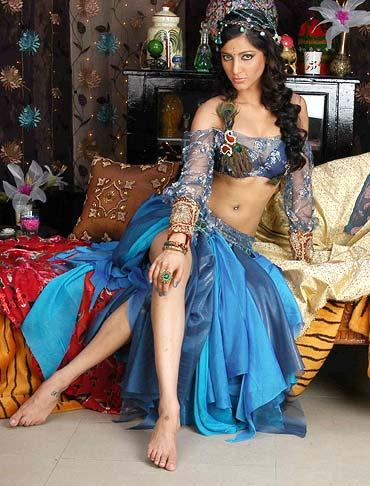 What triggered the idea for the story?
I've always been into children's tales. It started off with a little girl having healing powers. I liked the idea of someone who can heal the world. That was the starting point.
How did you rope in Walt Disney? This is their first production in South India.
I have been talking to Disney for another project in Hindi a year ago. Because of this association, they were interested and wanted to know about the story. Once they read the story, they were kicked about the project and came on board. It's commendable they looked at South India.
In A Bellyful of Dreams, you used puppetry. In AOD you have used a lot of special effects. Do these means enhance your story telling?
As a filmmaker, I am trying to explore the form right from the story. You want to tell the story using different forms to engage the audience. The CGI idea is to appeal to people and enhance story telling.
How did you decide to mount this fantasy tale in such a lavish fashion?
Once I decided to tell the story, I required the scale and the elements needed to support that. I am taking audience to a different world which will fascinate them. Story telling decides that. Disney and Dad supported me.
'Siddharth and Shruti share a good rapport'
Last updated on: January 13, 2011 16:39 IST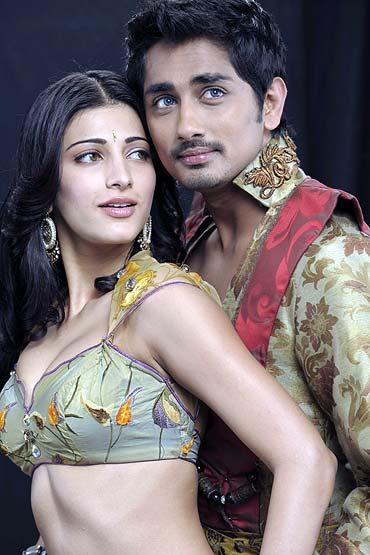 How did you decide on casting Siddharth, Shruti Haasan and Lakshmi Manchu?
I enjoyed Pirates of the Caribbean a lot. The swordsman in AOD is not serious. But Siddharth can traverse a range of roles. I thought he would be perfect as the warrior since he's more flamboyant and light-hearted. I've known him for five years. We used to discuss films and I had discussed the earlier film (which I rewrote as a full fantasy) with him. I had faith in him.
I had seen Shruti in pictures and read interviews of her and found them interesting. When I met her, I found out that she reads comic books, graphic novels and fantasy novels. So I found her ideal to play the mysterious character of the gypsy. I was able to draw from her personality into the character of the feisty gypsy. She and Siddharth had a good rapport and brought more layers to the roles.
As far as Lakshmi was concerned, I needed someone with a strong presence. I have known her since I was a kid. I also thought of established actors to play the role. Lakshmi has a strong voice and stature and within the first two shots, I knew I had found my Irendri.
Did you make Siddharth learn sword fighting?
He did. What's remarkable is that he picks up very fast. He's got many fight sequences and his balance is good. He studies his character, yet he is spontaneous. He had different fight masters and he adapted to their approach. The fight masters were also impressed with him. He was on wires 12 hours a day during fight sequences across the fight shoot schedule of 30 days.
'The villan in my movie had to be the strongest charecter'
Last updated on: January 13, 2011 16:39 IST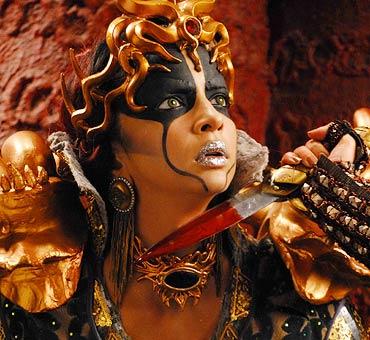 Shruti looks every inch a fairy. How did you achieve this?
She has the beauty to be one. Plus, there were the gypsy costumes influenced by Persian and Indian culture which helped in the transformation.
Lakshmi Manchu looks evil personified as the Queen Irendri.
The villain had to be the strongest and the role was written accordingly. Irendri lives in a fort in the shape of a snake. The action takes place in the bedroom, dungeon, courtyard, verandah/terrace. The production artist who worked on this has a comic book background. We built 60-70 per cent of the spaces and then created CGI. We composed frames accordingly.
Makeup artist Elton took it to another level with face painting and tattoo art.
Once Lakshmi wore the costumes and makeup, she underwent a change. She became fierce. She brought more to the role than was expected. She is trained in theatre and acted like a seasoned actor. The first two days she maintained distance from the little girl who played Moksha so that she could play the role better. She has discipline and dedication.
How long did it take you to shoot the film?
From preparation to post-production, it took about 15 months. I had a good team with me. There was production designer Raj Gour and art director Bhupesh. Most of the CGI work was done simultaneously with the shoot.
'The biggest contribution of Disney was in the storytelling'
Last updated on: January 13, 2011 16:39 IST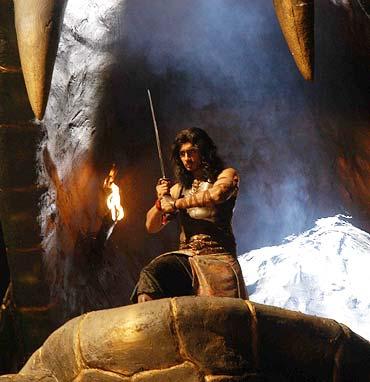 What was Disney's contribution to the film?
The biggest contribution of Disney was in the storytelling. Their team gave good inputs. At every stage, they were hands on and gave feedback on the rushes. They helped in the schedule in Turkey. They were a creative and collaborative partner.
Disney is doing the marketing also. All the post-production was done in Mumbai. All the CGI work was done locally and therefore the local talent was involved. I am happy that an Indian studio achieved this remarkable feat by Indian standards.
How did you manage to get MM Keeravani, Koti, Mickey J Meyer and Salim-Suleiman to compose for this film?
I'm fortunate because of my background. So it wasn't difficult to get these music directors to compose for the film. Dad helped a lot as well.
In the course of story telling, the film crosses landscapes. So it's a journey film. There is a love song which has a Persian influence which Salim-Suleiman have composed. The music for another breezy love song is scored by Keeravani. Koti has scored two songs and Mickey J Meyer has done a song with a child-like quality.
Even for the stunts there were four stunt masters, one each from Malaysia, Hongkong, Chennai and Hyderabad.  
How challenging was it to translate the written script into the visual?
I had a fantastic team with me. It was a process of self discovery. We had an idea and it slowly fell into place. It was not daunting. The faith was reinstated when we saw the rushes. There were few surprises.
'I'm not cut out for mainstream hero roles'
Last updated on: January 13, 2011 16:39 IST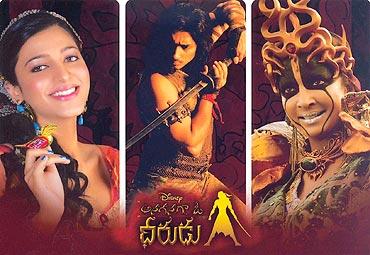 This kind of cinema is rather rare these days. How confident are you about AOD's performance?
I am quite confident. Fantasy as a genre is doing well in Telugu from 1960s and recently Arundhati and Magadheera were also hits. Fantasy takes you to a different world. In Telugu there have been cowboy films which have done well. If Avatar can do well then AOD can do well too. It's after all in their own language, their tale.
Why aren't you donning the actor's cap after Morning Raga especially after being a product of Lee Strasberg Acting School?
I enjoy acting in theatre. I didn't enjoy acting in films. I'm not cut out for mainstream hero roles. My acting sensibilities are different from what is required for a mainstream hero. In Lee Strasbourg I also took classes in direction for stage.
So you would rather direct than act?
I enjoy directing more than acting.
What are the kinds of films you want to make?
I like films which are larger than life; in the form of fantasy and magic, beyond the ordinary. I see myself exploring those spaces.