Venkatesh's double treat!
Last updated on: December 15, 2010 10:34 IST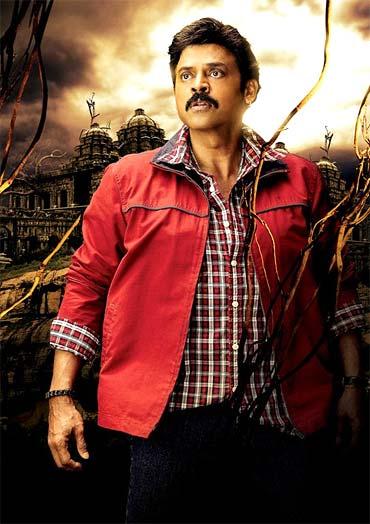 Venkatesh has just turned 50. Content with life and deeply spiritual, the Telugu actor lives in the moment.
When it comes to acting, he puts in more than his best. Even after working in the industry for more than 25 years, Venkatesh is still enthusistic and raring to go. Right now he's on the lookout for fresh ideas and different scripts.
With Nagavalli, the Telugu remake of the Kannada hit Aptarakshaka directed by P Vasu all set to release Thursday, Venkatesh gets candid about the film and more. Excerpts:
Did you watch Aptarakshaka before signing Nagavalli?
Yes.
What was it about the film that made you sign it?
I was looking for such scripts for quite some time. Scripts with simple plot points but appealing. There's a problem in a house and a psychiatrist is called for a solution. Once he gets into the house, there's a lot of mystery which is unraveled.
When I was watching Aptarakshaka, I found the screenplay interesting. The backdrop was new. There's a dual role as psychiatrist/doctor and king. It's a sequel to a successful film (Chandramukhi). I have not done such a role before. The little detective element will be enjoyed by families.
'The script of Nagavalli is universal'
Last updated on: December 15, 2010 10:34 IST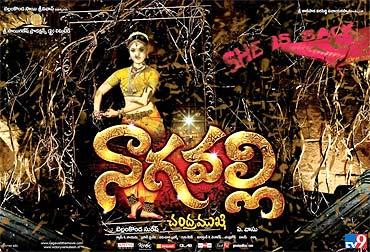 Do you think the film will do well at the box office?
The film has a fresh concept with an interesting flashback. It's a safe bet.
How is it adapted to Telugu?
It's largely the same as the script is universal. The only little changes are in the screenplay, sets and houses.
Is it a continuation of Chandramukhi or is it a stand alone film even though it's a sequel?
Just when we think it's all over in the first part, some characters find that there's a problem in a house and call this person, played by me, to solve. You can watch the film by itself and every one will enjoy it.
'Rajni was happy that I'm doing the film'
Last updated on: December 15, 2010 10:34 IST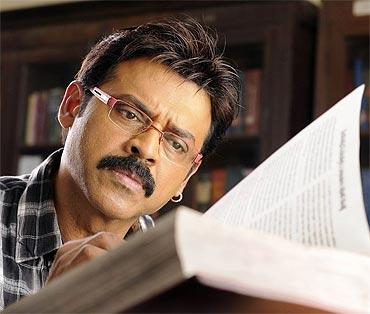 What's your role like?
It's not the run-of-the-mill kind. He's not a lover boy or a sympathetic boy. There's no running around trees. He is a psychiatrist. There's a flashback where he is a king and these portions are shot well. The movie will be well received.
We heard that Rajnikanth was supposed to do the film...
I don't know whether it was offered to him or why he didn't do it. But when I spoke with Rajni, he was happy that I accepted this challenge. He felt that somebody who hasn't done this before should do it. He was encouraging and felt I should do it in my style. He said it will be a fresh one for me. He told me that I will love playing a lovable negative role.
What is the surprise package of the film?
There are one or two twists which are unbelievable.
You seem to have many pretty women in the film like Anushka, Kamalinee Mukherjee, Shraddha Das, Richa Gangopadhyay and Poonam. You have worked with Anushka before. How was it working with all of them?
The girls are all part of the house. It was fine acting with them. Anushka appears in the flashback.
'Nagavalli is a good script for the Telugu audience'
Last updated on: December 15, 2010 10:34 IST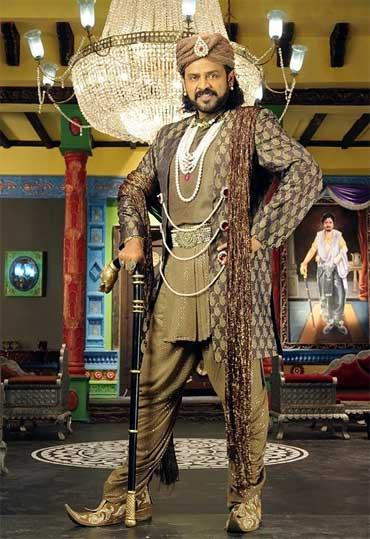 How was it working with P Vasu after a gap?
He gave me a hit a few years ago. We tried working later but nothing worked. When he said he was doing the sequel, my brother and I evinced interest in doing it. Vasu was sure how to make the sequel interesting and successful. It is a good script for the Telugu audience. The energy level was high and doing it was challenging.
Where is the film shot?
It's shot in Vizianagaram, Mysore, Bengaluru, Vadodara, Araku and Badami. We had some lavish sets in Hyderabad. We didn't go abroad.
'We have done good work'
Last updated on: December 15, 2010 10:34 IST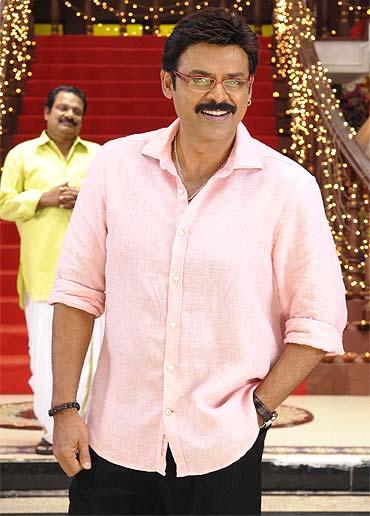 The posters and stills seem intriguing...
In the first promo, there's a painting of Nagavalli with the words 'She's back'. There was interest generated among fans and public. At the logo launch, there was no face of Nagavalli shown. At the audio function my face was revealed. Then a teaser of 30 seconds with just visuals, laughter and music was shown. Then the theatrical trailer came. It was a planned promotion.
There were rumours of accidents, spooky things because of a ghost...
There were no such incidents.
Are you happy with the way the film has come about?
We have done good work. It's created a buzz.
You seem to have a few films on hand like Chandu Yeleti's, Telugu remake of the Malayalam film Bodyguard to name a few...
Yes, there are some films. Each is a different character. The script work on films by Chandu, Trivkram and Teja is on. I need to take off time to work on each character. These films will perhaps take off next year.