'I'm not very fond of the word Tollywood'
Last updated on: February 10, 2010 15:23 IST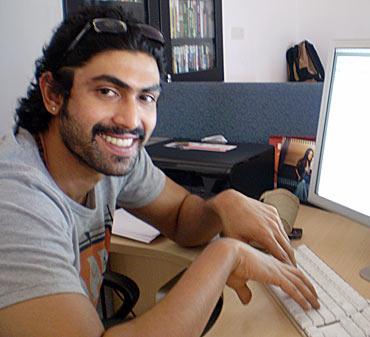 There's much buzz about Sekhar Kammula's Telugu film
Leader,
releasing on February 19.
And much of that buzz is generated by the leading man, Rana Daggubati. The tall grandson of veteran producer D Rama Naidu, son of producer Suresh Babu and nephew of superstar Venkatesh, will make his acting debut with this movie.
But this is not his first brush with cinema. He made a mark in a different way as an entrepreneur, who ran Spirit Media (which specialised in visual special effects) before he turned actor. Rana also produced the Telugu National Award-winning film Bommalata- A Bellyful of Dreams in 2007. The film fetched child star Saikumar the Child Actor's Award as well.
Rana is also starring in Bluffmaster director Rohan Sippy's next co-starring Abhishek Bachchan.
The actor's popularity was more evident when he came on rediff chat on Tuesday. For those who missed it, here's what transpired:
Rana says, Hi, this is the first time I'm going to chat. Might be a little slow in replying, so please bear with me. Looking forward to answering your questions.
kali asked, hai rana how r u? i am so waiting for u r leader mvoie all the best for u r future projects also
Rana answers, Thank you so much Kali. Leader's releasing on Februatry 19. Please post your comments of the film on my blog www.ranadaggubati.com
Suren asked, Rana r u gng to work with Abhishek Bachchan?
Rana answers, Suren, Yes, in Rohan Sippy's next.
Chandu asked, Y is the delay in release ???
Rana answers, Lots of reasons -- political, technical and others. Sorry for the delay.
siva asked, Hi Rana , what kind of film Leader is ?
Rana answers, Leader is a political drama dealing with current political wants of the people.
suresh asked, my question to you is why so much gap between audio release & film release
Rana answers, There is no hard and fast rule about time between an audio release and a film release. Since the music is more in a classic genre we wanted to give more time for the music to settle in.
karthik asked, How are you going to plan your career is it going to be a safe route like venkatesh or wd u take few chances to make intelligent script based movies..
Rana answers, I'd like to do as many genres as I can.
Uday asked, Hai Rana you are looking very handsome and stylish. If you have any dream project in you mind ?
Rana answers, I'd love to do an adventure film.
yateesh asked, All the Very Best in your career
Rana answers, Thank you.
Ram asked, Why do yesteryear Star Sons could not speak Telugu and the present generation star sons keep focusing more on the Telugu Language. is that new found love for the Mother Tongue or is it the way to attract the masses?
Rana answers, Most of the senior stars grew up in Chennai as the film industry was always there. But most of us grew up in Hyderabad, so we naturally spoke the language.
anudeepa asked, Hi Rana garu watched your interview on MAA TV, You seemed quite like a chilled out person.How are you in real life.
Rana answers, Exactly the way I am on TV ;-)
Susmitha asked, Ur teaser made me to check out ur face...uhhhhhhh....surprised to find a hot hunk in telgu land....u rock ranaa....all the very best buddy for all ur future projects....
Rana answers, Thanks, hope you liked the other promos as well.
'Leader is unique'
Last updated on: February 10, 2010 15:23 IST
Rakesh asked, Do u think that taking a project related to politics is risky, being a first film ?
Rana answers,
Not at all. I believe that any film that has an honest approach to its storytelling works with the audience.
Daya asked, rana any plan to work with u r chinana veky
Rana answers, I'd love to.
Ravaddu asked, Hey, leader don't imitate anyone. So be yourself. not like others.. you know what i mean.
Rana answers, The film is unique. I'm playing the character written by Mr Kamulla.
chandutatineni asked, Hi Rana, I believe your Leader will not be a regular Telugu movie with 6 songs & 6 fights. I wish at least new generation actors like you should try doing good meaningful movies.
Rana answers, Thank you. We need audiences like you to support new cinema.
Rakesh asked, Who is u r fav actor in telugu industry a part from Venki.........?
Rana answers, Mr Kamal Haasan.
Rohit asked, Hi, whats your take on multi-starrer films? Dont you think multi-starrers are main reason for growth of any industry? Please dont say that we dont have stories. There are lots of novels in lots of languages. Please give me a practical answer :)
Rana answers, There have been a lot of multi-starrers in the past. It started with Mr Kamal Haasan, Venki's Enadu and now with an upcoming film called Vedam. It's definitely interesting material. But it does not lead to growth in the industry.
AnjaniPrasad asked, Hey Rana, Firstly Welcome to Tollywood! I came to the Audio Function of LEADER thru Shekar's Wife...as she was our Neighbor in Vizag! Allright coming abt the movie...wot can i expect?? Is it mainly the story line or direction or urself?? And how far has the movie with Rohan Sippy come? Regards and All The Best!
Rana answers, Thank you. Please do not use the word Tollywood. I'm not very fond of it. I don't think we should ape other industries. The story of the film is what you need to look out for. The story is bigger that the actor, director and everyone else.
BCP asked, Hi Rana...How are you doing? Do you have experience in acting before? How did you get in to Sekhar Kummala's film?
Rana answers, I've trained in acting at Barry John's acting workshops in Mumbai. When I returned to Hyderabad, Skekargaru pitched the story to me and I went forward with it.
RaviB asked, Rana, Good luck with your film! My question is - What direction do you see Telugu Cinema going towards? Do you see any significant change? What is it?
Rana answers, Sir, change is constant. I'm just hoping it is for the better. ;-) Will post more soon on this.
'My height is my biggest advantage'
Last updated on: February 10, 2010 15:23 IST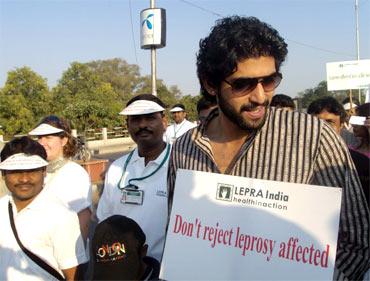 anudeepa asked, Do you feel your height would be a minus in Telugu Film industry ?
Rana answers,
That's one of my biggest advantages.
avik asked, hello Rana,I am extremely sorry that I am not a viewer of Telegu film as I don't understand the language because I am a bengali,But I have a question to ask you? Is there any difference you find in between Hindi andTelegu Films? Do you have any chances or wish to join the Bollywood?
Rana answers, Yes, there's a lot of difference in the cinema and storytelling process. I am doing a Hindi film this year with Mr Rohan Sippy. Our film has a Bengali girl. So it's a must watch for you.
sunil illuru asked, Hi Rana, Do you believe in spirituality like the way your father believes in?
Rana answers, Yes, I do,
Badboy asked, Hi Rana garu....we came to know that after the T-issue certain part of u r film is reshot again...is it true?
Rana answers, No its not. The release was moved up and down but the film and it's creatives were always locked.
SharmaSK asked, Hi Rana, This is Sharma here and its great to see another youngster making strong inroads into Tollywood..Having done your maiden venture with Shekar garu, you look much more promising for us...We are all proud to have a director like Shekar garu in Tollywood...I would like to ask you about your professional relation with Shekar Kammula sir and the way he has influenced your Acting skills and I would like to wish you all the very best in your Debut film..!!
Rana answers, I am proud as well to be part of his film. He's been a great man and helped me discover myself and the actor in me.
Ram asked, About the word Tollywood usage, why can't bigshots in the industry or the new generation like you, Allu Sirish etc try to get one brand name instead of Tollywood?
Rana answers, I don't use the term myself and I stop most press and other media that uses it around me. Will post your query to the others.
Janet asked, Hi, hw u find this profession than any other.....Y films not politics....???
Rana answers, I understand cinema but I still don't understand politics completely.
venkatesh asked, "Spirit" is not in news .Why?
Rana answers, Spirit Media has been merged with Prime Focus. Now the entire team operates as Prime Focus.
Rakesh asked, Can we expect any Multi Hero Movies from u atleast?
Rana answers, 100%. I'm just trying to find the right material.
Swapna asked, Could you tell us about the movie. What msg does the movie convey to the audience
Rana answers, The movie does not convey a message, but a solution and a wish-list of how a politician should be. And speaks about the differences between a leader and a politician.
'You will not see me dancing in Leader'
Last updated on: February 10, 2010 15:23 IST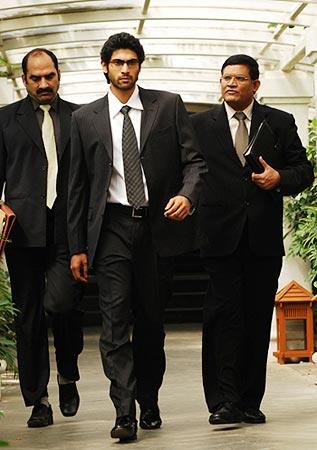 Vinciban asked, Can we see you dancing in leader?
Rana answers,
No, not in
Leader
but in the next film for sure.
Muni Babu asked, Hi Rana I am Muni from bangalore
Rana answers, I'm Rana from Hyderabad ;-)
krish asked, hi rana,dude u website is fascinating dude
Rana answers, Thanks dude.
jack123 asked, da maire...ninakku vere paniyonnum ille?
Rana answers, Edi da yai vela ;-)
vks asked, Hi Rana, Younger generation like you should take telugu cinema to next level. Do more experimenting and make better movies? Not like the previous generation who concentrated more on commercial movies. I liked your start. Wish you all the very best for your career.
Rana answers, Thank you. Will keep your words in mind.
Mahendar asked, Where did my Q go? "Is the movie against telangna ? i am asking becuase i hear 2 songs in favor of United AP. one of them is Maaa Telugu Thalli ki ..... "
Rana answers, Sir its Maa telugu talli not Andhra talli. And it's a song for Telugu-speaking people.
raaj asked, would you suggest a new enterprenuer to enter DI market?
Rana answers, Please no. I left the market.
kaith asked, Hi Rana, I am your fan from Saudi Arabia. I am so excited to chat with you. its like dream come true!!
Rana answers, Thank you. Will find more forums to stay in touch.
raaj asked, Was it challenging as a businessman or as an actor?
Rana answers, Both come with challenges, highs and lows but both are special for me.
anudeepa asked, Rana garu .. Are you open to try roles with grey shades ?
Rana answers, Would love to do them. Why grey? Why not complete black?
cherukuri asked, hi leader rana, i wish yu make foothold in hollywood ? are there any plans . may be bollywood would be better for now but not tollywood why dont yu work with varam garu ?iam shravan cherukuru FROM NY KEEP GOOD WORK LAD
Rana answers, I'd love to. Thank you for the kind words.
wholecube asked, Hi Rana....What else are you called? (nickname?)
Rana answers, I think Rana is a small name by itself. Most friends from Chennai call me RD.
raaj asked, Hi what is your say on today's DI market?
Rana answers, Today's DI's market is getting more settled in but....this is not a good time to start.
RanaFan asked, I Whould like to see you with Venky in next movie Brother
Rana answers, Not next but soon for sure.
Mahendra Babu G asked, what is your view on politics?
Rana answers, We need a leader.
AVATAR asked, hi rana,good luck for you future. i would love to see you in TAMIL movies. any idea ?
Rana answers, I'd love to do a Tamil film as well.
newton asked, Your first film, comes up with lot of expectations, even as shekar kammula had all 3 hits. What are your expectations?
Rana answers, I've worked for a year for this film and gave it my best. Just hoping all of you like it.
navei_k1827 asked, Hello Rana I Hear that Charn n Ur Class Mates is it Real r Not?
Rana answers, Yes, we were from class 6.
'You can see me as a director in future'
Last updated on: February 10, 2010 15:23 IST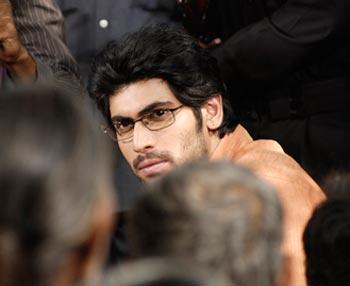 prasad_saka@rediffmail.com asked, are you planning to be the next cm of andhra
Rana answers,
Trying to be an actor for now.
Chandu asked, Rana when will you marry?
Rana answers, When I find the right girl.
Uday asked, Hai Rana Who is Your Fav Heroine in Telugu
Rana answers, Sridevi.
anudeepa asked, Thanks for your reply ..:-) One last Question, Seriously How tall are you, Just now checked your photos of ur walk on leprosy day, You look Soooooooooo tall ? are u something like 6'5 ??
Rana answers, I'm 6'3.
srk asked, wish you would make a lot of films, even small budget good and meaningful movies with good stories in parallel with commercial cinema like the old actors did.
Rana answers, Yes I'd love to do many films like that.
mohanarts asked, hi rana, whats your next project now after leader? Please dont take so long time for one movie next time
Rana answers, I promise I won't.
kesani asked, I used to see him while walkinig from your Gym at Suresh Guest House. I met him two or three times in the guest house opposite to your Suresh Guest House. BTW We are planning the LEADER screening in Singapore. All the very best for your film career. Atleast from now on We are going to witness some meaning ful and technical movies from the younger generation. Cheers
Rana answers, Thank you.
Suman asked, can we see you as director in future?
Rana answers, Yes sir.
reddy amar asked, Suresh productions is known for introducing and encouraging new heroes to industry like srikant,suresh,harish etc.after your entry in to tollywood,you have 2 actors in your family. can we expect films and encouragement to other heroes as happened earlier.I would like to know your opinion as well.
Rana answers, SP is a company that's bigger than its two actors. The company will continue to make films with whoever suites the stories.
Rakesh asked, U like cricket? any way sachin made his 46th ton
Rana answers, I love the game. I am Indian. What do you expect?
Rana says, It was great chatting with you. Hope you guys watch and enjoy the film. Will get on to more forums to stay in touch. Best wishes, RD.