'I'm not inclined towards commercial cinema'
Last updated on: January 20, 2011 10:18 IST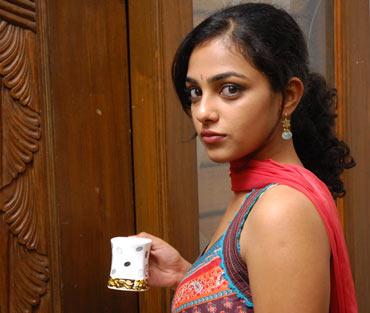 Nithya Menen's very first film, Aakasa Gopuram was opposite none other than Malayalam superstar Mohanlal.
Subsequently, she has done interesting Malayalam films, the last one being Kerala Caf (a bouquet of 10 stories strung together. Her segment Happy Journey was directed by Anjali Menon).
The journalism graduate was spotted on a tourism book cover by Mohanlal and asked by the superstar to act. More Malayalam films followed till she signed Ala Modalaindi, her first Telugu film directed by Nandini Reddy.
The pretty actress talks about her experience of Ala Modalaindi and more.
You have been acting in Malayalam movies so how did the Telugu film Ala Modalaindi happen?
It was completely because of Nandu (Nandini Reddy, the director) and of course the script. We are good friends. The script was different from what I have done so far. I wanted to do meaningful films and was not inclined towards commercial cinema. This was a good film.
Did you agree to the film after Nandini's narration?
I enjoyed listening to the story. It was a funny story. Nandini is funny, so I was cool about the film.
'I felt the role was made for me'
Last updated on: January 20, 2011 10:18 IST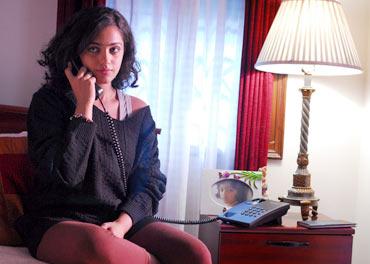 What is it that you liked about the role? Is it different from what you have done so far?
The story was fresh. It was a love story told differently. It came from the heart and I connected with it. I felt the role was made for me.
How difficult was it to speak Telugu?
Since I am familiar with other languages, Telugu wasn't new so it  wasn't difficult. I have heard my Dad speak it. My best friend speaks it as well. I insisted my staff speak to me in Telugu though they would speak to me in Hindi. I have also dubbed the dialogues and sung two songs in the film.
'I rank films I've done with women very high'
Last updated on: January 20, 2011 10:18 IST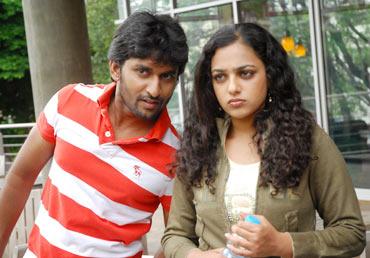 Nandini too makes her debut as a director. How was it working with a woman director?
I have worked with a woman -- Anjali Menon -- before. I am working with Anjana Ali Khan in the Tamil film Veppam. Working with a woman is the same. If you have an issue, you can talk to them. I rank films I've done with women very high. They are the best films because the directors are sensitive and intelligent people.
It is difficult to separate the fact that Nandini is a friend. We've chilled out together. She is very accommodating. We used to discuss everything. The film is close to her as it's her first. I gave her what she wanted, I guess.
Could you talk a bit about the role?
It is a normal story, not one of love at first sight. It's the tale of a simple girl from Bangalore with roots in Hyderabad who meets the guy here. She has a mind of her own. She does crazy things and has a strong opinion and principles.
'I am open to doing more Telugu projects'
Last updated on: January 20, 2011 10:18 IST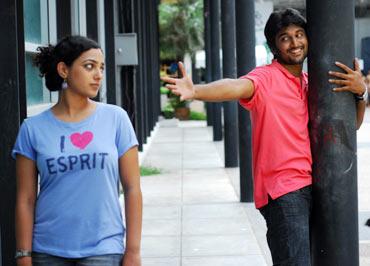 How was Nani as a co-star?
It wasn't just Ala modalaindi we were doing together. We were also shooting Veppam. We are friends and share a comfort level which shows on screen.
Are you open to doing more Telugu projects?
Yes, I am open as long as I get good stuff.