Top Kannada Actors of 2010
Last updated on: December 15, 2010 10:44 IST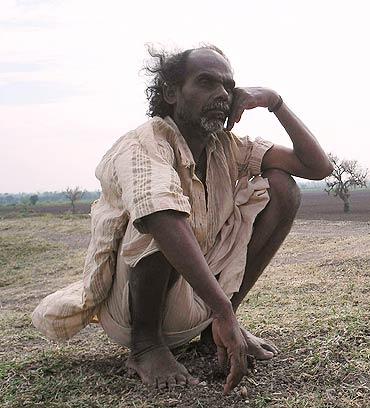 Hits and flops notwithstanding, we list for you some of the best performances the Kannada audiences have witnessed in 2010.
These are heroes who did more than 'fighting' or 'singing' in their films. Here's a look.
Actor: Biradar
Film: Kanasemba Kudureyaneri
He is one of Kannada industry's most visible comedians. In his own words, the actor had even resigned himself to comedy roles for the rest of his life. But his dreams of emerging a full-fledged actor took flight with Girish Kasarvalli's Kanasemba Kudureyaneri.
The actor who was wasted in a few minutes long comic sequences so far, proved his caliber as the grave digger Irya in Kanasemba Kudureyaneri.
Biradar's looks, expressions and body language as Irya, a believer of Siddhas -- nomads whose arrival is considered auspicious -- goes a long way in making the film a success. He is particularly good in a scene where he is thrashed for trying to reveal the truth about the death of a village elder.
Biradar is one man who can both make you cry and laugh with ease.
Puneet Rajkumar
Last updated on: December 15, 2010 10:44 IST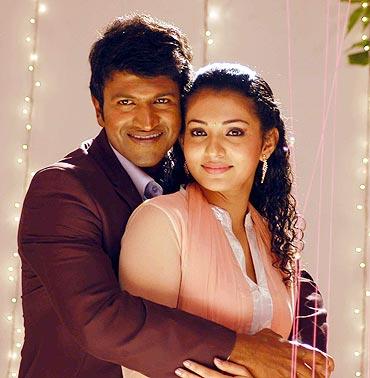 Film: Prithvi
Puneet Rajkumar broke away from his onscreen college and lover boy, and porki images with Prithvi. The experiment was totally worth it as the actor came out with flying colours.
Puneet played the role of an uncompromising DC in the film. His measured acting and mannerisms made him look every bit an uncompromising official. He was good in well shot action sequences too. The actor had also retained the chemistry with his Milana co-star Parvathi, who played his wife in this film as well.
While Jackie, his other movie this year which became a super hit, saw him in his comfort zone, it is for his performance in Prithvi that he deserves true credit.
The actor will next be seen in
Hudugaru,
a remake of
Nadodigal.
Sudeep
Last updated on: December 15, 2010 10:44 IST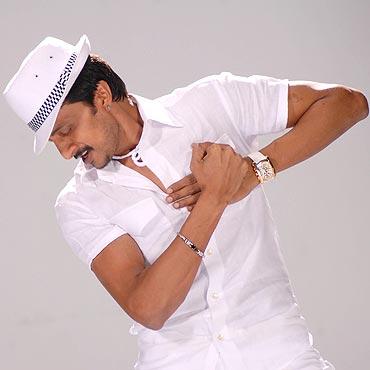 Film: Veeraparampare, Just Math Mathalli
Sudeep had a good outing this year. He opened this year's account with his own directorial Just Math Mathalli. While the response to the film failed to match expectations, Sudeep's performance as a recluse on one hand and a flirtatious musician on the other, did get noticed.
His next release Kichcha Huchcha was also opposite Ramya. While the remake was a big letdown, Sudeep stood tall in his role as a henchman.
His other big release Veeraparampare saw him come together with S Narayan for the first time. He had veteran actor Ambareesh as his co-star.
It is his acting prowess that got him noticed in Hindi film Rann as well. He was also seen in Raktacharitram. Sudeep's acting talent has now got him a role in Rajamouli's Telugu film Eega. Kepmegowda, a remake of Singam is among his other Kannada releases.
Experimentation has been this actor's hallmark and he is someone who has a following among the classes and the masses.
Diganth
Last updated on: December 15, 2010 10:44 IST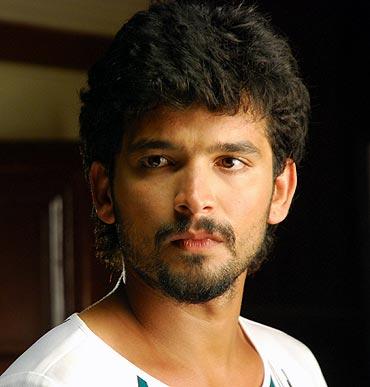 Film: Pancharangi
As a Kannada loving literature student in Pancharangi, Diganth came out with one of the best performances of the year. His acting in the film surely shows that he has come a long way from his Miss California days.
Diganth has now shown that there is more to him than good looks, link ups and controversies. His portrayal as an aloof college goer with cynical views on love and life in Pancharangi sure earned him a few more fans. His forte, comedy showed through this film.
Putra and Jolly Boy are among his upcoming releases.
Ajay Rao
Last updated on: December 15, 2010 10:44 IST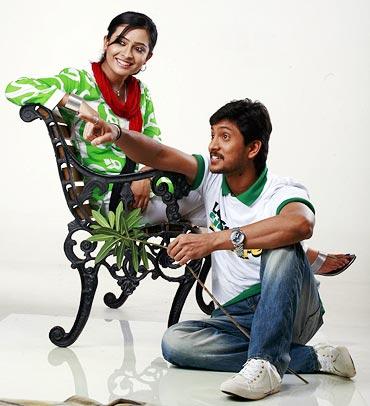 Film: Krishnan Love Story
Teaming up with director Shashank for Krishnan Love Story came as a saving grace for Ajay Rao. The film which was sprinkled with reality, struck a chord with the audience. Ajay playes a deeply in love and forgiving boyfriend in the film. His portrayal won him a lot of fans.
The actor's restraint performance, action bits and comic timing with Sharan also got noticed. Such was the popularity of the film and the role that director Shashank is even considering a sequel. But before that we will see him in Krishnan Marriage Story.