Venkat Prabhu's holiday in Goa
Last updated on: January 27, 2010 16:22 IST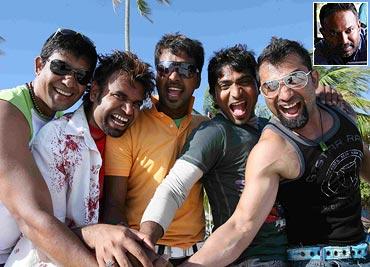 After making two successful films -- Chennai 600028 and Saroja, Venkat Prabhu is back in action with a fun film, Goa. An interesting aspect about Goa is that it is the first production of Soundarya Rajnikanth's Ocher Studios.
As the Tamil film gets ready to release on January 29, Venkat Prabhu talks about the film.
After Chennai 600028 and Saroja, is it going to be a hattrick of hits  for you?
I really hope so! On a serious note, it all depends on the public though I hope for a hit!
Was there any difference in the way you thought and worked while making your first film and now, Goa?
I think when you make a film, whether it is the first or the second or the third, you want it to be successful. The difference in Goa is that I have tried love as the theme for the first time. I haven't touched that emotion much in my last two films.
Goa is not a thriller or action film; it is a love story. I think it will be a new genre for Tamil.
You mean even though its a love story, it will be a new genre?
What I mean is, it is not a typical love story. It is a different kind of love story.
'Goa is a story nobody has touched so far in Tamil'
Last updated on: January 27, 2010 16:22 IST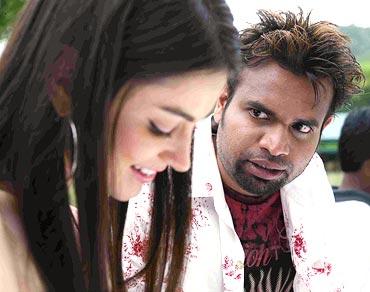 What is the difference about Goa?
You will see all sorts of love in the film, and also all sorts of troubles. It is a story nobody has touched so far in Tamil.
Is it in the commercial format?
It is a very commercial film. It is something in the genre of Road Trip, Hangover, etc. By saying that, don't think Goa is a copy of these films. No, its not a copy. It's only in that genre.
Why did you decide to have Goa as the backdrop of your film? Is it because Goa is not shown much in Tamil films?
No. Goa fits into the concept of the film. I went to Goa for the first time when I was to shoot the film. I had heard a lot about the place but never gone there till then.
The idea of the film came from actor Sampath [who acted as a villain in Saroja]. I know him from 2003 when we acted together in a film called Niranja Manassu. It was Samuthirakarani's [of Nadodigal fame] second film as a director, and Sampath's first film as an actor. He used to talk to me about story ideas, scripts etc. At that time, I had no idea about becoming a director.
He used to tell me a lot about Goa because he is a Bangalore guy and used to frequent the Goa beaches a lot. It was then that he gave me the idea of this film.
After doing Saroja, I thought I would do something different and simple, and Goa is a fun destination for everyone from all over the world. It's in India and we have not explored it properly. I wanted to do a fun film, and Goa fitted the ambience perfectly.
'The whole film happens on a beach'
Last updated on: January 27, 2010 16:22 IST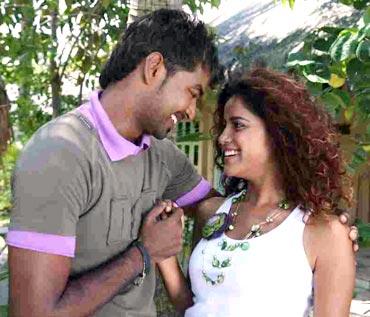 You said you hadn't gone to Goa before the shooting. How did you then write the script of a film that is based in Goa?
I wrote it in such a way that the backdrop is a fun destination. I have been to many beaches that are fun destinations in the UK, which is like Goa where a lot of parties happen on the beaches. I wrote the script with those images in mind but then I had to make some alterations after seeing Goa. The whole story of the film happens on a beach. We have a casino sequence in Goa which I didn't have in mind before going there.
Could this story happen in any beach in India? For example, Kovalam in Trivandrum?
Goa and Kovalam are different. Goa is unique in a way and much bigger than Kovalam. It has got everything there -- lazy beaches, party beaches, casinos -- everything which we don't have in any other part of India.
Was it fun shooting the film?
Absolutely. We had great fun shooting in Goa. When we started shooting in Goa, the monsoon started and that was how  the delay happened. So, we moved to Lankavi in Malaysia.
Why did you decide to start during the monsoon?
My producer was ready with the finance only then!
The promos of the film say, A Venkat Prabhu Holiday instead of A Venkat Prabhu film...
It is a fun film. Like we had fun shooting the film, we expect the audience to have fun watching the film, as if they are on a holiday in Goa!
'When Rajniknath's daughter is the producer, the focus shifts'
Last updated on: January 27, 2010 16:22 IST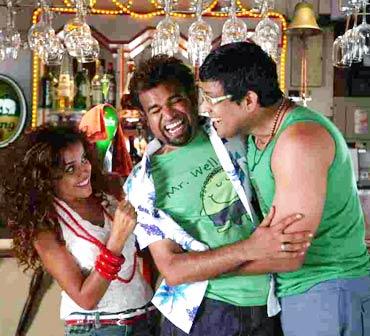 Your brother (Premji) is a constant in all your films...
It's much easier to get his dates [laughs]. The only person who had date problem was Sampath. He was working in a lot of films. But he did a lot of things for us because he loved the script and his character; in fact, everybody did. We had so much of fun working!
What about foreigners? Did you pick tourists and made them act in the film?
We hired actors even for the background. We hired a lot of white extras. The white girl I am introducing is an actress from Australia. Her name is Melanie Marie. She is one of the lead in the film.
Goa started off as a Venkat Prabhu film. Now, the focus has shifted and become a film produced by Soundarya Rajnikanth. Do you feel perturbed about this development?
Obviously when Rajniknath's daughter is the producer, the focus shifts. Soundarya is the daughter of the super star of India. She has the advantage of the surname. She has a big name and a very big surname! I also have a name for myself... When she approached me itself, she wanted my kind of film -- a Venkat Prabhu film -- with my boys and not a film with big artists.
How was she as the producer?
She supported the film completely and I am happy about it. She was not interfering. She has a good knowledge of computer graphics. So, only the CG part, she helped me a lot.
'My next film will be on ghosts'
Last updated on: January 27, 2010 16:22 IST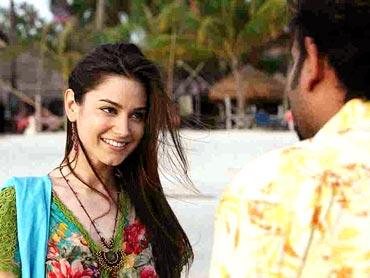 There were reports about a ghost visiting your crew. Is there any truth in it?
Yes, Piaa had an experience with a ghost where she was put up.
Do you believe in ghosts?
If you believe in God, you can believe in ghosts too [laughs].
Has this incident given you an idea to make a film on ghosts?
Yes. My next film will be on ghosts [laughs].
You told me when we first met that you were nervous before the release of your first film, and that it was like waiting for your first child to be born...
Yes, the feeling is still the same. I am nervous. Now, I am waiting for my third child to be born [laughs]. But I feel people will like it.
The success party after Chennai28 was a cricket match. What will it be this time?
Perhaps a beach volleyball match! Or surfing!