'It was challenging to play a tomboy'
Last updated on: October 16, 2012 10:57 IST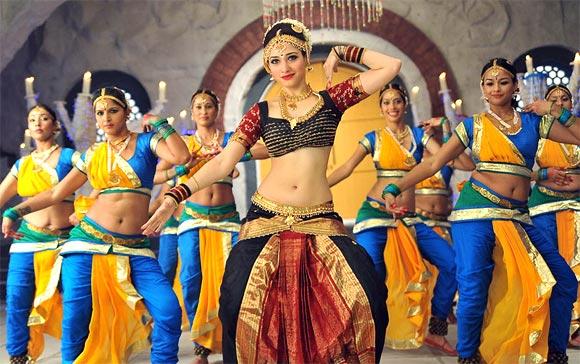 In the last two years, Tamannaah Bhatia has worked at a frenzied pace. She has done six Telugu films--100% Love, Badrinath, Oosaravelli, Rachcha, Endukante Premanta and Rebel.
The pretty actor talks about her seventh release, Cameraman Gangatho Rambabu (hitting theatres on October 18). It is her first film with Pawan Kalyan and Puri Jagannadh.
Was Puri Jagannadh's direction the deciding factor in your signing Cameraman Gangatho Rambabu (CGR)?
Most definitely. I'm a huge fan of Puri Sir and I like his movies. He knows the pulse of the audience. I'm glad CGR happened.
You play a media cameraman. Could you talk about your role?
Yes, I play a media cameraman. These days with the kind of cameras available, it's easy to hold and shoot.
It's more than just holding the camera. It was about imbibing a new character with a new body language.
It's a tomboyish character in the film. I followed Puri Sir's own body language, imbibed it, and brought out my own.
'Pawan Kalyan has an unprecedented fan following'
Last updated on: October 16, 2012 10:57 IST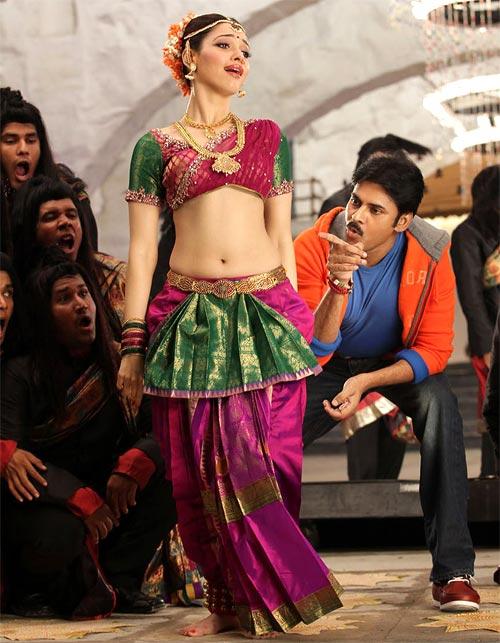 How difficult was it to play a tomboy?
I found it challenging. The walk, the speech etc had to change. Luckily there's also a lot of comedy in the character.
This is your first film with Puri Jagannadh...
It's been an absolute pleasure working with Puri Sir. The atmosphere on the sets was calm. I had something to do in every scene. There was content.
Puri Sir is a good writer and a good dialogue writer too. People can relate to the dialogues in the film and it will touch them too. The dialogues are not preachy but well meaning.
You are also acting with Pawan Kalyan for the first time.
The fan following he has is unprecedented. When he is in front of the camera, he gives his best. You don't feel he is acting, you feel he's saying the lines really to you (co-star) and he means it. 
If I as a co-star feel it, on screen also it will be believable. There is that honesty. That's what makes him special.
He's cordial and spontaneous. He doesn't rehearse much. Spontaneity adds a certain flavour. It was a new experience for me. One can be spontaneous and bring out something with a spark. Whenever we got an opportunity we spoke. It was a pleasure talking to him.
'I have not dubbed for the film'
Last updated on: October 16, 2012 10:57 IST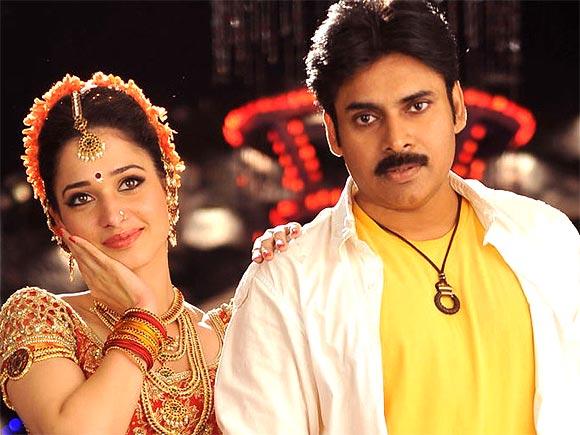 What's the film about?
It's about the media. It is character driven and the audience can relate to it. For a change, I got to be on the other side. It's a different perspective. It was an interesting experience.
Did you dub your voice in the film?
No, I didn't.
What are the plus points of the film?
The film is well written. What excited me were the dialogues which I could connect with and audiences can too.
You have done six films in the last two years. Which films and characters have given you the most creative satisfaction?
100% Love, the first of these six films was crucial and it satisfied me creatively too.
Oosarvelli too had a substantial role which was creatively satisfying.
Have you signed any more films?
I will be working with Naga Chaitanya on the Telugu remake of the Tamil film Vettai. The shoot has begun. I haven't signed any more films.