'Arumugam is a clean entertainer'
Last updated on: September 22, 2009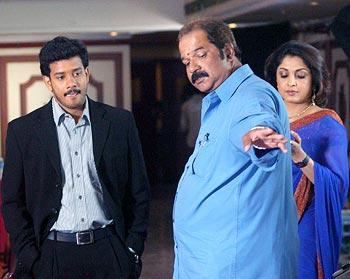 Suresh Krissna [in blue shirt] is a top-notch director who has directed some of the biggest stars from the south as well as Hindi.
His latest movie is in Tamil titled Arumugam starring Bharath, Priyamani and Ramya Krishnan which hits theatres on September 25. He took some time off to speak about Arumugam.
You are returning to Tamil films after a gap of two years... Is it because you were busy with the Telugu film Mestri that took you so long to make Arumugam?
Actually the shootings of Arumugum and Mestri ran parallel. Arumugum was scheduled to be released in May. But there was a personal tragedy for the producer of Arumugam that the project got delayed by a few months.
I keep shuttling between various languages. Hence, there is always a delay between two films in a given language.
'There will never be an over dosage of masala'
Last updated on: September 22, 2009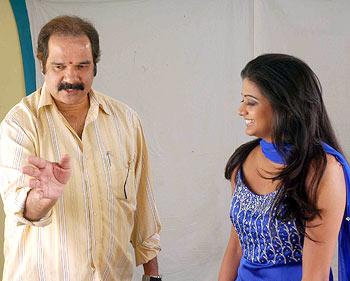 Arumugam is supposed to revolve around the story of a boy who fulfills his mother's dream. The protagonist has to contend with a rich woman too in the film. How have you developed this film as the theme is an explored one?
All mass films are more or less on the explored themes. Even my film Baasha must have had some similarity to some old theme. It is the screenplay, the way we present it, is where the key is.
Arumugam is the story of a simple roadside idli seller, who loves his dead mother deeply. He cannot come to terms with her death. Ramya Krishnan plays a rich woman obsessed with her status. At one point of time, both clash. The reason, the manner, the style of presentation is what will be exciting.
Since the film is titled Arumugam is there a religious/devotional angle to it?
No. It is just the name of the hero.
Arumugam is said to be in your trademark style -- a full-on commercial entertainer...
Yes. But all my commercial films like Sathya, Indrudu Chandrudu, Annamalai, Veera, Baasha, Master all are commercial entertainers but done with a touch of realism. There will never be an over dosage of masala. It would be just right.
'I was apprehensive about casting Bharath'
Last updated on: September 22, 2009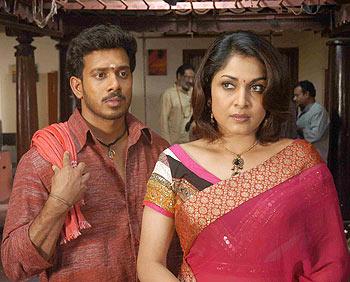 How did you choose the cast -- Bharath, Priyamani and Ramya Krishnan? Has Arumugam been made keeping the image of the actors in mind?
Actually Bharath had approached me to make a mass film in my style. I was at first apprehensive because Bharat was just 16 films old and had only done love stories and family-oriented films. To make a jump into mass arena was not easy. Making films with superstars had its own advantage. But then it was a challenge to make a mass film with an upcoming star. My writer, Rasheed Premjee and I decided to go ahead.
When the subject was surfacing, we wanted a powerful woman character as the antagonist. The only artiste that came to our mind was Ramya Krishnan and she was on a hiatus for the last 7 years. I had worked with her in Dharma Chakram long ago and approached her with the script. She liked it and agreed to act.
Once the casting was done, the toughest part was to make the clash look convincing. Ramya had already acted opposite Rajni sir [Rajnikanth] in Padayappa and won acclaim for that. How can a young hero be made to look convincing in such a clash? The only way was to have an author-backed script. The more powerful the hero's emotional drama, the more convincing will be the clash, so in a way, the image and the story went hand in hand.
Priyamani had just won the National Award when we signed her and she was eager to work in the regular commercial cinema. She was too willing to play the character of a bubbly girl who loves the hero immensely but in the second half, she turns serious.
'Priya Mani is the Smita Patil of our times'
Last updated on: September 22, 2009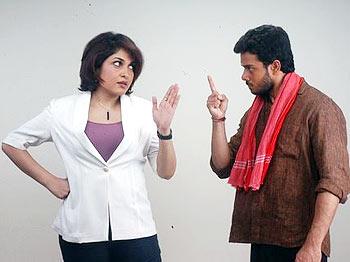 How was the experience of directing them since you have directed the top stars?
Bharath is a very ardent student. His biggest quality is his dedication. He keeps saying "Sir I have no godfather in this industry, I am fighting my own battle to glory". Hence, he would work hard, give his best shot, and be receptive to any good suggestions. Basically a director's actor.
Ramya Krishnan said in a TV interview recently (where I was also present) that Suresh is a very confident director, "he knows what he is doing, I had total faith in his ability, and now when I saw the film in the dubbing theatre, I knew my faith was perfect." 
I really thank her for the nice comments but then it is also vice-versa. I cast her for the role fully confident of her talent. Her amazing screen presence has many times, without my knowledge, sent me into raptures in the editing room. I am extremely happy with her superb performance.
Priyamani -- Oh! What an artiste! She just transforms herself into the role with ease. The film has a glamour song and a mass song and she did both with flying colours. She is the Smita Patil of our times.
'I call Arumugum a full meal film'
Last updated on: September 22, 2009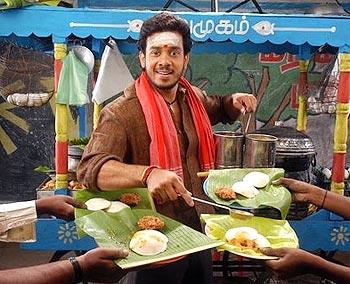 You are working with music composer Deva after a while. Why and how did you decide to choose him for this film? How has the music been received?
This is my 12th film with Deva. From Annamalai to Baasha to Aaha to Master and even in other languages like Malayalam and Kannada, Deva has been my favourite. Sometimes some producers have some favorites and they request for other music directors for which I have agreed. Otherwise my first choice has always been Deva. Our chemistry has always worked. Deva has not just done good work in my films but has also done some wonderful work in other films too.
When the mass film concept came from Bharath, he too did not object for Deva. He only wanted the magic of Deva's music in mass films to be recreated here. Yes, the magic has been recreated. The music has been received in a big way. Two songs are already topping the charts in all the FM channels.
Are you happy with the way Arumugam has shaped up?
Yes very happy. It's a clean mass entertainer. I call it a full meal film. [laughs]