'Acting as a transgender was challenging
Last updated on: August 9, 2011 11:00 IST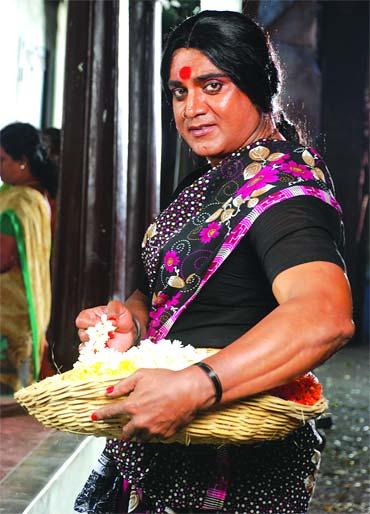 In a film career spanning more than two decades, Sarath Kumar has done 120-odd films, mostly in Tamil and a few in Kannada, Telugu and Malayalam. Recently, he surprised everyone by playing a small role as a transgender in the Tamil-Telugu film Kanchana, directed by Raghava Lawrencce, which has won him accolades from all quarters. He made a powerful impact in that role, championing the cause of transgenders.
On a whirlwind trip to Hyderabad to promote Kanchana, he spoke to Radhika Rajamani about his reasons for doing the role, his collaboration with Anupam Kher's acting school Actor Prepares, and wearing different hats as actor, politician and editor of two magazines Media Voice and Page7Seven.
The role in Kanchana is an unusual one. The character espoused a cause. Did that prompt you to do the film?
It was a challenging role. As an actor who has done a lot of movies and a number of characters, I always yearn to play challenging roles. This film had a great social message.
Being a guy who is socially conscious, I found this film had a great message about transgenders. I thought this is the right time to give the message to the audience.
'My wife is my biggest critic'
Last updated on: August 9, 2011 11:00 IST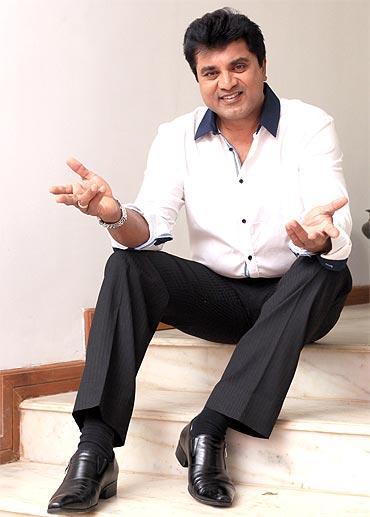 The character of a eunuch is not easy to play. Were there any reference points?
There was no reference point. I had just been observing these people. I was born in Delhi and in North India you do have a lot of transgenders. So I have seen them and observed them. There is this custom in North India where they dance with a new-born male child. They often come to our artistes' association and ask us for help, and we do help. All actors observe characters. I observed them.
How challenging was it to do the role by wearing all the paraphernalia like the bindi etc.
The first day was slightly difficult but an actor should get into any role. I found I could fit into the role easily. I forgot it was me. I started thinking of Kanchana from day one, that is, from when I started wearing the make-up.
You got good reviews and appreciation for the role. Were you happy you did it?
I feel happy and satisfied because appreciation is one thing any actor looks for. When so many people talk to you, it isn't flattery but reality. My wife is my biggest critic and she said the movie was good and I had done a great job. All the film fraternity, journalists, friends here and across the globe who have seen the movie told me, 'Sarath Kumar, you rock!'
'We should have finesse in performance'
Last updated on: August 9, 2011 11:00 IST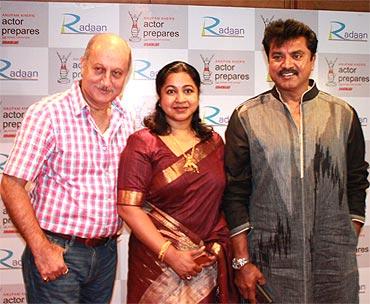 Did you receive any feedback from the transgenders?
No, because I haven't been in the constituency since the film released. I was back yesterday and I came to Hyderabad today. I should go to the theatres and see.
What are your future projects?
Vidiyal, where I play a dual character -- of father and son. Forty per cent of the movie is over. I am doing a Malayalam film Achante Aanmakkal where I am playing a police officer. I am doing a film with Venkatesh who gave four hits with me. I am the hero and the villain in that film. I am also working on another Malayalam-Tamil bi-lingual.
Any Telugu films in the offing?
Not yet. I may do a film with Raghava Lawrencce.
You and your wife have collaborated with Anupam Kher and opened a branch of Actor Prepares. What prompted this move?
We got Actor Prepares to Chennai because that was the need of the hour. The reason is everyone should have finesse in performance. Even if you know how to play proper cricket, you must learn the correct technique.
'I want to do challenging roles'
Last updated on: August 9, 2011 11:00 IST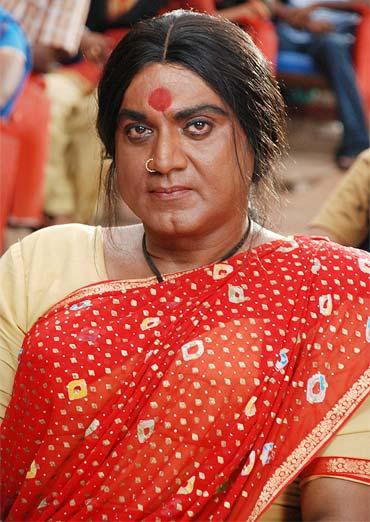 Do you think actors are born or made?
I wouldn't say they are born; they can be made. And that is exactly what Actor Prepares does.
How do you think the school is going to make a difference in Chennai?
It is on the same lines as in Mumbai. Professionals who want to learn to act and those who just have the yearning to act can spend two hours doing so. We will be teaching diction and languages -- Telugu, Tamil, Malayalam and Hindi. Actors can re-invent themselves. They can also take a refresher course.
You have acted in 120-odd films. How do you reinvent yourself?
By doing challenging roles. That is what I am doing now. Kanchana is one such challenging role, and I have succeeded. I should try to do more.
'I might do a Hindi movie'
Last updated on: August 9, 2011 11:00 IST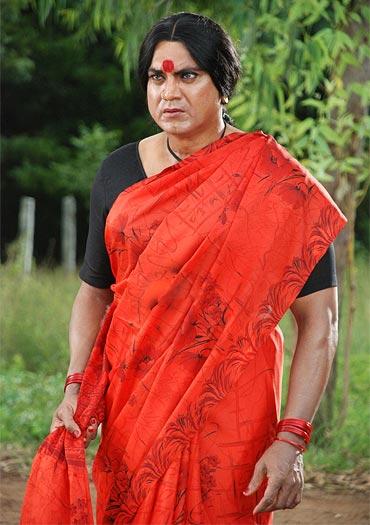 What more do you want to do?
May be a Hindi movie which I might do in December-January
How do you juggle the roles of actor, politician and editor?
Many people wonder how I do it. God has given me health and I do it. Time management is good.
Why did you start the magazines?
It was a passion. I started out as a journalist. I began as a cycle boy distributing newspapers and then was a reporter and was also in the marketing space. I had a passion to write and I am a writer too. I felt I should start writing and so I started my own magazines.