'Yeto Vellipoyindi Manasu is everybody's love story'
Last updated on: December 11, 2012 12:00 IST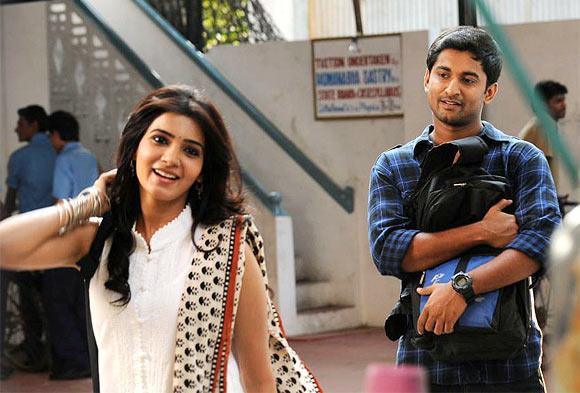 Nani is a happy actor.

After the hugely successful Eega, where his performance, though brief, was much appreciated, he has two more films on hand.

Gautham Vasudev Menon's love story in three languages, Yeto Vellipoyindi Manasu (YVM), has Nani and Samantha in the lead in the Telugu version, while the Tamil one has Jiiva and Samantha.

The Tamil and Telugu versions are releasing this Friday, December 14.

Just before Nani left for Dubai to shoot for Krishnavamsi's Paisa, he spent a few minutes chatting about his new film with Radhika Rajamani.
What was your reaction when Gautham Vasudev Menon offered you this film?

Gautham Menon had produced Veppam in which I had acted.

I wanted to work as his assistant director but that didn't happen. I was lucky and excited when I got the call. I went to Chennai for the narration.
'I want to work with Mani Ratnam'
Last updated on: December 11, 2012 12:00 IST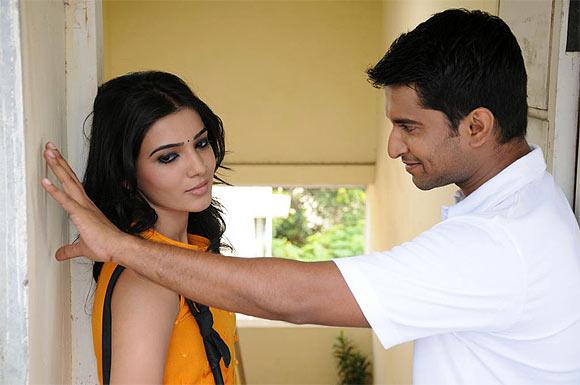 Did you listen to the story and say yes immediately?

As Gautham narrated the story, I thought it was a nice love story, so I agreed to do it.
Was it a dream-come-true to work with Gautham Menon?

Definitely. I want to work with Mani Ratnam too. Some other names are also there on my wish list.
'Everyone will relate to the film'
Last updated on: December 11, 2012 12:00 IST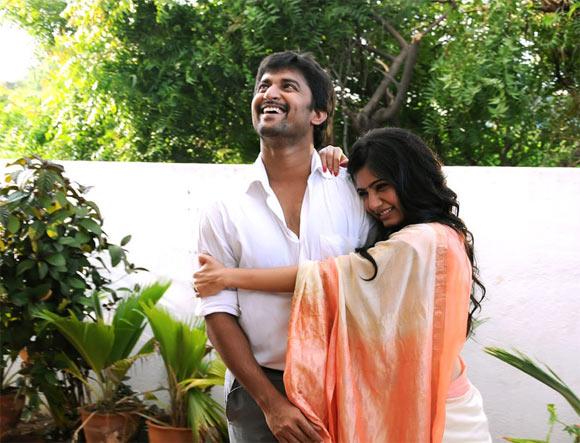 Yeto Vellipoyindi Manasu is a love story. Is it unusual in any way?

What happens on the screen is cute. The USP of the film is, it's everybody's love story.

Every guy will see Varun in himself and every girl will see Nithya in her. Everyone will relate to the film on several levels.

Is it a realistic love story?

When you are watching the film, you will feel it has happened to you. The film looks at three phases -- school, college and life after that.

People will definitely connect with the familiar emotions.
'Gautham Menon never underestimates the audience'
Last updated on: December 11, 2012 12:00 IST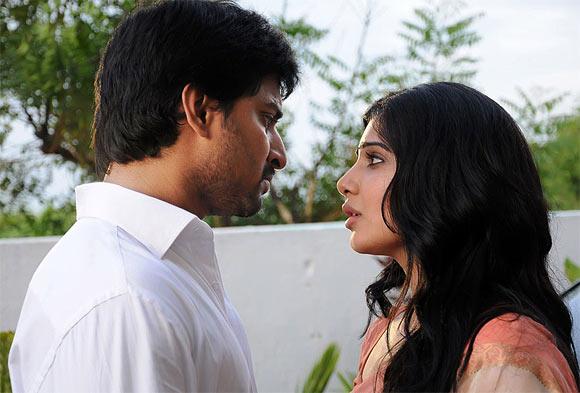 How is Gautham Menon to work with?

He is one of the coolest directors to work with. 

I was in sync with him as I had watched all his films. I knew what he wanted from me. He has clarity and that makes the actor's job easy.

He never underestimates the audience. He's a storyteller and he narrates the way he wants to -- gives it his 100 percent and puts his heart and soul into it.

You said it was easy to relate to your character. Could you talk about your character?

I play a middle class boy, which I completely connected with. 

It's the story of a simple guy who falls for a girl. He is a normal, good boy but with all these insecurities.

How was it working with Samantha?

This is the second film we have acted in together. She is a combination of glamour and performance.

This film has music by Ilaiyaraja. Does it have many songs?

There are eight songs. It's actually a musical, but at the same time, every song conveys something.
I got a lot of exposure because of Eega'
Last updated on: December 11, 2012 12:00 IST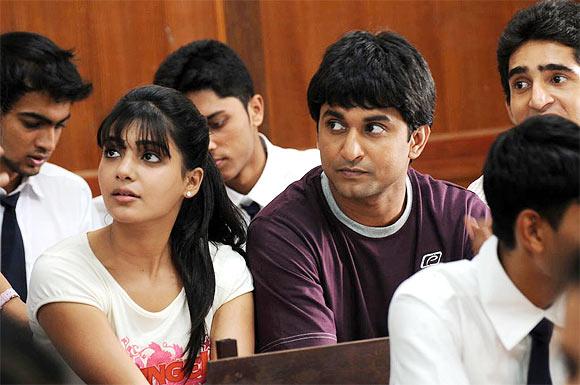 Eega has done extremely well. How do you feel?

It has been a huge adavantage. Children see the fly and think of me! I got a lot of exposure because of Eega as the film was released in Tamil, Hindi and Malayalam.

Everyone knows me; it happens once in a lifetime.

Opportunities are pouring in. I'm very happy. I'm close to kids who are the future audience.

You are doing Krishnavamsi's Paisa and you've also signed the Telugu remake of Band Baaja Baraat...

Yes, I'm also doing Samuthirakani's Jenda Pai Kapiraju.

About 30 per cent of the shoot of Paisa is remainign and the film is likely to release in early 2013.

Shooting for Jenda Pai Kapiraju has just begun and it's slated for a summer release.

You have had good directors such as Gautham Menon and Krishnavamsi etc so early in your career...

I feel extremely blessed. People say I pick good films. Rather, good filmmakers choose me. The directors come to me and I thank them for their trust in me.