Is this hottie Yograj Bhat's new heroine?
Last updated on: December 16, 2009 16:01 IST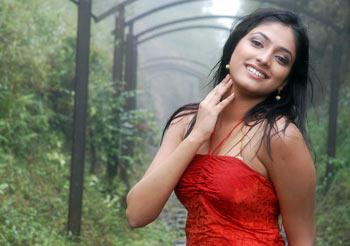 Hari Priya might not have achieved big success in her earlier Kannada releases, but that is all about to change as the actress may soon star in director Yogaraj Bhat's new Kannada film to be launched on January 16.
Presently the actress, who is also working in Tamil and Telugu films, has a Kannada film Kallara Santhe directed by Sumana Kiththoor releasing on December 18. She tells R G Vijayasarathy more about the film and her future plans.
Kallara Santhe is releasing this week. Your first two films have been box office disasters. What are your expectations now?
Yes, my two films did not run well. But I am extremely confident about Kallara Santhe which is a social and political satire written by Agni Sridhar. Since he is known for his realistic, hard hitting scripts and dialogues, I am sure that the audience will relate easily to the film.
Kallara Santhe
is the second directorial venture for Sumana Kiththoor who earned such a big name in her first film
Slum Bala
. Sumana Akka is like a elder sister to me. She taught me to emote perfectly for each sequence. Even the dialogue modulations were corrected. She is a cool customer and did everything in a pleasant way.
'I will certainly make the viewers laugh with my antics'
Last updated on: December 16, 2009 16:01 IST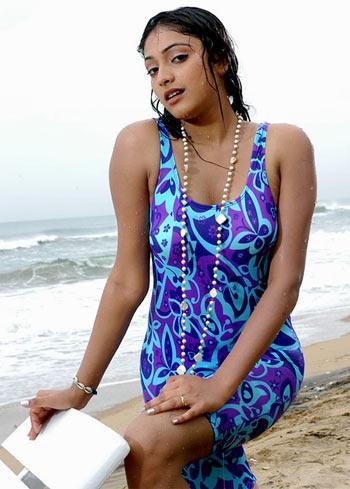 What is your role in Kallara Santhe?
Kallara Santhe has given me my best role so far. I will certainly make the viewers laugh with my antics. I play an ardent film fan who has a great crush on Darshan sir in the film. I am deeply in love with Yesh and want him to fight his adversaries for me.
My character in the film loves all the gangster films made in Kannada where the hero takes on his enemies with king sized swords. I am a dreamer and want Yesh to behave like Darshan. But Yesh is a well educated man with a rebellious streak and revolutionary thoughts. All in all, working in this film was the most pleasant experience for me.
'Dancing with Shivanna sir in Cheluveye Ninne Nodalu was a big bonus'
Last updated on: December 16, 2009 16:01 IST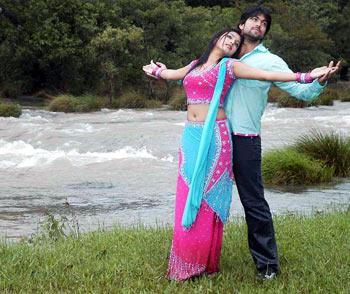 Cheluveye Ninne Nodalu, your other big film is also awaiting release in a few days. What would you like to say about it?
I have already completed shooting for the film. It will release soon. The audio is already getting a good response. I enjoyed working on it and touring many places. Dancing with Shivanna sir was a big bonus for me. As you know Sonal Chauhan plays the lead. I did not know that I would be part of two big dances until they were shot. The songs shot abroad were very good. One more attraction for me is that my favourite cinematographer Kabir Lal worked in this film.
I am paired with Prem and will be there throughout the film.
But the director of this film Raghu Ram says that you did not co-operate in a foreign schedule and wanted to move out to act in a Telugu film?
I don't want to say anything unpleasant at this point of time when the eagerly awaited film is getting ready for release. I can only say that the dates for the Telugu film were allotted months in advance and I could not do anything otherwise.
'I missed the chance to meet Kamal Haasan'
Last updated on: December 16, 2009 16:01 IST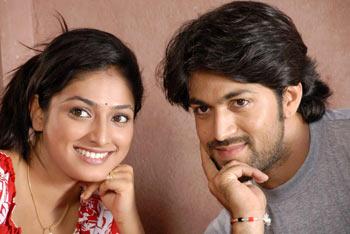 Thakita Thakita produced by Telugu actress Bhoomika is also getting released in a few days...
Yes, it will be a triple whammy for me. After Kallara Santhe, it will be either my first Telugu film Thakita Thakita or my debut Tamil film Kanagavel Khakka.
The audio of Kanagavel Khakka was released recently at a function in the presence of my favourite actor Kamal Haasan sir. But I could not make it to the function because I was busy shooting for my Kannada film Nandhe. I missed the chance to meet a legend for which I am still regretting.
Anyway, Bhoomika madam was very supportive and encouraging. I am working with a Mumbai-based model Harsha in this film. I am sure that
Thakita Thakita
will be an awesome film.
'I think Diganth and I will make a very good pair'
Last updated on: December 16, 2009 16:01 IST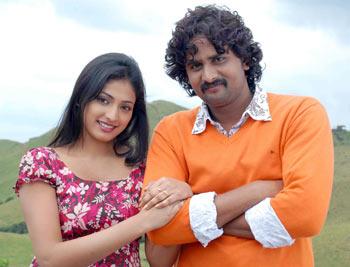 You also seemed to have missed the audio release functions of your Kannada films Kallara Santhe and Cheluveye Ninne Nodalu...
Yes, you are right. I really wanted to attend the audio release functions of these two films. You see, there was the final schedule of Thakita Thakita going on in Hyderabad. So, I could not make it to the function. Similarly I was shooting Nandhe when the audio of Cheluveye Ninne Nodalu released. I pray to god that I will be free when the audio release function of Thakita Thakita takes place.
Yogaraj Bhat has signed you for a new film to be directed by him in the beginning of the new year. Will this mean a great 2010 ahead?
I have huge expectations from the film by my favourite director Yogaraj Bhat. I have completed the audition though I still have not heard the final word from Bhat sir. He told me that he would let me know when I have to prepare for the film. I am working with Diganth who looks so cute in
Manasaare
. I think we will make a very good pair. I think everything is happening well in my career now.